Peanut Butter Chocolate Chip Cookie S'mores
I am in Boston this week for a Neuroscience conference and I have two more guest posts for you while I'm away. I just don't like leaving you hanging 🙂 Beth from bethcakes is here today to share with you one of her scrumptious recipes. I don't remember how I stumbled upon her beautiful blog but I know I've not left since and look forward to her recipes always. Look at these peanut butter chocolate chip cookie smores? I am drooling already. Here is Beth: 
Hi, I'm Beth from bethcakes! I'm super excited for the opportunity to write a post for Zainab, and all of you! I've loved Zainab's blog from the moment I came across it. I've never done a guest blog post on someone else's blog before, so this is double-exciting!
It's starting to feel like summer in the South where I live, so I decided to create a recipe for one of my favorite summertime things: s'mores. They remind me of summer, campfires, and my hands covered in sticky marshmallows. S'mores are worth the mess, though! But clearly these aren't regular s'mores. I'll give you a rundown!
I don't make cookies very often, but I just had to once I got this idea in my head. Obviously these cookies are chocolate cookies, but they're actually double chocolate and double peanut butter. Oh, yes. There's cocoa powder and chocolate chips in the batter, and also peanut butter and Reese's peanut butter morsels. I personally can never get enough of that combo!
I also browned the butter before I added it to the cookie dough, and I cannot tell how good that decision was! It really gives these cookies another layer of flavor. And I just love that toasty browned butter smell in my kitchen. After browning the butter, I had considered letting it cool back into a solid state, but then I got impatient and added it while it was still melted. For once, impatience turned out to be a good thing!
Cookie dough is already addicting enough on it's own, right? But with all that extra goodness it was really hard to stop eating little spoonfuls of it here and there. That's why there aren't many cookies in the photos. I, um, maybe ate a little too much dough. And then the cookies were so good on their own, I took some to a little family get-together.
While you may be tempted to eat the cookies on their own, I really encourage you to hold out and make the cookie sandwiches. Because as if chocolate, peanut butter, and browned butter weren't enough, half of these cookies are spread with more peanut butter and the other half go into the oven with a marshmallow on top. Once the marshmallows are nice and golden brown, they're sandwiched with the rest of the cookies. At this point, you can try really hard to stop eating them, but then you'll realize that you can't and you'll just go with it. It's okay, it happens.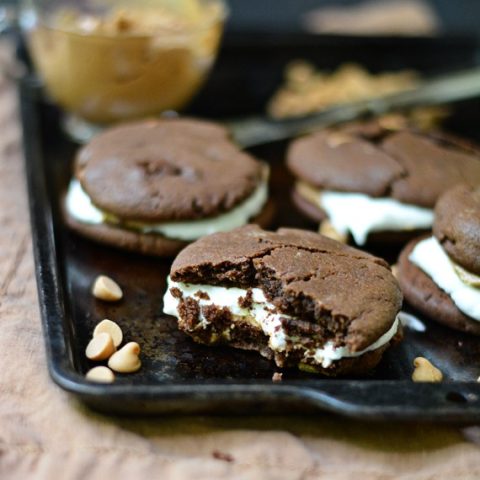 Peanut Butter Chocolate Chip Cookie S'mores
As if chocolate, peanut butter, and browned butter weren't enough, half of these Peanut Butter Chocolate Chip Cookie S'mores are spread with more peanut butter and the other half go into the oven with a marshmallow on top!
Ingredients
1 cup butter, cut into cubes
2 cups all purpose flour
1 tsp baking powder
½ tsp salt
½ tsp cornstarch
¼ cup cocoa powder
¼ cup creamy peanut butter
½ cup sugar
½ cup brown sugar
1 tsp vanilla
2 eggs
1 cup chocolate chips
1 cup peanut butter chips/morsels
Instructions
In a small saucepan over medium heat, melt butter and continue to cook butter until it begins to foam, and then turns golden brown. Remove from heat and set aside.
Line two baking sheets with parchment paper and preheat the oven to 350 degrees.
In a bowl, combine flour, baking powder, salt, and cocoa powder and whisk together.
In another bowl (or the bowl of a stand mixer), add the peanut butter, sugar, brown sugar, and vanilla. Mix on medium speed until combined. Add eggs and mix well.
Add half the flour mixture and half of the browned butter. Mix on low until combined, and repeat with the second half of the flour mixture and browned butter.
Fold in the chocolate chips and peanut butter morsels.
Roll dough into 1½ inch balls places them on the baking sheets about two inches apart. Flatten cookie dough balls with your hand or the bottom of a glass cup. (These cookies don't spread out much while baking.)
Bake for 10 minutes. Remove cookies and let them cool on a wire rack.
Spread peanut butter on half of the cookies, and place half of the cookie back on a baking sheet. Turn on your oven's broiler and place a marshmallow on top of each of the cookies on the baking sheet. Place the pan in the oven for 30-45 seconds. Don't leave your oven--watch them carefully! Once the marshmallows are golden brown on top, remove the pan from the oven.
Place the cookies with peanut butter on top of the cookies with marshmallow and press lightly.
Eat lots of cookies!
Thank you very much Beth!! See? I told you she has amazing recipes. These cookies will be happening this summer for sure. I can only imagine the campfire upgrade that these sandwiches will bring. Follow Beth over at bethcakes and on Twitter, Facebook and Pinterest.