Peppermint Hot Chocolate Bundt Cake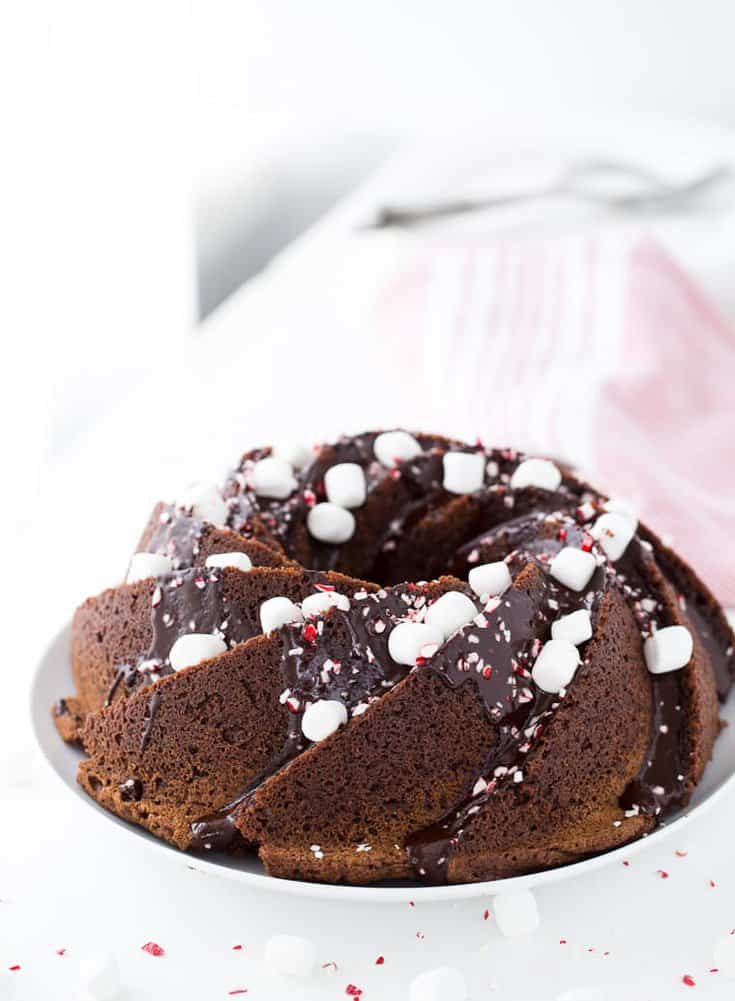 Happy Monday friends! I have a new holiday recipe for your today. This peppermint hot chocolate bundt cake has one of my favorite holiday flavors.
I hope you all had a great holiday weekend. It is really beginning to feel like the holiday season, which means busy busy busy yet joyful, grateful, and happy times. We had a busy weekend as well, filled with family celebrations and a lot of catching up at home. We took the little one to see Santa as well and he was just excited to be out. I am not sure it was Santa he was excited out but it was adorable and made the one hour in line wait worth it at the end (ahem… just kidding).
I also got some baking done (duh)! My holiday cookies are packed and ready to ship. I also whipped up this peppermint hot chocolate bundt cake for the hubs to take to a work party. I've had this cake on my to-bake list for almost two years now but never got around to it. Everything about this peppermint hot chocolate bundt cake screams winter and makes you want to curl up with a slice by the fireplace, as I did last night.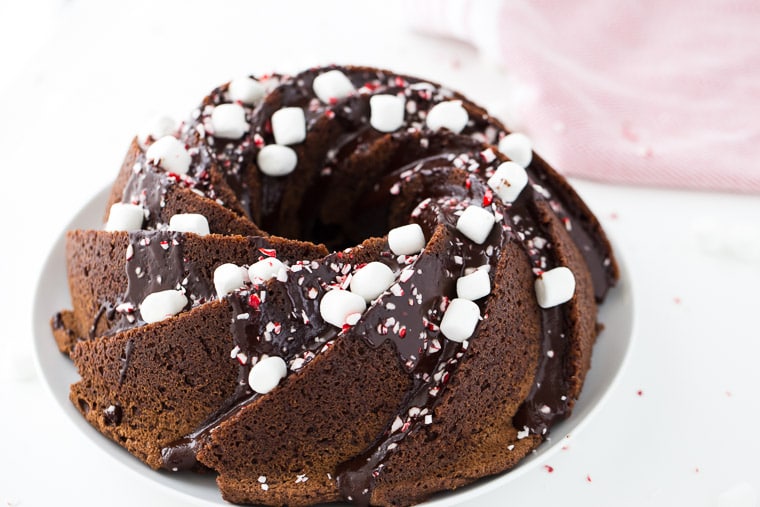 It's a very decadent chocolate bundt cake made with hot chocolate mix, milk chocolate, and dark cocoa powder, and hints of peppermint. The cake is topped with an equally decadent chocolate glaze, peppermint crushed candy, and marshmallows. It's like eating a hot cup of hot chocolate with peppermint. I would not suggest having this with said hot chocolate though (hello chocolate overload) but a cup of coffee or tea would do just fine.
Hope you have a great week! I have lots of holiday recipes coming your way this week. Stay tuned!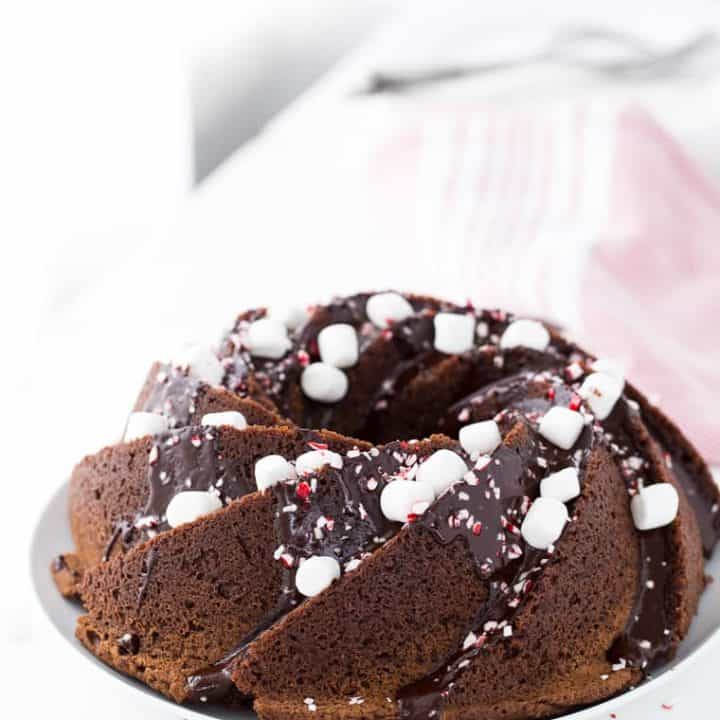 Yield: 1 10-inch cake
Peppermint Hot Chocolate Bundt Cake
A decadent peppermint hot chocolate bundt cake this is winter perfect and a holiday season delight.
Cook Time
1 hour
10 minutes
Total Time
1 hour
40 minutes
Ingredients
For the Cake:
2 ¼ all-purpose flour
1 teaspoon baking soda
¼ teaspoon salt
¼ cup unprocessed cocoa powder
½ cup dry hot chocolate mix
1 cup (2 sticks) unsalted butter, room temperature
8 ounces cream cheese, room temperature
2 cups granulated sugar
4 ounces milk chocolate, melted
5 large eggs, room temperature
2 teaspoons vanilla extract
1 teaspoon peppermint extract
Glaze:
4 ounces milk chocolate, chopped
1 tablespoon dry hot chocolate mix
3 tablespoons heavy cream
1 teaspoon peppermint extract
Toppings:
Mini marshmallows
Crushed candy canes
Instructions
Heat oven to 325 degrees F. Using a baking spray, grease a 10-cup bundt pan well and set aside.
In a medium bowl, whisk together the flour, baking soda, salt, cocoa powder and hot chocolate mix.
In the bowl of a stand mixer, cream together the butter and cream cheese until smooth, about 1 minute on medium. Add in the sugar and cream the mixture until light and fluffy, about 3-4 minutes on medium speed. Add in the melted milk chocolate and beat until it's incorporated.
Add in egg, one at a time and mixing until each is combined.
Beat in the vanilla extract and peppermint extract.
Reduce mixer to low speed and slowly add in the dry ingredients. Mix until just combined. Do not over mix.
Pour batter into prepared bundt pan. Bake cake until toothpick comes out clean, about 1 hour and 10 minutes.
Transfer pan to a cooling rack and let cake cool completely before removing,
While cake cools, make the glaze. Combine the chopped chocolate, hot chocolate mix and heavy cream in a small saucepan set over medium heat. Stir frequently until completely melted. Remove from heat and let sit for a few minutes before pouring over the cooled cake.
Garnish with mini marshmallows and crushed candy canes.
Recommended Products
As an Amazon Associate and member of other affiliate programs, I earn from qualifying purchases.