Piña Colada Cupcakes
These Piña colada cupcakes may become your new favorite sweet treat, especially if you love piña colada cocktails!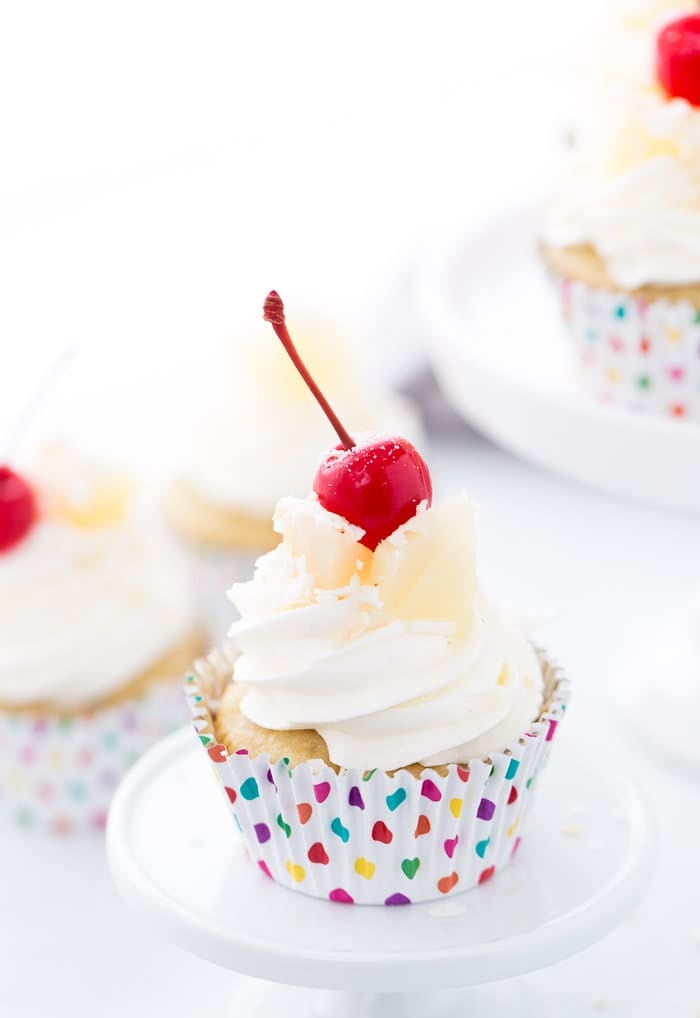 Hi guys! I am slowly going through my recipe archives and revamping some of my favorite recipes that were published when I first started blogging. These recipes were great then but had bad pictures and/or poorly written text. These pina colada cupcakes were one of my first cupcakes that I LOVED and shows that I have always been a coconut fan. One of these days, I need to gather all my coconut recipes in one place for you. This was the original image that I published with the post then (April 13, 2013) and I am ashamed this was even okay. But I am leaving it here to show how far I've learned and developed.
The recipe itself for these pina colada cupcakes is still the same. I rewrote the directions to make it clearer and adjusted one or two things I've picked up in baking cupcakes all these years. It all starts with a rich coconut AND pineapple cupcake with some rum in it that makes you feel like you are eating a cocktail. I used coconut cream in the cupcakes for a rich coconut flavor, so if you are not a coconut fan, this cupcake is NOT for you. Also, please don't use coconut milk as you will have cupcakes that will not be the same.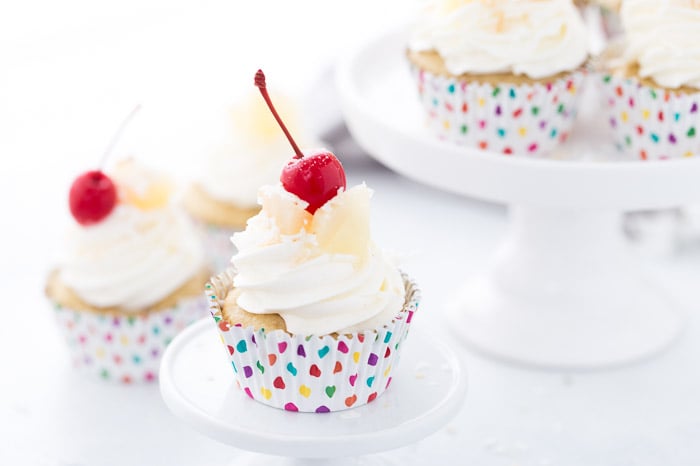 My favorite thing about these pina colada cupcakes are the real pineapple chunks in the cupcakes. Some recipes I have seen out there use pineapple juice in the cupcake for the flavor, but I love that you get the actual fruit in these cupcakes. Such a pleasant and sweet surprise with each bite. I also used coconut rum in the cupcakes (did I not say this is not for the coconut hater?) and it was a great addition. If you do not have coconut rum lying around (ahem, you should get some!!), you can use any dark rum.
To top it off all, these cupcakes are topped with sweet coconut cream cheese frosting!! I seriously can eat the frosting by the spoon full. So so good!!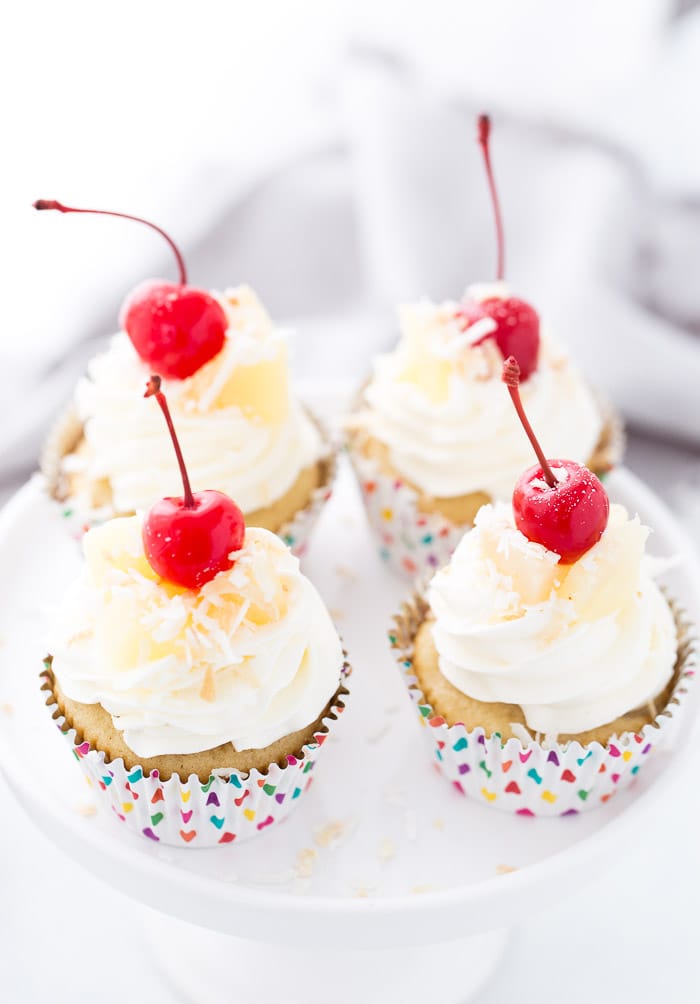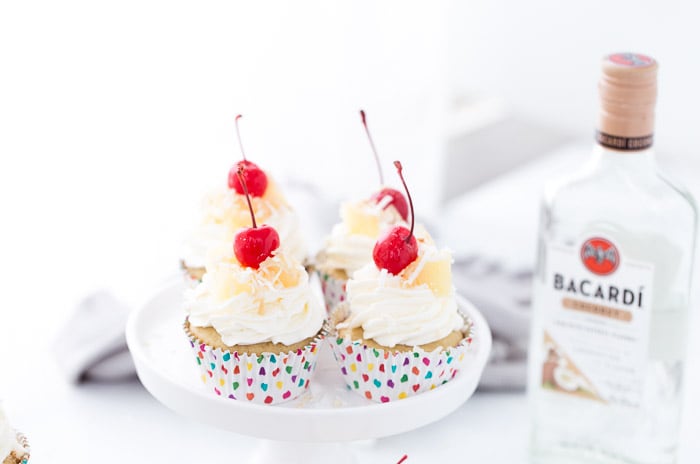 As we are officially in Spring now but not really with all the snow still lingering, these cupcakes will be perfect to forget about our current predicament. Make these pina colada cupcakes today and transport yourself to a beachside somewhere in the Caribbean.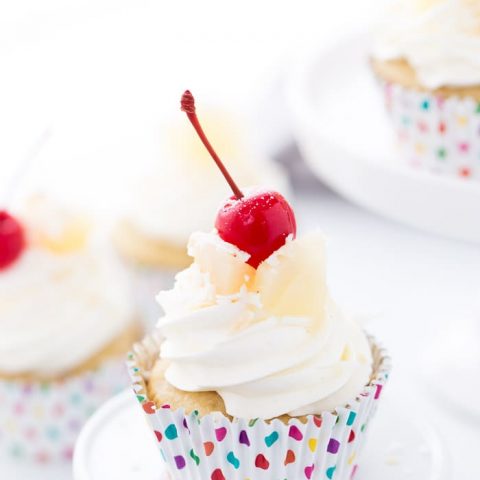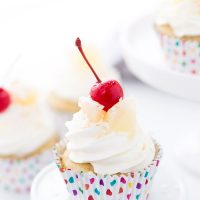 Yield: ~24 cupcakes
Pina Colada Cupcakes
This Piña Colada cupcakes recipe is full of tropical flavor, making you feel as though you're sipping on the classic frozen cocktail.
Ingredients
For the Cupcakes:
2 cups all-purpose flour
1 teaspoon baking powder
¾ teaspoon baking soda
½ teaspoon salt
1 ½ stick unsalted butter, room temperature
¾ cup light brown sugar
2 large eggs, at room temperature
1 tablespoon dark rum (I used Barcardi Coconut Rum)
¼ cup cream of coconut (NOT coconut milk)
¾ cup whole milk, room temperature
1 teaspoon pure vanilla extract
½ teaspoon coconut extract
¾ cup finely chopped fresh pineapple (or crushed pineapple from a can, strained)
For the Frosting:
1 ½ stick unsalted butter, room temperature
8 oz cream cheese (directly from fridge)
½ teaspoon pure vanilla extract
1 teaspoon pure coconut extract
4 cups powdered confectioners sugar, sifted
1 tablespoon coconut cream
Instructions
For the Cupcakes:
Preheat oven to 350 degrees F. Line two cupcake pans with 24 liners.
In a medium bowl, sift together flour, baking powder, baking soda and salt. In the bowl of an electric mixer on medium speed, beat butter and brown sugar until pale and fluffy (3-5 minutes). In another bowl, whisk together the cream of coconut, milk, vanilla and coconut extracts. Set aside.
Add eggs one at a time, scraping down bowl as needed. Then add the rum and mix until combined.
Add half of the dry ingredients, followed by the liquid mixture, and the rest of the dry ingredients. Mix until combined.
Fold in the fresh pineapple. Using a scoop, fill cupcake pans with batter and bake until golden and a toothpick inserted in center of cake comes out clean 12-15 minutes.
Let cupcakes cool completely before frosting. Garnish with maraschino cherries.
Coconut Cream Cheese Frosting
Place butter in a mixing bowl and whip until pale and fluffy, 3-5 minutes
Add cream cheese and mix until well combined.
Add vanilla, coconut extracts and powdered sugar, one cup at a time.
Mix on low speed until well combined.
Increase speed to medium and beat until frosting is fluffy, 2-3 minutes.
Add coconut cream and beat additional 1 minute.
Refrigerate for 15-20 minutes if needed.
Notes
NOTES:
Do NOT substitute the coconut cream for coconut milk. The cupcake batter will be thin and not bake as pictured.
You can use dark rum or skip the rum in the cupcake recipe.
You may need to chill the frosting longer to be able to pipe it.
This recipe was originally published in 2013. The text and pictures were updated today.