Grapefruit Souffle
This grapefruit souffle recipe is easy to whip up and is infused with sweet and citrusy grapefruit.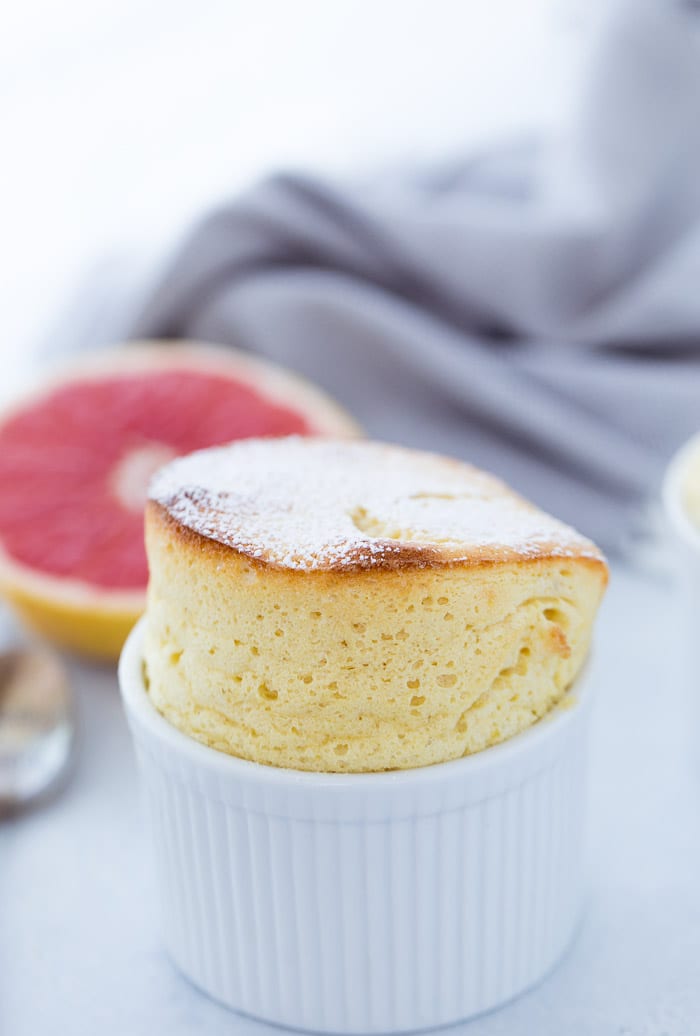 Hi guys!! Today's recipe is a sweet and gooey one :). A grapefruit souffle for your fancy at home dinner parties or better yet for your sweet and citrusy cravings when you are binge watching a new TV show.
Wait, did I just spill my secret? I made this souffle recently with a friend and I ended up eating most of it on the couch binge watching The OA. Have you seen this show? It's on Netflix and pretty addicting (like almost every series on Netflix). I am not usually a fan of strange pyschological shows or supernatural powers (I am more of a drama kind of girl) but this show was captivating and really a good one. If you are looking for a new different show, then give this show a try. Just set aside a day or two for it 🙂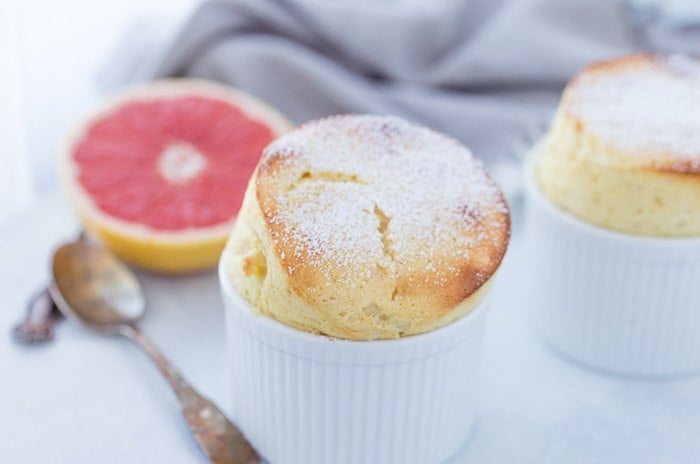 Binge watching TV shows and eating fancy desserts is now my thing for those rare times I have a day to myself.  This grapefruit souffle stems from my original experiment with souffle, this chocolate almond souffle. Since it is almost spring, I wanted something citrusy and light in flavor which is why I am loving this grapefruit souffle.
You guys, souffles sound fancy and difficult to make when in reality they are the easiest. Easier than making these chocolate cupcakes. All souffles (savory or sweet) start with an egg-yolk base that is versatile and easy to flavor with seasonal flavors. Once the base is cooked, usually on the stove top, you whip up stiff egg whites and fold into the base. This stiff egg whites is what gives you that famous pouffed top.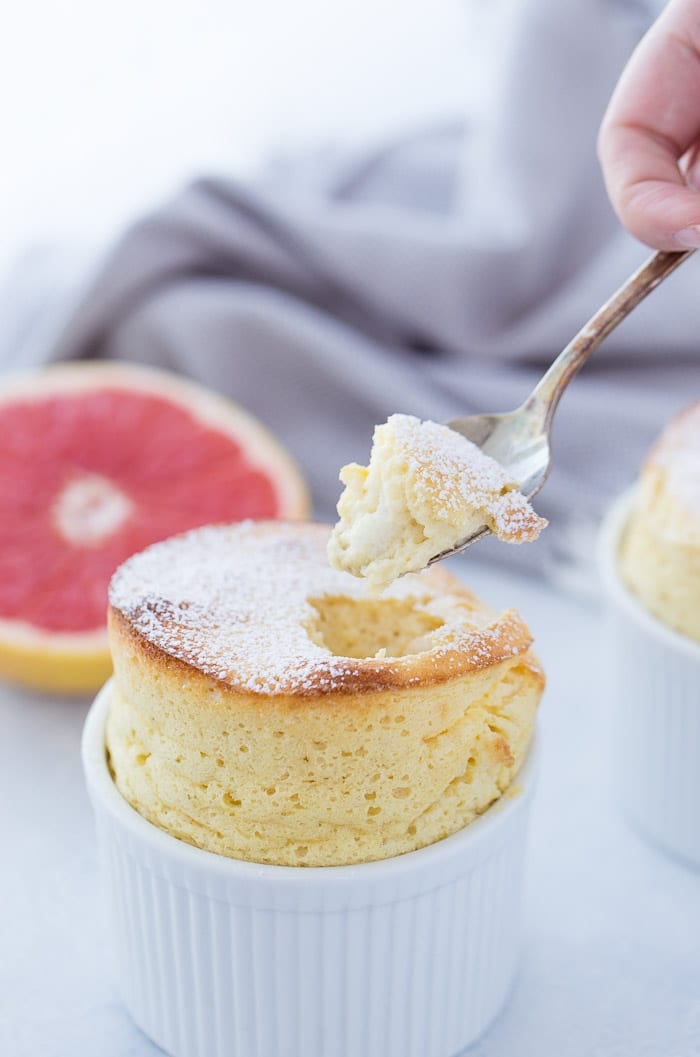 These grapefruit souffles are flavored with fresh grapefruit zest and juice in the egg yolk base. It bakes up into a sweet and citrusy delight that is perfect for this first day of Spring. A great way to say goodbye to winter and hello spring!
I hope you try your hand at souffles soon if you have not yet tried them. They are easy and worth the individual serving you get.
Happy first day of Spring friends!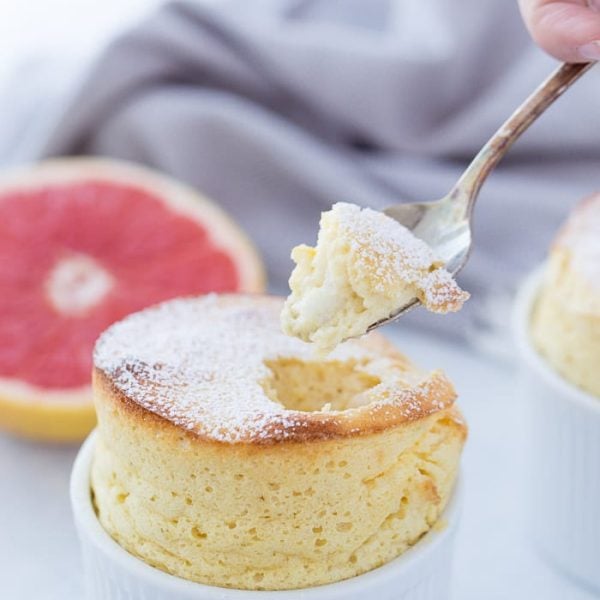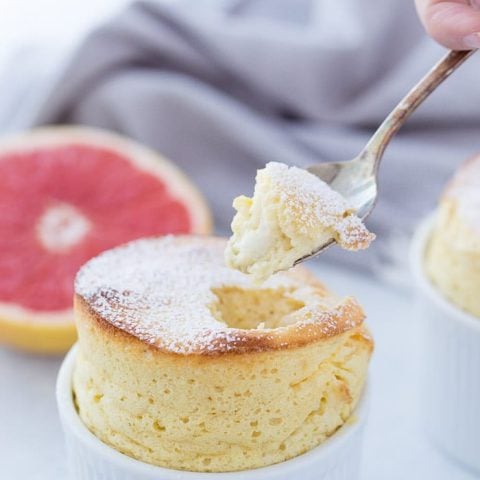 Yield: 4 6-oz ramekins
Grapefruit Vanilla Souffle
Ingredients
3 tablespoons all-purpose flour
¾ cup whole milk
2 tablespoons unsalted butter, plus more for the pans
⅓ cup granulated sugar
4 large egg yolks
2 teaspoons pure vanilla extract
1 teaspoon grapefruit zest
2 tablespoons grapefruit juice
5 large egg whites
⅛ teaspoon salt
1 tablespoon granulated sugar
Powdered sugar (for serving)
Whipped cream or vanilla ice cream for serving
Instructions
Preheat oven to 400 degrees F.
Grease the inside of soufflé dishes with baking spray or butter. You will need 4 6-ounces dishes.
Into a medium saucepan, add the flour. Whisk in the milk, little by little, until a smooth cream forms. Then add the rest of the milk and whisk to combine. Whisk in the butter. Add in the sugar and place the saucepan over medium-high heat. Stirring continuously bring the mixture to a boil. Once boiling, keep stirring for an additional minute, as the mixture thickens.
Remove from heat and whisk for another minute to cool slightly. Whisk in the egg yolks, one by one. Add in the vanilla extract, grapefruit zest and juice. Whisk to combine all.
In a separate large bowl, beat the egg whites and salt until soft peaks form. With the mixer going, sprinkle in the granulated sugar and beat until stiff shining peaks form.
Stir half of the whipped egg whites into the batter mixture until combined. Then gently fold in the rest.
Once combined, pour the mixture into the prepared soufflé dishes. Fill each to just below the inside rim. Place soufflé dishes onto a baking sheet and place into oven. Reduce oven temperature immediately to 375 degrees and bake for about 20-25 minutes.
When soufflé is well risen and cracked, quickly sprinkle the surface with powdered sugar. Continue baking for another 5 -10 minutes. The soufflé is creamy in the center when a cake tester inserted into the cracked tops comes out slightly coated.
Optional: you can continue baking for a few more minutes if you want the center to be fully done and the souffle will stand up well.
Serve immediately with whipped cream or vanilla ice cream.
Notes
NOTES: This souffle is best served immediately out of the oven.
Recommended Products
As an Amazon Associate and member of other affiliate programs, I earn from qualifying purchases.