Meyer Lemon Coconut Cupcakes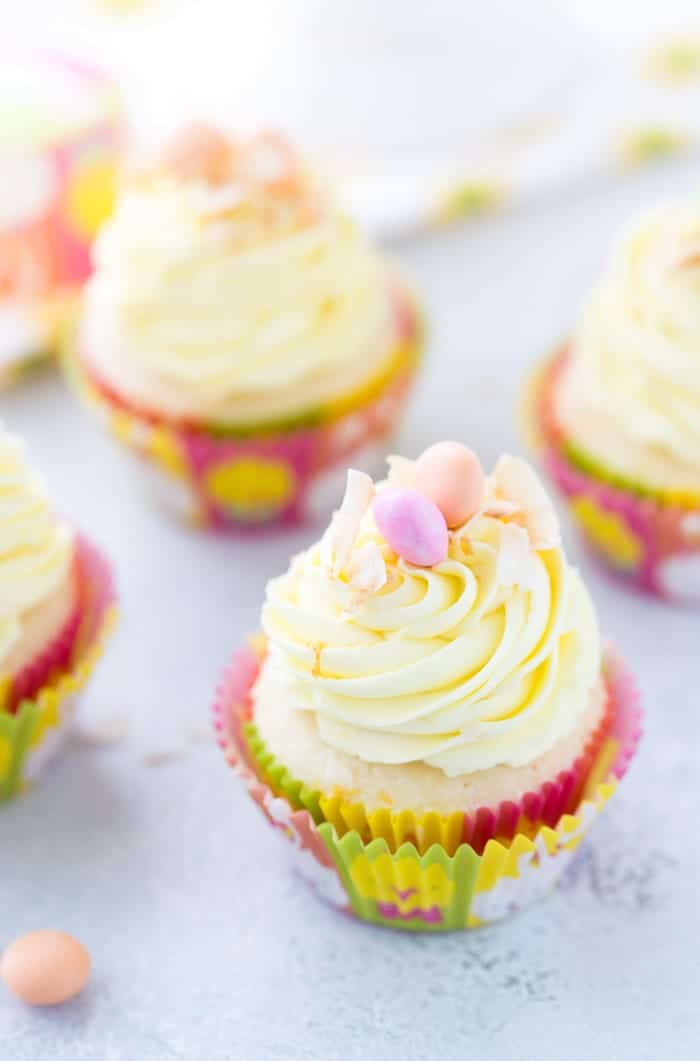 Spring is almost here friends! At least that is what I am telling myself as I trek through the remnants of winter storm stella (hello 14-inch snow dump!!). But I refuse to stay in the past. Cold weather goodbye, hello warm, fresh and tropical weather. These meyer coconut lemon cupcakes are perfect for springing into spring. With a sweet, moist and coconut flavored lemon cupcakes, these cupcakes will be perfect for any Easter or Spring celebrations.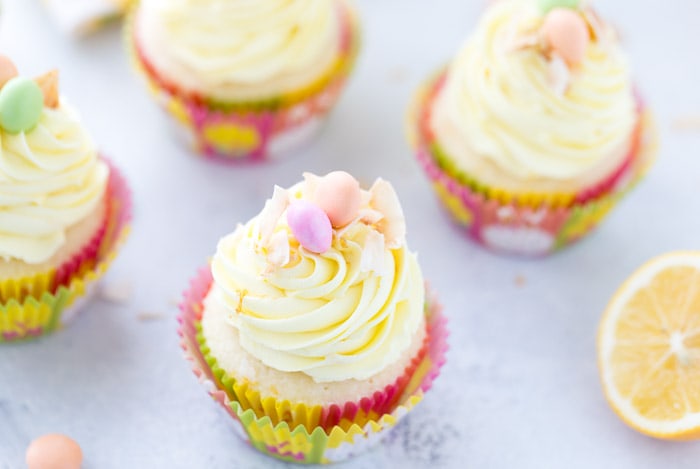 Are you looking forward to the Spring? For some reason I am excited about this spring. I have spring cleaning projects already planned and booked on the calendar (so the hubs doesn't pretend he didn't know about them) and new organization of rooms underway. I am looking forward to having the windows wide open and airing out the house. IT HAS BEEN A LONG WINTER!! And it is stuffy in here. Soon, soon my friends.
Okay, these cupcakes!! They are based off these classic lemon cupcakes I re-posted for you a week ago. The meyer lemon coconut version is sweeter and less 'pucky' as the meyer lemons have a sweet tart flavor unlike regular lemons. If you do not have meyer lemons in your grocery stores anymore, you can use regular lemons. The cupcakes are the same moist cupcake base but with hints of coconut flavor thanks to the coconut cream in the batter. I like using coconut cream instead of coconut milk because you get a richer and bolder coconut flavor.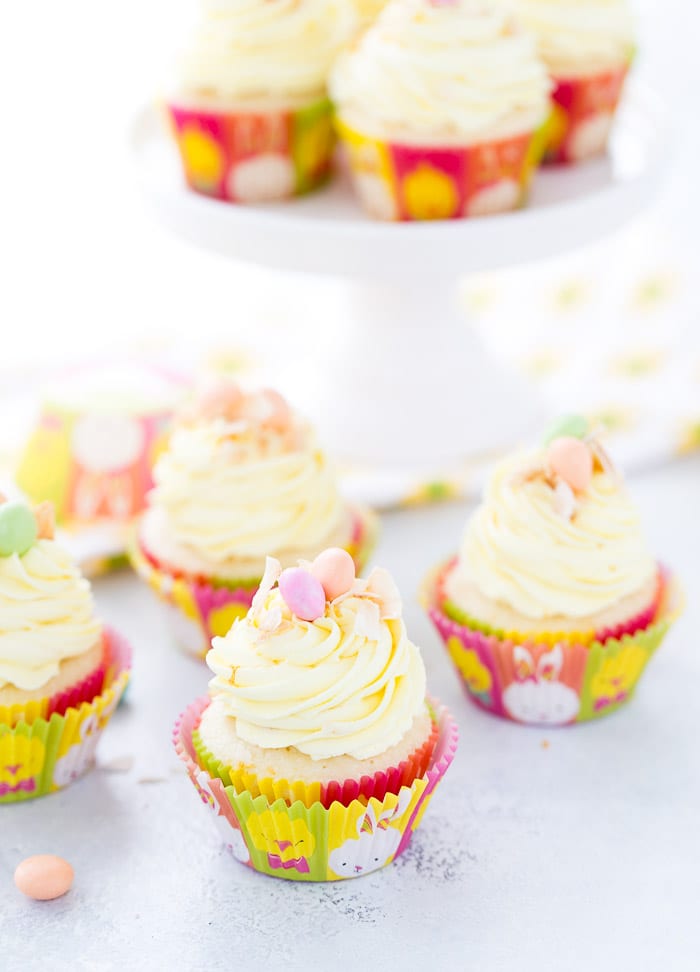 If you are looking forward to Spring as much as I am, then these meyer lemon coconut cupcakes are for you! Make them now and start dreaming about the upcoming warm weather.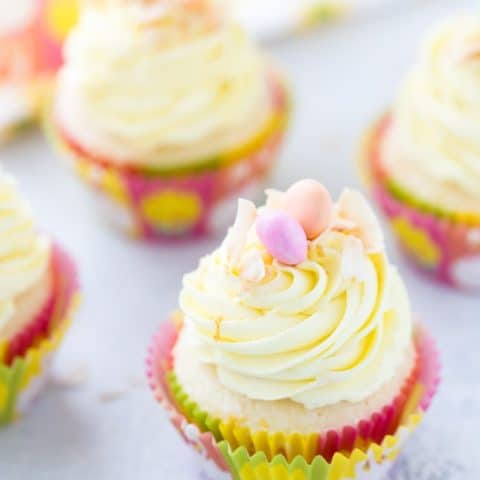 Yield: 12-15 cupcakes
Meyer Lemon Coconut Cupcakes
Ingredients
For the Cupcakes:
1/3 cup whole milk, room temperature
1/4 cup coconut cream (NOT coconut milk)
1  large egg, room temperature
2 large egg whites, room temperature
1 teaspoon pure vanilla extract
2 teaspoons lemon juice
1 1/4 cups cake flour, sifted
3/4 cup granulated sugar
1 1/2 teaspoons baking powder
1/2 teaspoon salt
zest of 1 Meyer lemon
6 tablespoons unsalted butter, room temperature and cut into cubes
1 1/4 cups (2 1/2 sticks) unsalted butter, softened
3 cups sifted confectioners' sugar
3 tablespoons coconut cream
1 teaspoon pure vanilla extract
1 teaspoon lemon juice
Zest of one Meyer lemon
Pinch of salt
Instructions
FOR CUPCAKES:
Preheat oven to 350 degree F. Line cupcake tins with liners. Whisk together half of the milk, coconut cream, egg whites, egg, lemon juice and vanilla extract. Sift the cake flour in the bowl of an electric mixer fitted with the paddle attachment (Or a medium bowl if using a hand mixer). Combine the rest of the dry ingredients including the lemon zest and sugar. Stir together on low speed for 30 seconds. Add the butter one piece at a time and blend on low speed for 30 seconds. Then add the remaining milk, and mix on low speed until moistened. Increase speed to medium and mix for 1½ minute. Be careful not to overmix. Scrape the sides of the bowl as needed. Add the egg/milk/extract mixture in 3 separate batches mixing on medium speed after each addition until combined. Divide batter into prepared cupcake liners and bake for 12-15 minutes or until a cake tester comes out clean when inserted in center of cupcake. Let cupcakes cool completely before frosting.
Coconut Lemon Buttercream Whip butter for 8 minutes on medium speed using the paddle attachment of an electric mixer. The butter will become pale and creamy. Add the rest of the ingredients and mix on low speed for 1 minute. Then increase speed to medium and mix for 6 minutes until the frosting is very light, creamy and fluffy. Frost cupcakes using any large pastry tip.
Notes
This recipe is great as a layer cake too. Bake in two or three 6-inch round cake pans for 25-30 minutes.