Pink Champagne Cupcakes
Pretty pink champagne cupcakes filled with a creamy pastry creme and topped with a sweet champagne frosting.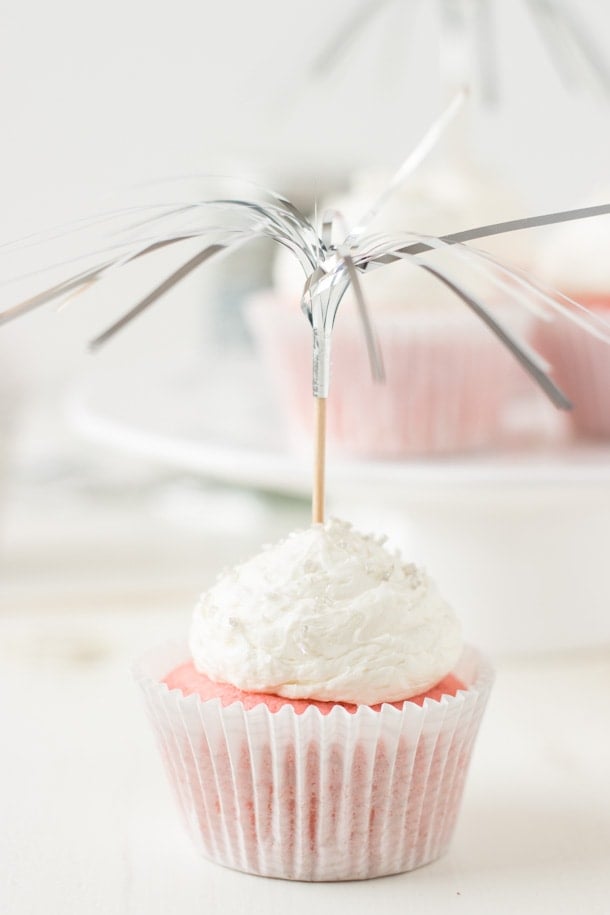 Now that Christmas is well behind us, it's time to start thinking of the New Year. But before we start going crazy with the resolutions and/or intentions, let's take a minute to ring in 2015 in style. Which for me really is cuddling the hubby on the couch and eating some sort of dessert as Ryan Seacreast declares it a New Year. Lame? Meh, that's my classy style!! And I have pink champagne cupcakes to go along with it 🙂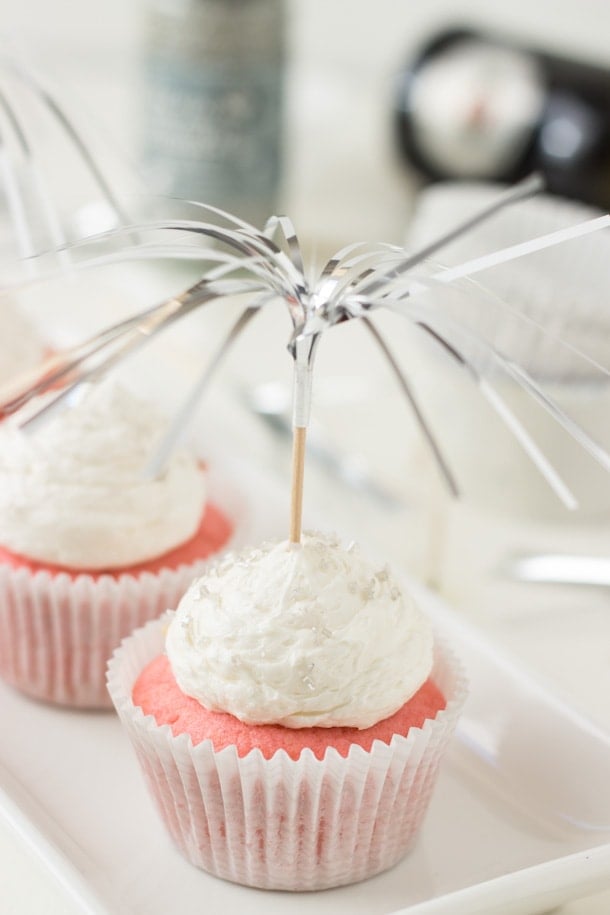 New Year's Eve is one of those holidays that I think forces people to be something they are not. It seems as if everyone thinks they have to go out on the town or partying till the wee-hours of the morning. But that's so 5 years ago and now I would rather stay in my jammies and rock out with some bubbly and cupcakes or better yet, a bubbly cupcake!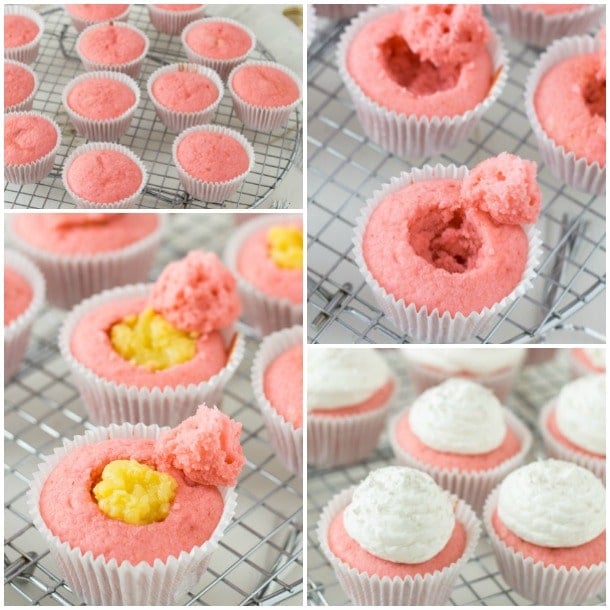 These cupcakes are my New Year's Eve dessert of choice this year as I think there is no better way to welcome 2015 than with a moist pink champagne cupcake filled with a creamy champagne pastry creme and topped with a sweet champagne frosting! It's seriously a bubbly cupcake.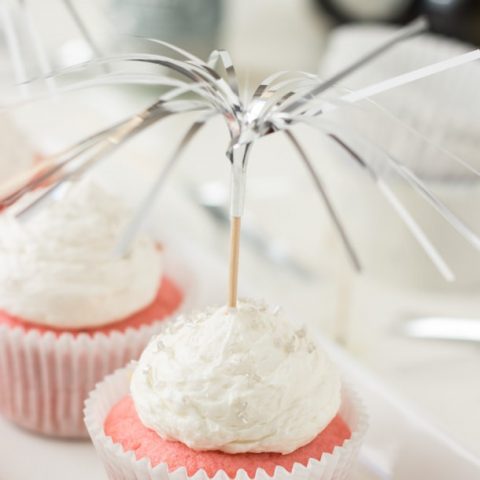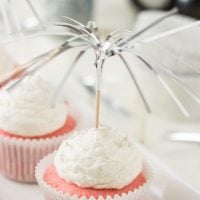 Yield: 18 cupcakes
Pink Champagne Cupcakes
Pretty pink champagne cupcakes filled with a creamy pastry creme and topped with a sweet champagne frosting. 
Ingredients
For the Cupcakes:
1¾ cup all-purpose flour
½ teaspoon baking soda
¼ teaspoon baking powder
¼ teaspoon salt
½ cup unsalted butter, softened to room temperature
1 cup granulated sugar
2 eggs
1 teaspoon vanilla extract
½ cup Greek yogurt
½ cup Pink Champagne
Pink gel coloring (optional)
For the Filling:
½ cup heavy cream, divided
2 tablespoons cornstarch
½ cup Pink Champagne
5 tablespoons granulated sugar
1 large egg
2 egg yolks
2 tablespoon unsalted butter
1 teaspoon pure vanilla extract
For the Frosting:
1/2 cup pink Champagne
1 cup (2 sticks) unsalted butter, softened
2½ cups confectioner's sugar
Instructions
For the Cupcakes:
Preheat oven to 350 degrees F. Line two muffin pans with cupcake liners.
In a medium bowl sift together flour, baking powder, baking soda, and salt.
In the bowl of an electric mixer, cream butter and sugar until pale and fluffy, about 3-5 minutes on medium speed. Add eggs one at a time, beating until combined after each addition. Beat in vanilla extract. In a medium mixing cup, whisk together Greek yogurt and champagne.
Reduce mixer speed to low and alternately add the flour and champagne mixture, beginning and ending with flour, mixing after each addition. Beat until just combined. Scrape down the side of the bowl as needed. Add the gel coloring if using.
Divide batter into cupcake wrappers. Fill liners about ⅔ full. Bake cupcakes until lightly golden or a toothpick inserted into the center comes out clean, about 12-15 minutes.
Remove cupcakes from pan and finish cooling on a wire rack.
For the Creme filling:
In a small bowl, whisk together ¼ cup heavy cream and cornstarch. Combine the rest of the heavy cream, champagne and granulated sugar in a saucepan. Bring to a boil over medium high heat and remove from heat. Whisk the egg and egg yolks into the cornstarch/heavy cream mixture. Pour a ⅓ cup of the hot mixture into the egg mixture, whisking constantly to not overcook the eggs. Return the saucepan to the stove and bring to a boil. Gradually whisk in the egg mixture until the mixture thickens. Remove from heat and whisk in the butter and vanilla extract.
Once cupcakes are cooled, cut a hole in the middle and fill with the creme filling.
For the Champagne frosting:
Heat champagne in a small saucepan. Bring to boil and simmer over medium heat until it reduces to 2 tablespoons. Let cool completely before using.
Whip butter on medium speed until pale and creamy. Add the powdered sugar and mix on low speed for 1 minute. Then increase speed to medium and mix for 6 minutes until the frosting is very light, creamy and fluffy. Pour the champagne down the side of the bowl and beat for another minute.
Frost cooled cupcakes with frosting and garnish with sparkling sugar if desired.
If you are staying in or going to a house party this New Year's Eve, please make these cupcakes!! They will make your night and will be a hit!