Spiced M&M Toffee Cookies for #OXOGoodCookies
These spiced M&M toffee cookies are very soft and stuffed with crunchy toffee bits!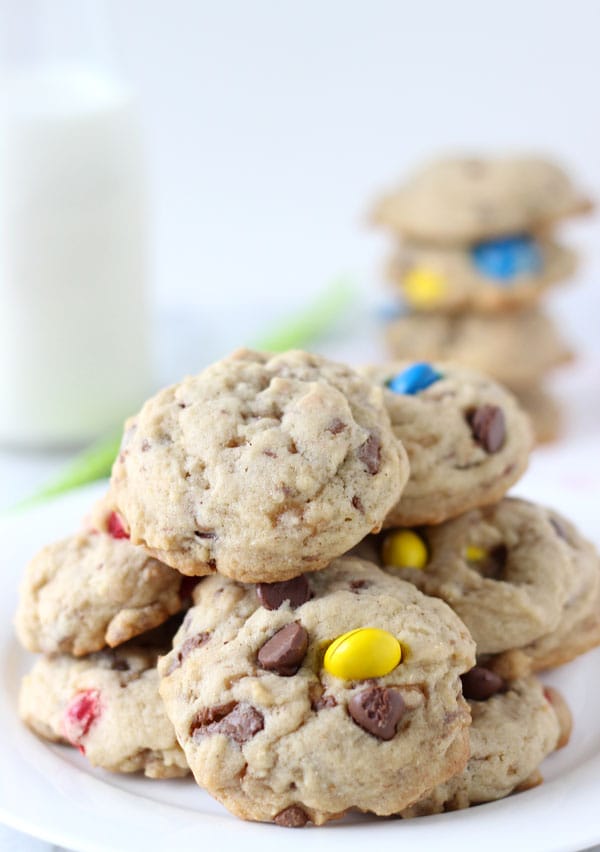 Happy Monday! I have some great cookies for you today!
I don't usually make cookies at home except if I am shipping them off to friends. But I made these spiced M&M toffee cookies for myself! (although a few did go to a few special friends!) I received a few of my favorite things in a box from Megan prompting the creation of these cookies. A soft cookie base that is slightly spiced with cinnamon, ginger and nutmeg is laced with crunchy birthday M&Ms and toffee bits. Totally my new favorite afternoon snack and I am sure you will love them too. These will also be a great after-school snack.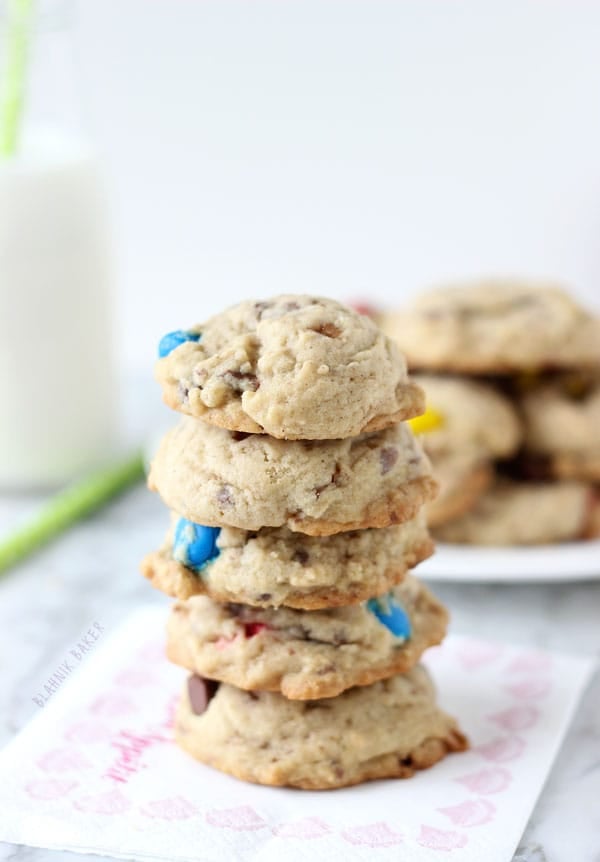 Not only are these cookies my new favorite, their existence today is supporting a great cause. When I heard that September is Childhood Cancer Awareness Month and that OXO is helping raise awareness through Cookies for Kids Cancer, I had to sign up to share the word. Cookies for Kids Cancer was founded by two OXOnians (OXO employees) inspired by their 2-year old son's battle with cancer. The organization supports the funding of research for safer, more effective treatments for children battling cancer and provides inspiration, ideas and support for people everywhere to help fight pediatric cancer.
Being a scientist, I know how severe the lack of funds for research is at the moment and we need great causes like this to push towards a cure for cancer.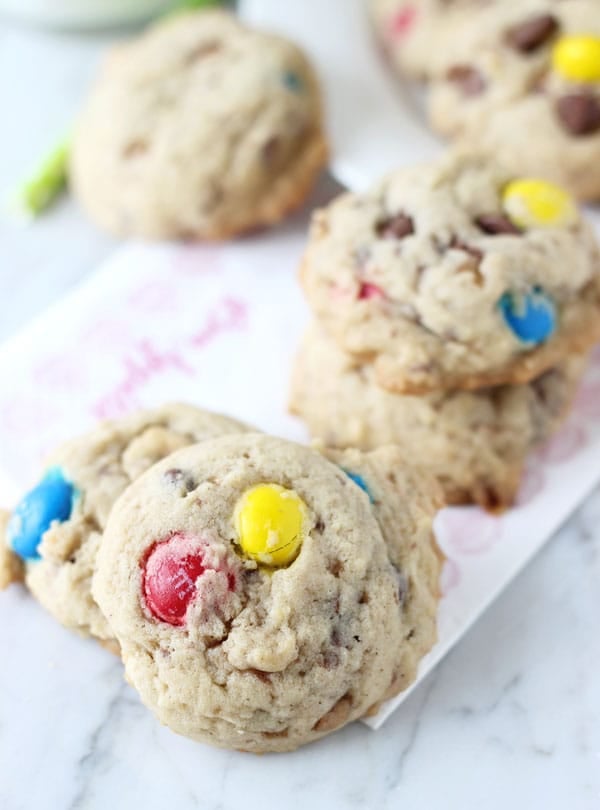 How can you get involved? Visit Cookies for Kids website to find out more. In addition, you can shop for OXO items with this sticker.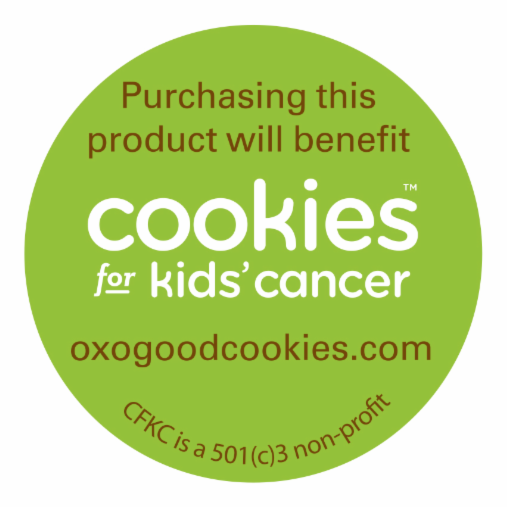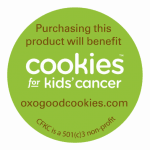 For every stickered item sold, OXO will donate 25 cents in support of pediatric cancer research as part of its $100,000* pledge to Cookies for Kids' Cancer. Look for specially marked OXO products at participating retailers in September. 
* In 2014, OXO will donate up to $100,000 to Cookies for Kids' Cancer through specially marked baking tools, bake sale matches and other fundraising efforts. Cookies for Kids' Cancer is a recognized 501c(3) public charity duly incorporated under the laws of the state of New Jersey. Your donations are tax deductible to the fullest extent allowable by law. 100% of proceeds raised by Cookies for Kids' Cancer fund pediatric cancer research.
Where can you find OXO & Cookies for Kids' Cancer on social media?
Twitter: @OXO / @Cookies4Kids
Instagram: @OXO / @Cookies4Kids
Facebook: facebook.com/OXO / facebook.com/CookiesForKidsCancer
Pinterest: pinterest.com/OXO / pinterest.com/Cookies4Kids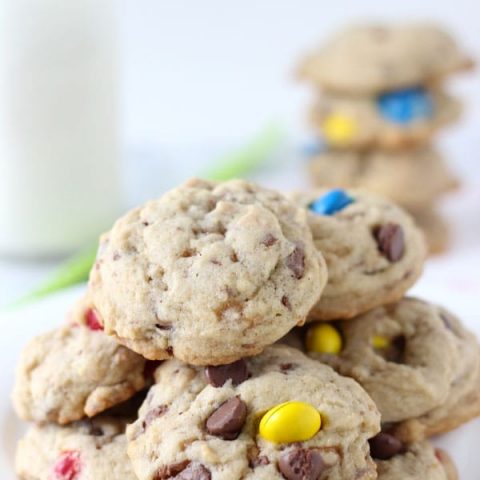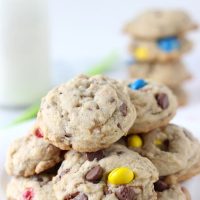 Yield: ~24 cookies
Spiced M&M Toffee Cookies
These spiced M&M toffee cookies are very soft and stuffed with crunchy toffee bits! 
Ingredients
2½ cups all-purpose flour
1 teaspoon baking soda
½ teaspoon salt
1 teaspoon cinnamon
¼ teaspoon nutmeg
A dash of cloves
1 cup (2 sticks) unsalted butter, softened at room temperature
¾ cup brown sugar
¼ cup granulated sugar
2 large eggs, at room temperature
1 teaspoon vanilla extract
1 cup M&Ms
⅓ cup Heath Toffee bits
Instructions
Preheat oven to 350 degrees F. In a medium bowl, whisk together the flour, baking soda, salt and spices.
In the bowl of a stand mixer set at medium speed, beat the butter and sugars until light and creamy, about 3-4 minutes. Add the eggs, one at a time and mix until combined after each addition. Scrape bowl as needed. Beat in vanilla extract.
Reduce speed to low and add in flour in two additions, mixing until just combined. Using a rubber spatula, fold in the M&Ms and toffee bits.
Use a small cookie scoop and scoop cookie dough onto parchment lined baking sheets. Bake cookies for 12-15 mins or until golden brown around the edge. Remove from oven and let cookies cool on the baking sheets for a few minutes. Transfer to cooling rack to cool completely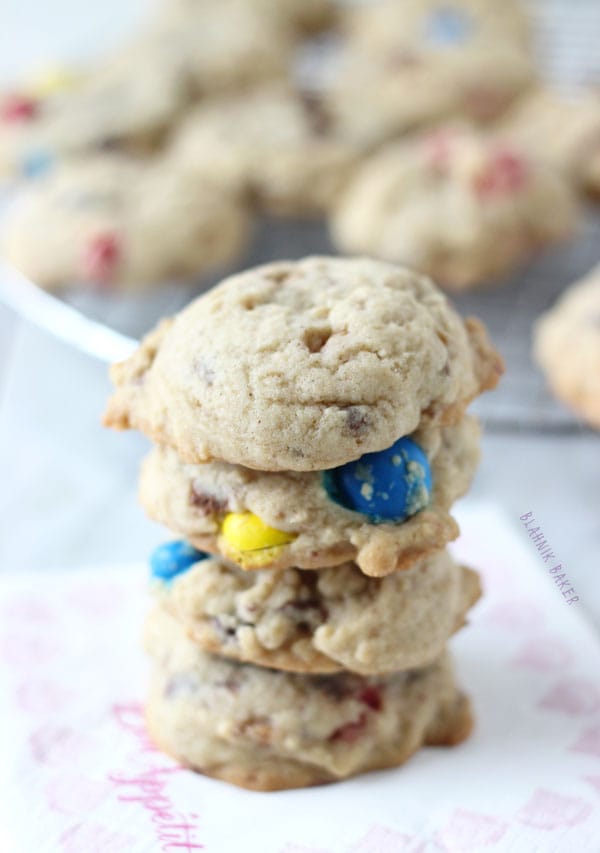 Disclosure: This is not a sponsored post. I was selected to be a part of OXO's Blogger Outreach Program and received a box cookie set. All opinions are 100% mine.