Strawberry Lavender & Honey Frozen Yogurt + Chobani Giveaway
A lighter but creamy strawberry frozen yogurt infused with the delicate flavors of lavender and sweetened with a touch of honey.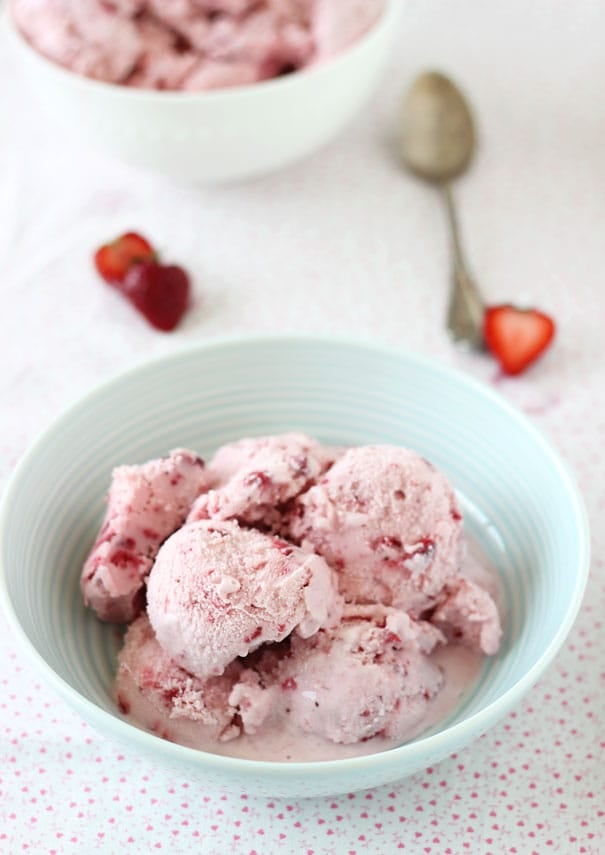 You guys ever since I went strawberry picking two weekends ago, I've been swimming in strawberry desserts. It's been a very berrylicious couple of weeks. I've made a classic strawberry pie, a strawberry basil sparkler, this frozen yogurt, a strawberry rhubarb pie and a simple strawberry souffle. While I may not get to share all of this deliciousness with you because I think you will hate strawberries by the end of it (unless I am wrong, let me know!!!), I will share my favorites starting with this strawberry lavender & honey frozen yogurt!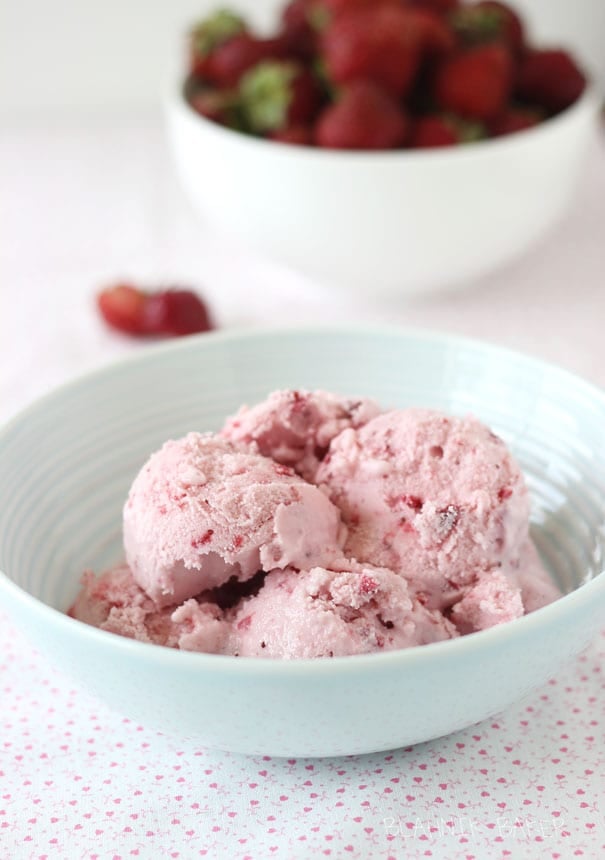 I knew I wanted to explore the strawberry-lavender flavor combination again after my first encounter last year with this strawberry lavender cake I made for my birthday. It was just so delicate and lovely that another take was inevitable. This time I threw honey into the mix, since I only wanted to use natural sweeteners in this healthier fro-yo treat. It worked out perfectly because honey is a great complement of lavender and the frozen yogurt is just the right amount of sweet.
It is so light, creamy and ridiculously delicious that it was gone in a couple of days. Yes, there is just two of us in the house. It was indulgent and oh so creamy!! Amazing I tell you. Using a rich Greek yogurt, Chobani to be exact, to make the base helped make this possible. And as you may have guessed, I have a great Chobani giveaway for you today!! (More on that later!)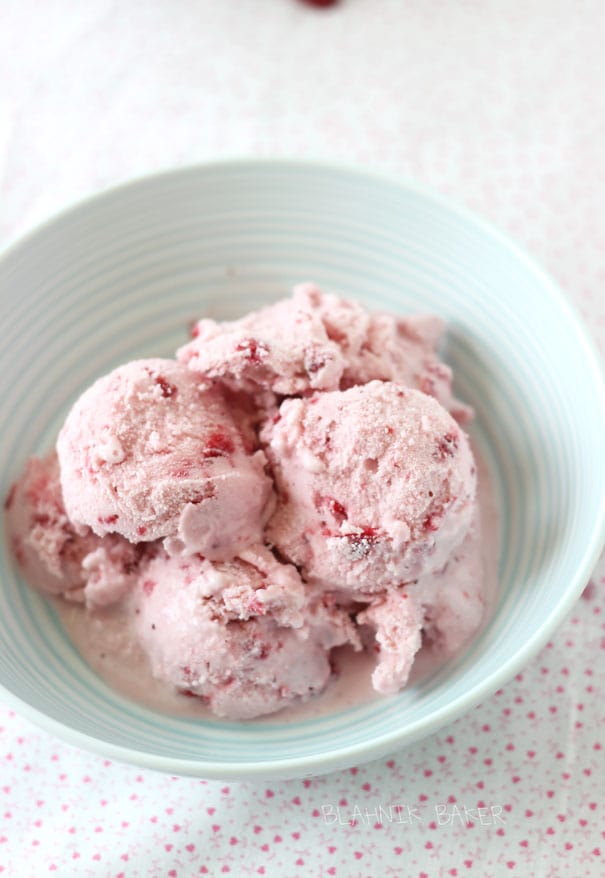 I had a little bit more of the yogurt mixture than my ice cream mixer could handle so I made some frozen yogurt pops!! They were such a good idea because they are a perfect snack in the middle of the day when it's hot and you need some refreshments. Love them!! As well as the dollar store popsicle molds I was testing out too 🙂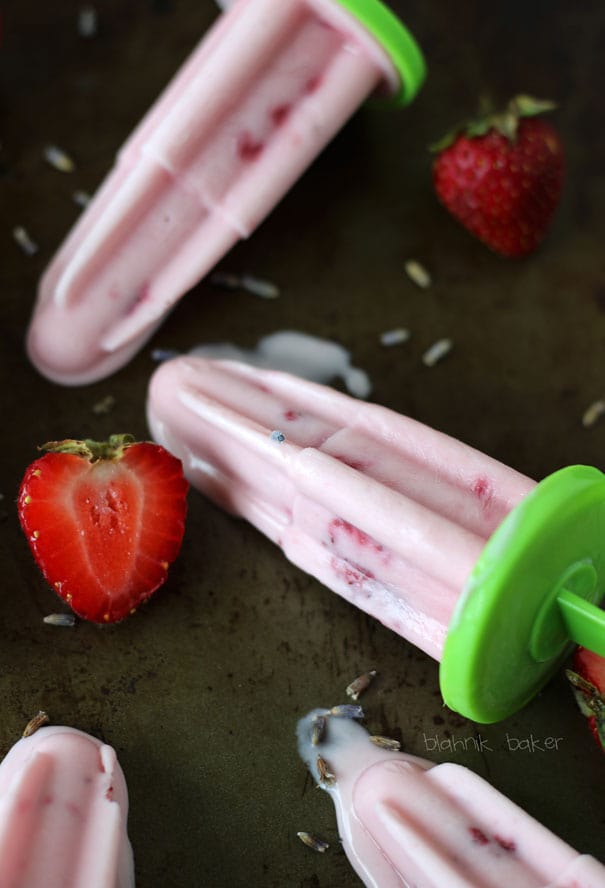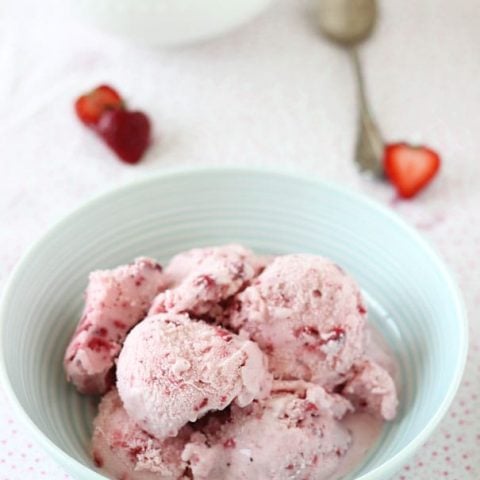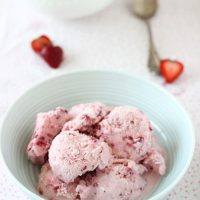 Yield: 10 cups
Strawberry Lavender Frozen Yogurt
A lighter but creamy strawberry frozen yogurt infused with the delicate flavors of lavender and sweetened with a touch of honey.
Ingredients
1 cup coconut milk
2 teaspoons lavender flowers, crushed or finely ground
4 cups Vanilla (or strawberry) Chobani Greek yogurt
½ cup honey
Strawberry puree (see below)
2 cups Strawberries
2 tablespoons lemon juice
½ teaspoon lavender flowers
Instructions
In a small saucepan set over medium low heat, combine the coconut milk with 2 teaspoons lavender flower. Let flowers steep in milk for 20 minutes. Do not simmer or boil milk. Remove from heat and let cool to room temperature. When cool, pass through a fine sieve to remove flowers.
In another saucepan, combine the strawberries, lemon juice and lavender flowers with ⅓ cup water. Cook strawberries over medium heat until berries breakdown and thicken. Remove from heat and pass through a fine sieve. Let the strawberry puree cool to room temperature.
In a medium mixing bowl, beat the yogurt, milk and honey on medium speed until well combined, about 2-3 minutes. Reduce speed to low and add the berry puree. Mix an additional minute until combined.
Pour mixture into freezer bowl of your ice cream machine and follow your manufacturer's instructions. Mix until thickened. Mine took 25 minutes.
Serve soft or transfer to a freezer safe container and freeze for an hour or two.
I teamed up with with some of my blogger friends and Chobani today! We love Greek yogurt so much we are giving away a case of Chobani yogurt cups. We are also sharing summer recipes and ideas of ways to enjoy your favorite yogurts. So check out these healthy delicious treats before you enter to win some yogurt!
Greek Yogurt Lemon Poppyseed Muffins from Jessiker Bakes
Strawberry Pretzel Popsicles from Baking A Moment
Mini Red, White and Blue Cheesecake from bethcakes
Greek Yogurt Stuffed French Toast from Club Narwhal
Red, White, and Blue Smoothies from Chez CateyLou
Patriotic Fruit Tart with Greek Yogurt Pastry Cream from Culinary Couture
Brown Butter Pancakes with Blueberry Compote from URBAN BAKES
Chobani is giving ONE lucky reader a case of assorted Chobani yogurt cups!! Look at the summer flavors in this variety pack? Use the widget below to enter. Good Luck!!