Strawberry Oatmeal Bars
I am sharing this recipe in partnership with Krusteaz, for whom I am proud to be a brand ambassador. As always, all opinions are mine, and THANK YOU for supporting the brands that make it possible for me to continue creating great recipes for you.
I'm taking some time off the next few weeks to spend time with our new baby boy. While I'm away, I've scheduled some recipes here and there to share with you, like these Strawberry Oatmeal Bars today. I couldn't leave you hanging all summer long.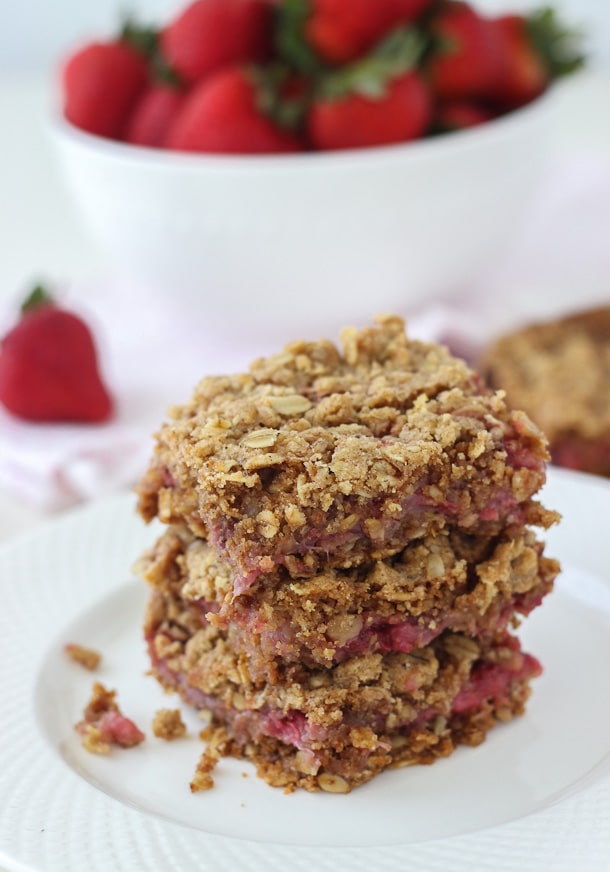 OK, I'll be the first to admit that these are not the prettiest of bars. But don't let their looks fool you. These strawberry oatmeal bars are ridiculously addicting and one of the best things I've made in a while. You have to trust me on this 🙂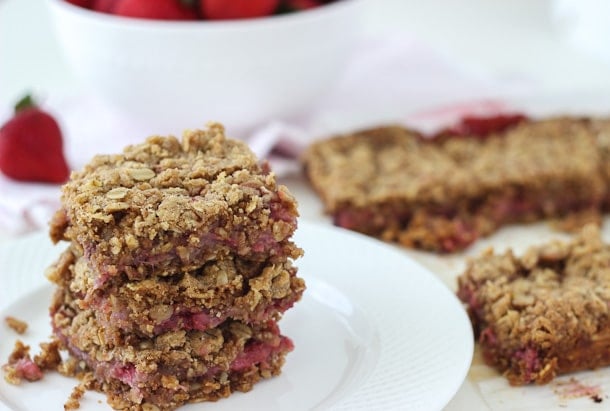 They are breakfast (oatmeal, strawberries :)), snack, and dessert all in one treat. I love making bars with crumb toppings, but what about having the crumb on both sides of the bar?? That is what I did with these strawberry oatmeal bars. I took Krusteaz's Brown Sugar Oatmeal Cookie Mix and turned it into a double crumb coating for a strawberry filling. Sandwiched between two brown sugar oatmeal cookie crusts, the warm baked strawberry filling is just the summer touch to take these bars over the edge. It's warm, crumbly, and hearty.
The hubs brought a pan of these to work with him, and he said they were gone in 10 minutes as his workmates enjoyed them with their morning coffee.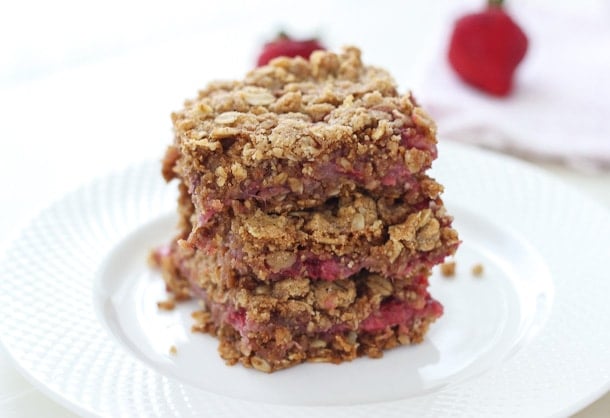 So please make these bars before strawberry season is long gone and you can't anymore. Grab the RECIPE over on Krusteaz.com where I will share it with their readers too.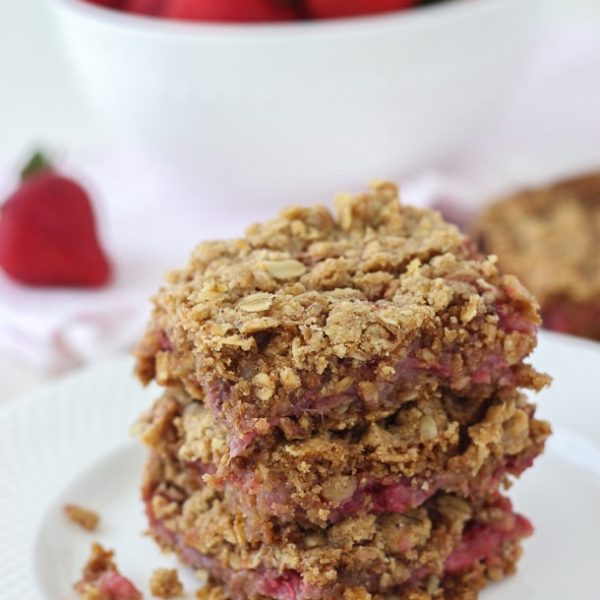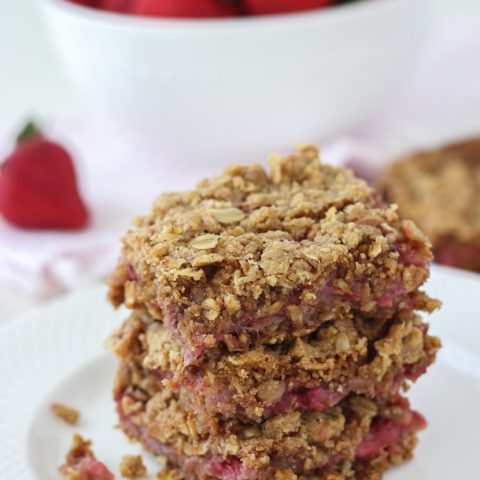 Yield: 9 bars
Strawberry Oatmeal Bars
Ingredients
For filling:
2 cups strawberries, hulled and sliced
¼ cup granulated sugar
juice of half a lemon
½ teaspoon vanilla extract
2 tablespoons flour
For Crumb Layer:
2 cups Krusteaz Brown Sugar Oatmeal Cookie Mix
½ cup rolled oats
a pinch of salt
6 tablespoons unsalted butter, softened to room temperature
Instructions
Preheat the oven to 350 degrees F. Grease an 8x8 inch square pan.
Mix the strawberries, sugar, lemon juice, vanilla extract, and flour in a large bowl. Mix well until the flour is incorporated. Let sit while you prepare the crumb layer.
Whisk together the cookie mix, oats, and salt in another medium bowl. Add in the butter and use your fingers to incorporate the butter into the oats until a crumb-like mixture forms.
Transfer half of the crumb to the bottom of the prepared pan. Press down into an even layer.
Spoon in the strawberry filling over the crumb layer and spread out.
Finally, top with the remaining crumb layer and be sure to have it nicely spread out.
Bake in the oven until the strawberries are bubbly and the top layer is golden brown, about 25-20 minutes.
Let cool and then cut up into squares.
Recommended Products
As an Amazon Associate and member of other affiliate programs, I earn from qualifying purchases.
For more recipe ideas and inspiration, follow Krusteaz on Facebook, Twitter and Pinterest.