White Chocolate Mousse with Riesling
A rich, creamy and silky White Chocolate Mousse with a fresh crisp hint of white grapes. This will be perfect for Valentine's Day!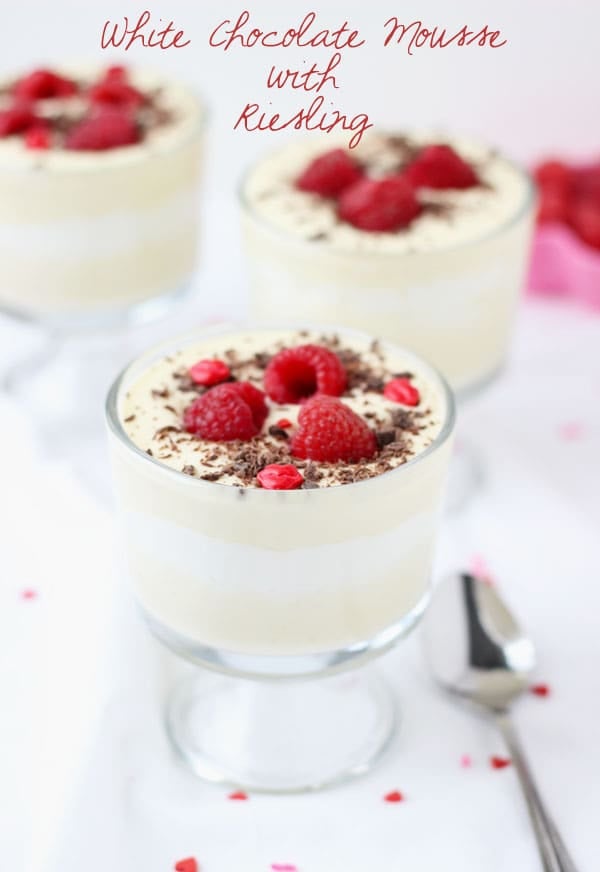 Hi guys! I'm bringing you another Valentine's Day inspired recipe today. This White Chocolate Mousse with Riesling and raspberries is my selection for this month's Pass the Cook Book Club! If you are new around here, Pass the Cook Book club, created by Kita of Pass the Sushi, is group that encourages its members to dust off their ever growing collections of unloved unused cookbooks and challenge themselves to try more recipes. Each month, three recipes are chosen from a selected cookbook and club members can pick the recipe they want to try and we all post on the same day. However, you don't need a blog to participate. There is a Facebook group to share your chosen recipe.

This month, Kita handed the reigns to Christiane from Taking on Magazines who selected The Silver Palate Good Times Cookbook and picked three scrumptious recipes for us to try: Seafood Lasagna, Vegetable Pot Pie and this White Chocolate Mousse. I really wanted to try the seafood lasagna but I live with a crustacean hater and couldn't justify making a whole pan for myself.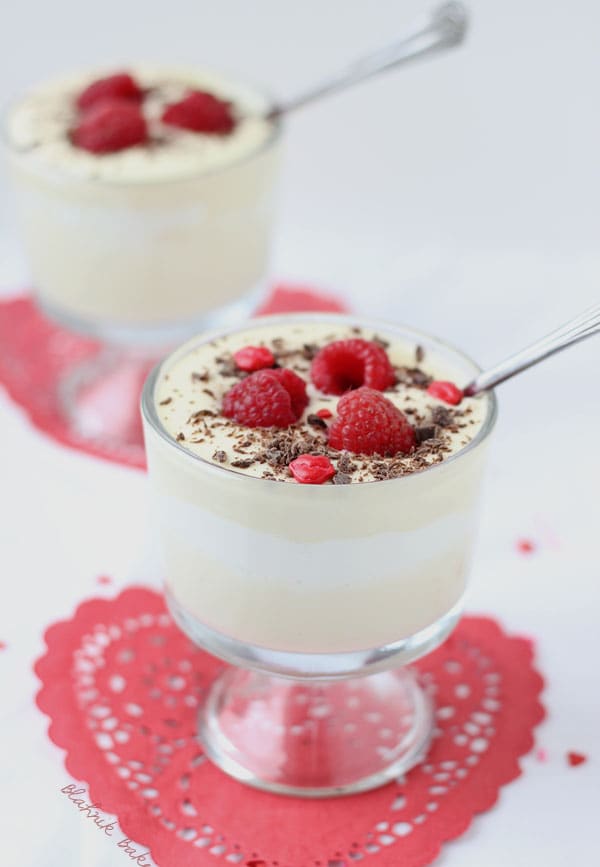 This was my first time making mousse and I was quite surprised that it was fairly easy. Despite the numerous steps involved, it's just a few egg yolks, melted white chocolate, heavy cream and some coordinated pouring. This white chocolate mousse with Riesling is a creamy, silky and decadent dessert, that has a fresh crisp white grape hint from the Riesling. The original recipe calls for Frangelico's liqueur and I didn't have that so I just used what I had in my fridge and I'm glad I did. But I'm sure this will be great with the hazelnut flavor of Frangelico's!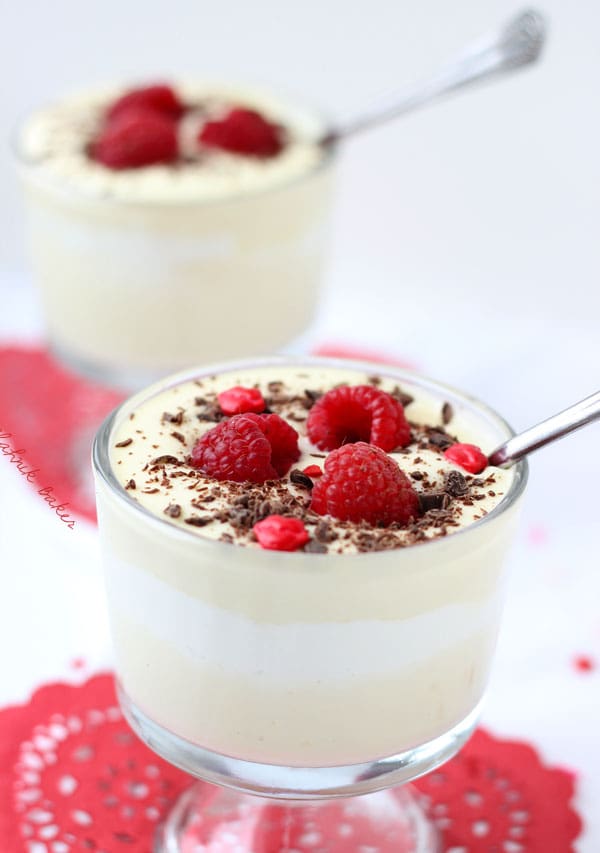 This mousse is perfect for Valentine's Day and any other celebration.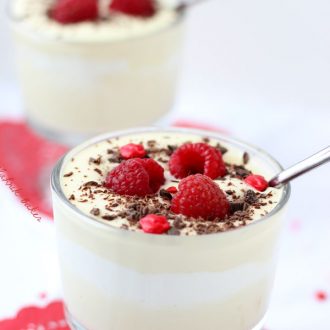 White Chocolate Mousse with Reisling
A rich, creamy and silky White Chocolate Mousse with a fresh crisp hint of white grapes. This will be perfect for Valentine's Day!
Ingredients:
8 ounces best-quality white chocolate, broken into small pieces
½ cup (1 stick) unsalted butter
6 large eggs, separated, at room temperature
1 cup sifted confectioners' sugar
½ cup Riesling wine (I used my favorite Barefoot Riesling)
2 cups whipping cream, cold
Pinch cream of tartar
Toppings:
Chocolate shavings
Raspberries
Directions:
Melt the white chocolate and butter in a small saucepan, stirring constantly.
Beat the egg yolks, sugar and wine until the mixture forms a slowly dissolving ribbon when the beaters are lifted. Pour the mixture into the top of a double boiler and cook, whisking constantly, over simmering water until very thick, about three minutes.
Remove to a large mixing bowl. Whisk in the white chocolate mixture and stir until smooth and cool.
Beat the cream until the peaks are stiff. In a separate bowl, with clean beaters, beat the egg whites with the cream of tartar until stiff but not dry. Gently fold the egg whites into the chocolate mixture; then fold in the whipped cream. Refrigerate until set, about 3 hours.
Spoon the chilled mousse into individual ramekins. Top with grated chocolate and raspberries.
Adapted from The Silver Palate Good Times Cookbook //
MAKING THIS RECIPE? Share it with us on Instagram using #aclassictwist so we can see what you are baking up in your kitchen!