Coconut Matcha Donuts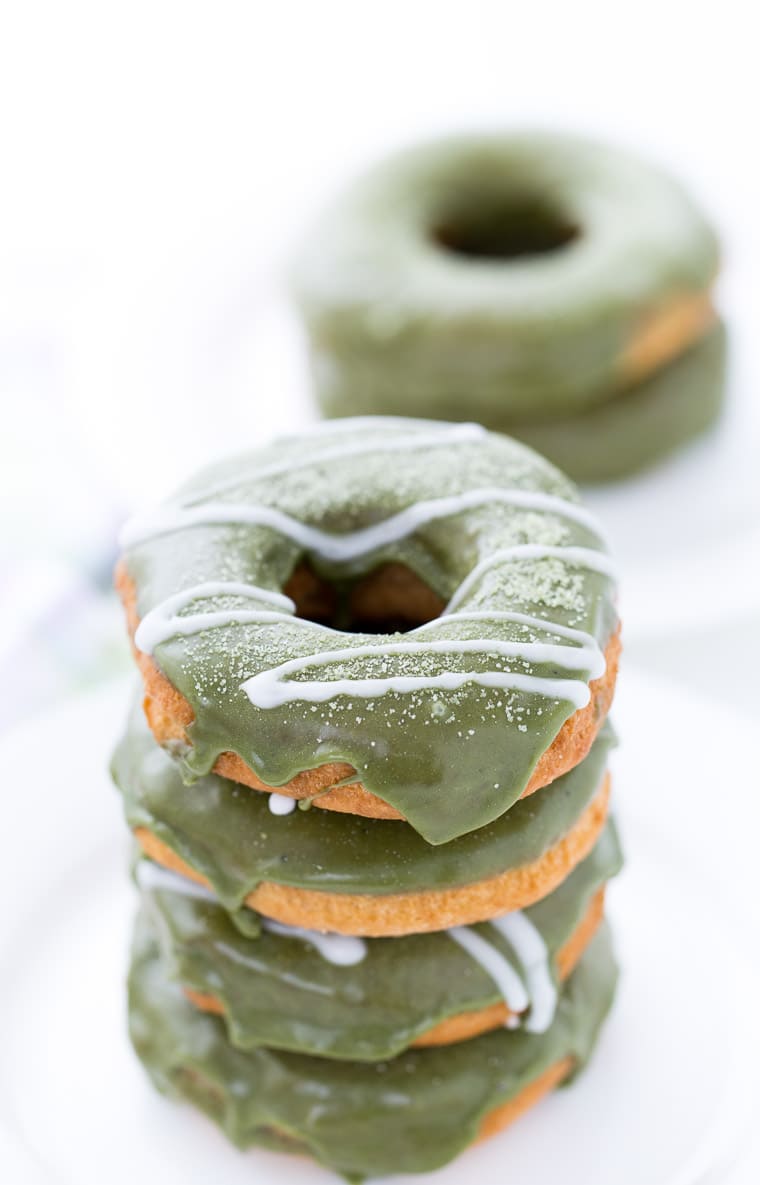 Today is a special kind of Monday! We are throwing a surprise virtual baby shower for my good friend Cate from Chez CateyLou with a donut party and I am bringing these coconut matcha donuts to the party!
Surprise Cate!!! We are so HAPPY for you and TheBetterHalf and can't wait for you to welcome your baby girl.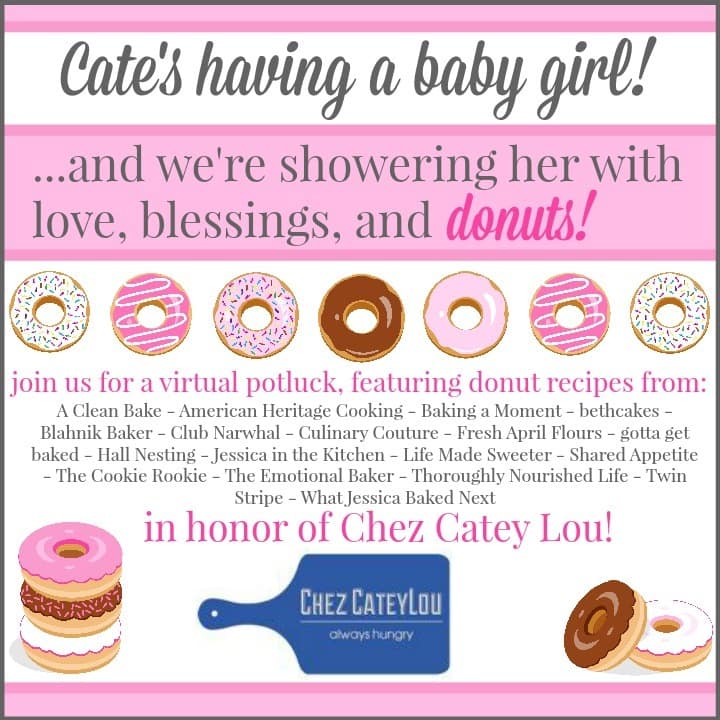 For those of you who don't know Cate, she's a chocolate & peanut butter, donut and cookie obsessed kinda girl.  So a few of her blogging buddies (a whopping 21!) and I are showering her today with a DONUT party to welcome her sweet little girl! Be sure to stop by her blog, Chez CateyLou and congratulate her on her baby!
I don't remember exactly how I came across Cate's blog but I've been following her pretty much as soon as I started blogging. I fell in love with her dessert-loving and baking obsessed adventures and once I met her, I knew she was my kinda girl. Actually Allie and I met her two years ago for the first time in NYC when we all attended the Better Homes and Garden Stylemaker event and we had a great time! She's been an amazing friend and has always been supportive of everything I do, especially with Elliott's arrival. I am so happy for her and TheBetterHalf and know that they will be the best parents to their little girl!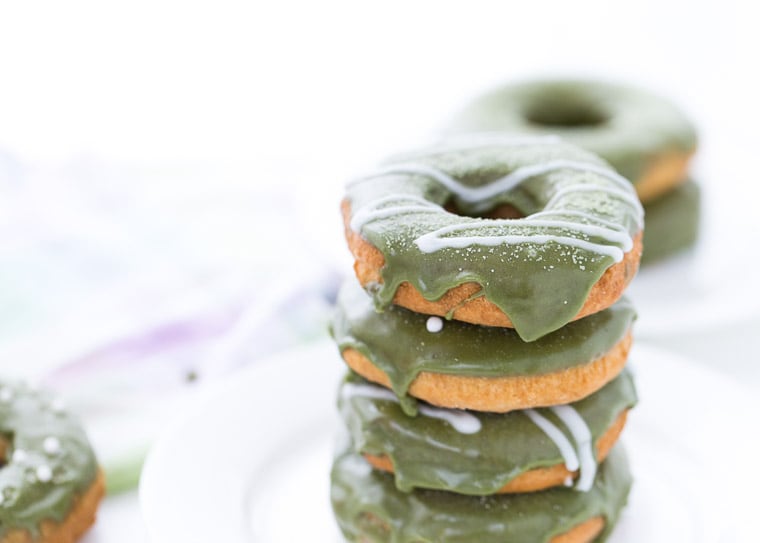 It was Cate who convinced me I needed to get a donut pan and start baking donuts. Well, you all know I got obsessed afterwards and went donut crazy. Today, I made these coconut matcha donuts in her honor as I knew when I was pregannt all I wanted was fried donuts. The baked stuff is good but sometimes you just need a good ole fried donut in the morning and there's nothing that can take its place.
These are soft coconut donuts (with coconut milk and coconut oil) that are topped with a sweet green tea (matcha) glaze with hints of white chocolate. Matcha is an amazing tea flavor to bake with and I first paired it with white chocolate in a cake a few years ago and just loved how the green tea and white chocolate flavors were complementary. Of course coconut makes its way in everything I make but in my defense, I was trying to make these donuts dairy-free and had to use coconut milk. Just a mere coincidence, I promise. If you oppose to coconut, you can substitute the coconut milk with buttermilk and the coconut oil with melted butter. They will still be amazing.
Cate, I can't wait for you to meet your little girl. It's the most amazing thing in the world and I know you are going to be a great mommy!! For sure she will be stylish with a sweet tooth and a love for traveling the world. Congratulations again dear!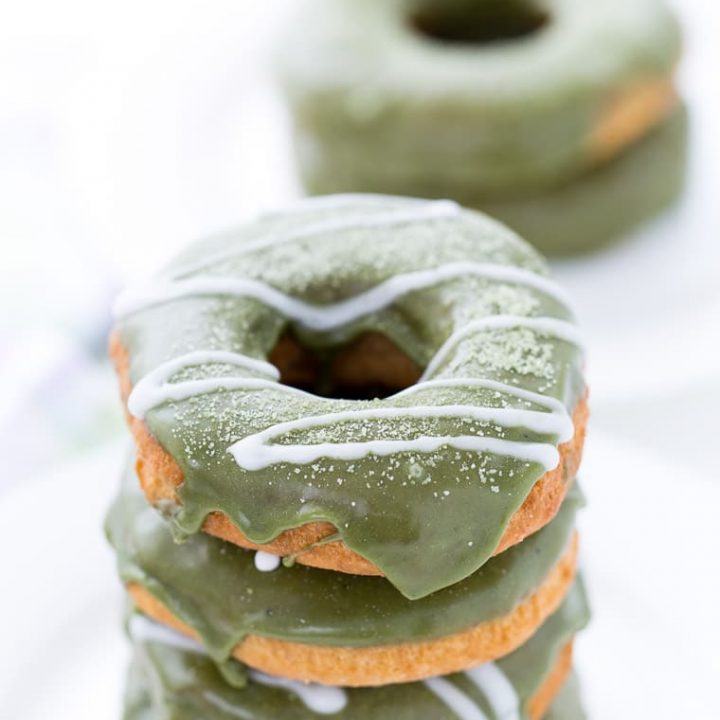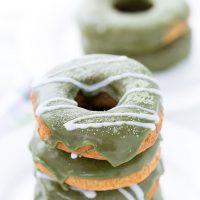 Yield: 8 donuts
Coconut Matcha Donuts with White Chocolate Glaze
Ingredients
For coconut donuts
¼ cup granulated sugar
1¾ teaspoons baking powder
¼ teaspoon baking soda
¾ teaspoon salt
2 cups cake flour, plus more for surface
1 large egg, whisked
½ cup coconut milk
2 tablespoons melted coconut oil
Vegetable oil, for frying (about 4-5 cups)
For Glaze:
1 egg white
2 cups powdered sugar
2 teaspoons matcha powder
2 ounces white chocolate, melted and cooled
1 tablespoon water, or more
Topping:
Matcha Sugar (1 teaspoon matcha powder whisked with 3 tablespoons granulated sugar)
Instructions
In a medium bowl, whisk together the sugar, baking powder, baking soda, salt and cake flour. Create a well in the dry ingredients and add in the egg, coconut milk and coconut oil. Slowly incorporate the wet ingredients into the dry using a wooden spoon or rubber spatula. Mix until dough starts to come together.
Turn dough onto a lightly floured surface and knead a few times until no wet spots remain. Be careful not to over knead, as your donuts will be tough. Lightly roll out the dough into a ¼ inch thick circle. Using a donut cutter or a biscuit cutter about 3 ¾ inch, cut out donut rounds with cutter. If using a biscuit cutter, use a smaller round to cut out donut holes. Combine the scraps and re-roll the dough until you have about 8 donuts.
In a heavy bottomed saucepan, heat up the vegetable oil over medium heat. You can use a thermometer to test when the oil is ready, about 325 degrees. Or you can toss in one of the donut holes in there and when the oil is ready, it will float. Once hot, fry the donuts, in batches, until golden brown, about three minutes each side. Transfer to a wire rack lined with paper towel. Let cool slightly before glazing.
To make the glaze, whisk together all the ingredients until smooth. Dip each donut in glaze and let set for a few minutes.
Store leftover donuts in an airtight container.
Check out the amazing DONUT recipes brought to the party by Cate's lovely friends:
Baked Dark Chocolate Strawberry Donuts – Club Narwhal
Baked Lemon Donuts – What Jessica Baked Next
Biscoff Donuts – Baking a Moment
Chai Donuts – Fresh April FloursChocolate Cake S'mores Donuts – Jessica in the Kitchen
Chocolate Pretzel Donuts – The Emotional Baker
Coconut Matcha Donuts with White Chocolate Glaze – Blahnik Baker
Coffee and Donuts Breakfast Bake – The Cookie Rookie
Doughnut Tiramisu – bethcakes
GF Lemon Donuts with Raspberry Glaze – Thoroughly Nourished Life
Maple Glazed Donut Holes – Hall Nesting
Old Fashioned Sour Cream Cake Donuts – American Heritage Cooking
Paleo Chocolate Frosted Donuts – A Clean Bake
Raspberry Jam Filled Cupcakes – gotta get baked
Sausage, Egg, and Cheese Donut Breakfast Sandwich – Shared Appetite
Strawberry Margarita Oreo Donuts – Life Made Sweeter
Baked Mini Samoa Donuts – Culinary Couture
Donut Holes with Sweet Strawberry Dipping Sauce – Twin Stripee