Grapefruit Tart with a Coconut Crust
This grapefruit tart recipe starts with a crunchy graham cracker crust with toasted coconut and is filled with sweet, tangy grapefruit curd.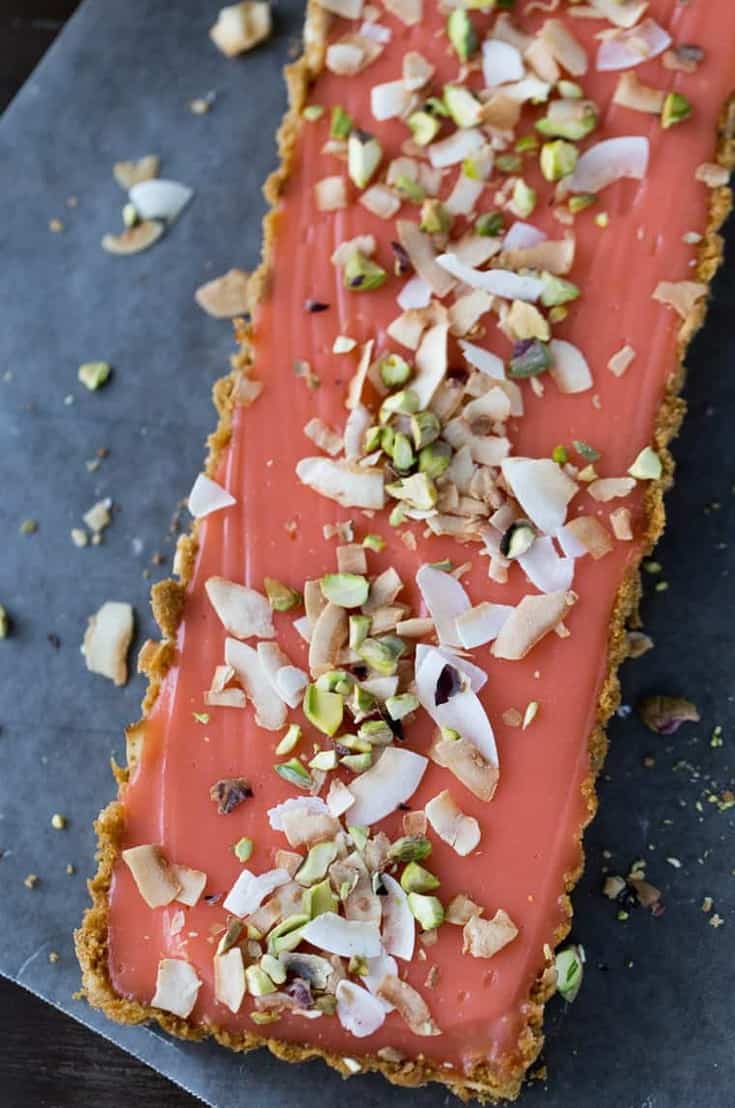 I am going to start off by saying this is the BEST tart I've ever made. Like, seriously good!! It's sweet, tangy, crunchy, addicting and citrusy. If fruity is your thing, then you will agree with me once you try this grapefruit tart with a coconut crust. However, if you are chocolate-obsessed, then maybe this chocolate coconut tart will be more your tune. Either way, bear with me as I convince you, you need this tart in your weekend plans.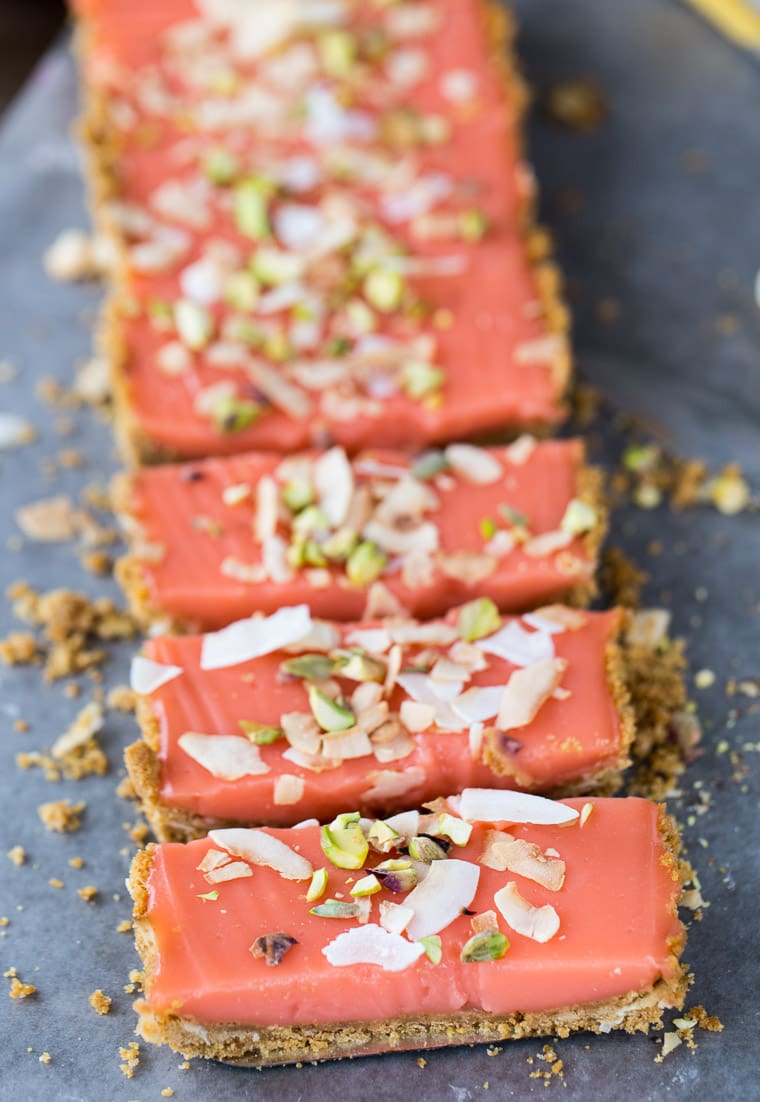 The crust is the reason why I am falling for this tart. Don't get me wrong, the chilled grapefruit curd is luscious and delicious on its own, but the crunchy coconut crust is the show stopper here especially when combined with the curd.
It's a simple graham cracker crust that was elevated with crunchy coconut flakes. I was going to process the coconut flakes with the graham crackers but I forgot and as I was about to bake the crust saw the coconut flakes on the counter. So I tossed them into the crust like that and baked the crust. The results were the crunchiest crust I've made. The visible toasted coconut flakes look great and are amazing in the crust.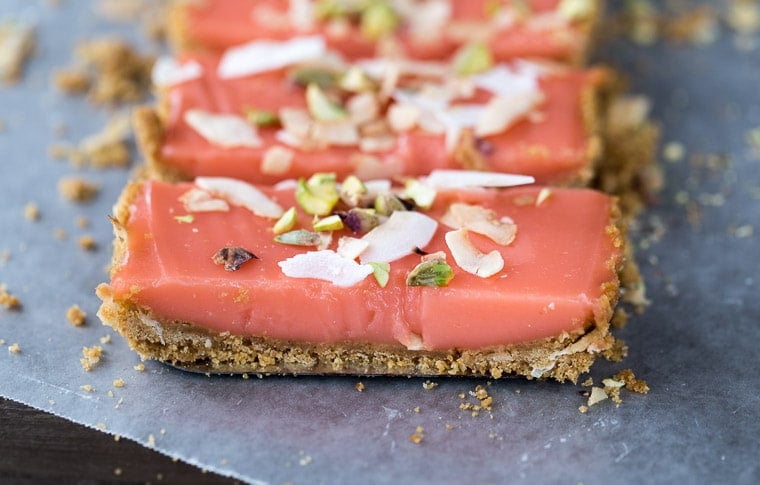 Okay, I will move on from the crust and mention the filling. I love lemon curd but sometimes it's just too tart. With the gorgeous winter citrus floating around in my kitchen, I decided to juice some grapefruits and used it in to make a grapefruit curd. It's sweet, citrusy and tangy.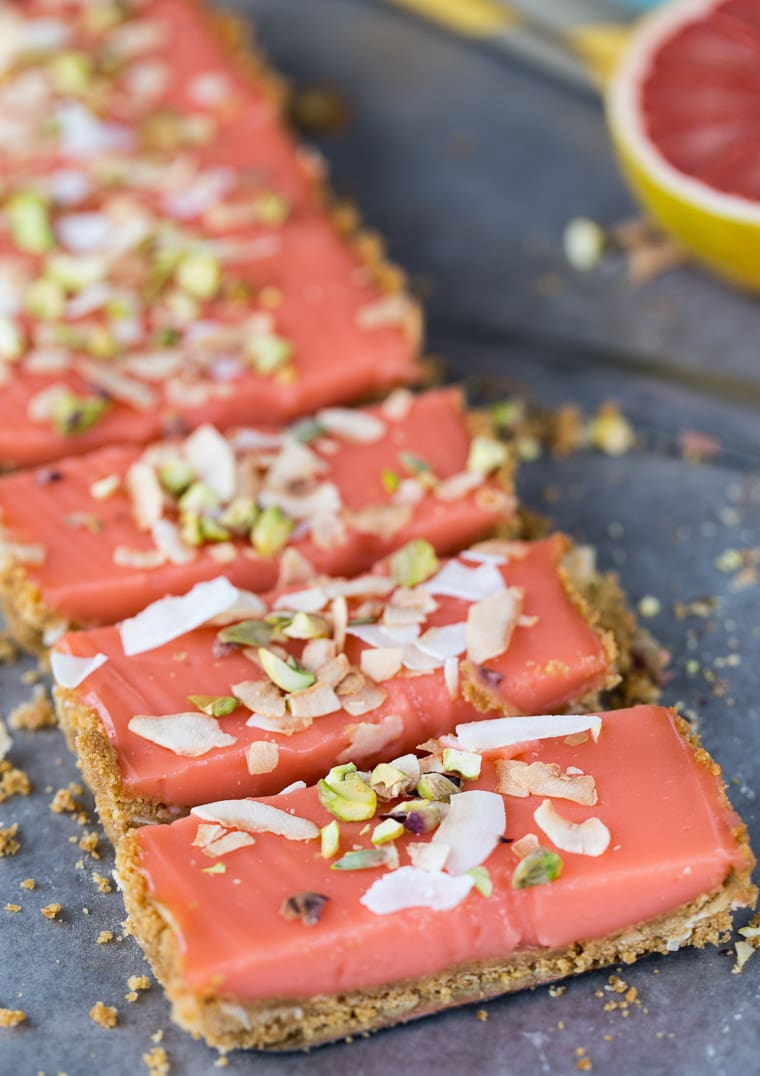 If you are looking for a unique baking project this weekend, then give this grapefruit tart a try! You will enjoy it as much as I did (and my labmates!).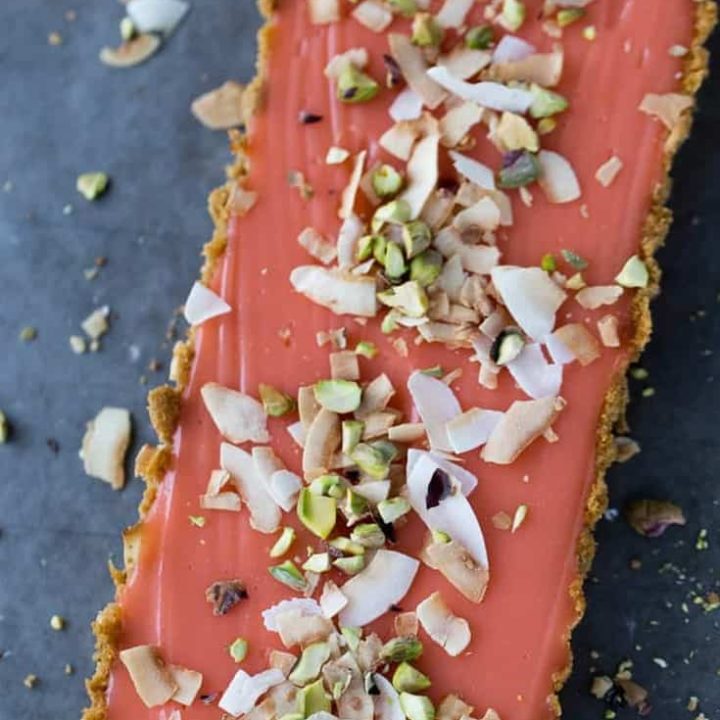 Yield: 1 9-inch tart
Grapefruit Tart with a Coconut Crust
This grapefruit tart recipe starts with a crunchy graham cracker crust with toasted coconut and is filled with a sweet, tangy grapefruit curd. 
Total Time
4 hours
40 minutes
Ingredients
Crust:
1 ¾ cup graham cracker crumbs
¼ cup granulated sugar
¼ teaspoon salt
⅓ cup unsalted butter, melted
½ cup unsweetened coconut flakes
Filling:
¾ cup sugar
3 tablespoons cornstarch
1 ½ cups grapefruit juice
3 large egg yolks
6 tablespoons butter, cut in cubes
1 drop red food coloring (optional)
Topping:
¼ cup toasted coconut flakes
2 tablespoons chopped dry roasted pistachio nuts
Instructions
Heat oven to 400 degrees F. Grease a long rectangular tart pan (or a 9-inch round tart pan) and set aside. Combine the graham cracker crumbs, sugar and salt in the bowl of a food processor. Pulse until combined. Drizzle the melted butter over the mixture and pulse until combined and mixtures looks like wet sand. Transfer to a bowl and mix in the coconut flakes. Press into the bottom of the prepared pan. Bake the crust until set, about 5-8 minutes or until lightly browned. Transfer to a rack and let cool completely.
In a medium saucepan set over medium heat, combine the sugar with the cornstarch and add in the juice. Cook, stirring, until thickened and bubbly. Gradually whisk in half of the hot mixture into the egg yolks to temper the eggs. Return the egg mixture to the saucepan and cook, stirring constantly, until the mixture thickens, about 2-3 minutes. Remove from heat and add in the butter pieces. Whish until melted. Stir in food coloring if using.
Pour the mixture into the cooled crust and smooth the top with a spatula. Cover with plastic wrap pressed against the top of the tart and chill for at least 4 hours, preferably overnight until set. To serve, top with coconut flakes and pistachios.
Notes
Use a dairy free butter for a dairy free recipe.
You can use almond flour in the crust for a gluten-free option
Adapted from BHG
Recommended Products
As an Amazon Associate and member of other affiliate programs, I earn from qualifying purchases.