Mini Red Velvet Bundt Cakes with Cream Cheese Frosting
These mini red velvet bundt cakes are moist, decadent, and tangy with traditional cream cheese frosting! Perfect for your Valentine's Day.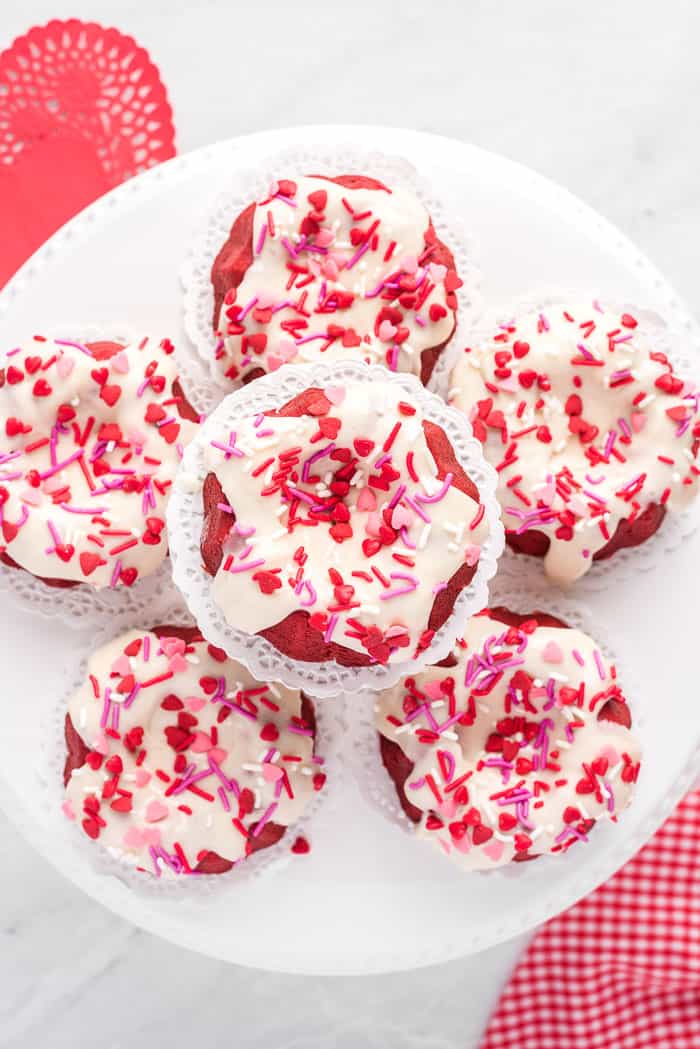 You guys, I feel like a very accomplished food blogger today. I am posting Valentine's day recipe a whole month in advance of the actual day!!! Woot woot!! I didn't even start my Christmas baking that early. But I am very excited about all the cuteness that revolves around Valentine's day and the new mini bundt pans I got for Christmas, that I couldn't wait to start with these mini red velvet bundt cakes with cream cheese frosting. And of course, this gives you time to think about what you would like to make for your Valentine! I have a few more ideas coming up!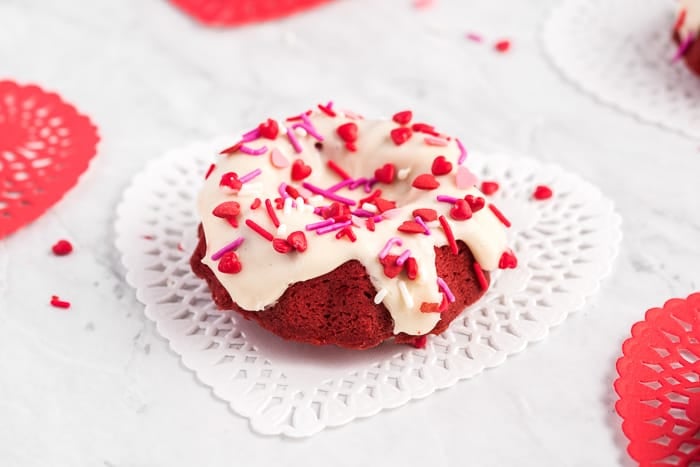 Red velvet cake and I have a special bond. In fact this particular red velvet cake recipe. It was the first recipe I EVER baked in a lame attempt to be romantic (so not) a month after the boy gave me the big diamond ring. I can't say it landed me the man but it sure guaranteed he wasn't going anywhere 🙂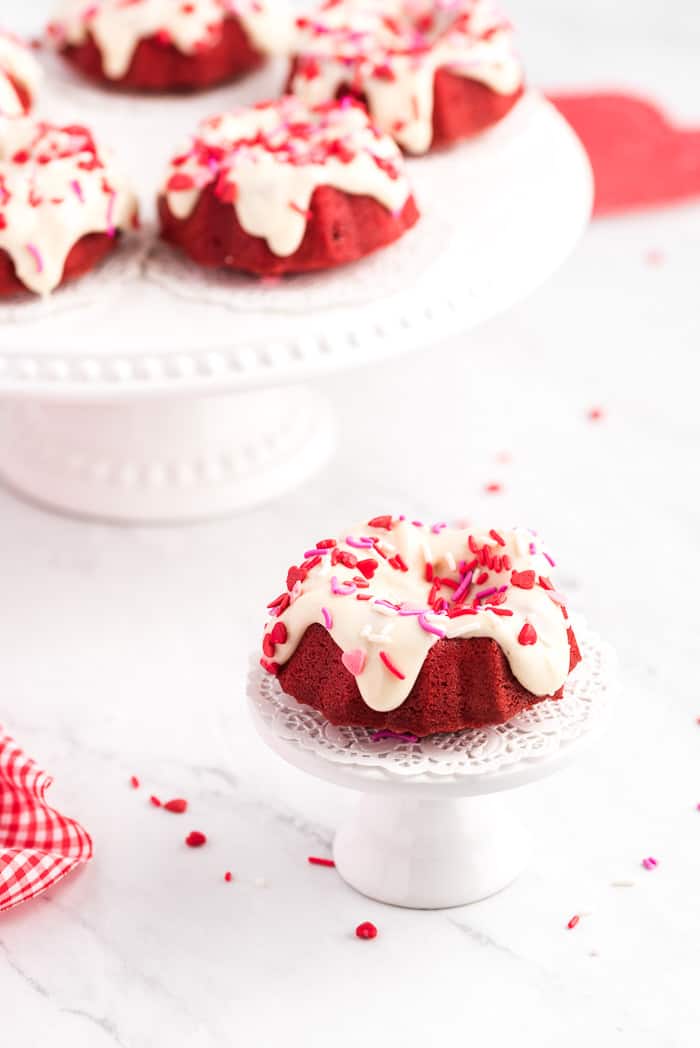 These mini red velvet bundt cakes are perfect for Valentine's Day! I started with my FAVORITE red velvet cake recipe, baked in mini bundt cake pans (Thanks Laura!) and topped them with a traditional cream cheese frosting!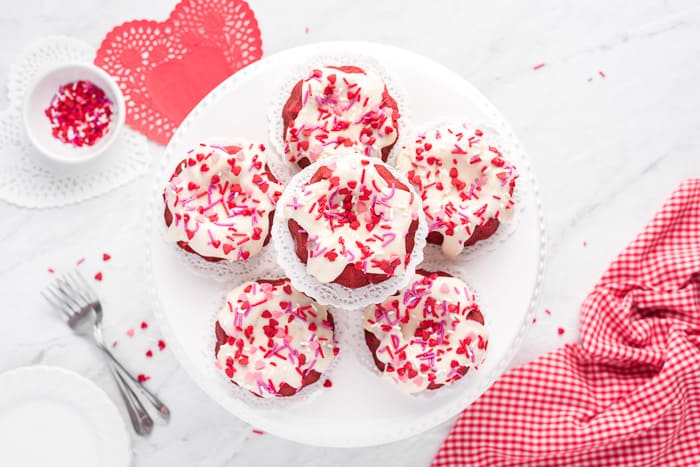 The red velvet cake is soft, fluffy, and not too sweet. Just right! And the cake is nicely complemented with the sweet tangy cream cheese frosting. Absolute perfection if I can say so myself!!
The mini bundt sizes are so cute and will be perfect for individual servings on Valentine's day. Or you can be all romantic and share your mini cake with your Valentine. You know like two cutie pies eating with one fork (so not happening in my hood…enjoy your cake on your OWN plate dear!).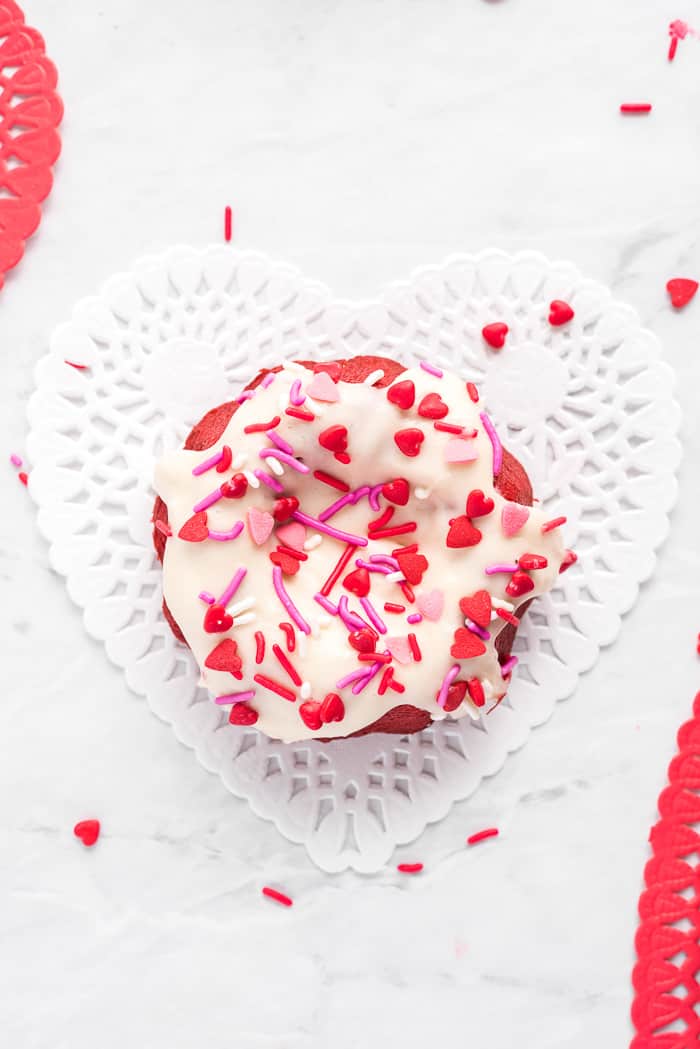 Below I will walk you through how to make these mini bundt cakes with some pictures. Hope it is helpful!!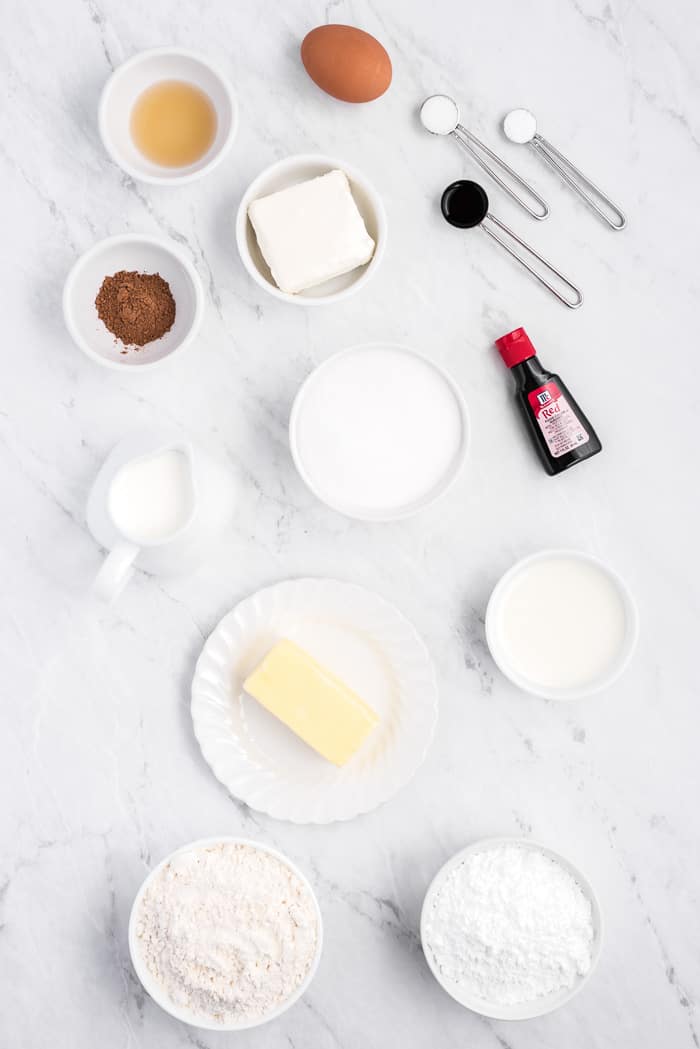 Gather your ingredients! Always good to start off by measuring everything you need so you can focus on the steps of the recipe.
Sift the dry ingredients together.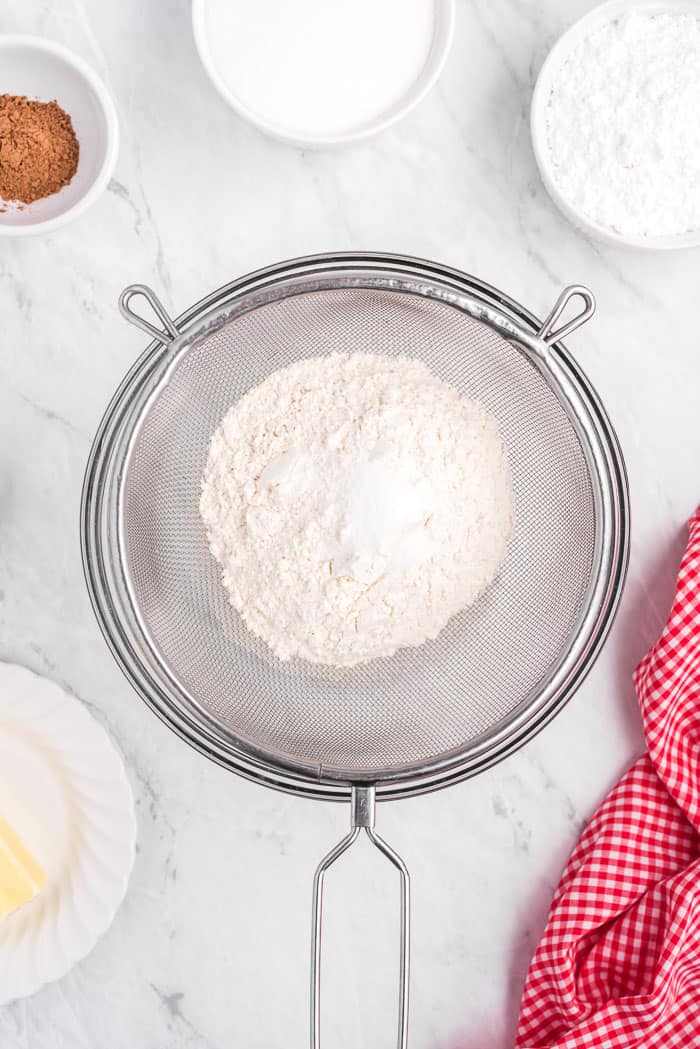 Then cream the butter and sugar together. Add in eggs. Then flour and buttermilk alternating.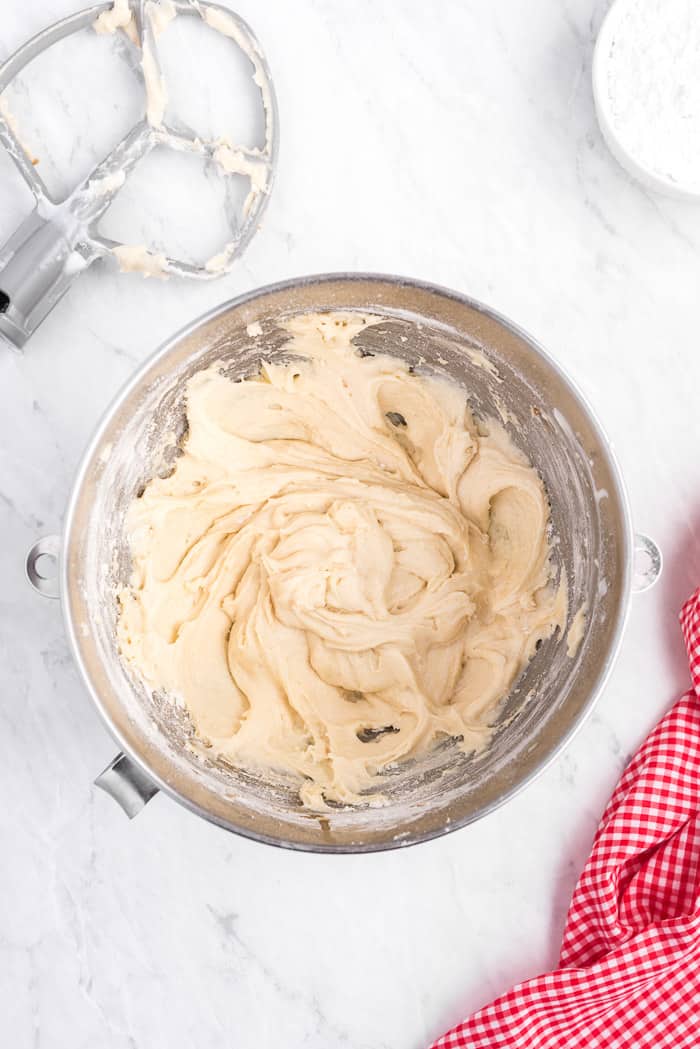 For the red coloring, mix the cocoa powder with the food coloring.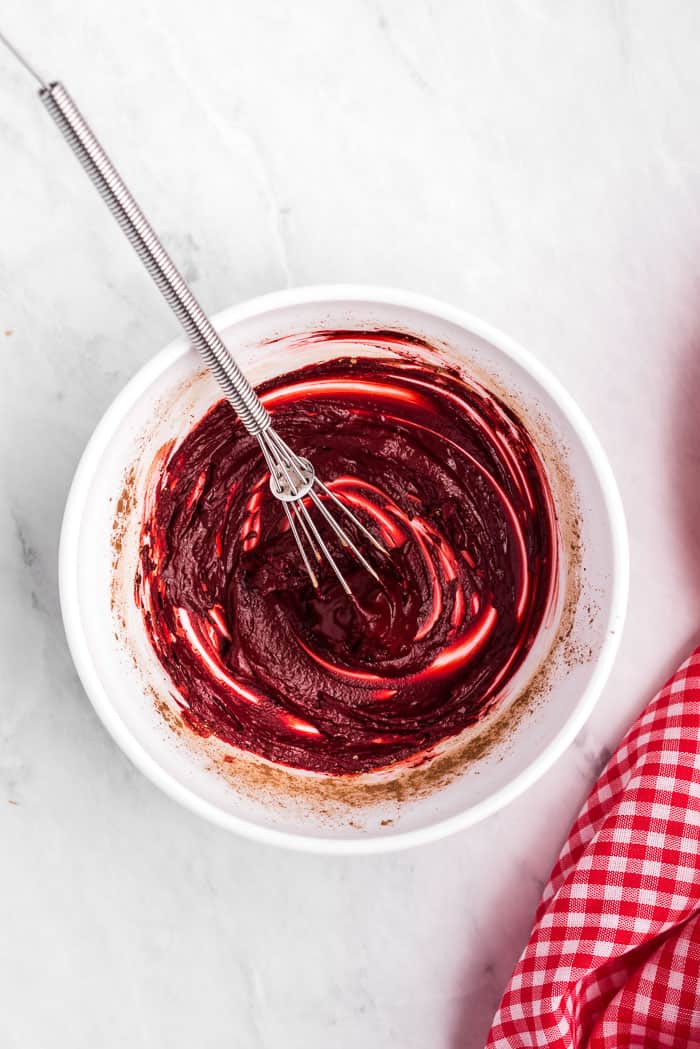 This thick paste once added into your batter, gives you that gorgeous red color we all love.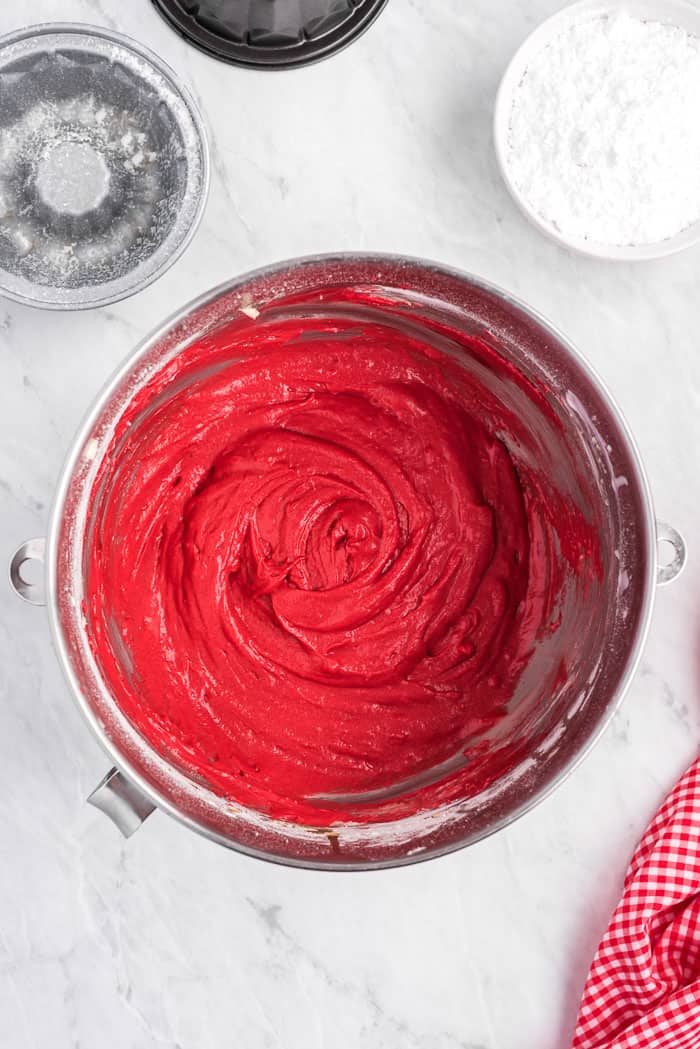 Divide your batter into the prepared pans.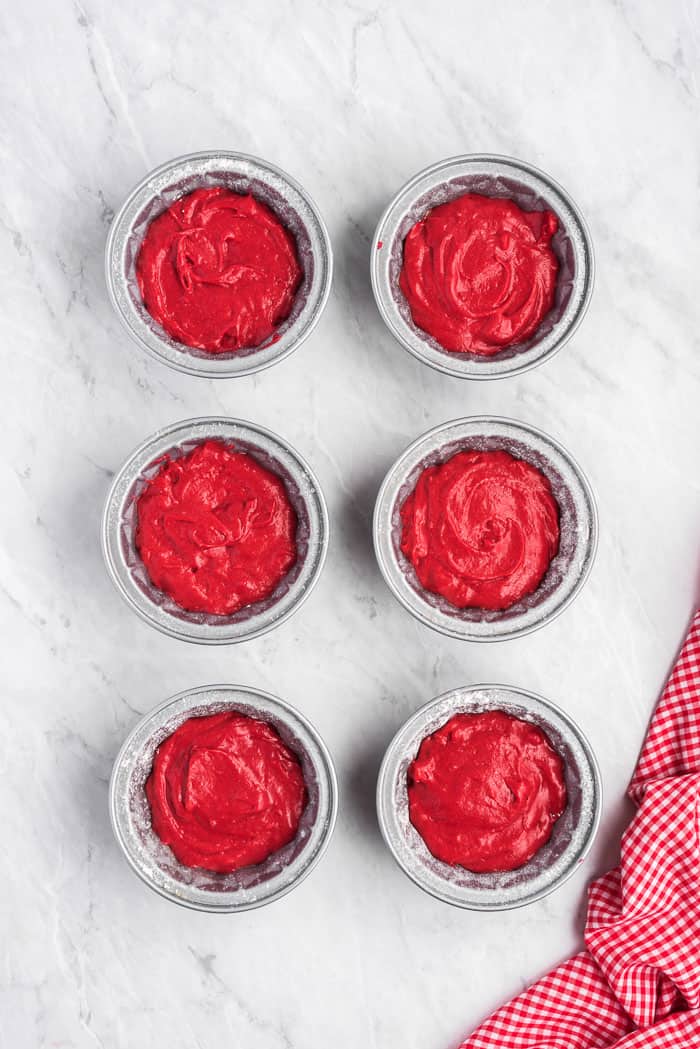 Bake to perfection!!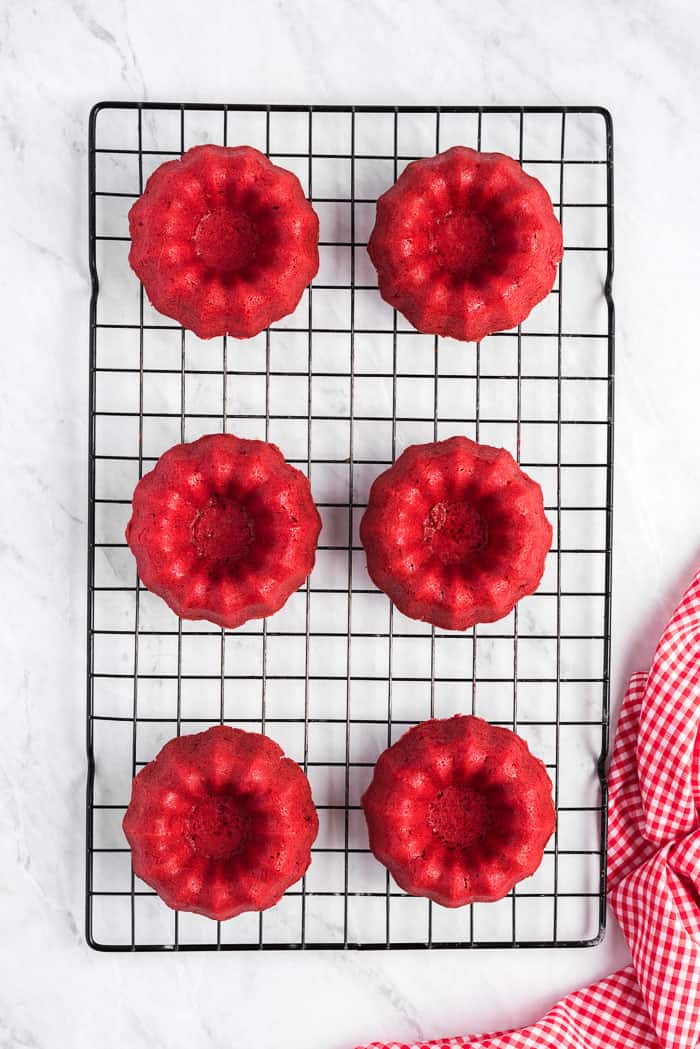 While the bundlettes cool, make your frosting. It is your classic tangy cream cheese icing.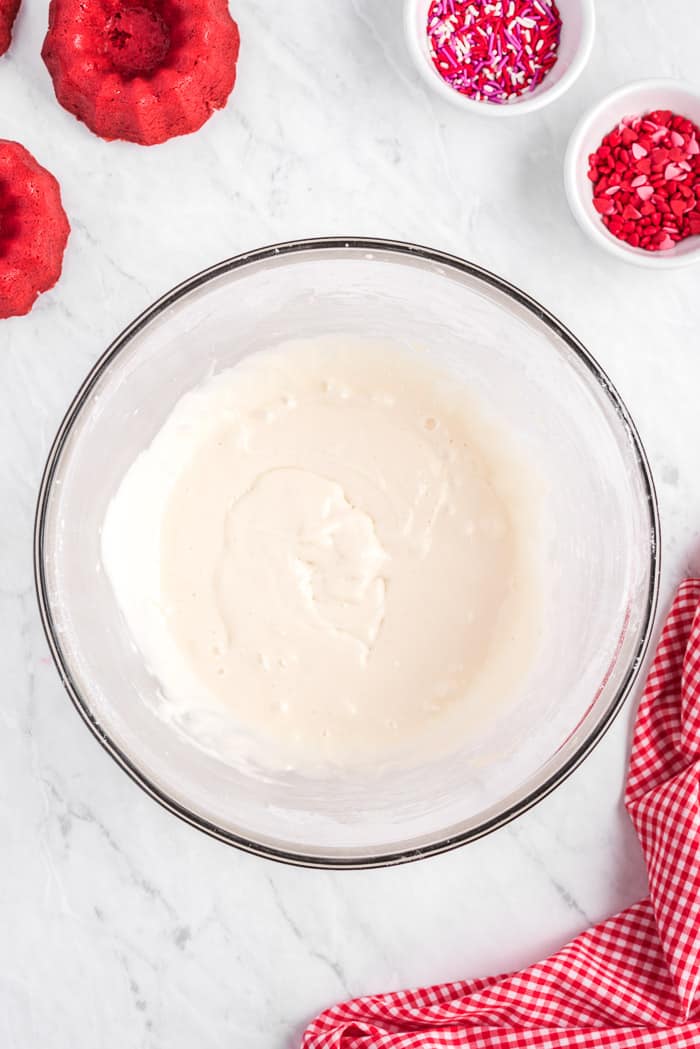 Top each bundt with as much icing as you desire!! No one is judging 🙂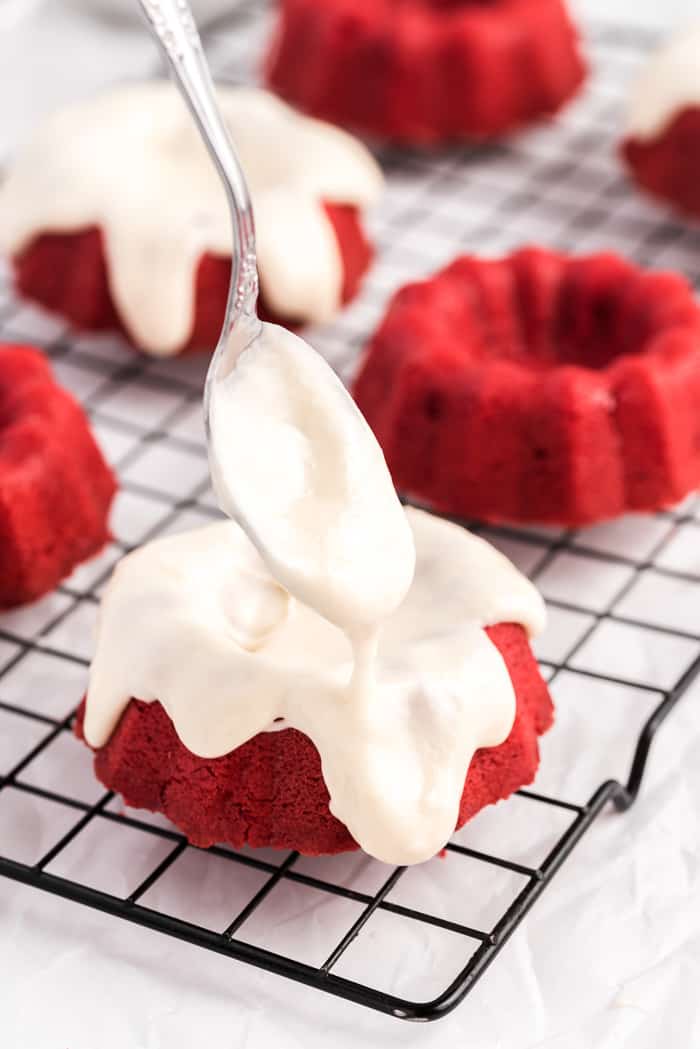 The same goes with the sprinkles. Add as much as you like.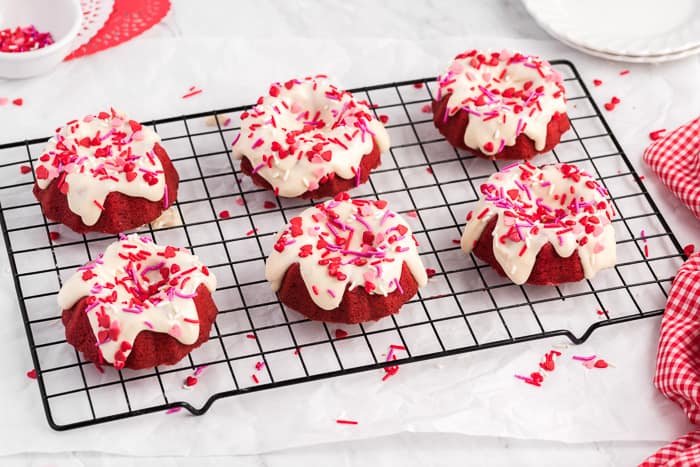 There you have it! I hope you enjoy these mini red velvet bundt cakes.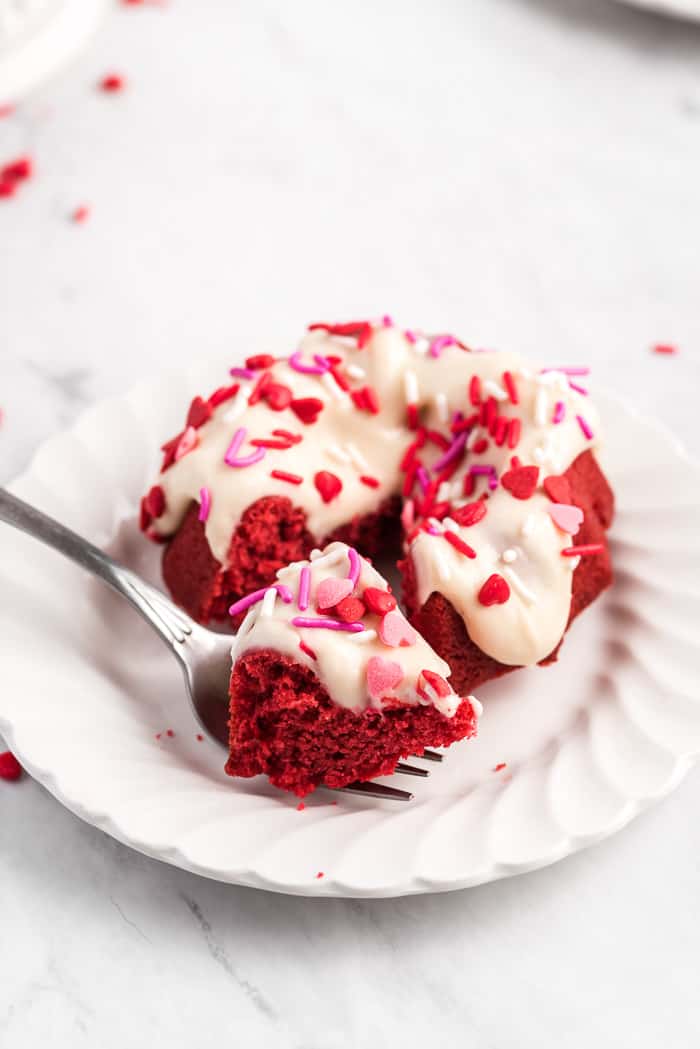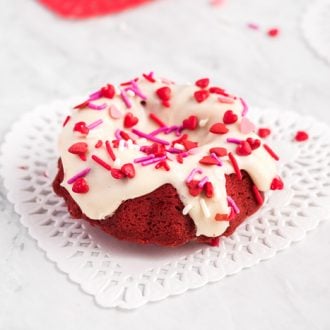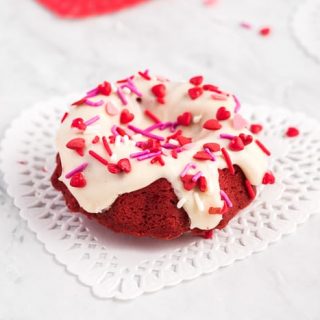 Yield: 6 mini bundt cakes
Mini Red Velvet Bundt Cakes with Cream Cheese Frosting
My favorite Red Velvet cake is moist, decadent and tangy with traditional cream cheese frosting! Dressed up in mini bundts and sprinkles, these are perfect for any Valentine's Day celebration!
Total Time
1 hour
5 minutes
Ingredients
For Red Velvet Cake:
1 ¼ cups all-purpose flour
½ teaspoon salt
1 cup granulated sugar
½ cup unsalted butter, softened
1 large egg
2 teaspoons cocoa powder
2 teaspoons liquid red food coloring
½ cup buttermilk
1 teaspoon pure vanilla extract
¼ teaspoon baking soda
2 teaspoons cider vinegar
Cream Cheese Frosting:
4 ounces cream cheese, softened
1 teaspoon pure vanilla extract
1 cup sifted confectioners' sugar
3-4 tablespoons milk (or more for drizzling consistency)
Instructions
Preheat oven to 350 degrees. Grease and lightly flour (or use baking spray) 6 mini bundt pans.
In a medium bowl, sift flour and salt together, set aside. In the bowl of an electric mixer fitted with the paddle attachment, cream the butter and sugar until light and fluffy, about 3-5 minutes. Add the egg and mix well. Alternate the flour mixture with the buttermilk, beginning and ending with flour mixture. Mix in the vanilla extract.
In a small bowl, mix the red food coloring and cocoa powder until a paste forms. Add this to the batter and mix well. In another small bowl, mix together the baking soda and cider vinegar. It will foam. Add to the batter immediately and mix until well combined in batter.
Divide the batter evenly into the prepared pans. Bake for 15-20 minutes, or until a toothpick inserted into the center comes out clean and the cake springs back when touched. Let cool for 5-10 minutes in pan and then turn out on wire racks and cool completely.
In a large mixing bowl, beat the cream cheese and vanilla until smooth. Add the sugar and milk. Mix on low speed for a minute and then increase to medium-high speed to beat until well combined. If the frosting is too thick, add milk to loosen to drizzle consistency.
Drizzle the frosting over the cakes. Decorate with sprinkles and hearts.
Recommended Products
As an Amazon Associate and member of other affiliate programs, I earn from qualifying purchases.