Vanilla Pomegranate Oatmeal Cookies
These vanilla pomegranate oatmeal cookies are chunky, chewy and totally crunchy! This easy cookie recipe is perfect for Christmas cookie exchanges. (Originally published Dec 2013. Pictures and recipe updated Dec 2017 but text remains the same)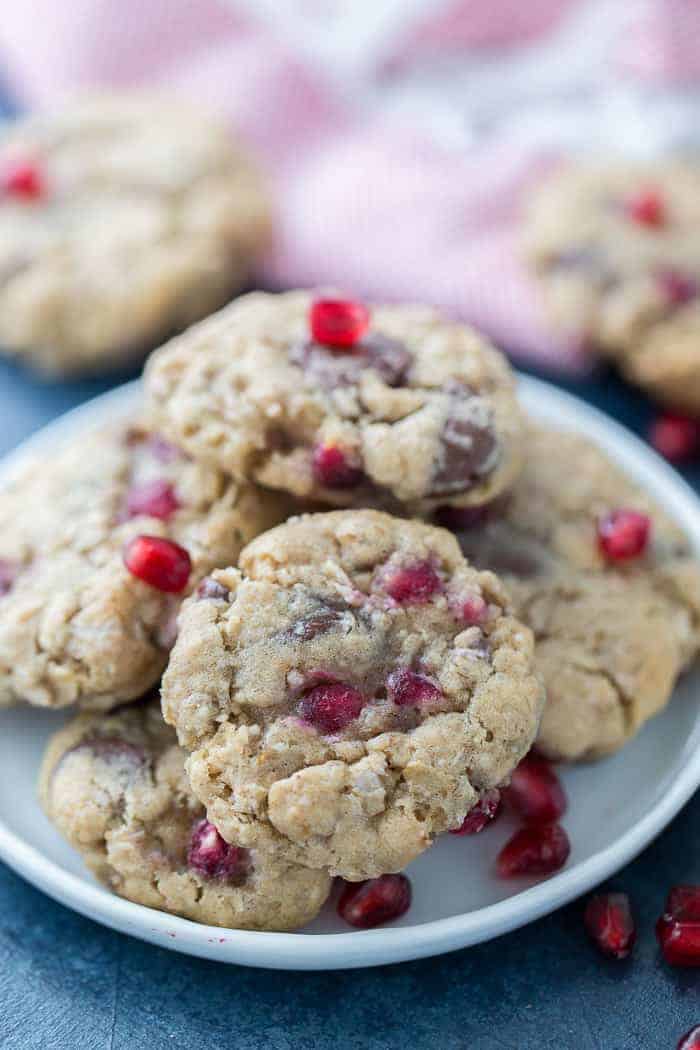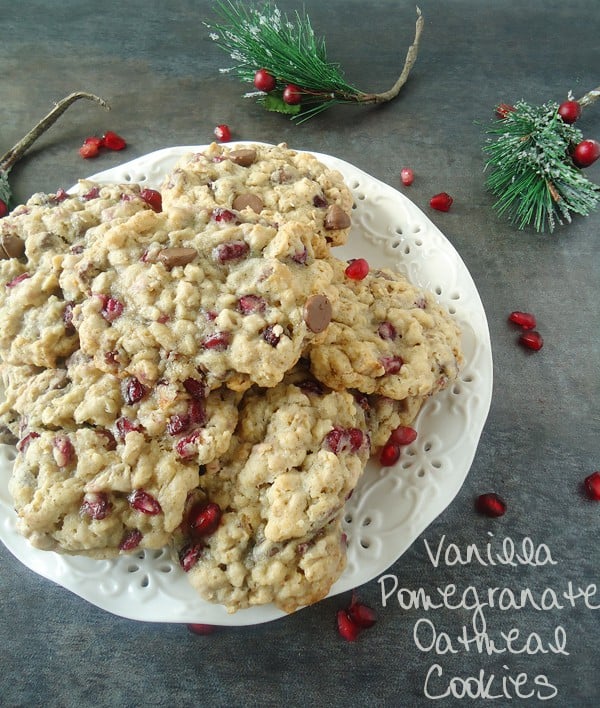 It seems as if everyone is sharing a list of their favorite things or gift guides to help folks out with their holiday shopping. Oh don't worry, I will not be specifically helping you in that arena. This is not that kind of list. Instead, since we are all friends here, I am sharing with you a few of my (soon-to-be) or (I-wish-I-had) favorite things.
Aka I am thinking out loud my Christmas list for the hubs (which he usually shares with whoever asks him for ideas). But if you happen to have someone on your list with similar tastes, then you are in luck!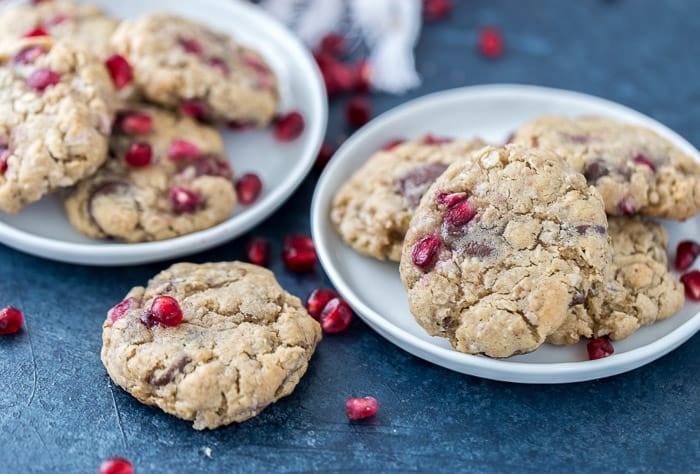 Here are a few of my (I-wish-I had) favorite things this holiday season:
Cookbooks: There are so many in this category but the most immediate ones right now that I can't wait to get my hands on are: The Cook's Illustrated Baking Book
, Bountiful
, The Flavor Bible.
Kitchen Gadgets: With the amount of time I spend in the kitchen, I am always in need of some new tools and gadgets. Here are a few things I am looking at. These measuring cups, this layer cake slicing kit and cake box from Food52. I am in need of some serious storage for my flour, sugar and icing sugar. These OXO 5-Piece Good Grips Pop Containers Set
are high up on my list. Finally, corpus amounts of Lágrima Pure Vanilla Extract that inspired the creation of these vanilla pomegranate oatmeal cookies.
Photography: This Canon EF 50mm f/1.4 Lens
but I will settle for its close relative here
. (No I am not jumping the gun here, I bought a DSLR camera on black Friday!!! It should be delivered today but of course I won't be home so I will have to figure out when I can go pick it up at UPS this week)
Fashion: I am not much of an online shopper when it comes to clothes. I love the in-store experience very much but with all the crowds these days and good deals online, I am coming around for somethings. Like these boots, boots and boots and this blazer from Zara!
Too much? Of course, but it's Christmas 🙂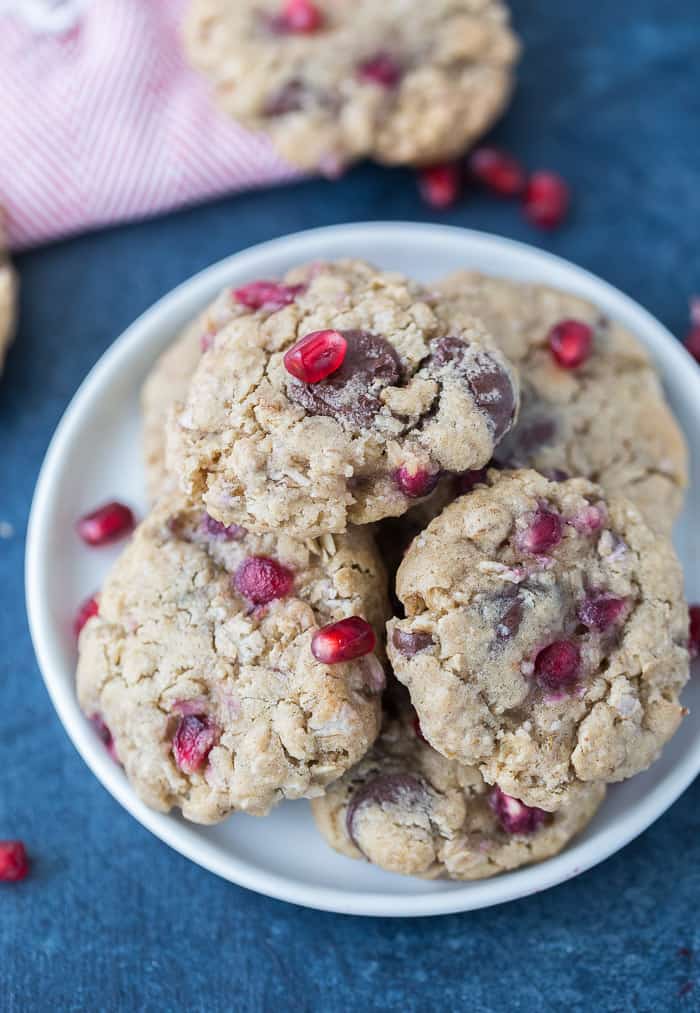 Anyway, onto these vanilla pomegranate oatmeal cookies.
I received a generous sample of vanilla extract from my friends at Lágrima. After trying their vanilla in several recipes over a week, I needed to showcase this high-quality pure vanilla extract in a stand-alone recipe. These vanilla oatmeal cookies highlight the flavor, aroma, and richness of the Ugandan vanilla beans used to make this extract.
These cookies are thick and chewy, and I just love how hearty oatmeal cookies are. The pomegranate gives the cookies an added crunch. Do not skip on using a good quality vanilla extract here because you will miss out on the enhanced flavor and aroma that makes these cookies delicious.
If you have a foodie or baker on your Christmas list, please get them Lágrima Vanilla Extract. Pretty pleased because they will never go back to generic or store-bought vanilla extract after they taste how real vanilla transforms a recipe. Enjoy these vanilla pomegranate oatmeal cookies!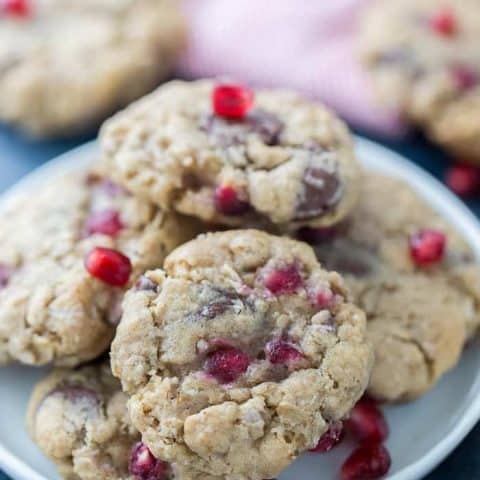 Yield: ~24 cookies
Vanilla Pomegranate Oatmeal Cookies
Ingredients
1 cup cake flour, sifted
¾ cup bread flour
½ teaspoon baking soda
½ teaspoon sea salt
1 ½ cups old-fashioned oats
10 tablespoons unsalted butter, softened
½ cup plus 2 tablespoons granulated sugar
½ cup plus 2 tablespoons light brown sugar
1 egg, room temperature
2 teaspoons pure vanilla extract
1 cup chocolate chips
½ cup pomegranate seeds (drained and dried on a paper towel)
Instructions
In a medium bowl, whisk together the flours, baking soda, salt, and oats.
In the bowl of an electric mixer fitted with the paddle attachment, beat the butter and sugars until light and fluffy, about 2 minutes. Add the egg and vanilla extract and mix until combined.
Add the dry ingredients and mix until just combined. Fold in the chocolate chips and pomegranate seeds using a stiff rubber spatula.
Cover the dough with plastic wrap and chill for at least 30 minutes to an hour.
Preheat oven to 350 degrees F. Line two baking sheets with parchment paper or silicone mats.
Using a medium cookie scoop, scoop out cookie dough and arrange 2 inches apart.
Bake cookies for 12-14 minutes or until lightly golden around the edges.
Remove from oven and let cool on baking sheet for two minutes before transferring to a wire rack. Cool completely.
This is NOT a sponsored post. I was offered a free sample of Lágrima Vanilla extract and was not required to write about it. All opinions are 100% mine. There are, however some affiliate links included.