Burnt Caramel Custard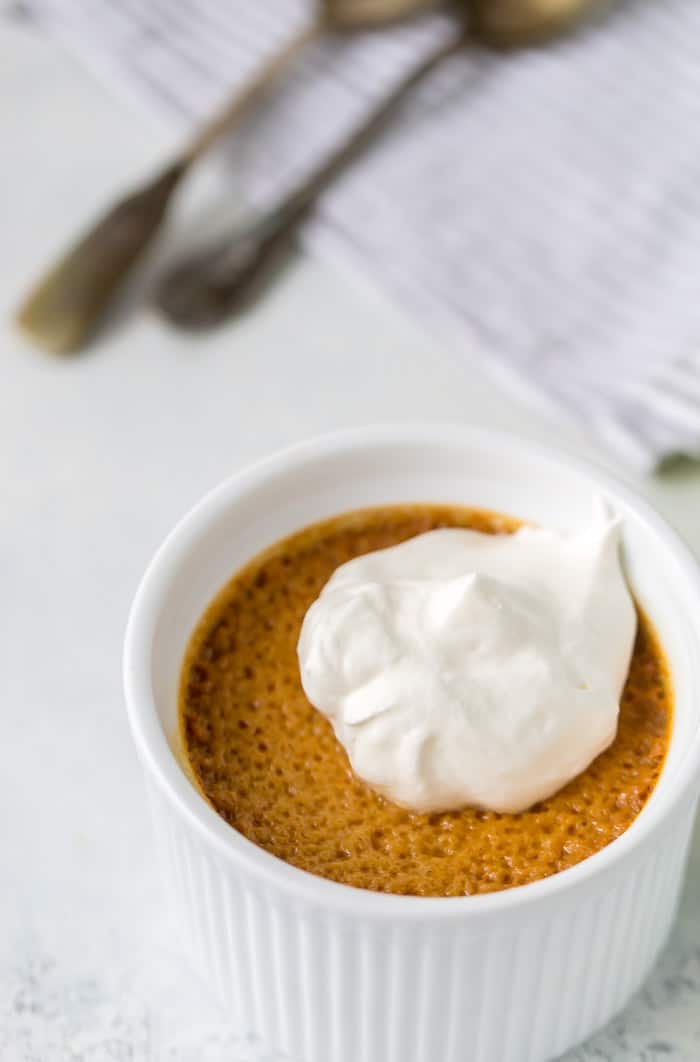 Hello friends! Today's recipe sings the praise of one of my favorite fall flavors; caramel. This burnt caramel custard is everything a rich, silky custard should be. Comforting, satisfy, and just delicious.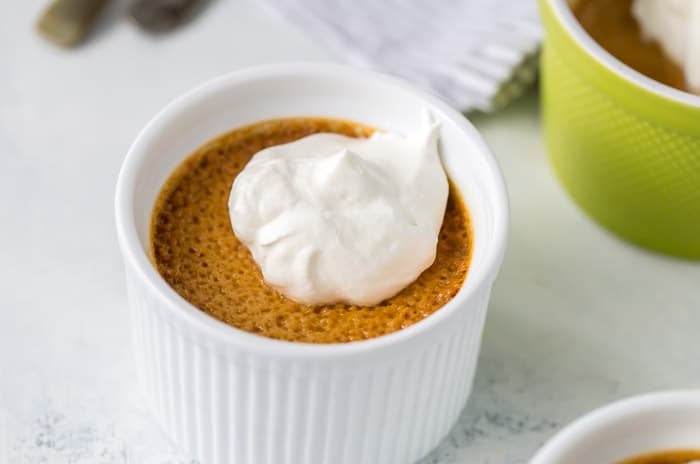 What are some of your favorite fall flavors? I know everyone taunts apples and pumpkins. I included seeing these apple cider cupcakes from earlier this week. Pears, butterscotch, and snickerdoodles rank high up there for me. However, I think caramel deserves its own spot on the favorite fall flavors list. While it is amazing with apples (I love these salted caramel apple cupcakes), caramel is even better on its own. It is quintessential for a reason.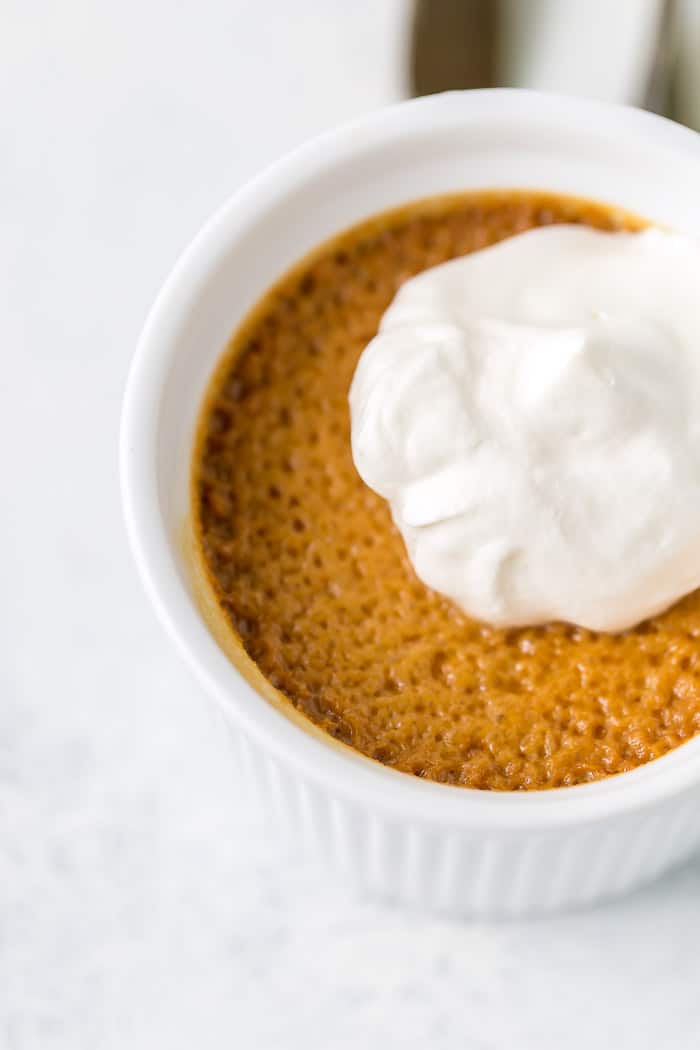 There's something comforting about that caramelization of sugar. From the deep amber color to the burnt sugar taste that brings joy. This caramel custard brings both of those hallmarks to the table. A burnt (on purpose) caramel is made to add a deep flavor to the custard. The caramel is added into a rich custard base that is infused with speckles of vanilla beans. Look at those speckles!!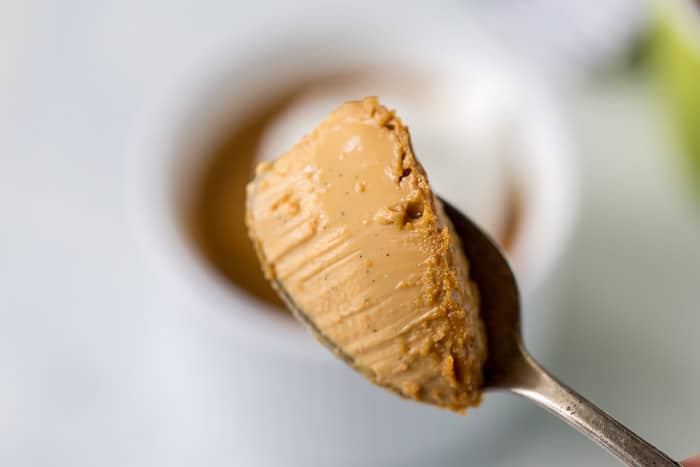 The result, my friends, is an indulging and decadent dessert. The recipe feels almost rustic, reminiscent of simple ingredients turning into a no-fuss quality treat.
This caramel custard is simple enough to whip up for yourself on date night but also elegant and delicious for a crowd. If you would like something different this fall as you entertain close friends and family, this recipe is for you.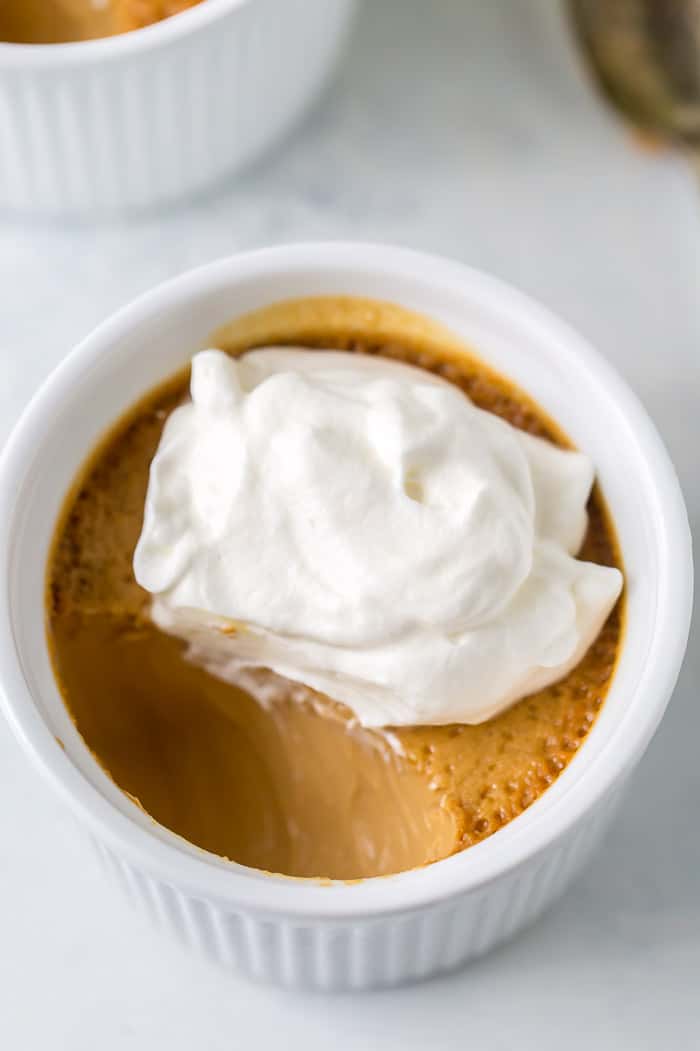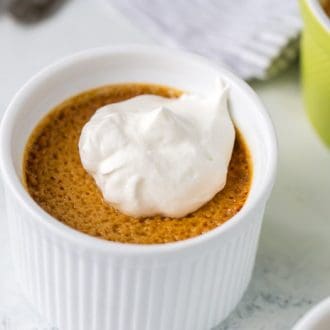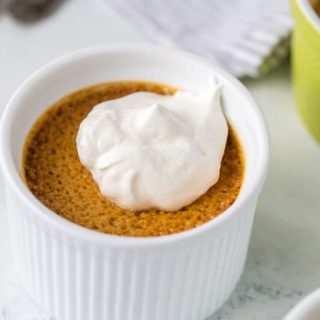 Yield: 4 8-oz ramekins
Burnt Caramel Custard
A rich, indulging burnt caramel custard that is silky, smooth, and enriched with vanilla beans.
Cook Time
1 hour
10 minutes
Total Time
4 hours
40 minutes
Ingredients
For the Custard:
2 cups heavy cream
1 vanilla bean, split lengthwise OR 1 tablespoon vanilla bean paste
1/3 cup plus 2 tablespoons granulated sugar, divided
3 large egg yolks, room temperature
Pinch of kosher salt
To serve:
Whipped cream
Flaky sea salt
Instructions
Preheat oven to 300 degrees F.

In a medium saucepan, add the cream and seeds from the vanilla bean. Add in the vanilla bean pod. Bring the cream to a boil, over medium heat, immediately remove from heat. If using vanilla bean paste, stir it in now.
In a small saucepan, combine 1/3 cup granulated sugar and 2 tablespoon water. Bring to a boil over medium-high heat, stirring to dissolve the sugar. Boil, swirling pan occasionally and brushing down the sides of the pan with a wet pastry brush, until mixture turns a deep amber color, about 4 minutes. Remove the caramel from heat.
Remove the vanilla pod from the warm cream and slowly add cream to caramel, stirring constantly until smooth. The mixture will bubble.
In a large bowl, whisk together the egg yolks, salt, and remaining 2 tablespoon sugar. Slowly stream in the caramel, whisking constantly.
Divide the custard equally among the ramekins. Prepare a large baking dish or roasting by placing a kitchen towel at the bottom. Place the ramekins in the baking dish. Fill the pan with water to come halfway up sides of ramekins.
Bake until the custard is just set but still jiggly in the center, about 60-70 minutes. Remove ramekins from the baking dish, place on a wire rack, and let cool.
Chill puddings uncovered at least 3 hours.
Notes
You can double the recipe for a crowd.
Adapted from Bon Appetit circa 2013 issue
Recommended Products
As an Amazon Associate and member of other affiliate programs, I earn from qualifying purchases.