Caramel Apple Pie Cookie Cups
There is no need to choose between cookies or apple pie anymore because you can enjoy both in these caramel apple pie cookie cups!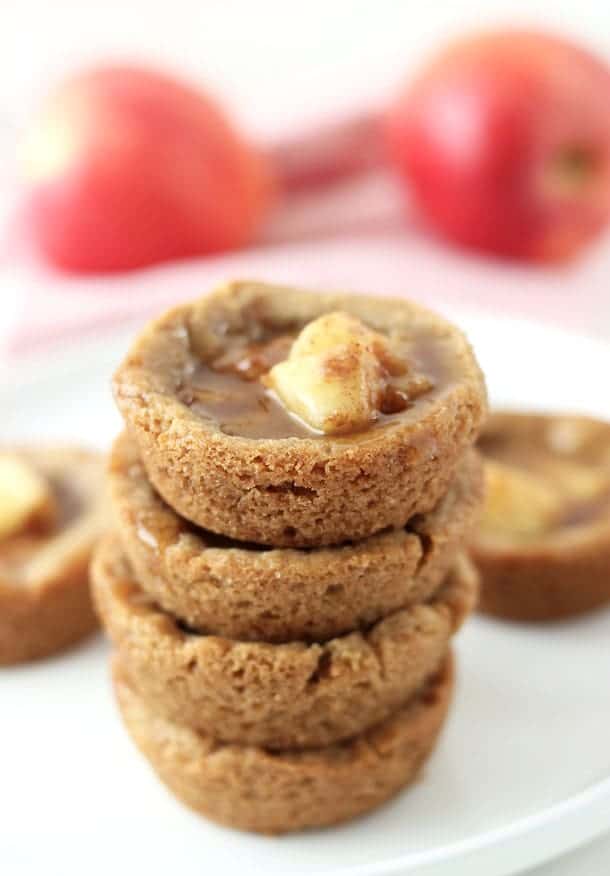 Do you feel like you always have to choose between desserts when you attend a party? You want a slice of the cheesecake, a piece of cake, maybe a cupcake or some macarons? Yeah this happens to me all the time and it's always at fancy events where I don't want to look like a pig. Well you don't have to choose anymore. You can now have two desserts in one, thanks to Dorothy Kern's new cookbook Dessert Mash-Ups
. You can have a cookie and a pie in one cup!!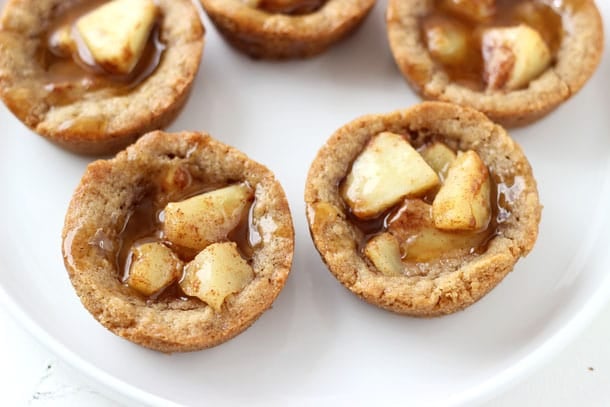 Dorothy is the author of the wildly popular blog Crazy for Crust and her new book is an extension of her creative, fun and delicious recipes she shares. With 52 doubly delicious mash-ups like Sconuts (Scones + Doughnuts), Overnight pumpkin cheesecake french toast (oh my gosh) and Cookies 'n' Cream Magic Bar Pie, this book will never leave your kitchen. My list of recipes to try from her book is so long but I had to start with these apple pie cookies  (tis the season!!).
Spiced butter cookies are filled with apple pie filling and caramel to give you this ridiculously delicious dessert mash-up. When the hubs tasted it on Sunday night he went "Whoa, what is this? It's is amazing!" And I echo his sentiments. With the soft cookie serving as a sweet spiced crust, you will think you are eating bite-sized pies.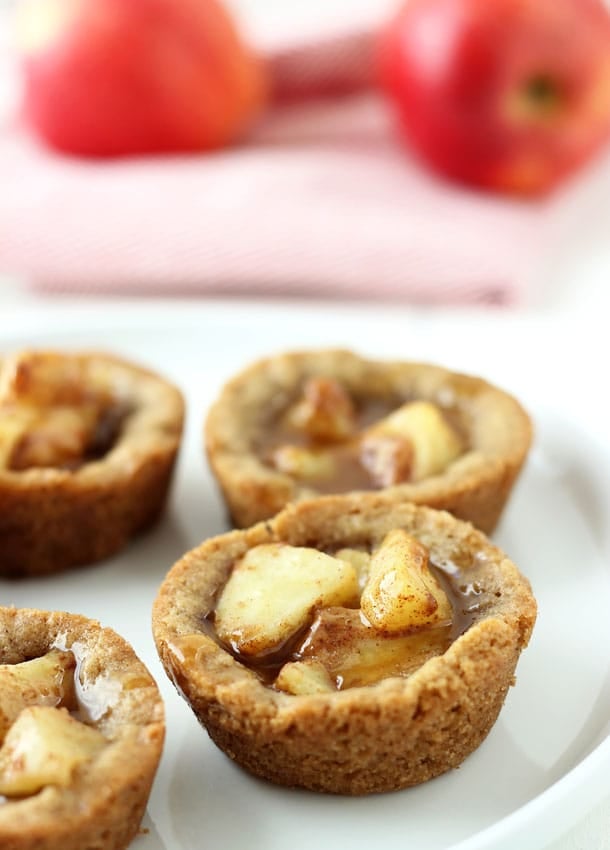 If you are looking for creative and fun ways to take your baking to the next level, then you must grab a copy of Dessert Mash-Ups.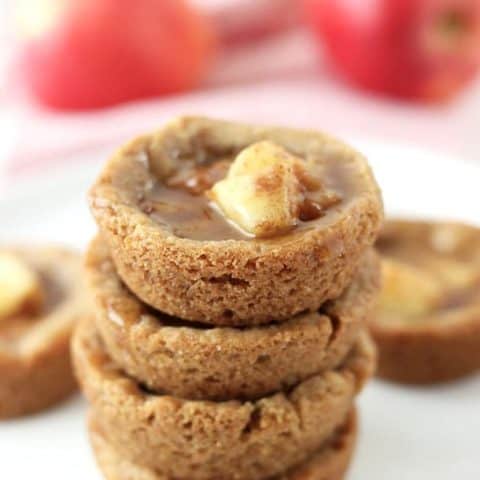 Yield: 12-15 cookie cups
Caramel Apple Pie Cookie Cups
There is no need to choose between cookies or apple pie anymore because you can enjoy both in these caramel apple pie cookie cups!
Ingredients
½ cup (1 stick) unsalted butter, room temperature
½ cup packed brown sugar
¼ cup + 2 Tbsp granulated sugar, divided
1 large egg
1 tablespoon vanilla extract
½ teaspoon baking soda
½ teaspoon salt
1-1/2 teaspoon cinnamon, divided
1-1/2 cups + 1 tablespoon all-purpose flour, divided
1 large Granny Smith apple, peeled, cored, and diced small (about 1-1/2 cups)
½ cup water
½ cup caramel sauce (I use this recipe here)
Instructions
Preheat oven to 350 degrees. Grease 1 regular muffin pans with cooking spray
In a large bowl, beat the butter, brown sugar and ¼ cup granulated sugar until well combined. Beat in egg and vanilla extract.
In a medium bowl, whisk together the baking soda, salt, 1 teaspoon cinnamon, and 1-1/2 cups flour. Add flour mixture to wet ingredients and mix until just combined. Cover dough plastic wrap and refrigerate for at least 30 minutes.
While dough chills, combine apples and water in a small saucepan set over medium heat. Cook apples stirring occasionally until apples are translucent, about 5 minutes. Drain well and let cool for 10 minutes.
Using a tablespoon, scoop chilled cookie dough into balls and place one in each cavity of muffin pan. Press down slightly to flatten and create a indent in the centers for the apples.
Sprinkle the remaining 2 tablespoons sugar, 1 tablespoon flour, and ½ teaspoon cinnamon over the apples. Stir to combine. Spoon 1 teaspoon of apple filling into indentation of each cookie.
Bake for 9-11 minutes, or until cookies are browned. Let cookie cups cool for at least 10 minutes before removing from pan. Drizzle with caramel. Store in an airtight container at room temperature for up to 3 days.
Disclosure: This is not a sponsored post. I was provided with a complimentary copy of the cookbook by Ulysses Press. All opinions are 100% my own. Some affiliate links included.