Pumpkin Pecan Cheesecake with Salted Caramel Sauce
Your classic pumpkin cheesecake is taken to a whole new level with crunchy pecans and sticky salty caramel sauce while still bursting with creamy pumpkin goodness!!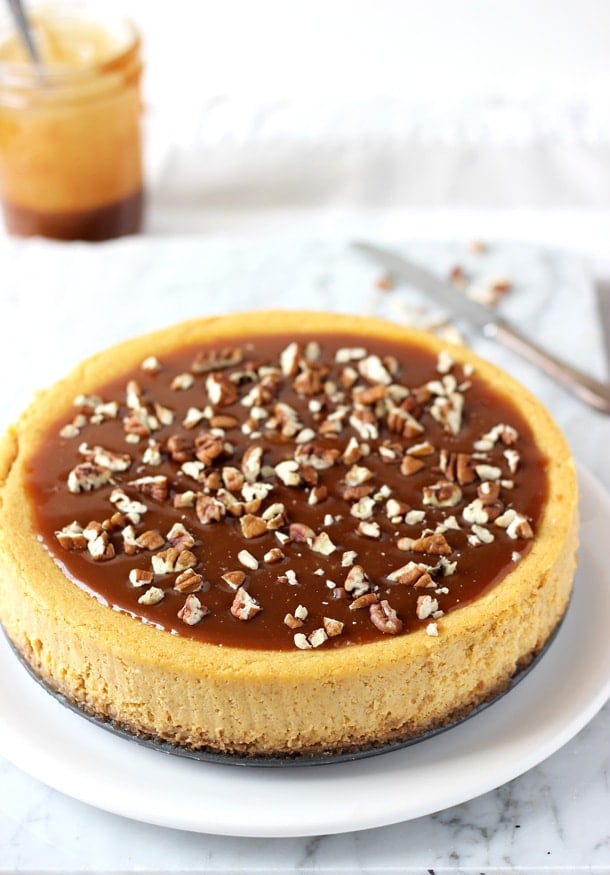 We spent all of last week on some sort of apple fest here. I should have declared it apple week. In case you missed it, there was apple with goat cheese crescents, followed by freakily delicious spiced apple cupcakes with the best maple marshmallow frosting and we ended the week with a dessert mashup that is a combination of apple pie and cookies aka caramel apple pie cookie cups. Apple fest indeed!!
But it's time to showcase the other love of the fall! Pumpkin!!! I bring you pumpkin pecan cheesecake with salted caramel sauce. The hubs like everyone else is a huge fan and has been asking for everything pumpkin since the start of September but I figured, we have all of November still to get our pumpkin on. How much pumpkin can one consume really? He seems to believe unlimited!!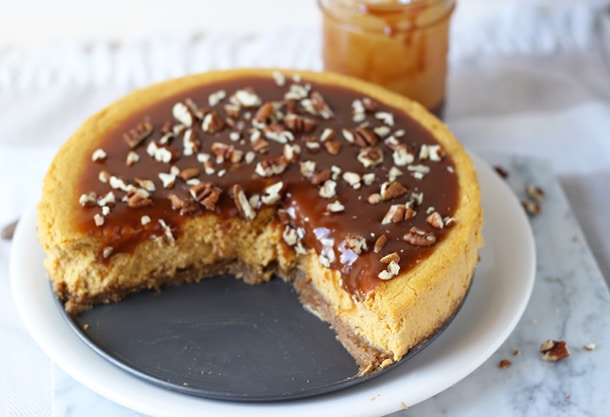 I used my favorite cheesecake base that's creamy, tangy and just rich. Starting with a pecan crust, this cheesecake is filled with warm spices, creamy pumpkin flavor and topped with a salty caramel sauce. I love adding small twists to classics as they sometimes takes our classic favorites to a whole new level. This totally applies to this cheesecake. The addition of salted caramel to a traditional pumpkin cheesecake is just like WHOA!! Not kidding!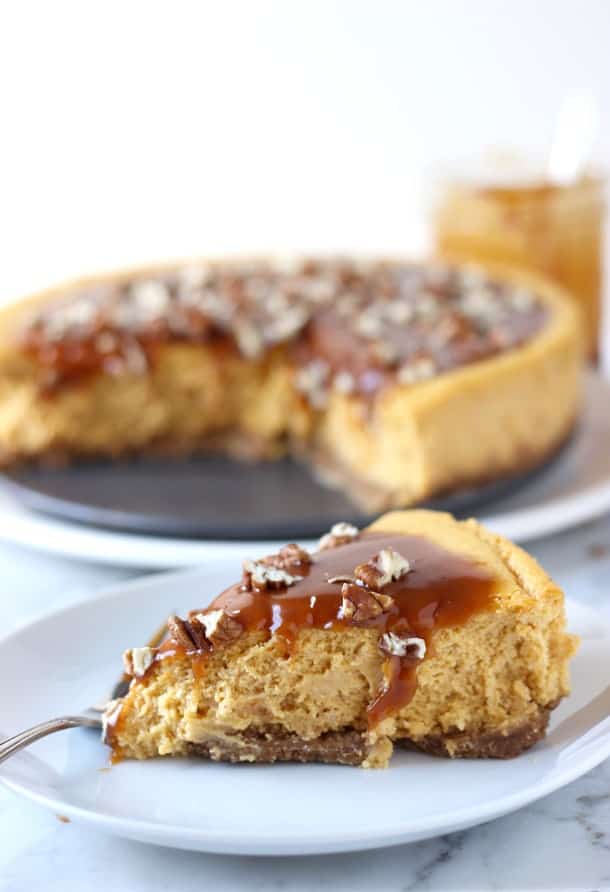 Now just tell me you don't want a bite of that??
Happy Monday!

Pumpkin Pecan Cheesecake with Salted Caramel Sauce
Your classic pumpkin cheesecake is taken to a whole new level with crunchy pecans, sticky salty caramel sauce!
Author: Blahnik Baker
Recipe type: Dessert, Cheesecake
Yield: 1 9-inch cheesecake
INGREDIENTS
For Crust
1 ½ cup graham cracker crumbs (about 20-25 cookies)
½ cup pecans
¼ cup brown sugar
½ cup unsalted butter, melted
Filling
3 8 ounces cream cheese, softened to room temperature
1 cup pumpkin puree
1 cup sugar
1 teaspoon cinnamon
½ teaspoon ground ginger
¼ teaspoon allspice
¼ teaspoon ground cloves
a pinch of nutmeg
a pinch of salt
¼ cup maple syrup
3 eggs,
Topping:
DIRECTIONS
Preheat oven to 350 degrees F. Wrap the entire outside of a 9-inch spring -form pan with two sheets of foil. Using a food processor, combine the crumbs, pecans and sugar. Pulse into a fine crumb. Add the melted butter and process until combined. Transfer the crumbs to the prepared pan and evenly spread it. Use a flat bottom cup and press down on crust to create an even layer. Bake crust for 10 minutes. Let cool while you prepare the filing.
Reduce oven temperature to 325 degrees F.
In the bowl of an electric mixer set on medium speed, beat the cream cheese on medium speed until smooth and creamy, about 2 minutes. In a small bowl, whisk together the sugar and spices. Add pumpkin puree and sugar mixture to cream cheese and beat until well combined, another 2-3 minutes, scraping down bowl as needed. Add in maple syrup and mix well on medium-low speed. Reduce speed to low and add eggs in one at a time, mixing until combined. Mix filling until smooth for an additional minute.
Pour filling into spring-form pan with crust. Place spring-form pan into a much larger baking pan. Add hot water into the larger baking pan to reach half way up the side of your spring-form pan.
Bake at 325 degrees F for one hour. Then turn off the oven and leave the cheesecake in the oven for additional 45 minutes. Remove cheesecake from oven and allow to cool at room temperature for at least an hour before chilling. Chill for 6 hours or overnight.
When ready to serve, remove the sides from the spring-form pan and pour the salted caramel on top of the cheesecake. Smooth evenly. Top with toasted pecans.
Store covered in refrigerator.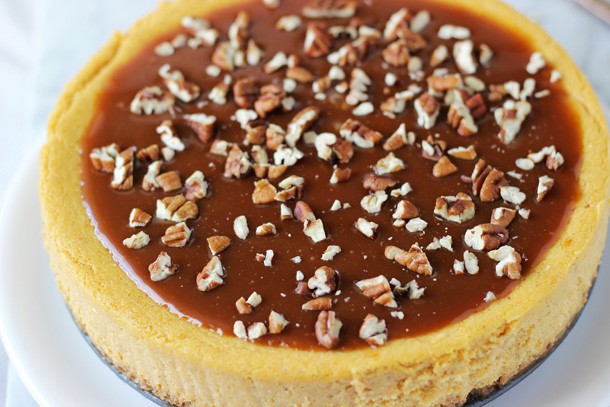 Are you mad for PUMPKIN? Check out my Pumpkin Madness board on Pinterest!
Follow Zainab | Blahnik Baker's board Pumpkin Madness on Pinterest.