Chocolate Banana Bundt Cake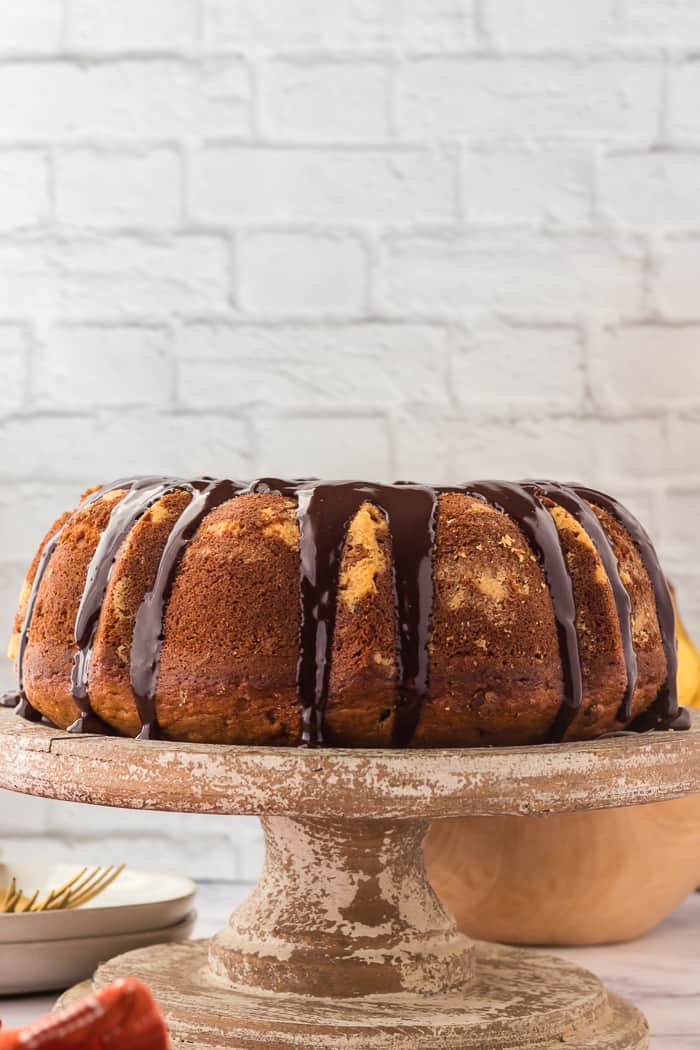 I am batty for bundt cakes, especially this new chocolate banana bundt cake! If you have been following my baking journey, then you know how many unique and delicious bundt cake recipes are here. Everything from seasonal, to fruity, to decadent. Don't believe me? Check out my bundt cake archives!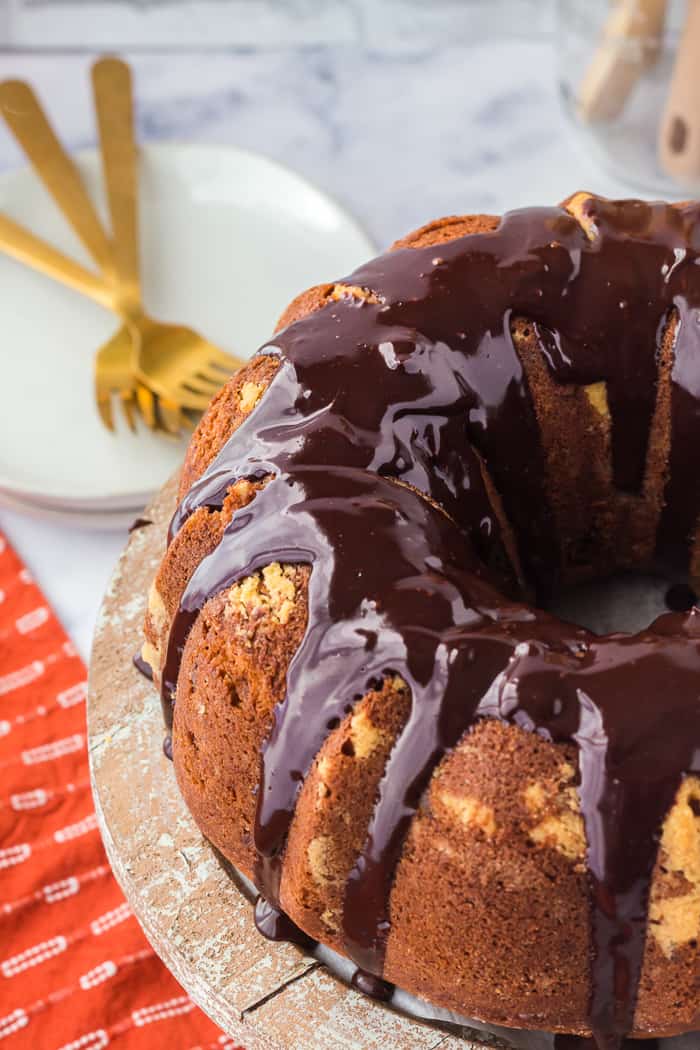 Bundt cakes are a simple way to create a beautiful work of art without adding much razzle-dazzle. You can find a large array of bundt cake pans to fit your presentation needs. Nordicware is my best friend with this but you can find them at local grocery stores or bakeshops too.
The one I bring you today combines two flavors that mesh together almost as good as peanut butter and jelly. This Chocolate Banana Bundt Cake is a delicious cake with notes of sweet and creamy banana for a super moist cake.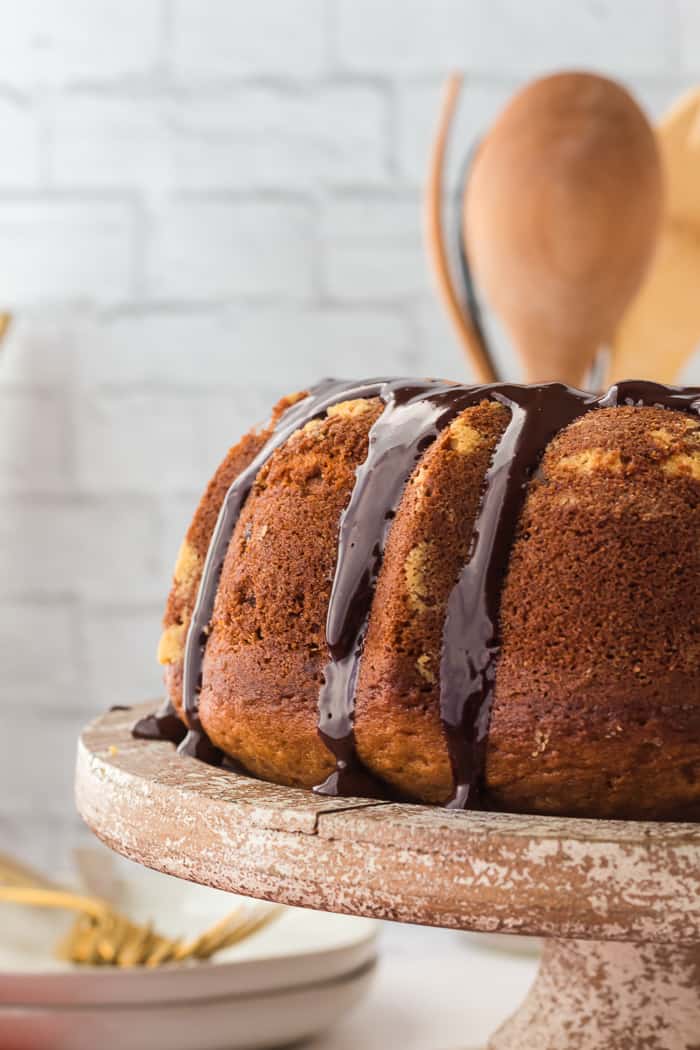 This recipe is easy and super versatile and can be used for any occasion or season because these ingredients are easily found fresh year-round.
Bundt cakes are my go-to when I need to bake a beautiful cake without a lot of time for decorating. These are also great for anyone starting their baking journey because the pan design allows for a more even bake whereas a regular cake tin can be slightly soggy in the center but dry on the outside. No one likes a dry cake.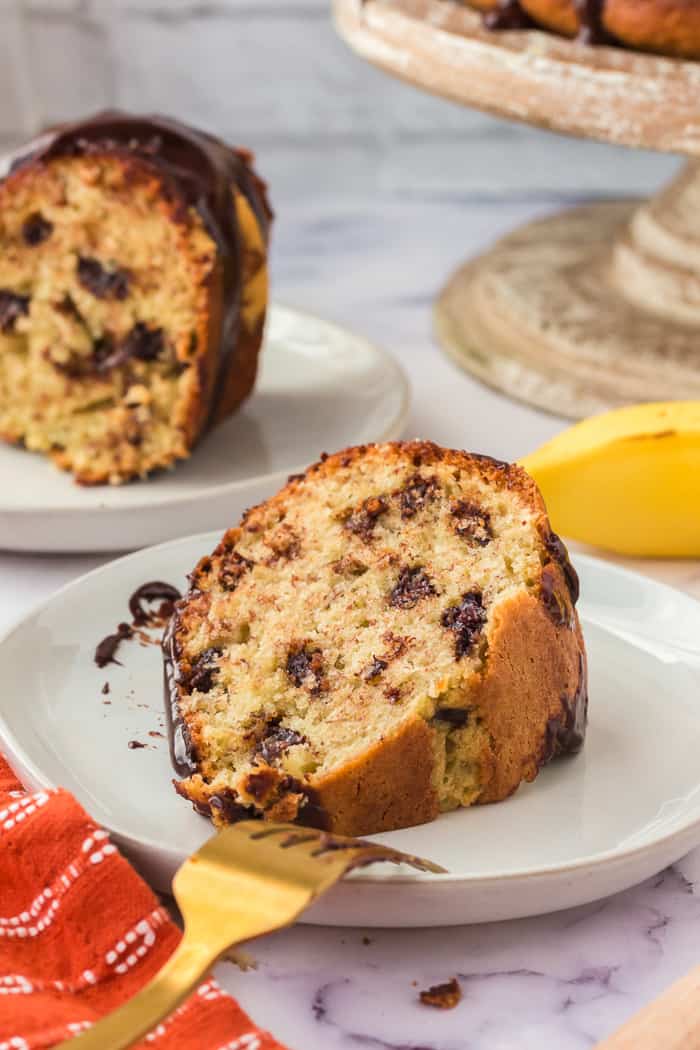 Here are some step-by-step pictures to walk you through baking this banana bundt cake.
First up, gather up all your ingredients.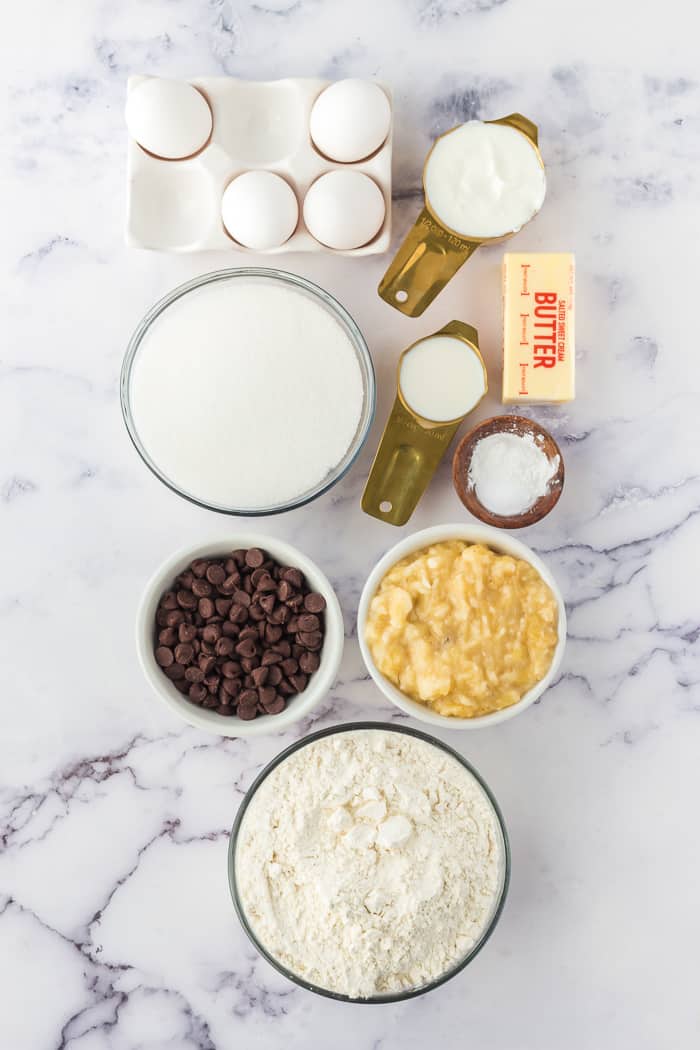 Let's cream the sugar and butter together.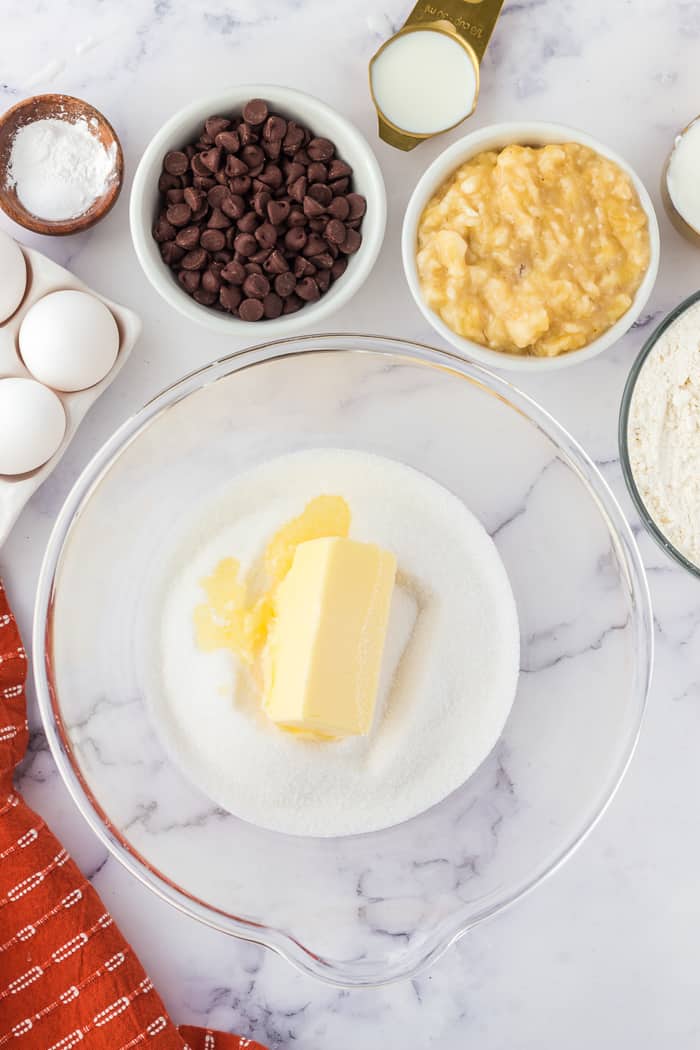 Once it's light and fluffy, add in the eggs and yogurt, and other wet ingredients!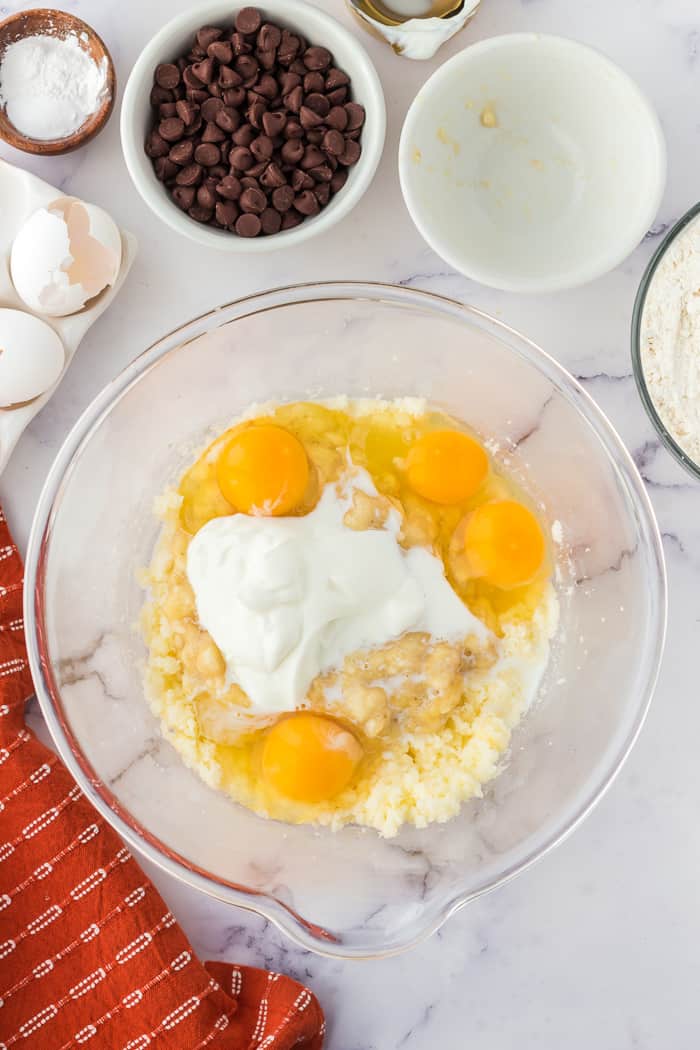 Whisk together all the dry ingredients. And add them to the wet ingredients.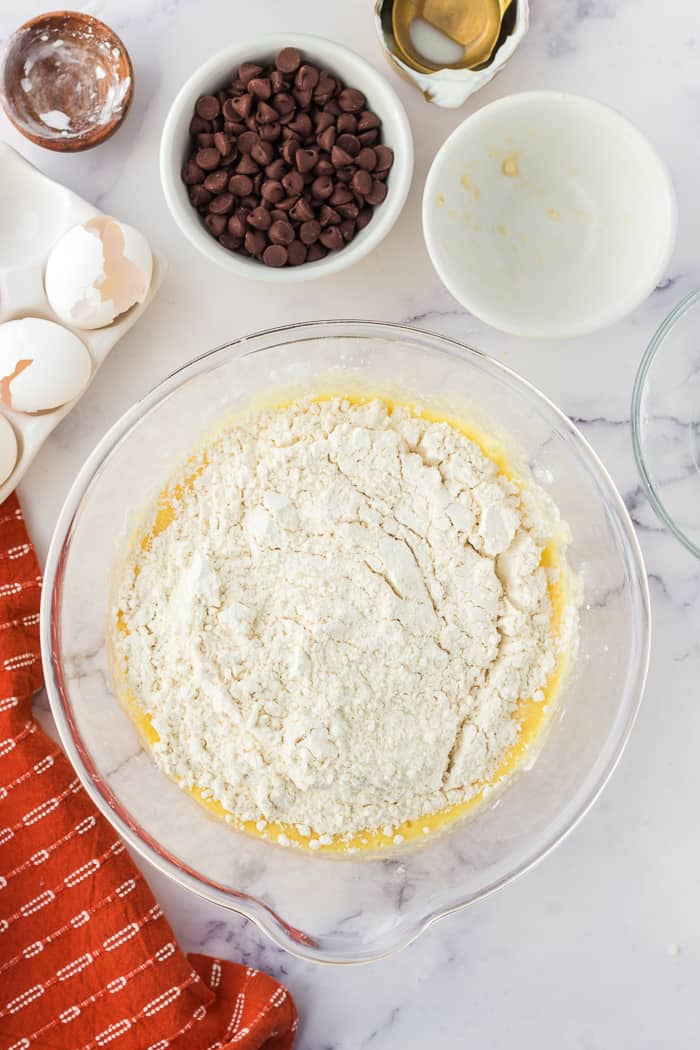 Incorporate the flour into the batter and then add in the chocolate chips.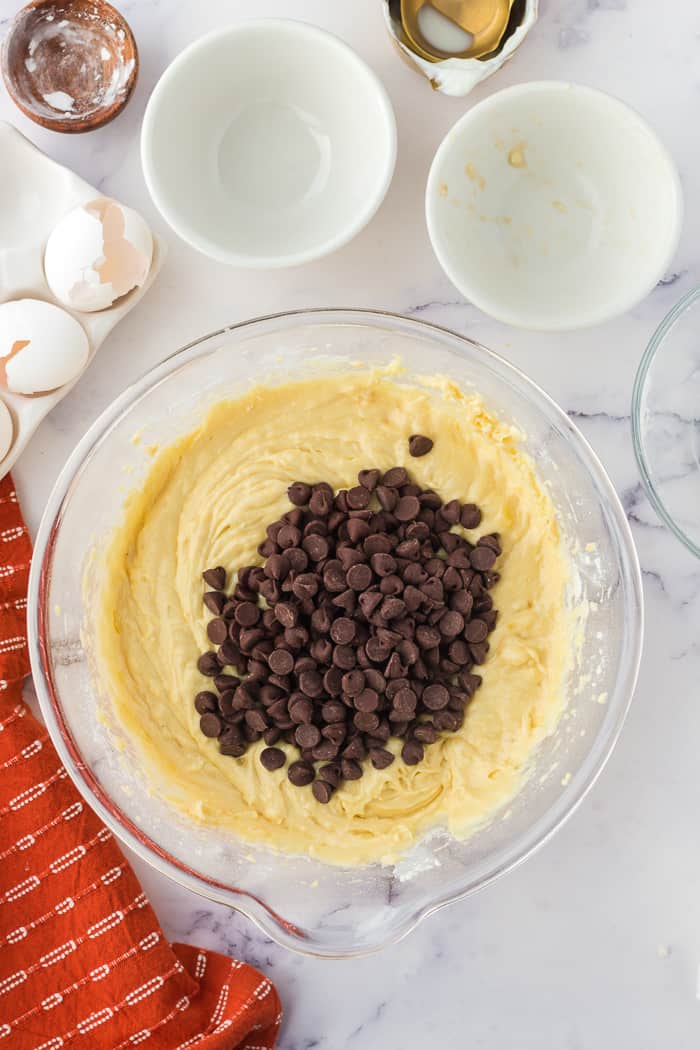 Fold that in and you are done!! Transfer to your bundt pan.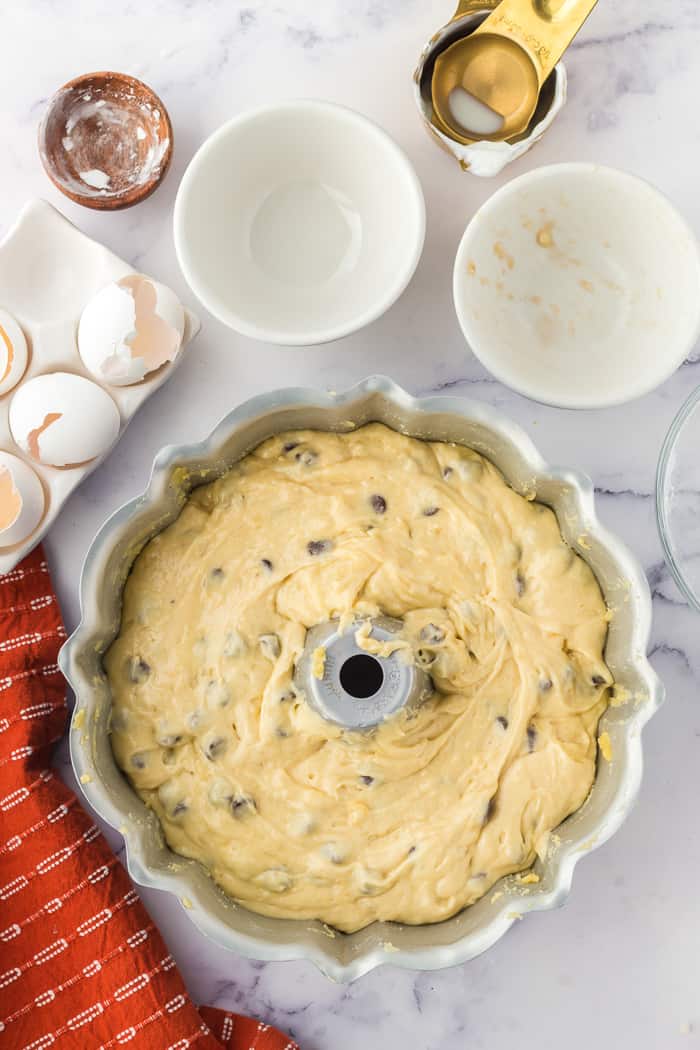 Bake until cake tester comes out clean. Such an easy cake to make!!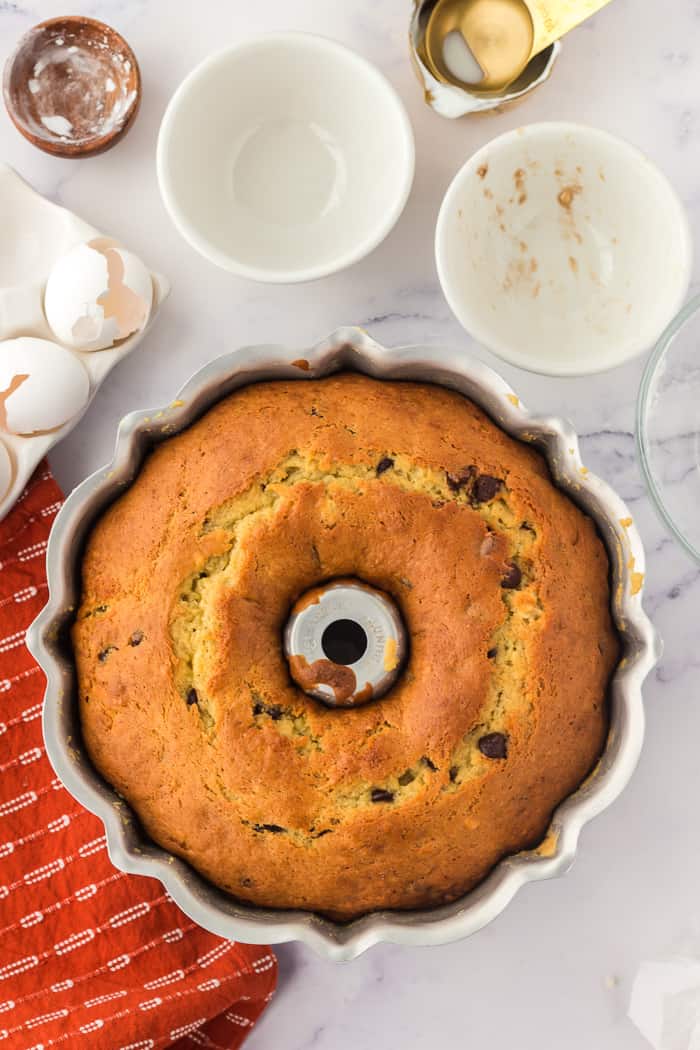 Let cool and top with a chocolate glaze. You can also leave off the glaze. Either way, the cake is amazing!
Leaving it simple allows for everyone in the household to dress their piece up however they like. My daughter is a chocolate nut whereas my son isn't a huge fan so adding chocolate on top was a no-go for me. If you want an elegant presentation without drowning out the chocolate and banana, sprinkle on some powdered sugar through a sift and wipe the sides of your plate down.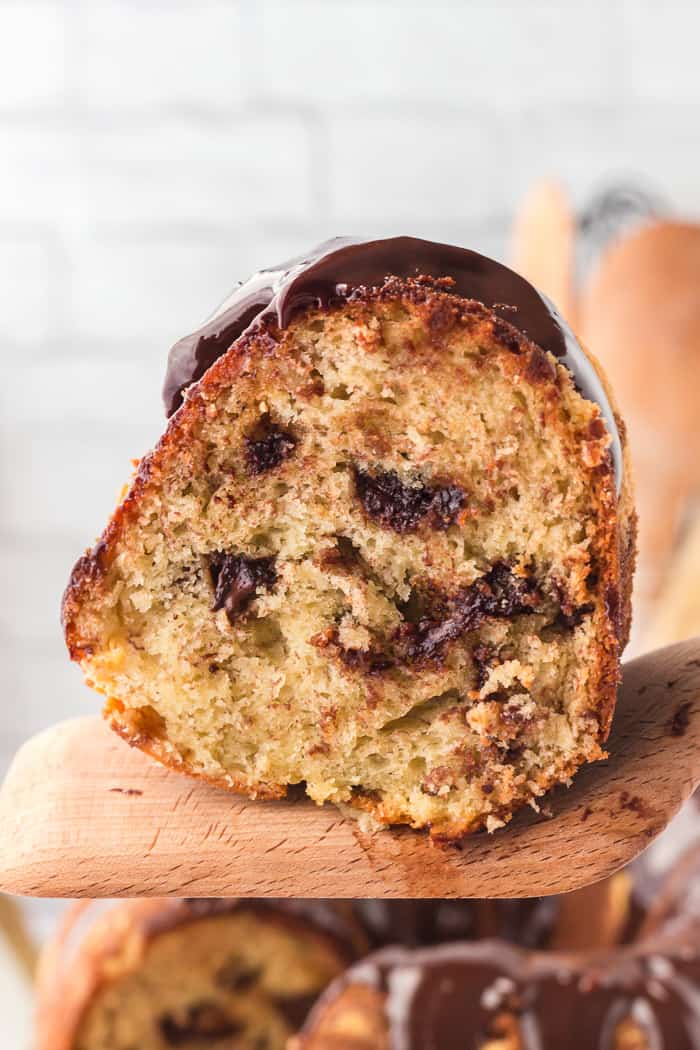 As I mentioned, bundt cakes are my jam so if you are looking for more inspiration, make sure to check out these bundt recipes.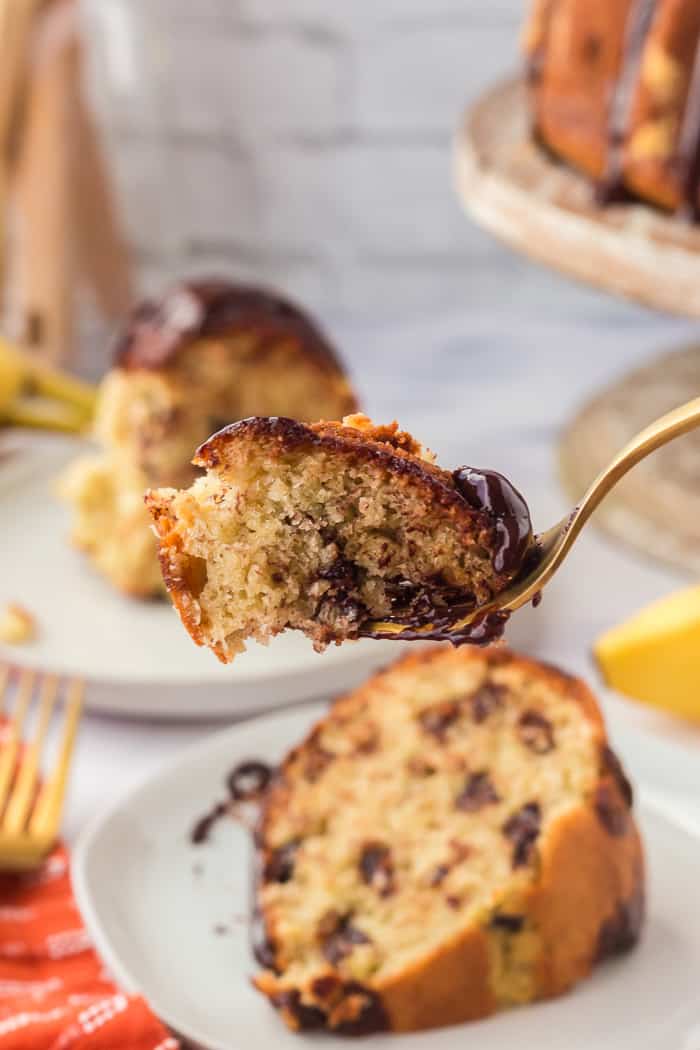 How did you like this Chocolate Banana Bundt Cake recipe? Let me know in the comment section below. I always love hearing your feedback :-).
When you share across social media, make sure to tag #aclassictwist so I can see your beautiful creation come to life.
Until next time friends, Happy Baking!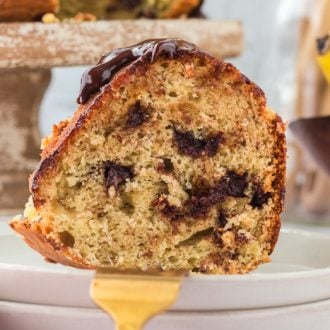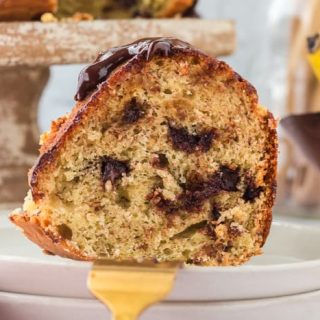 Yield: 8 servings
Chocolate Banana Bundt Cake
Bundt cakes are a tale as old as time and this Chocolate Banana Bundt Cake has an irresistable combination of rich chocolate and sweet, creamy banana in every bite.
Total Time
1 hour
15 minutes
Ingredients
½ cup salted butter, room temperature
1 cup granulated sugar
4 large eggs, at room temperature
2 tablespoons whole milk
½ cup plain Greek yogurt
3 ripe bananas, mashed
3 cups all-purpose flour
1 teaspoon baking soda
1 teaspoon baking powder
1 ½ cups semi-sweet chocolate chips
Instructions
Preheat the oven to 350 degrees Fahrenheit. Grease a 10-inch Bundt pan with baking spray.
In a large mixing bowl, cream together the butter and sugar until light and fluffy.

Beat in the eggs, one at a time, ensuring each is incorporated before adding the next. Add in the milk, yogurt, and mashed bananas, and beat the mixture until it is smooth and runny.

In a separate bowl, whisk together the flour, baking soda, and baking powder. Add the dry ingredients to the wet and whisk together until no clumps of dry ingredients are in the batter.

Gently fold in the chocolate chips until they are evenly distributed throughout the mixture.

Spoon the batter into the prepared pan and bake the cake for about 55 minutes, or until a toothpick can be cleanly removed.

Allow the cake to cool before topping with your favorite frosting/ glaze, serve, and enjoy!
Notes
It is best to use ripe bananas in this recipe. They tend to mash easier and release a richer banana flavor into the cake.

You can sub the chocolate chips for 1/3 cup cocoa powder if you do not want to add chocolate chips or add the 1/3 cup cocoa powder in addition to the chocolate chips for an extra rich chocolate flavor.

This cake is good for 3-4 days when stored on the counter in an airtight container. The bananas cause this cake to go bad a bit quicker than other cakes.

Some frostings/ glazes that go great with this cake are a brown sugar glaze, chocolate glaze, vanilla frosting, etc.

Recommended Products
As an Amazon Associate and member of other affiliate programs, I earn from qualifying purchases.