Chocolate Pudding Cake
This chocolate pudding cake is every chocolate lover's dream with a soft layer of decadent chocolate cake filled with creamy pudding.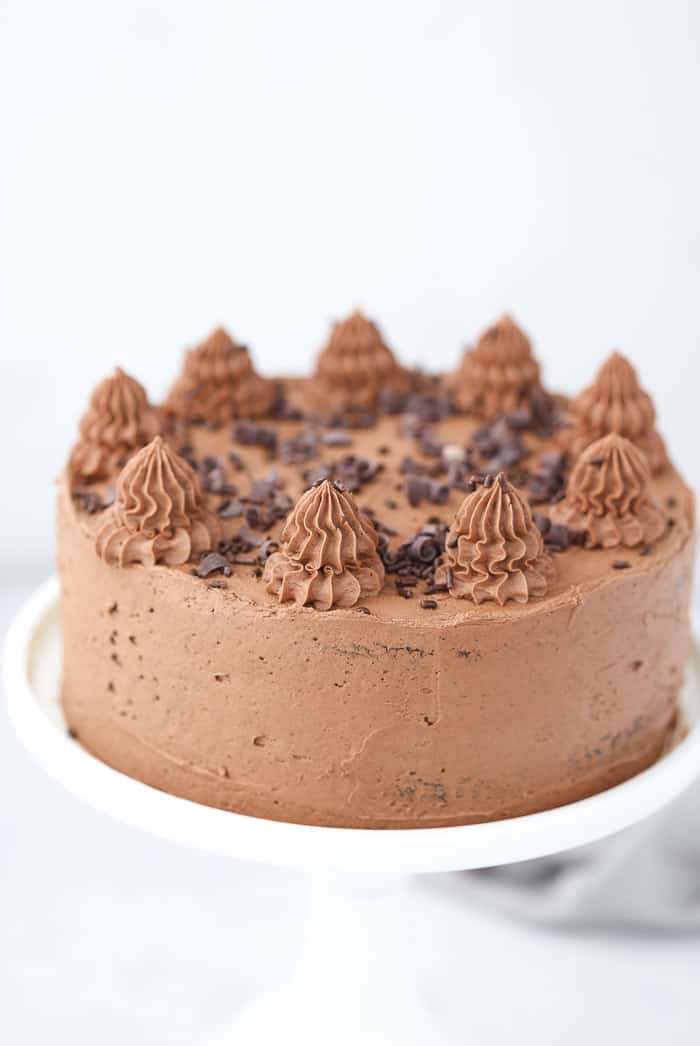 Nothing beats a classic chocolate cake except a chocolate cake filled with rich decadent pudding. This chocolate pudding cake is an attempt to re-create my favorite grocery store birthday cake that a certain member of my family loves. Despite being the resident baker, there are some folks in my family who still request the store-bought cake for their birthdays. Which is totally okay as some traditions are linked to childhood memories that you can never recreate. Why is that?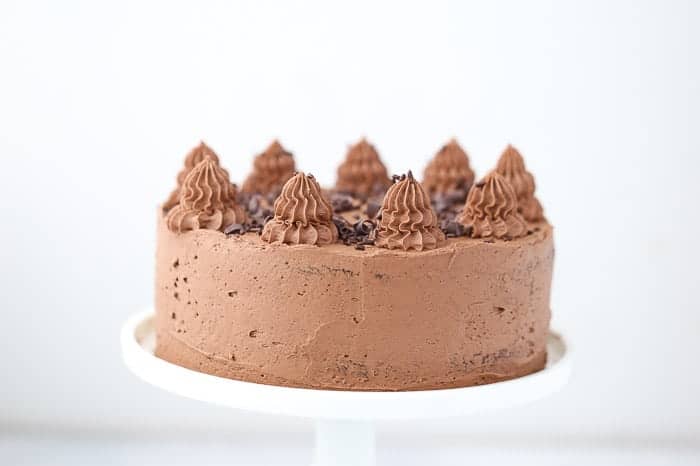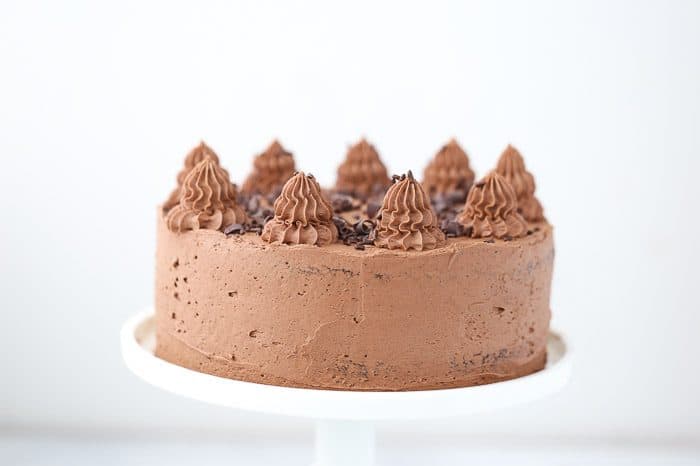 What makes a good chocolate cake? This varies from person to person it seems. My MIL thinks a good chocolate cake should be soft, moist and melt in your mouth. Meanwhile, my hubs think it should be decadent where you can really taste the chocolate. I suppose it all comes back to what each person craves and enjoys. I think a good chocolate cake can have all of the above elements. This is why my go-to one bowl chocolate cake is always a hit at parties and with family. Made with good quality cocoa powder and vegetable oil, it is both decadent and moist. I love adding a hint of coffee to it as that really enhances the chocolate and gives you that rich chocolate flavor in each bite.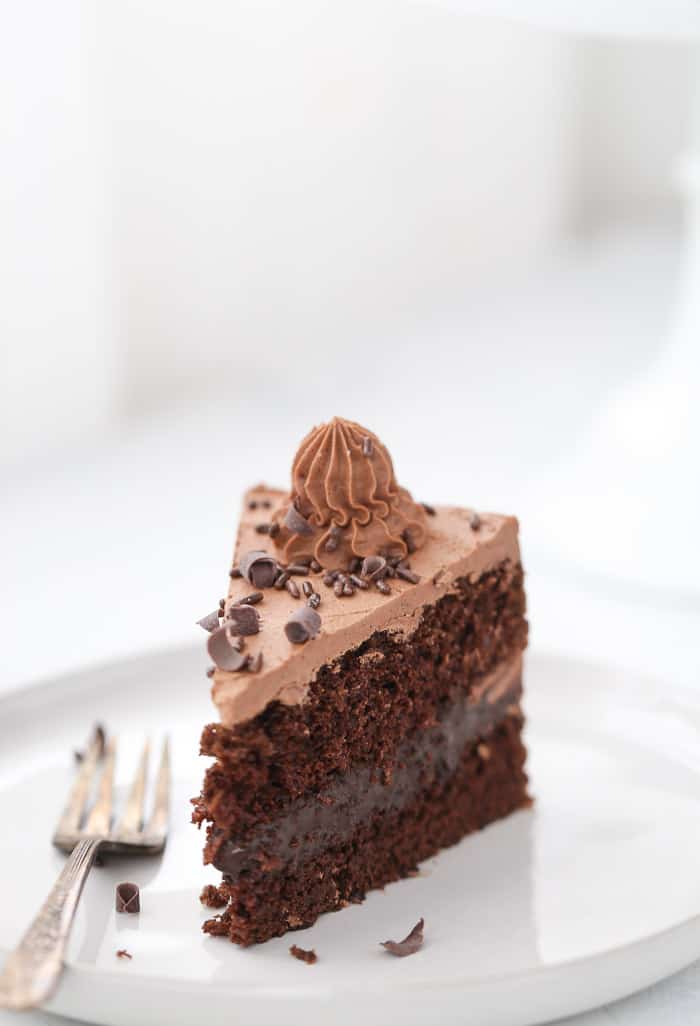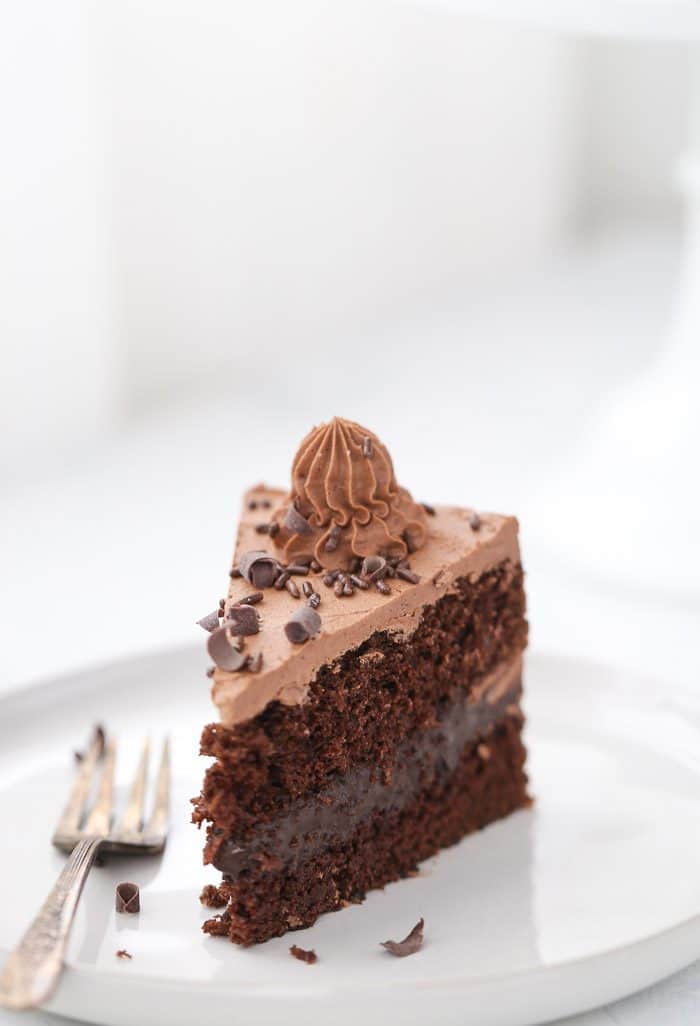 This chocolate pudding cake is popular at my local grocery store for a reason. To recreate it, I made my homemade chocolate cake recipe. I filled it with an equally creamy and decadent homemade chocolate pudding and finally topped the cake with a whipped chocolate frosting.
This cake is the ultimate chocolate lover's cake!! Everything you want in a slice of chocolate cake to satisfy those chocolate cravings. Even my niece who loves the store-bought cake enjoyed this recreation and agrees I need to make it for other family events that are not her birthday 🙂 I don't blame her…sometimes it's just hard to replace childhood favorites.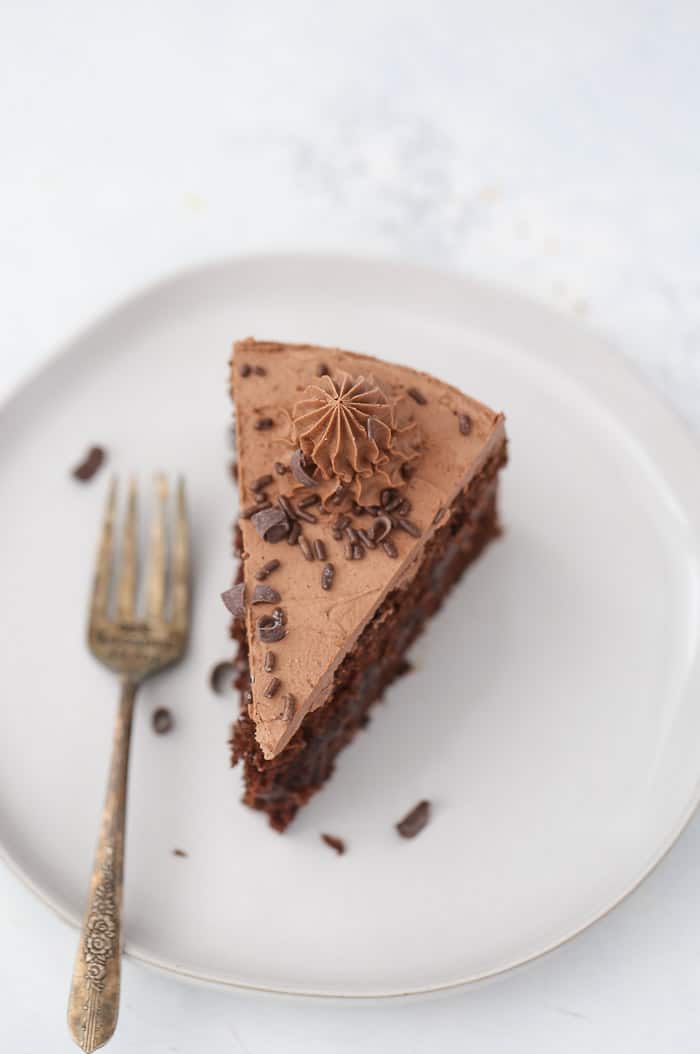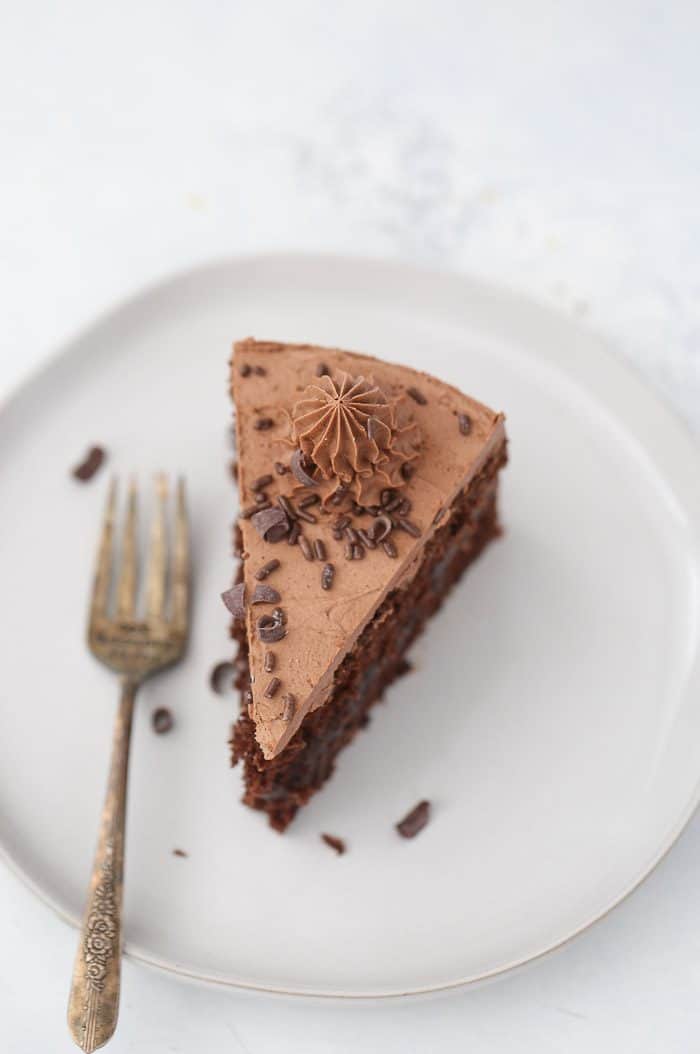 If you are looking for a great chocolate birthday cake for your family or for a new recipe with a twist, try this chocolate pudding cake. It is perfect for all celebrations!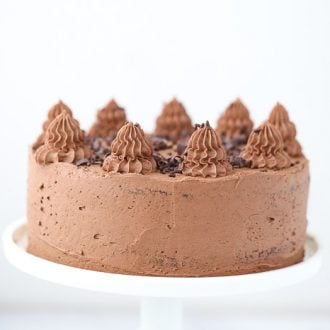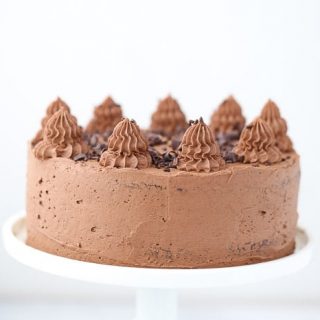 Yield: 1 8-inch layered cake
Chocolate Pudding Cake
This chocolate pudding cake is every chocolate lover's dream with a soft layer of decadent chocolate cake filled with creamy pudding.
Total Time
1 hour
30 minutes
Ingredients
For the Pudding:
1/2 cup granulated sugar
1 tablespoon cornstarch
1 tablespoon unsweetened cocoa powder
¼ teaspoon kosher salt
2 large egg yolks
1 cup whole milk
1/2 cup heavy cream
3 ounces bittersweet chocolate (70% cacao), melted and slightly cooled
1 tablespoon unsalted butter
1 teaspoon pure vanilla extract
FOR THE CAKE:
1 cup all-purpose flour
1 cup granulated sugar
⅓ cup cocoa powder (I used Ghirardelli)
1 teaspoon baking soda
½ teaspoon baking powder
½ teaspoon kosher salt
1 large egg, at room temperature
½ cup buttermilk, at room temperature
½ cup strong black coffee, hot
¼ cup vegetable oil
1½ teaspoons pure vanilla extract
FOR THE FROSTING:
1 cup (2 sticks) unsalted butter, at room temperature
3/4 cup unsweetened cocoa powder
3-4 cups powdered sugar
1 tablespoon vanilla bean paste (or pure vanilla extract)
Pinch of salt
1/4 cup cold heavy cream
Instructions
For the Pudding:
In a medium saucepan, whisk together sugar, cornstarch, cocoa powder, and salt. In a small bowl, whisk the egg yolks, whole milk, and heavy cream. Gradually whisk in the milk mixture to the dry ingredients in the saucepan until smooth.
Bring mixture to boil over medium-high heat, whisking constantly. Reduce speed to medium and cook until mixture is thick enough to coat a spoon, about 4 minutes whisking constantly.
Remove from heat and whisk in the melted chocolate, butter and extracts until butter is melted and mixture thickens. Strain pudding through a fine-mesh sieve into a large bowl.
Press plastic wrap directly onto the surface of the pudding and chill for at least 4 hours or overnight.
FOR THE CHOCOLATE CAKE:
Preheat oven to 350 degrees F. Grease and line two 8-inch cake pans with parchment paper. Grease the parchment.
Sift together all the dry ingredients into the bowl of an electric mixer.
In a medium bowl, combine all the wet ingredients using a whisk.
Mix the dry ingredients on low speed for 1 minute. Stop the mixer and add the wet ingredients. Mix for 2 minutes on medium speed and scrape the sides and bottom of the bowl. Mix for an additional minute on medium speed until well combined.
The batter will be thin. Divide the batter evenly into the prepared pans.
Bake for 25-30 minutes or until a toothpick inserted in the center comes out almost clean.
Cool cakes in pan on wire rack for 10 minutes before inverting onto the wire racks to cool completely. Meanwhile, you could start on the frosting.
FOR THE FROSTING:
Whip butter on medium speed for about 2-3 minutes in the bowl of a stand mixer fitted with the paddle attachment until light and creamy. Beat in the cocoa powder until combined.
Add the powdered sugar, vanilla extract, salt and heavy cream and mix on low for 1 minute until combined.
Increase speed to medium-high and whip for 4-5 minutes until light and fluffy.
TO ASSEMBLE THE CAKE:
Level the cakes if needed. Onto a cake stand, place the first layer of cake. Using a large round tip, pipe a circle around the edge of the cake to create a dam using the frosting.
Evenly spread about 1/2 cup of the cooled pudding on top. Add the top layer of cake with the top of the cake down.
Crumb coat the cake with a thin layer of buttercream. Then spread the icing evenly and frost the cake. Decorate as desired with sprinkles.
The cake will store in an airtight container at room temperature for up to 3 days or refrigerated.
Recommended Products
As an Amazon Associate and member of other affiliate programs, I earn from qualifying purchases.