Coconut Vanilla Chia Pudding
This creamy coconut vanilla chia pudding is a quick, flavorful and a healthy breakfast that will keep you full all morning long.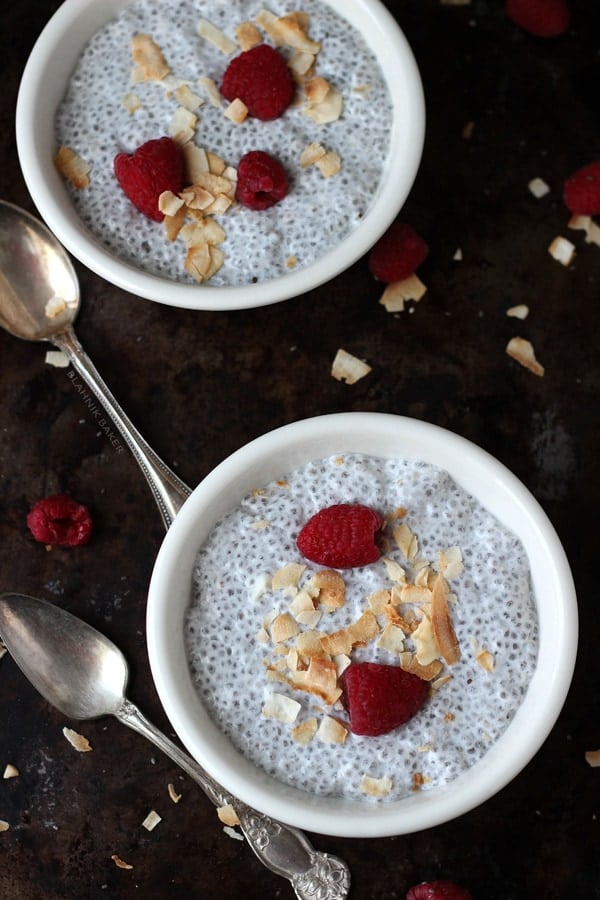 Pronunciations. How to say certain words. Big problem for this girl sometimes. Take chia for example. How do you even say that? In my head it went like this "chee-yah" but then I was telling a friend about this coconut vanilla chia pudding that I made and was so delicious and she had no idea what I was talking about. This is a constant conundrum for me. Ruins my stories. I don't want to say English is my second language since I really started speaking English at an early age (3-4) but it's beginning to sound like it is more and more as I get older (wahhh!!!).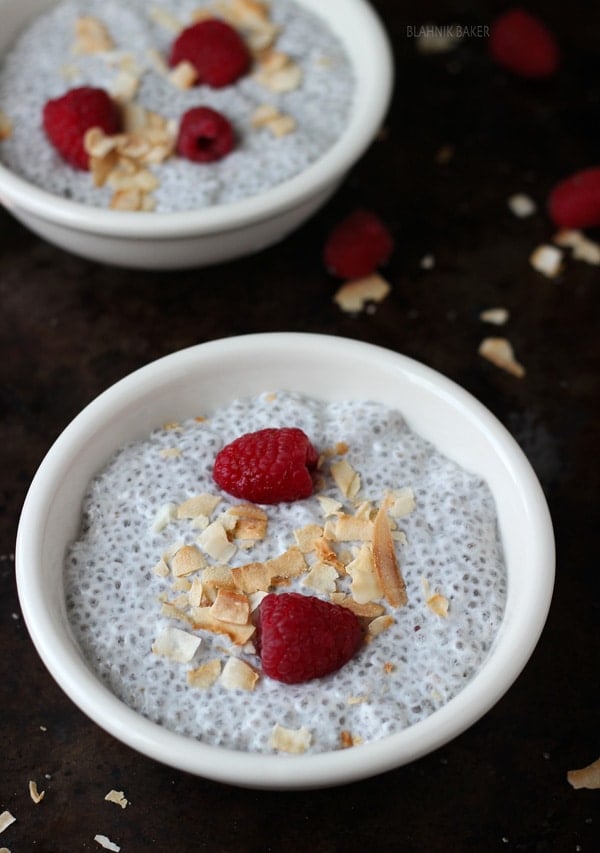 I guess it is due to my so-called accent. I refuse to accept that I have one. Of course everyone says I do. They say it sounds British but since I ain't no English gyal, I say I sound African. Which I think makes it harder when it comes to pronouncing certain words. An innocent word like "focus" in a heated gaming session of Catch Phrase this weekend with some friends was apparently heard as a certain word I can't say on a food blog (use your rhyming skills) which lead to an eruption of laughter and some fun times among friends. I'm not a fan. But I try.
Maybe it's time to actually get to the food. Eeeeepppp! This coconut vanilla chia pudding excites me. I decided to try some chia after all the buzz about its wonders on the interwebs. As you can tell, I don't really follow food trends (or any trends) as I am sure chia is so last and I am finally getting to it. Better late than never as it is delicious and a power food!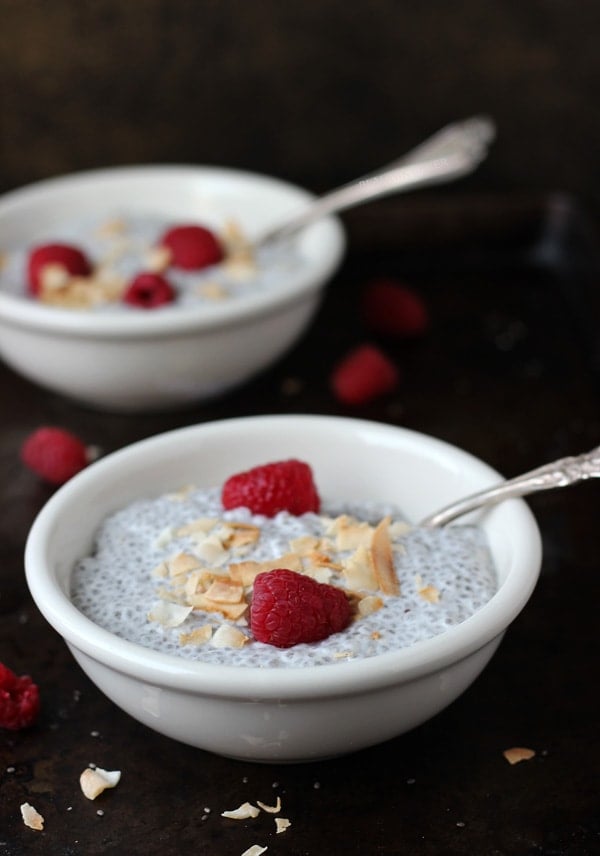 Chia is high in fiber, protein and antioxidants. Who doesn't want some of that? What's even more remarkable about chia seeds is that they absorb almost 10x their weight in water to form a thick gel-like paste making them a super food as they keep you fuller longer. What I like most about chia seeds is that they do not have much flavor to them making them the perfect blank canvas. They can be mixed into other foods (sweet or savory) and assume the flavors of their environment, like smoothies, muffins or salads.
I decided to start with a breakfast pudding. This coconut vanilla chia pudding is very simple, delicious and so me. First it's full of creamy coconut milk (hello!!) and rich in vanilla flavors thanks to vanilla bean seeds. I added a little bit of organic maple syrup for a touch of sweetness and served it with toasted coconut flakes and raspberries. As you can tell from the recipe, it 'cooks' while you sleep in the fridge for the perfect breakfast the next day. I've been enjoying this and other variations with almond milk for more than a week now and I think I need to stop for now.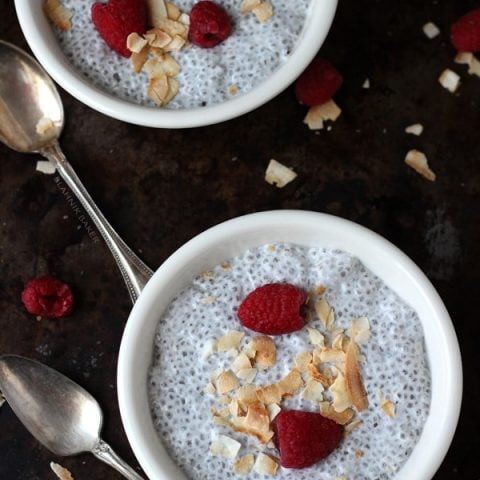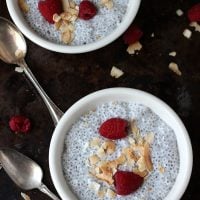 Yield: 3 cups
Coconut Vanilla Chia Pudding
This creamy coconut vanilla chia pudding is a quick, flavorful and a healthy breakfast that will keep you full all morning long.
Total Time
3 hours
5 minutes
Ingredients
1 - 1 1/2 cup coconut milk
seeds from ⅓ of a vanilla bean or 1 teaspoon vanilla bean paste
1 tablespoon organic maple syrup or honey
¼ cup chia seeds
Toppings:
½ cup fresh raspberries
2 tablespoons toasted unsweetened coconut flakes
Instructions
In a medium bowl with a lid, combine all the ingredients. Mix well and refrigerate. During the first 30 minutes, stir the mixture every 10 minutes as it thickens. Cover and refrigerate for at least 3 hours or overnight. Add more coconut milk if you would a not-so-thick pudding
Serve when the mixture reaches a custard-like consistency. Top with fresh fruits and coconut flakes.
Some affiliate links included in text above.
Have a great weekend!!
*You can find chia seeds in most supermarkets in the natural food sections. I use Bob's Red Mill for all my whole grains and natural flour/meal products. I cannot make macarons without their almond meal (NO they did not pay me to say that!) Just sharing the love.*
Looking for more Breakfast Recipes? Try these: 
Peanut Butter Chocolate Chia Pudding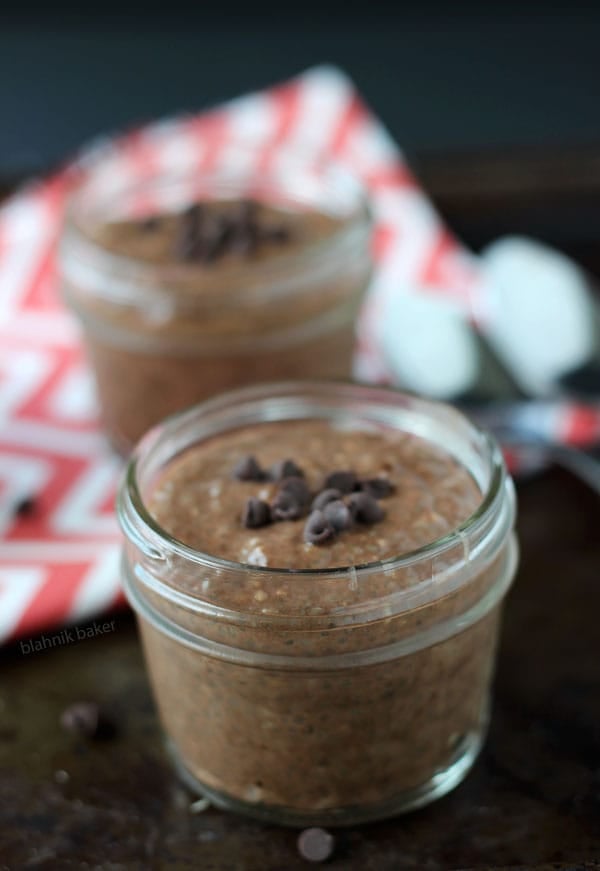 Amaranth Pudding with Hazelnuts and Berries