Farm Vegetable Quiche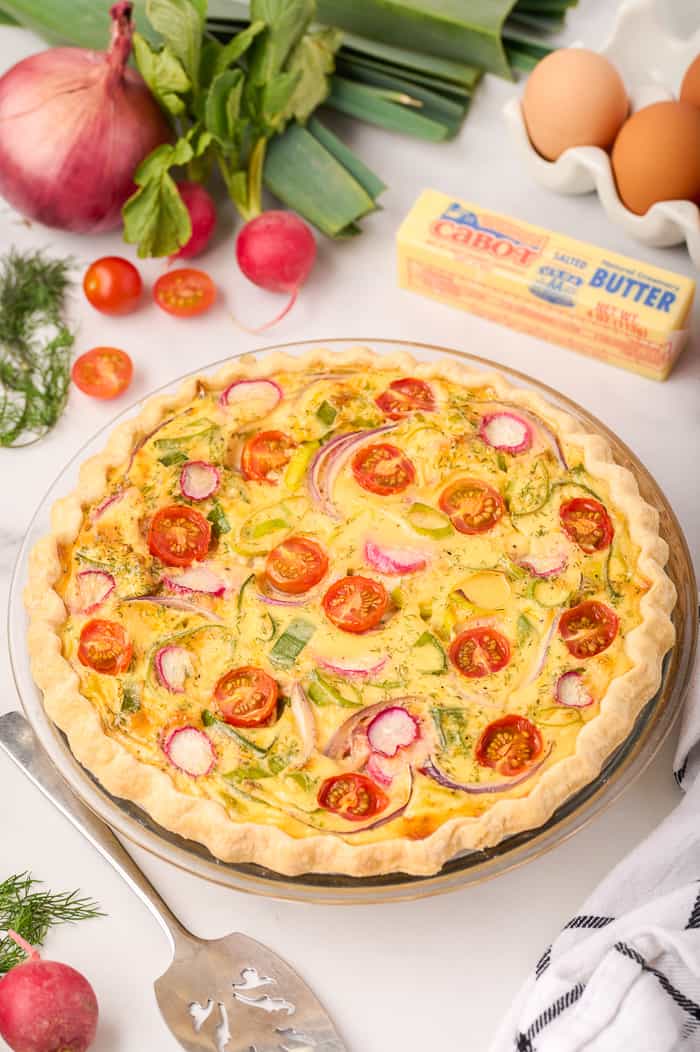 Hi friends! Happy Spring 🙂 I hope you are excited about the warm weather and all the bounties it brings. There is no better way to enjoy spring vegetables than in a quiche. This farm vegetable quiche is a new favorite in my recipe box and will surely become one of yours too.
Guess what else comes with Spring? Nope, not pollen. Brunch season!! It is my favorite weekend tradition and one that definitely requires a quiche.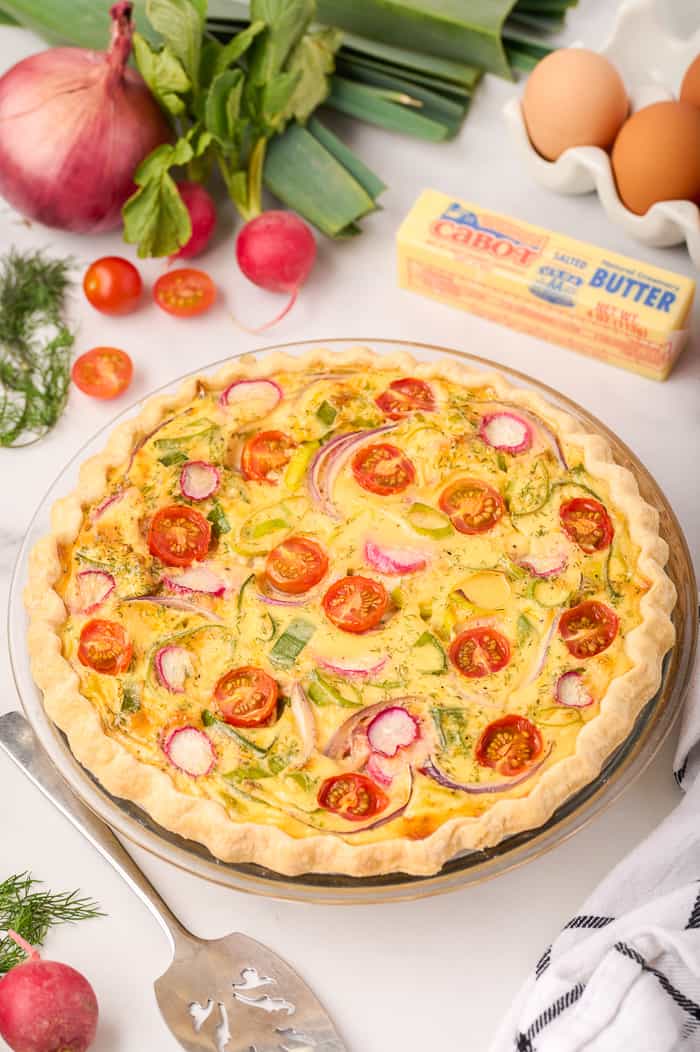 This farm vegetable quiche is packed full of some of my favorite spring season vegetables as well as my favorite cheddar cheese. If you have been here long enough, you know that means Cabot Creamery cheddar. With amazing award-winning products, Cabot is one of my favorite dairy brands. This quiche highlights their salted butter which is a staple in my cooking and baking. Of course, their cheddar is in every cheese recipe I have around here, including this Savory Cheddar Twist bread and this Apple cheddar cranberry pie.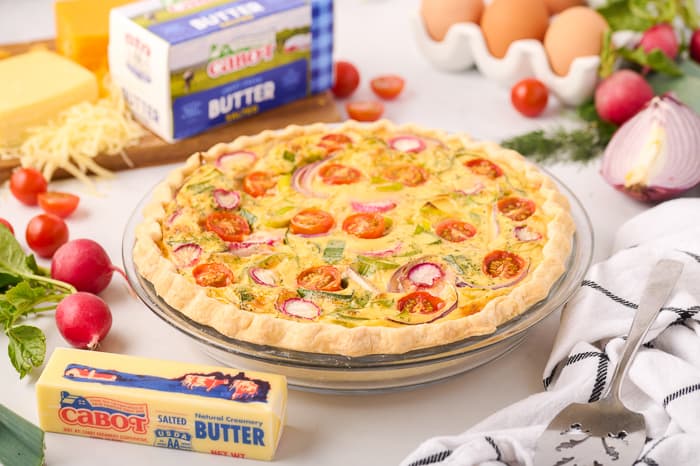 For this quiche, I incorporated leeks, radishes, and fresh dill, all of which are in season this time of the year. They bring flavor and texture to a quiche that would otherwise be bland. Add to that buttery flaky crust made with Cabot salted butter and some aged cheddar, you have yourself a delightful quiche.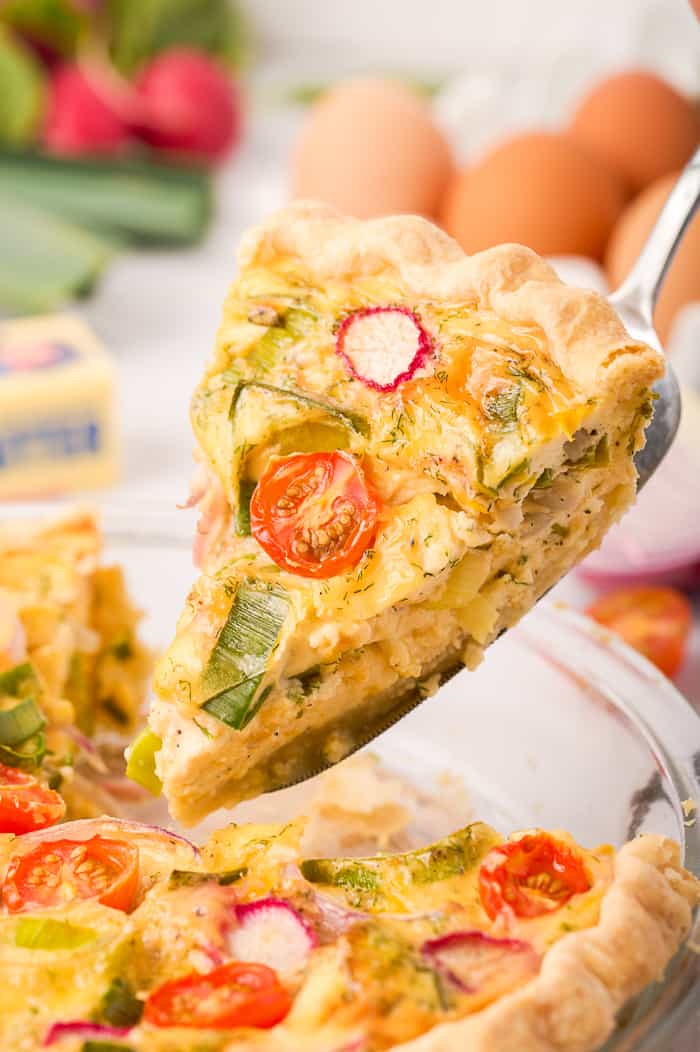 Let me walk you through how to whip up this farm vegetable quickly with some step-by-step pictures. As always, if you'd like just the recipe, scroll to the end.
Start by gathering all your ingredients. I used Cabot medium cheddar, shredded as well as the butter in the crust.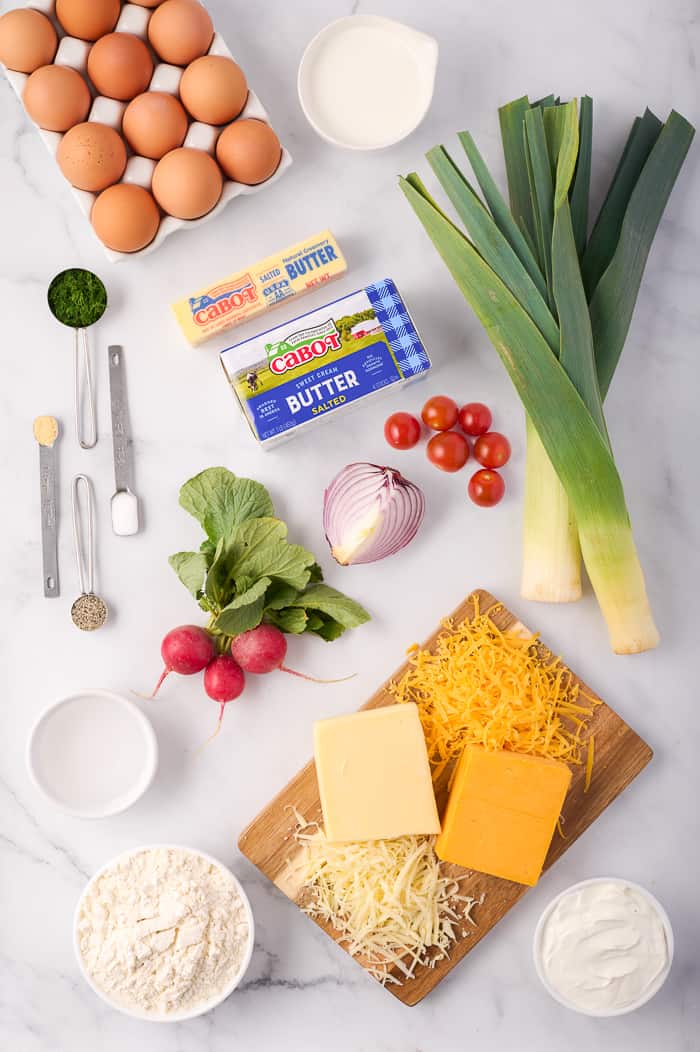 Let's make the crust first.
Cut your butter into the flour until it is pea-sized.
Add in the cold water and mix the mixture together until the dough starts to form.
Roll out your dough and transfer it to your pie dish. Chill while you preheat the oven.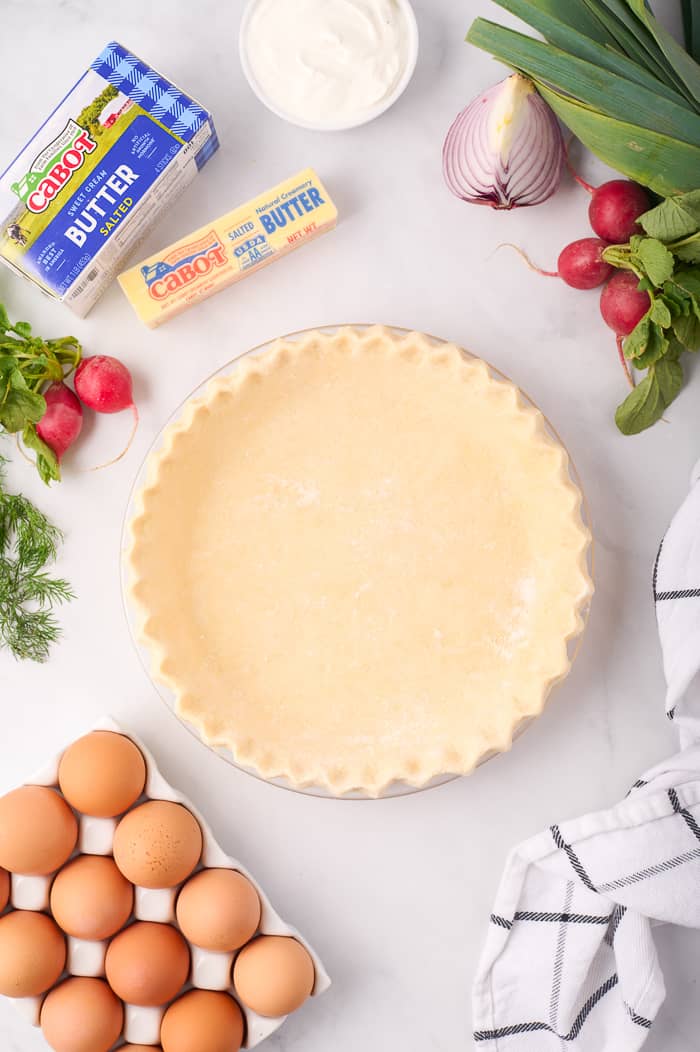 Prebake the dough and let it cool while you make the filling.
For the filling, I cooked the vegetables slightly until tender but still crispy. This helps them not to be overcooked or soggy in the quiche. I left out the tomatoes from this step.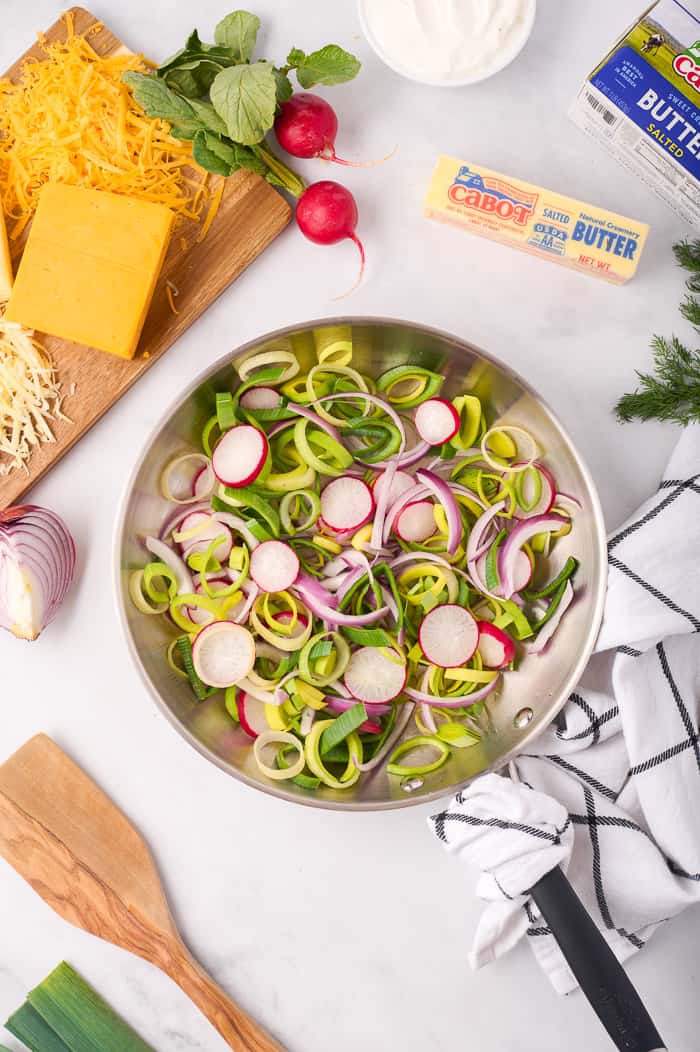 Next whisk together the eggs, sour cream, half and half, salt, pepper, dry mustard, fresh dill, and cheeses. Feel free to play around with the cheeses you add to this quiche.
Next, layer half of the vegetables in the crust. Top with the egg mixture and then end with the remaining vegetables on top.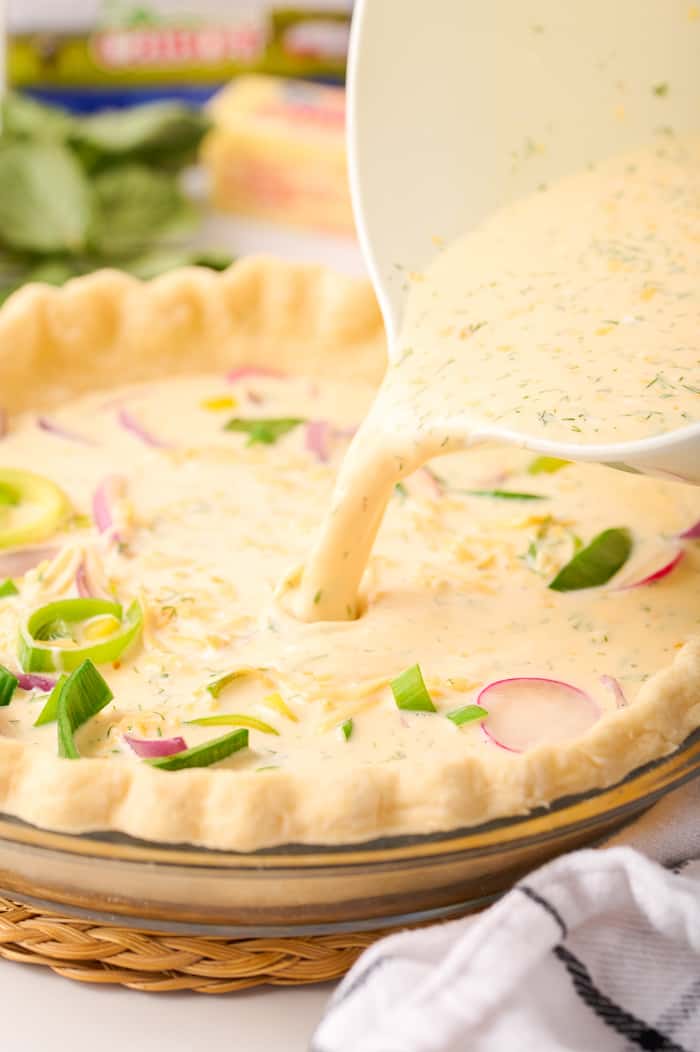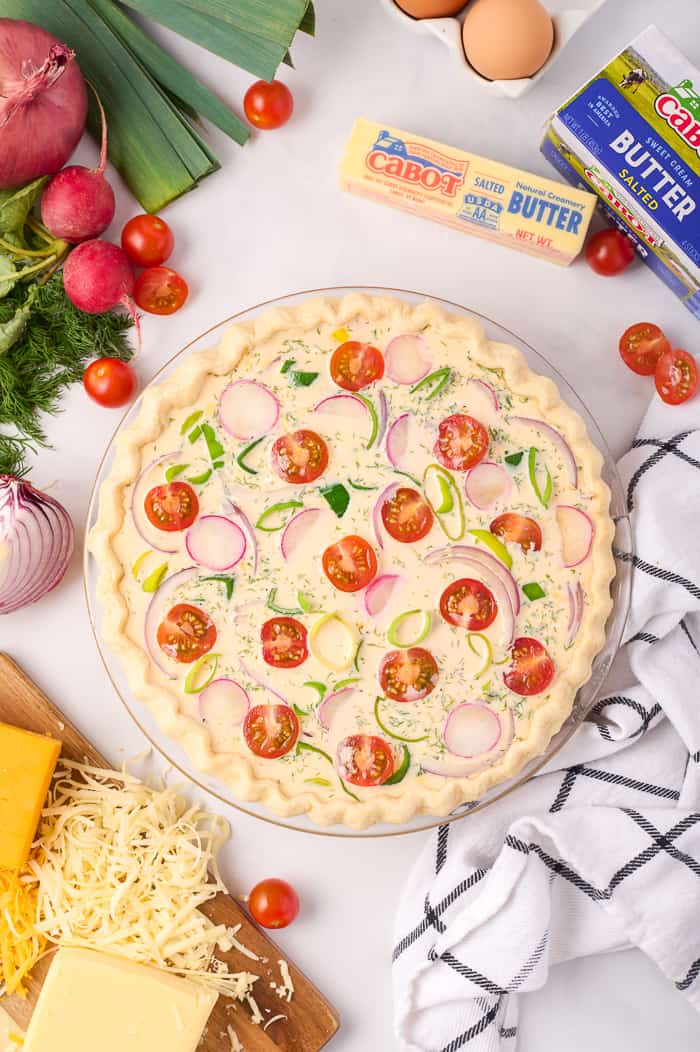 That's it! Bake the quiche until a knife inserted in the center comes out clean. You may need to cover the edges of the crust with foil to prevent over-browning.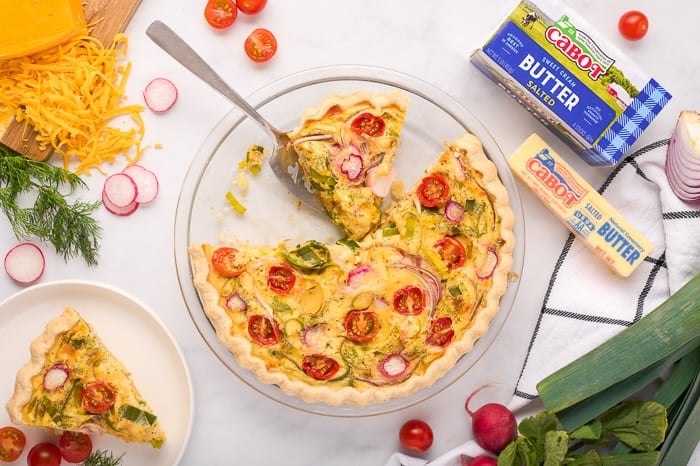 I hope you enjoy this spring farm vegetable quiche. It will be perfect for any brunch gatherings, Easter, Mother's Day, and beyond.
For more recipes inspired by Cabot cheese, check out their website, Instagram or Facebook. Cabot is a co-operative owned by farm families throughout New England & New York and 100% of profits go back to the farmers.
Until next time, happy baking!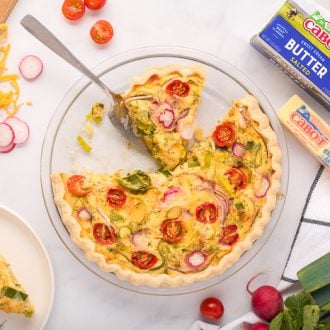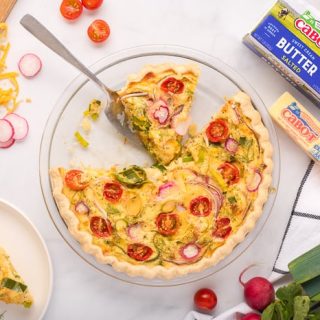 Yield: 1 9-inch quiche
Farm Vegetable Quiche
An easy Farm Vegetable Quiche that s bursting with spring vegetables.
Ingredients
FOR THE CRUST:
1 ¼ cup all-purpose flour
4 to 5 tablespoons cold water
FOR THE FILLING:
2 leeks, sliced
¼ red onion, thinly sliced
2 -3 radishes, thinly sliced
8 large eggs, beaten
½ cup sour cream
½ cup half and half, light cream or milk
½ teaspoon salt
½ teaspoon black pepper
¼ teaspoon dry mustard powder
1 tablespoon chopped fresh dill
½ cup Gruyere cheese
Instructions
In a medium bowl, whisk together the flour and butter. Use a pastry blender to cut in the butter until they are pea-size.
Sprinkle 1 tablespoon of the cold water over the flour and gently toss with a fork. Continue to sprinkle water, 1 tablespoon at a time, until the flour mixture is moistened and a dough starts to form.
Transfer dough to a lightly floured surface. Flatten the dough slightly. Roll dough into a 12-inch circle. Transfer to a 9-inch pie plate gently. Trim the dough to a ½ inch edge. Fold the edge under and crimp your crust as desired. Do not prick.
Chill in a refrigerator as the oven preheats.
Preheat oven to 425 degrees F. Line the pie crust with a greased foil. Place pie beads or rice in the foil.
Bake in the oven for 8 minutes. Remove the foil and continue baking for additional 5 minutes until the crust is set.
Reduce oven temperature to 350 degrees F.
In a large skillet cook leeks, onions, and radishes until tender but still crisp. Don't overcook.
In a large bowl, whisk together the eggs, sour cream, half and half, salt, pepper, and dry mustard. Mix in the dill and cheeses.
In the bottom of the crust, layer half of the vegetables on the bottom. Gently pour the egg mixture over the vegetables. Top with remaining
vegetables.
Bake for 45 to 50 minutes or until a knife inserted into the center comes out clean. You may need to cover the edges of the crust with foil to prevent over-browning.
Let stand for 10 minutes before serving.
Recommended Products
As an Amazon Associate and member of other affiliate programs, I earn from qualifying purchases.