Flourless Almond Butter Chocolate Chip Oatmeal Cookies
When you find a cookie that's a keeper, you share it with the world. These flourless almond butter chocolate chip oatmeal cookies are just that. Share it with the world please!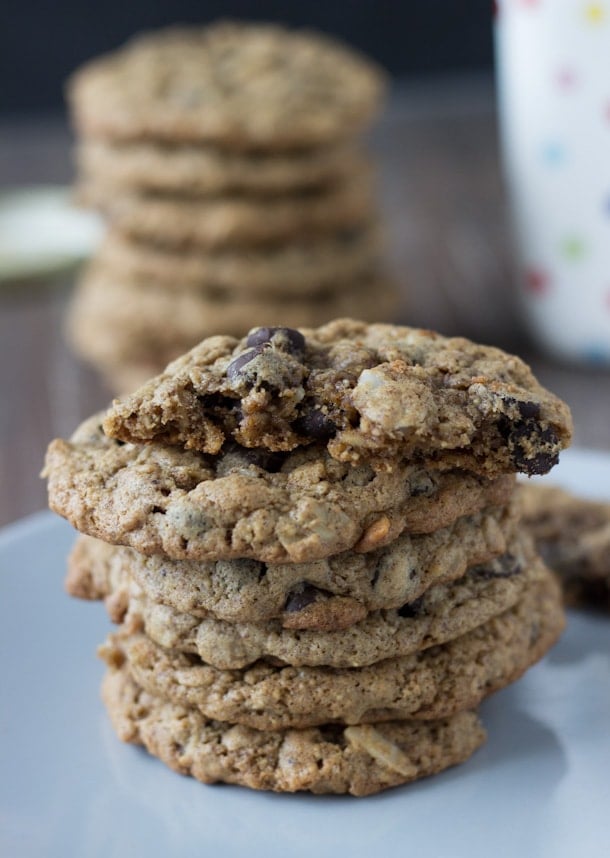 These Cookies!! They are the best cookies I've made and had in forever. These flourless butter chocolate chip oatmeal cookies just kicked my nutella-stuffed salted chocolate chip cookies out of the running for favorite cookies around the block. Please don't be fooled by their healthier sound or let's face it their not so photogenic state. They are the perfect combination of soft and chewy! (Totally just heard Steve Carell in my head … perfect combination of sexy and cute)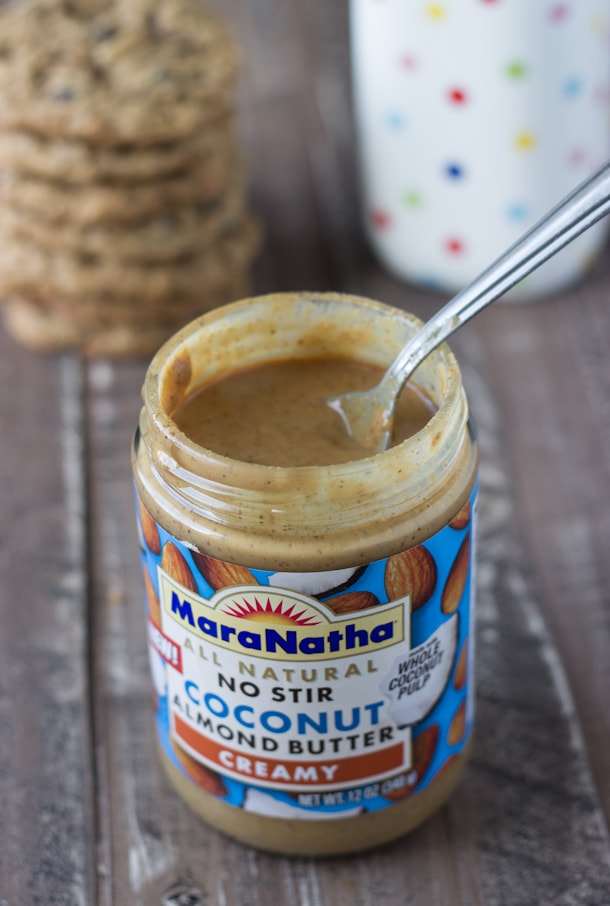 OK what makes these cookies so good? I want to say it's the coconut almond butter I used or the chewy coconut flakes or the melty dark chocolate chips? To honest, I can't pin point what it is but seriously who cares? Everything makes them very good!!
Let's talk about this Coconut Almond Butter
. It's seriously addicting. I came across it in the natural foods section at my local grocery store and just had to try it. My smoothies and toasts have never tasted better. If you would like to try it, grab it here.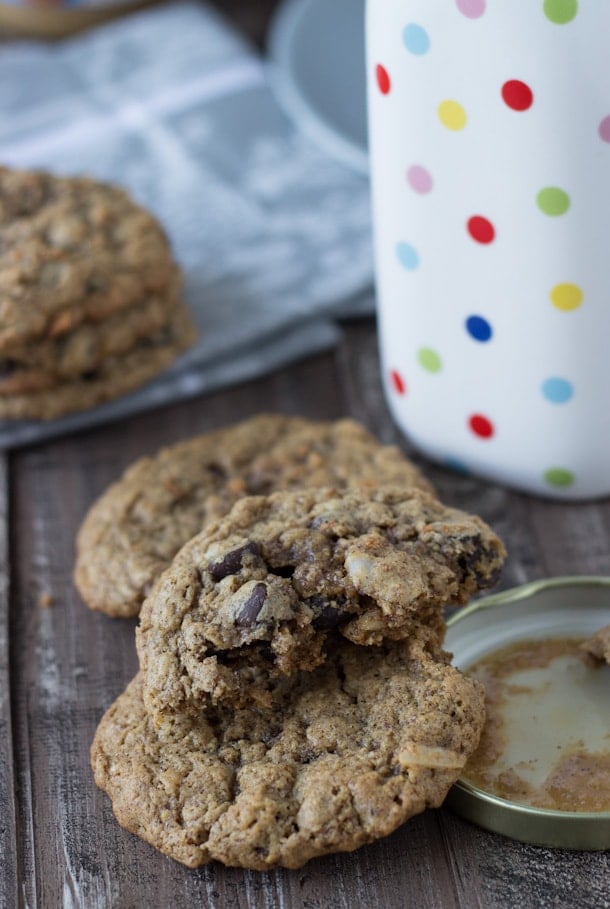 You can use any almond butter you have to make these (and yes you can use peanut butter too… Mr J insisted I added that last bit. These are bound to be your new favorite cookies. I promise, you will have trouble saying no to the 3rd cookie.

Flourless Almond Butter Chocolate Chip Oatmeal Cookies
Author: Blahnik Baker
Yield: 18 cookies
INGREDIENTS
⅔ cup old fashioned rolled oats (use a gluten free one to make this recipe GF)
1 teaspoon baking soda
¾ teaspoon salt
1 teaspoon cinnamon
⅓ cup coconut flakes
1 cup almond butter
⅔ cup dark brown sugar
2 large eggs
2 teaspoons vanilla extract
⅔ cup dark chocolate chips
DIRECTIONS
Preheat oven to 350 degrees F. Line two baking sheets with wax paper.
In a medium bowl, whisk together the oats, baking soda, salt, cinnamon and coconut flakes
In another medium bowl, using a hand mixer or stand mixer, mix the almond butter and sugar until smooth. Add in the eggs, one at a time, and mix until combined. Beat in the vanilla extract.
Reduce speed to low and add in the dry ingredients. Mix until just combined (do not over mix). Using a rubber spatula, fold in the chocolate chips by hand.
Using a medium cookie scoop, scoop 2 tablespoon rounds of dough onto the prepared sheets. Bake cookies for 9-11 minutes. Let cookies cool on sheet for 2 minutes. Transfer cookies to a cooling rack and let cool completely. Store leftovers in an airtight container at room temperature.
 More Cookie Recipes from Around the Web:
Cashew Coconut Dark Chocolate Cookies – Spoonful of Flour
Smoked Sea Salt Chocolate Fudge Caramel Cookies – Keep it Sweet Desserts
Flourless Peanut Butter Cookies – Green Healthy Cooking
Caramel Coconut Chocolate Chips Cookies with Sea Salt– Girl Versus Dough