Fried Plantains Recipe with Hot Pepper Sauce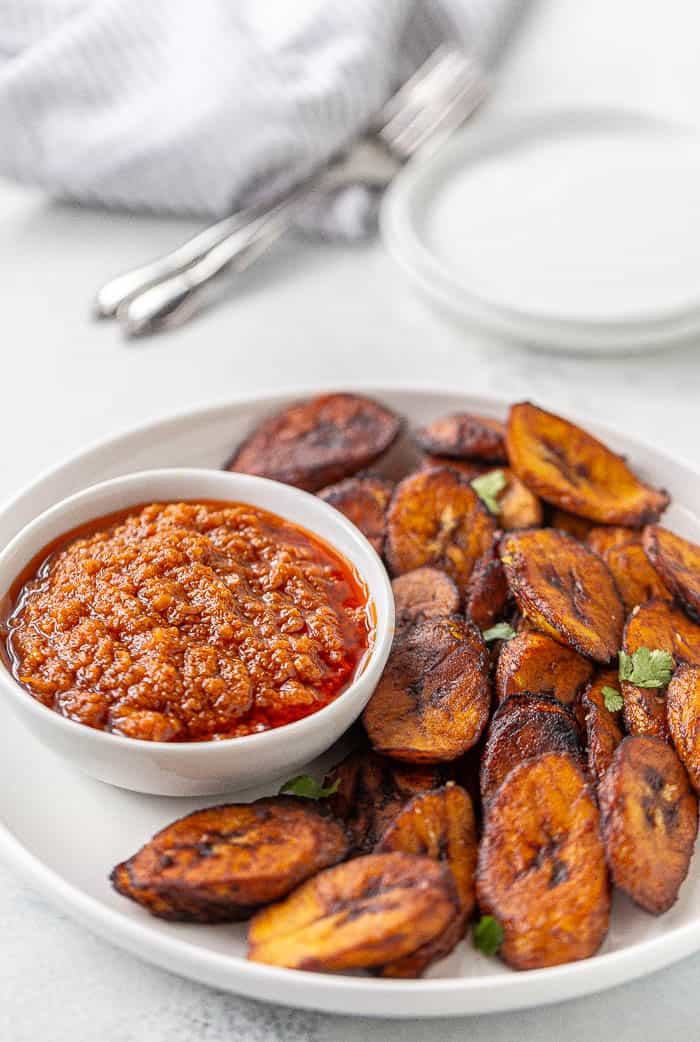 Hi friends! How is everyone doing? For those of us with winter weather, I hope you are staying warm. We are at the point of the global pandemic where everyone is fatigued. Endurance and positive outlook gets hard to keep up when the weather is bleak as well. This has called for comfort foods for me. Stews, soups and spicy African eats are my comfort food. In celebration of Black History Month, I am sharing with you today my fried plantains recipe with hot pepper sauce. This is one of my favorite African comfort eats.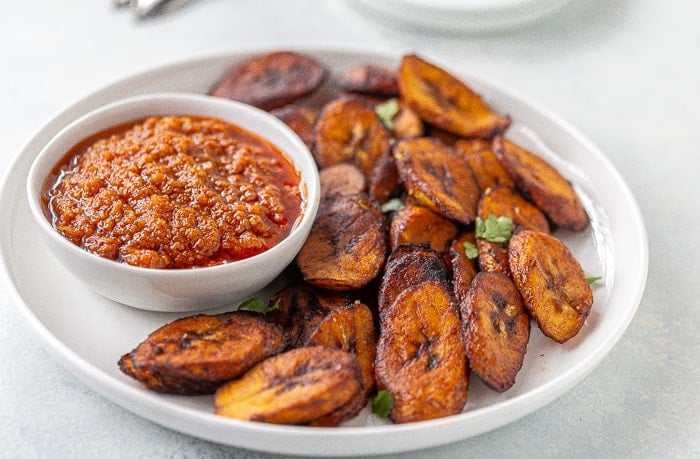 Growing up, I learned how to cook at the age of 12 or 13 as one of those traditional rites of passage. By the time I was 16 I could cook all the staple Sierra Leonean meals. From cassava leaves, to fufu and akara. Of all these, making fried plantains with hot pepper sauce was my favorite. Not only was it the easiest, it was always versatile and delicious.
Plantains are a staple starch in many African cultures as well as others such as Latin American cultures. If you are not familiar with plantains, they belong to the banana family but unlike bananas they are starchy and need to be cooked before eating. You can boil, fry or roast plantains. My favorite way is of course fried.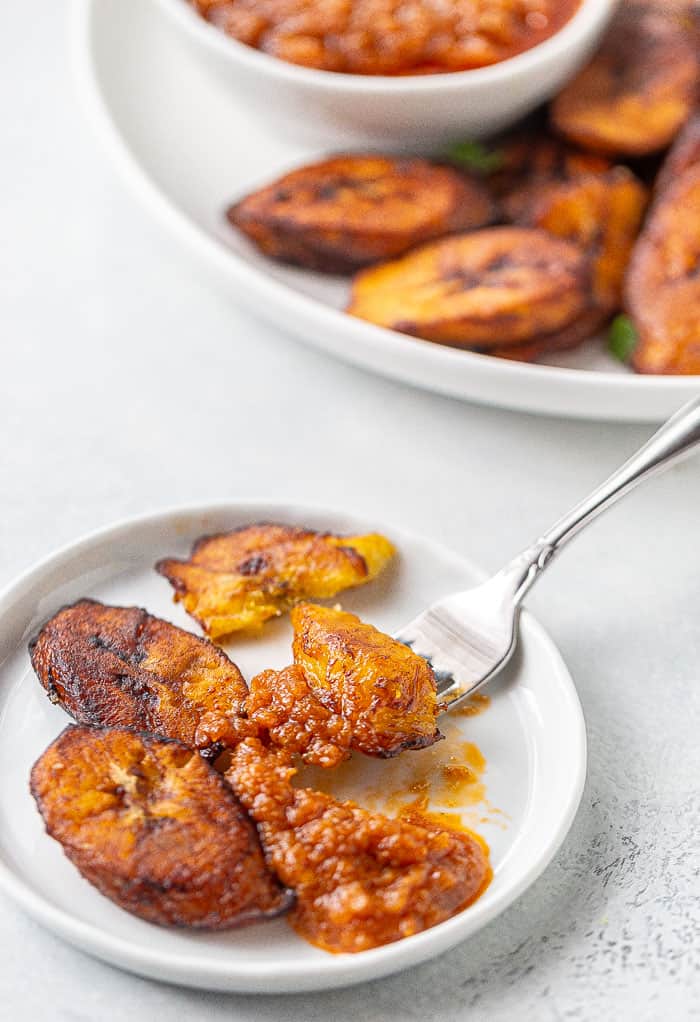 After I shared on Instagram a preview of this fried plantains recipe, many of you said you do not know how to fry plantains. So let me walk you through how to do that. Unfortunately I didn't get step by step images when I made these but I will guide you with some tips until I can get some pictures up.
Tips for Making Fried Plantains
As plantains get ripe, their starches convert to natural sugars and they get sweeter. The best fried plantains come from ripe and soft plantains. So if you have green plantains, let them ripen. You do not want them to be mushy but ripe and firm. Of course you can fry green plantains as well but that is a different texture and flavor.
After I peel my plantains, I handle as minimal as possible. It doesn't take much to have them mushed. This is why it is key to make sure your plantains are ripe but firm.
Slice your plantains into 1-1.5 inch slices. The shape you cut them determine how long it would take to cook. I like doing oval shapes because that is what my mom did. Other people prefer cubes. Do what you want.
To fry plantains quickly and efficiently, you must use HOT oil. I know most people shy away from frying things in oil but it is not as scary as it seems. If you use a heavy bottomed pot or saucepan, you will be able to heat the oil evenly.
Fry plantains in small batches making sure they are not overcrowded. You will need to flip each to the other side so it helps if you do not overcrowd.
If your oil is hot enough, plantains take only 2-3 minutes to cook on each side. Flip over and cook for another 2-3 minutes.
Always place the fried plantains onto a paper towel lined plate to drain the oil from each.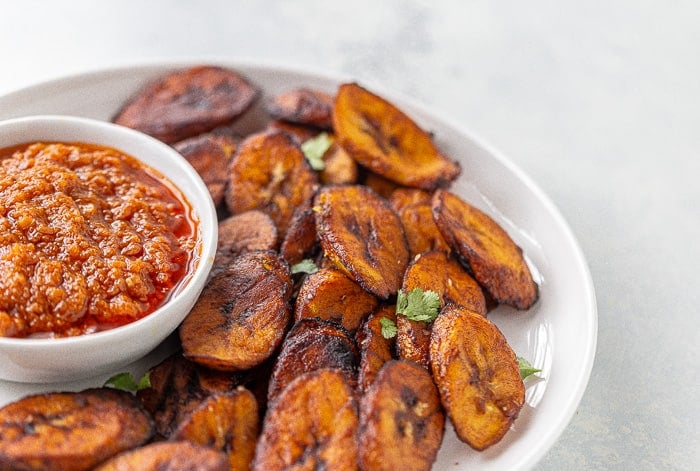 And that's it! Frying plantains is very easy and not something to be scared of. If you fry homemade donuts or chicken wings, this is similar and much easier. You can use a deep fryer to fry plantains or even air fryer if you'd prefer to skip the oil all together.
I pair my plantains with my hot pepper sauce. Actually it is my mom's and I make it just like she does. Although my husband says hers is better! This hot pepper sauce is a staple in most Sierra Leonean dishes. It is the perfect side.
What is African Hot Pepper Sauce?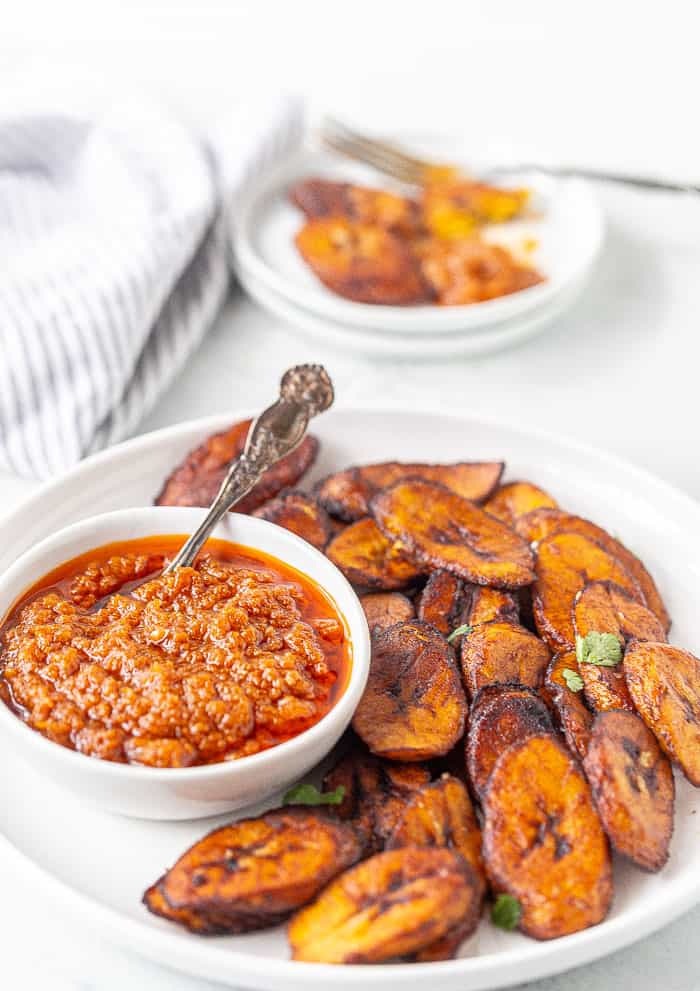 Hot pepper sauce is a "stew" or "gravy" sauce that is made of onions and tomatoes cooked in vegetable oil. The sauce is spicy but you can control how much heat you add.
The base of the hot pepper sauce is A LOT of onions and tomatoes. My mom would use 6-8 onions and 3-4 fresh tomatoes. So basically this sauce can be called an onion-tomato reduction/relish.
There are different ways to make hot pepper sauce. You can finely chop all your vegetables and fry/cook in vegetable oil or you can process/blend all the vegetables to have a smoother mixture. The main difference of these ways is how chunky you want your sauce. I like mine to be smooth and so I chop my ingredients in a food processor.
One tip I would provide is that you want to cook this sauce over medium-low heat. Slow and steady is key and will ensure your flavors blend well together.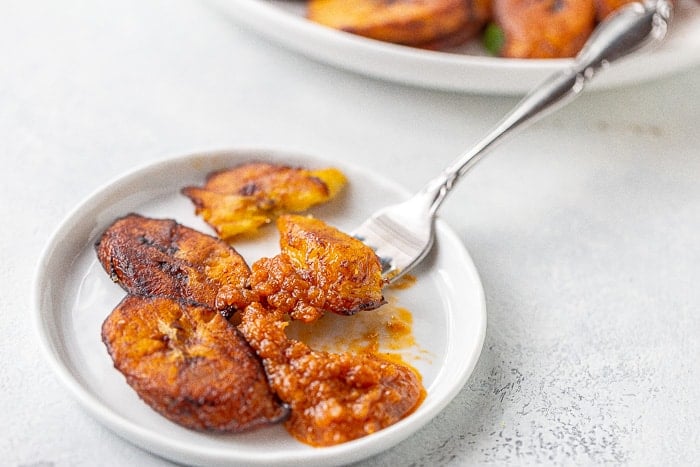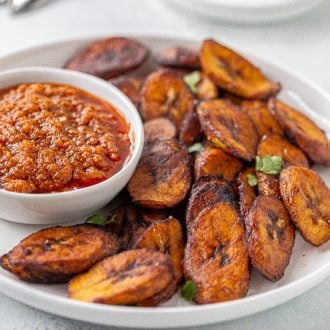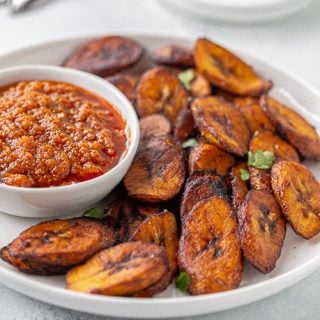 Yield: 4 servings
Fried Plantains Recipe with Hot Pepper Sauce
Ingredients
For the Hot Pepper Sauce
3 medium onions, peeled and quartered
2 medium Roma tomatoes, roughly chopped
1 or 2 scotch bonnet peppers (or habanero peppers)
1/2 green or red bell peppers
2 garlic cloves, peeled
1-inch ginger, peeled and sliced
1/2 to 3/4 cup vegetable oil
2 tablespoons tomato paste
1 teaspoon dried thyme
1/2 teaspoon ground white pepper
salt and pepper to taste
For the Plantains
3 medium ripe plantains
salt to taste
Vegetable oil
Instructions
In a large food processor, combine the onions, tomatoes, peppers, garlic and ginger. Process to chop everything roughly. I like having chunks however you can process until smooth.
In a large saucepan, heat the vegetable oil over medium heat. Let get hot but not burning.
Add in the vegetable mixture to the hot oil. Mix to combine and let cook slowly, mixing occasionally, for 10-15 minutes.
Reduce heat to low. Add in the tomato paste, maggi bouillon, thyme, white pepper, salt and pepper. Mix to combine. Cook until the mixture reduces, the water cooks off and the sauce thickens. If the sauce is cooking too fast, add some water, one tablespoon at a time and make sure your heat is medium-low.
It would take another 10 minutes, cooking over low heat. You are welcome to drain the oil if you'd like.
Transfer the pepper sauce to a heatproof serving bowl.
While the hot pepper sauce cooks, prep the plantains
Peel the plantains and slice into 1-inch thick pieces. The shape you choose for the pieces is up to you.
Salt your plantains with 1/2 to 1 teaspoon kosher salt.
In a medium saucepan set over medium-high heat, heat about 2-3 inches of oil to 375 F. The oil needs to be hot but not smoking.
Fry the plantains until golden brown on each side, about 2-3 minutes per side.
Transfer plantains to a paper towel lined plate.
Serve plantains with hot pepper sauce.
Store leftovers refrigerated.
Recommended Products
As an Amazon Associate and member of other affiliate programs, I earn from qualifying purchases.