Hazelnut Cake with Salted Caramel Sauce
An aromatic buttery cake made with a rich nut mixture of blanched hazelnut is topped with a sea of deep amber sea salt caramel sauce. This simple Hazelnut cake with Salted Caramel Sauce is the perfect sweet and salty dessert!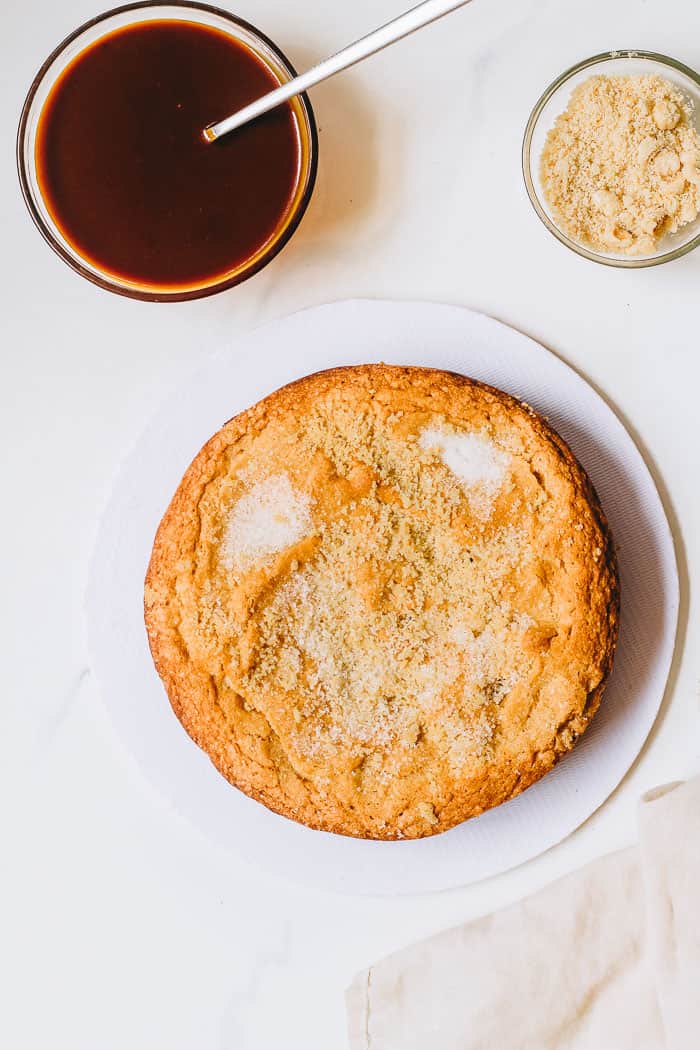 Hi friends! I hope you are ready for a special treat. This hazelnut cake with salted caramel sauce is one of my recent favorites. A delightful wonder that is quite easy to whip up too. Think of a soft butter cake with nutty hazelnut flavor and the sweet and salty balance of salted caramel in each bite. Delightful!!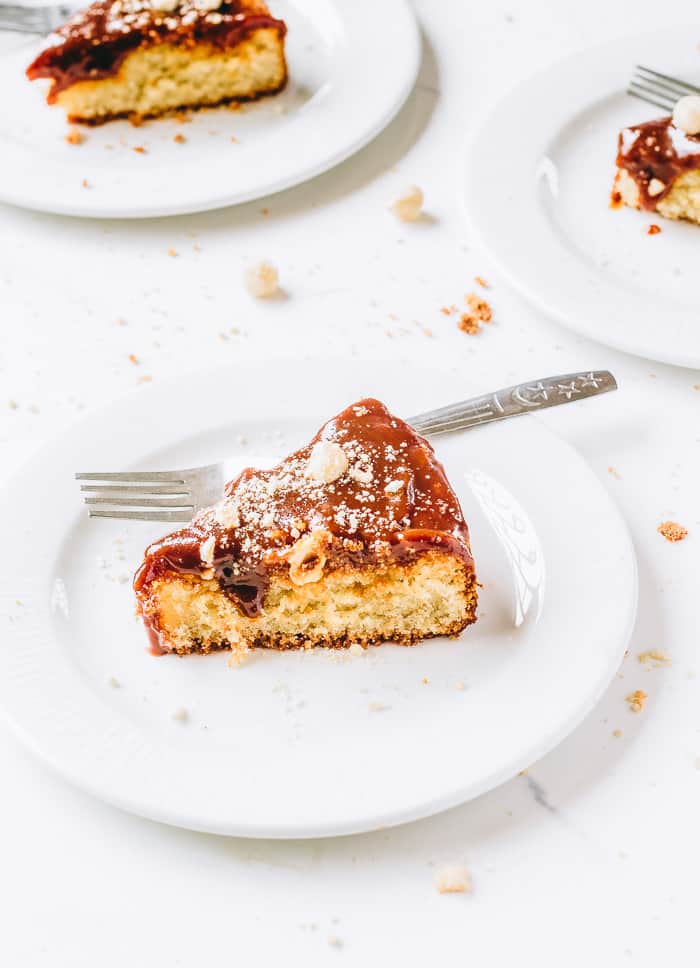 I think I have said this several times but it's only because it's so true. One of the great things about blogging is the community you meet, get to know, and people you develop a relationship with. I've been really fortunate to make friends that are supportive, encouraging, and just inspiring every day.
Just last week, I received a care package from my friend Renee over at Tortillas and Honey that was the most heartwarming present I have received in a while. She sent me a New Mexico-themed package complete with two types of chiles, NM state cookies, tea, and her family's recipes and directions on how to work the chiles. Freaking AMAZING!!! (Thank you, dear)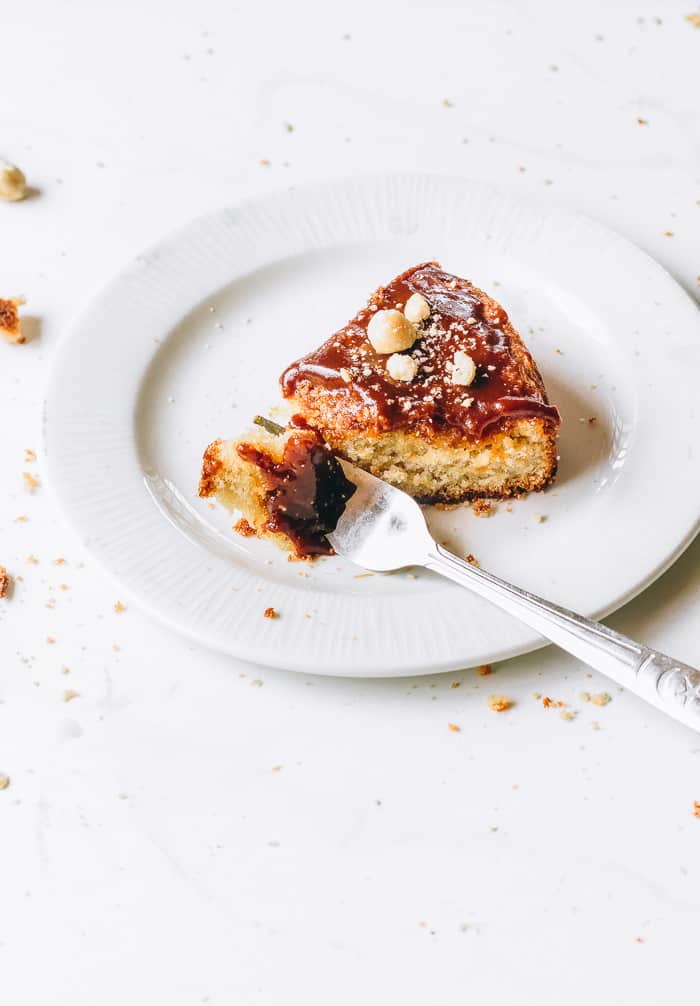 So when one of my friends reached out for some help while she was away on vacation, I raced upon the opportunity! I made this special hazelnut cake with salted caramel sauce for Julie's readers. Julie is a great friend and mentor that has welcomed me into her blogging community.
Head on over to her blog, This Gal Cooks for the full hazelnut cake with salted caramel sauce.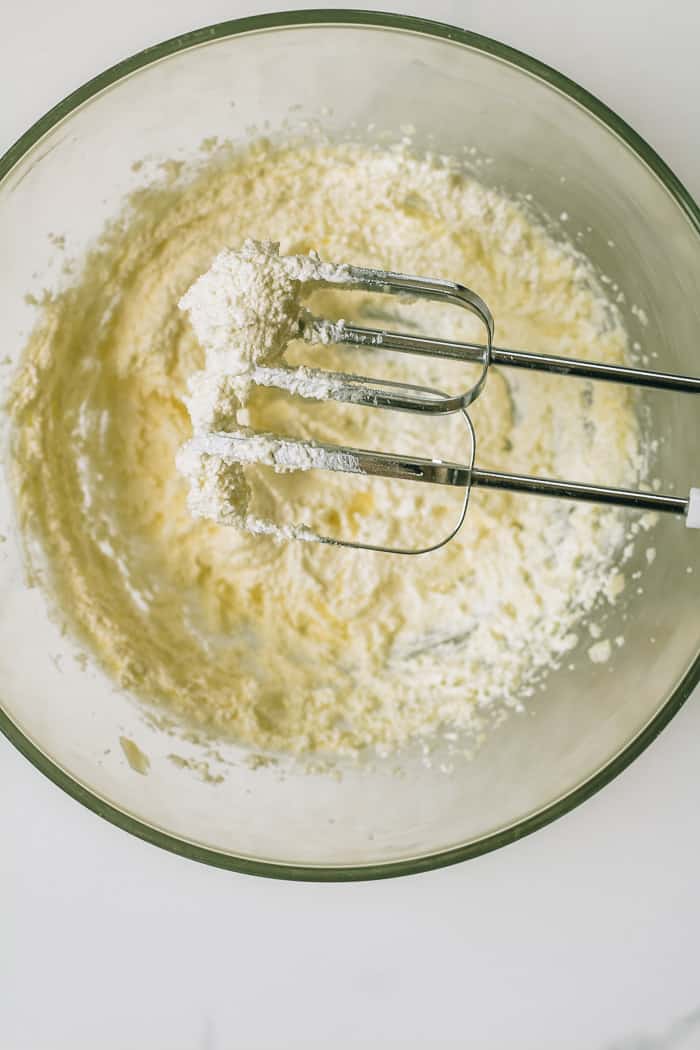 This hazelnut cake with salted caramel sauce is a buttery rich nut flavored cake that is topped with a deep amber sea salt caramel sauce to give you the perfect sweet and salty treat!
Friends are the best. Make them cake 🙂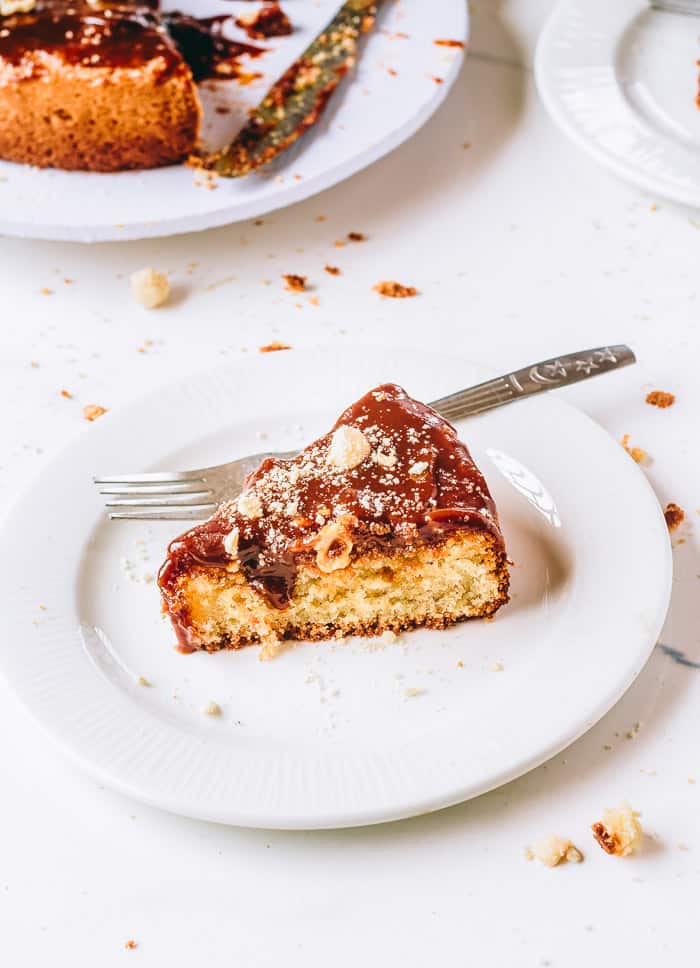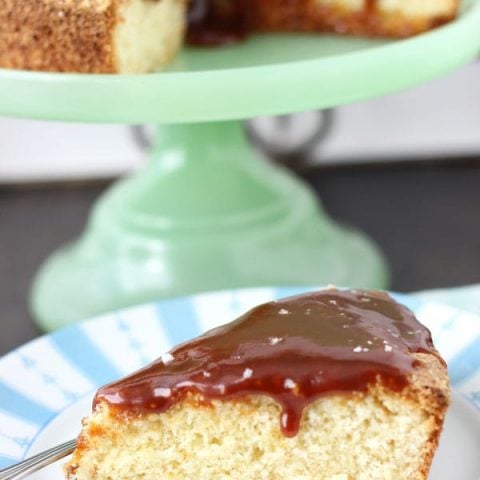 Yield: 1 8-inch cake
Hazelnut Cake with Salted Caramel Sauce
Total Time
1 hour
10 minutes
Ingredients
FOR THE CAKE
½ cup blanched hazelnuts
1 cup granulated sugar, divided
1 cup all-purpose flour
1 teaspoon baking powder
½ teaspoon salt
½ cup (1 stick) unsalted butter, softened at room temperature
3 large eggs, room temperature
1 tablespoon granulated sugar
FOR SALTED CARAMEL SAUCE
¾ cup granulated sugar
1 tablespoon light corn syrup
¾ cup heavy cream
1 tablespoon unsalted butter
½ tablespoon flaky sea salt
Instructions
FOR THE CAKE:
Preheat oven to 350 degrees F. Grease and line an 8-inch baking pan with a parchment circle. Grease parchment.
In a bowl of a food processor, finely process hazelnuts with 1 tablespoon granulated sugar. Set aside 2 tablespoons of nut mixture.
In a medium bowl, whisk together the remaining nut mixture, flour, baking powder, and salt. Set aside.
In the bowl of a stand mixer, cream the butter with the remaining sugar until light and fluffy, about 3 minutes on medium speed. Add in eggs, one at a time, beating to blend after each addition and scraping down the side of the bowl as needed.
Reduce speed to low and add dry ingredients in two additions. Mix until combined.
Spoon batter into prepared pan and sprinkle the reserved nut mixture over batter. Sprinkle granulated sugar as well.
Bake until golden brown and a cake tester inserted into the center of the cake comes out clean, about 30-35 minutes. Transfer cake to a cooling rack and let cool in the pan for 10 minutes before turning out. Let cool completely.
TO MAKE SALTED CARAMEL SAUCE
In a medium saucepan, bring to boil over medium-high heat two tablespoons water, granulated sugar, and corn syrup, stirring constantly to dissolve sugar.
Once boiling, leave for 8-10 minutes until the mixture turns deep amber in color, swirling pan occasionally. Remove from heat and slowly add the heavy cream to the mixture. The mixture will bubble vigorously.
Return to medium heat and stir occasionally until smooth, about 2 minutes. Remove from heat and stir in butter and sea salt.
Let sauce cool before serving with cake.
Notes
Adapted from Bon Appetit Magazine