Lemon Macarons
 Spring is in the air! Celebrate with these tender lemon macarons- they are sweet, tangy and vibrant to excite the air of SPRING!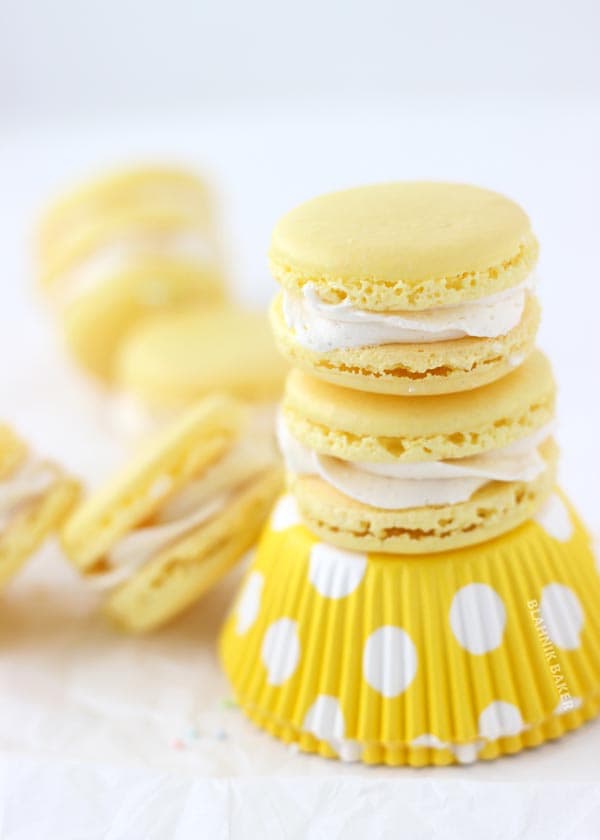 Spring is here! Welcome! Welcome. It has been a brutal winter so I hope you are here to stay and be brutal with lots of sunshine. Depending on where you are located, you are probably thinking are you nuts? Spring is not even close to being here (Camp A) or Spring's been here for ages what are you talking about? (Camp B). Despite being in Camp A, I refuse to succumb to that way of thinking. My calendar says it's the start of Spring and thus I am choosing to spring forward. And with that, I have all things lemon on the brain. Lemon tarts, lemon poppyseed donuts (coming soon) and lemon macarons!!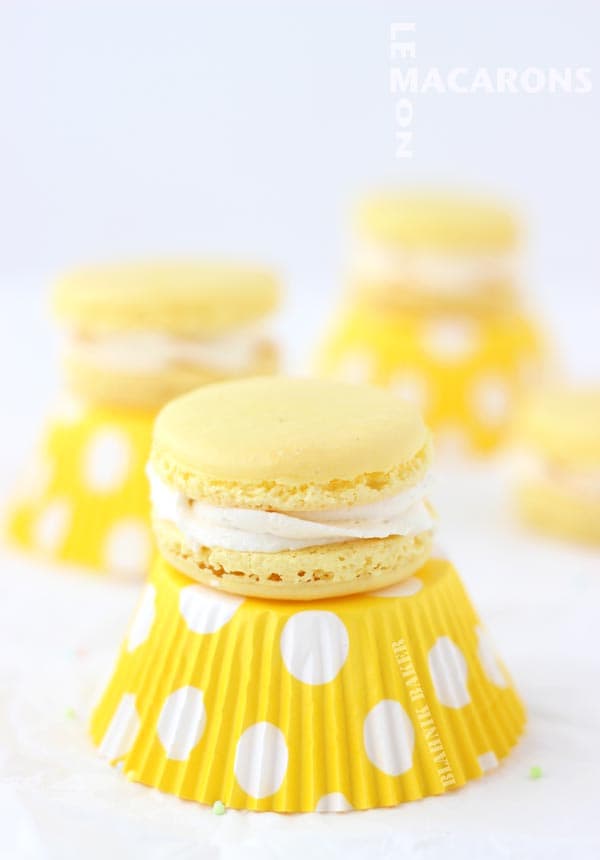 Today is also Jour du Macaron or Macaron Day! This day originated in France and was created by the famous patisserie chef Pierre Hermé who wanted to mobilize and collect funds for a charity by offering a free macaron to customers in exchange for a donation to a charity. Now, several cities across the world celebrate on May 20th and  each participating bakery in that city gives away a free macaron to customers and a portion of their macaron sales for the day goes to a charity. New York City Macaron Day, the closest participating city to me, will be donating to City Harvest, a food rescue organization, dedicated to feeding the city's hungry men, women and children. Buying macarons today will not only be good for your taste buds, but it will also be supporting a great cause. Check to see if your city is participating.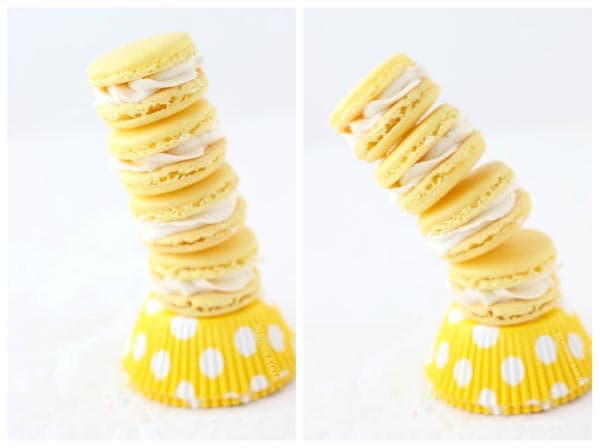 If you are not lucky to live in one of those cities, that's ok, You can make these lemon macarons at home and virtually celebrate jour de macarons! The macaron shells are bursting with lemon zest and lemon extract to give you a tangy crunchy cookie that is filled with a sweet lemon vanilla bean buttercream. The sweet and tangy balance in these lemon macarons make them the perfect spring treat.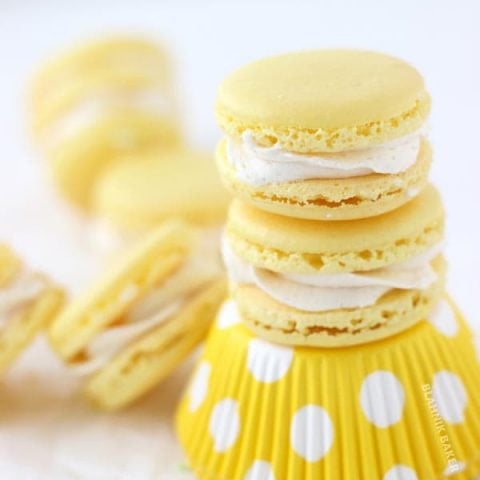 Yield: ~18 macaron sandwiches
Lemon Macarons
Lemon macaron shells filled with lemon vanilla bean buttercream make this sweet and tangy treat perfect for the Spring.
Ingredients
110 g fine almond meal/flour
155 g confectioner's sugar
Zest of one lemon
90 g egg white (3 large egg whites)
55 g granulated sugar
¼ teaspoon cream of tartar
Few drops yellow food coloring (optional)
¼ teaspoon lemon extract
Filling:
8 tablespoons (1 stick) unsalted butter, softened
1½ cups powdered sugar
2 tablespoons milk
zest of lemon
1 teaspoon vanilla bean paste or scrapings of half a vanilla bean
¼ teaspoon lemon extract
Instructions
Line two sheet pans with parchment paper. I used a 1½-inch round cookie cutter to draw circles on the parchment paper and flip over the paper (drawing side down). Prepare a pastry bag with a round tip. I used Wilton 2A.
Using a food processor, pulse the powdered sugar, almond flour and zest into fine powder. Sift several times until there is less than 2 tablespoons of almond bits left. Add these to the mixture.
In the bowl of an electric mixer with the whisk attachment, combine the egg whites, cream of tartar, and sugar. Whip on medium-high speed until stiff peaks form, about 5-7 minutes. Add the food coloring and lemon extract and whip for another minute.
Add the dry ingredients to the meringue and fold with a rubber spatula. Gently fold to deflate the meringue by pressing against the side of bowl and scooping from bottom until batter is smooth and shiny; about 20-25 folds. To check consistency, drop a spoonful of batter and it should have a peak that quickly relaxes back into the batter. Start checking the batter after 20 folds.
Transfer batter into pastry bag and pipe the batter into the pre-traced circles on the baking sheet. Tap baking sheet hard on counter to release any air bubbles trapped in the batter. Let shells sit on counter for 20-30 minutes to dry.
Preheat oven to 300 degrees F. Bake for 15-20 minutes or until shells harden, rotating cookie sheets halfway through baking time. You should be able to peel off the macaron from the parchment. Cool completely on cookie sheets before peeling from the parchment.
For Filling:
Whip the butter until light and creamy. Add in the rest of the ingredients and mix on low until combined. Increase speed to low and whip for additional 2-3 minutes.
Using a pastry bag fitted with a large round or star tip, fill macarons. Store in refrigerator until ready to serve. Allow to get to room temperature before enjoying!
Notes
Macaron shells adapted from Brave Tart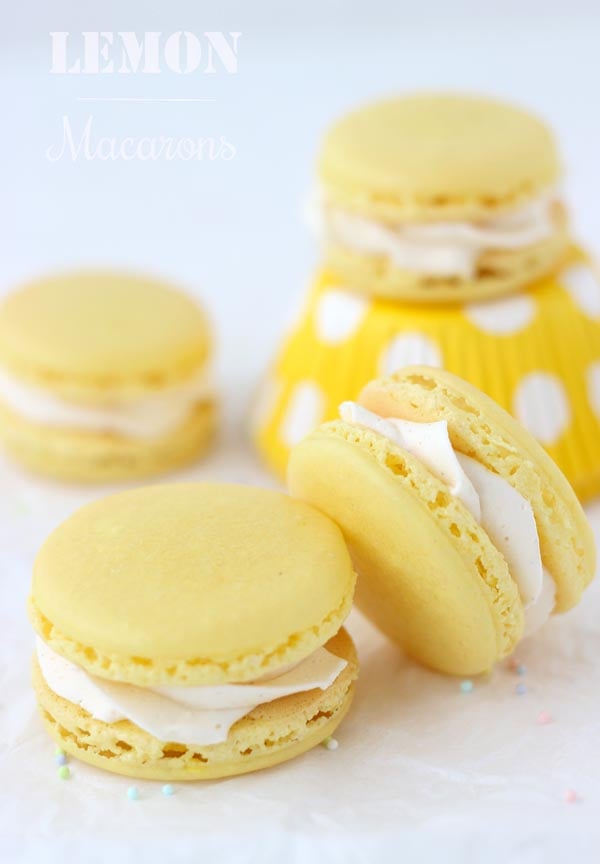 ** Don't forget to enter the giveaway going on right now for a chance to win a set of 12 silicone baking cups.**