Lemon Poppy Seed Thumbprint Cookies
These lemon poppy seed thumbprint cookies are soft, crumbly land filled with a sweet curd making these cookies the perfect little spring treat.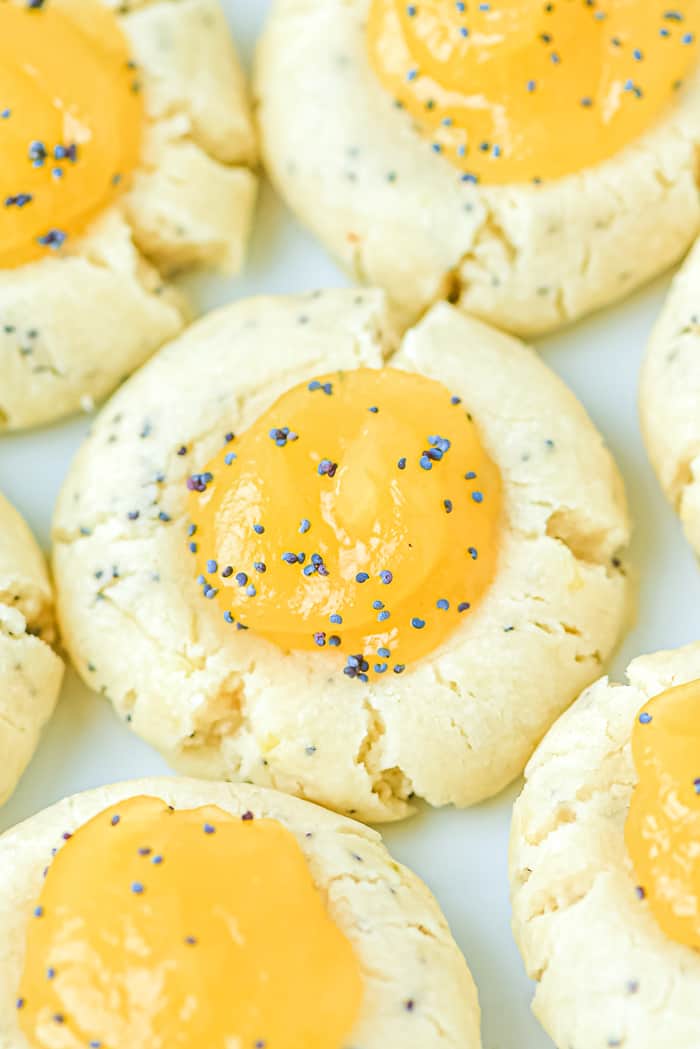 Folks, this has been a very crazy week. It has somehow flown by and despite being busy on one project or another, it seems as if I have accomplished nothing at all. Yesterday was just not my day. Everything that could go wrong in one day did. So so frustrating. But that's why we have cookies, especially these lemon poppy seed thumbprint cookies.
Cookies fix everything and always make you feel 100% happier (rule #132 in life). These lemon poppy seed thumbprint cookies brought smiles to my face (and belly) all week long. They are that good. I could barely take decent pictures of them to share with you as I was focused on taste testing and also well… it's been one heck of a crazy week in the lab. Sorry about that.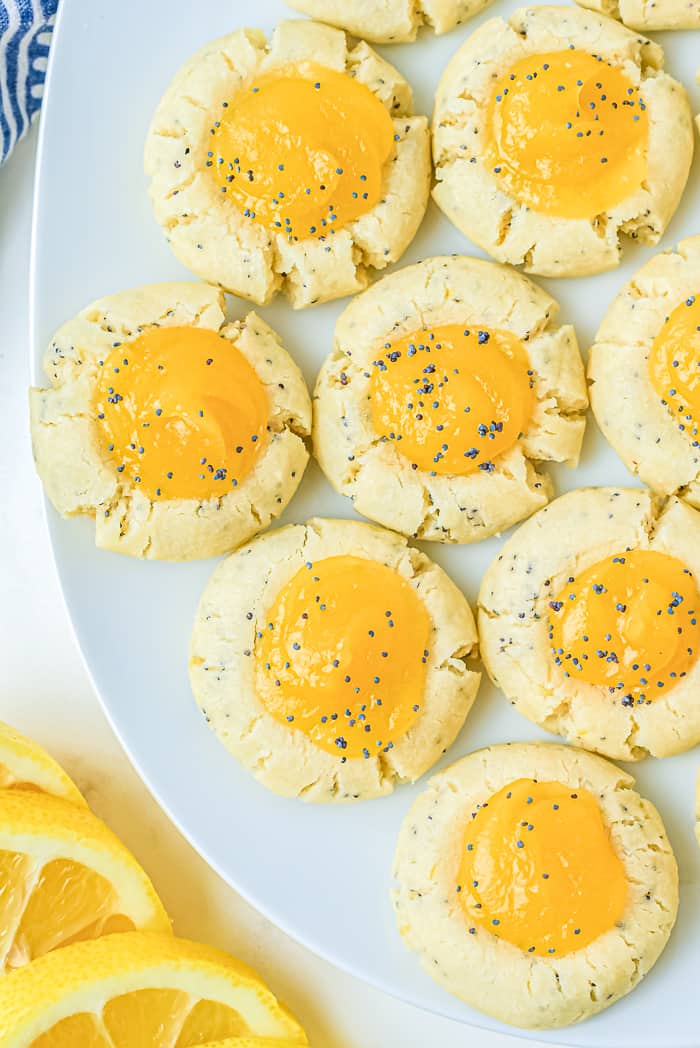 But don't let the looks fool you. They are soft, crumbly, shortbread texture, lemon cookies rolled in lemon sugar, and are filled with a sweet and tart lemon 'poppy seed' curd. I used chia seeds instead of poppy seeds to sneak in some nutrients. After all, they look like poppy seeds! Chia seeds are a great source of fiber, protein, and omega 3s and they make you feel 'full' faster. Just what you need to portion control yourself because these cookies will disappear fast in front of you. But feel free to use poppyseeds.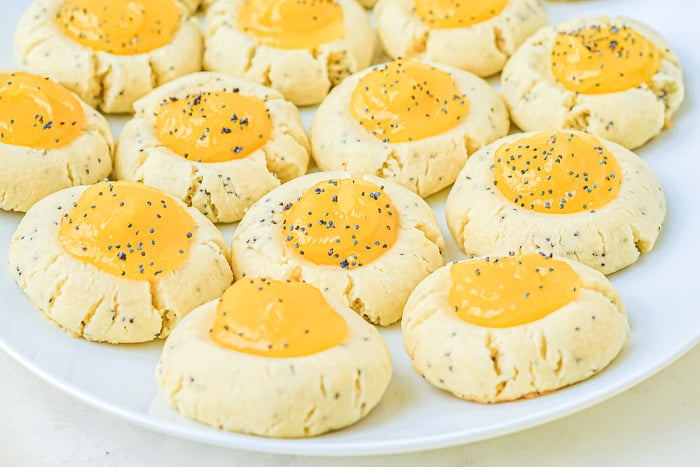 These cookies were one of the three recipes we made in Pass the Cook Book Club this month. Our host, Erin from The Spiffy Cookie, chose the amazing Breakfast for Dinner
cookbook by Lindsay Landis and Taylor Hackbarth of Love & Olive Oil. In addition to these lemon poppy seed thumbprint cookies, group members tried the Breakfast Sausage Ravioli and Italian-Style Stuffed French Toast recipes from the book as well. These are next on my list!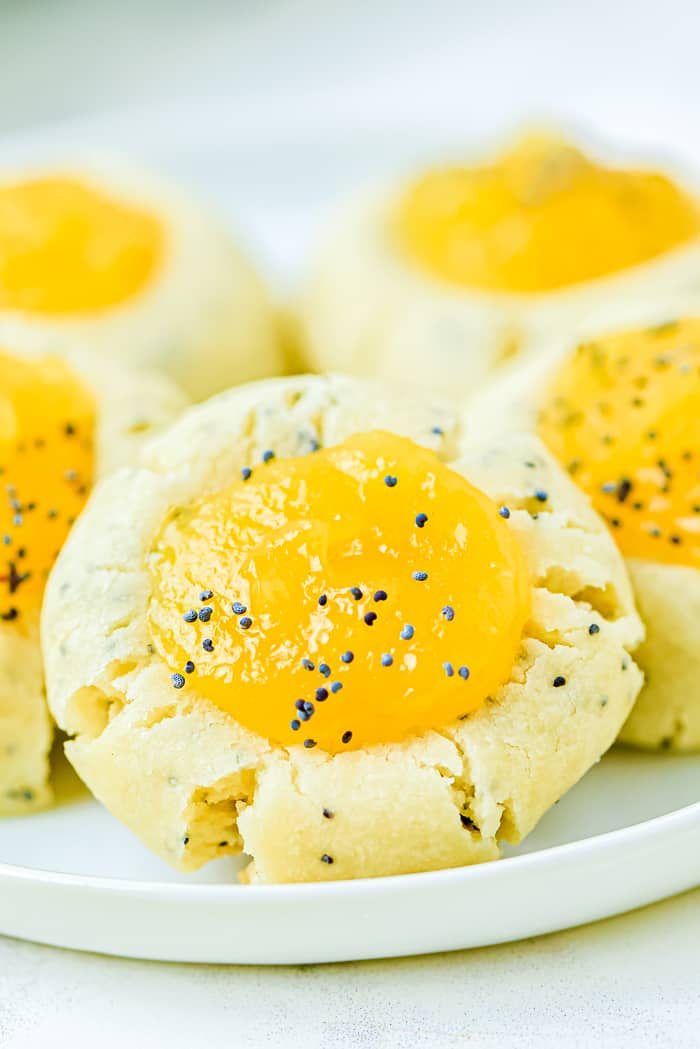 If you love lemon poppyseed, these cookies are going to be a favorite. Happy Baking!!
** Affiliates links included…FYI**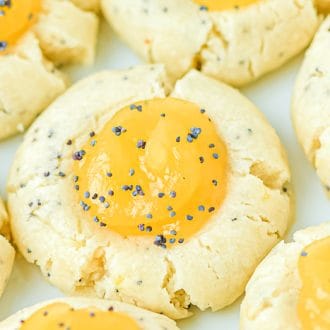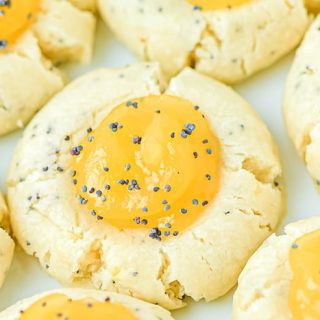 Yield: ~ 3 dozen cookies
Lemon Poppyseed Thumbprint Cookies
Ingredients
For the Cookies:
1 cup unsalted butter, at room temperature
2 teaspoons lemon zest
1/2 cup confectioner's sugar, sifted
1 1/2 cups all-purpose flour
1/2 cup corn starch
1 teaspoon pure vanilla extract
1/2 teaspoon lemon extract
1 tablespoon (or more) poppyseed
1/4 teaspoon salt
For the filling:
Instructions
Preheat oven to 300 degrees F. Line a baking sheet with parchment.
In a medium bowl, using an electric mixer, beat the butter, lemon zest, and confectioner's sugar until light and fluffy, about 3-4 minutes on medium speed.
Slowly add in the flour and cornstarch until incorporated. Beat for another 2-3 minutes on medium speed until whipped. Beat in the vanilla extract, lemon extract, and salt. Using a spatula, fold in the poppyseed.
With your hands lightly coated in cornstarch, scoop out 1/2 tablespoon dough and roll into 1-inch balls. Place the dough 2 inches apart on the prepared sheet.
Bake for 20-22 minutes until the cookies are lightly browned on the bottom. Halfway through baking, remove the cookies from the oven, and using your thumb, press into the middle of the cookies to form an indent. Continue baking for the rest of the time.
Remove from oven and let cool on baking sheet for 5 minutes.
Using a piping bag, add some lemon curd into the center of the thumbprint cookies. Top with poppyseed, if desired.
Recommended Products
As an Amazon Associate and member of other affiliate programs, I earn from qualifying purchases.