Chocolate Pistachio Éclairs
These chocolate pistachio éclairs start with crisp pâte à choux filled with vanilla bean pastry cream and topped with a rich chocolate glaze and salted pistachios for the perfect sweet and salty treat.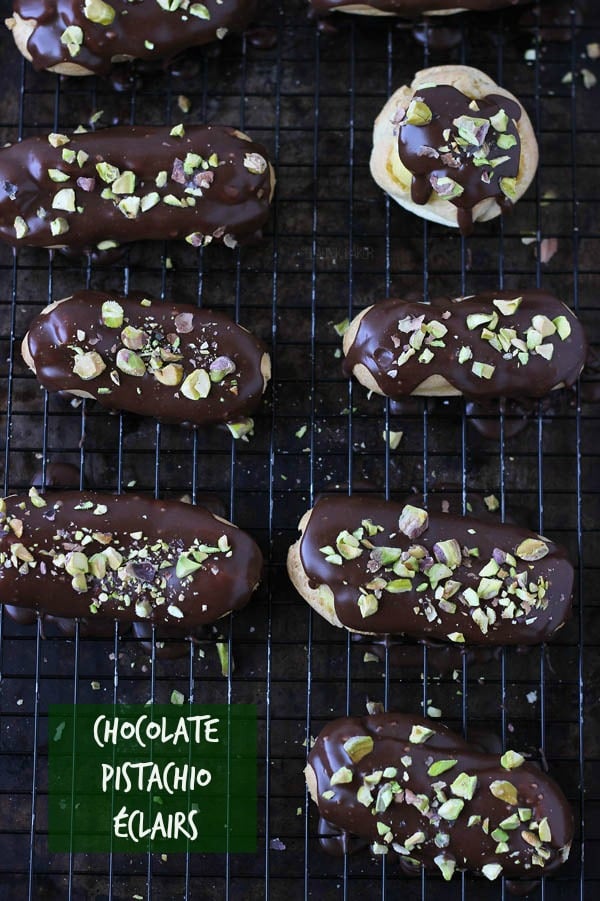 Hello folks! I hope you had a great Easter weekend. Mine was low-key and yet wonderful with kitchen challenges. I decided this was the weekend to take on Éclairs! I love french pastries very much and always rush to get them at bakeries but I 've never tried them at home. But when Lindsay over at Love and Olive Oil announced that April's Kitchen Challenge was éclairs, I was all excited to finally get this off my baking bucket list.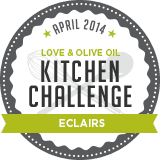 If you remember, macarons were once on that same bucket list but thanks to this same Kitchen Challenge series, I got that crossed off my list exactly a year ago!! I made my first batch of macarons last year and have since been in love with these cookies. But you all know that by now. It's with the same enthusiasm and knowledge that it will be journey that I delved into éclairs this weekend.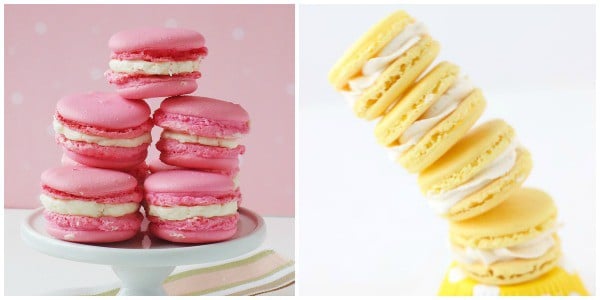 I chose a recipe from America's Test Kitchen that was very similar to one of Dorie Greenspan's that I've seen online. The step-by-step pictures helped a lot. Sign up for test kitchen recipes if you are not a member! The first step to making eclairs is making the shells or pâte à choux which is the base to many pastries including profiteroles, cream puffs and eclairs. The pâte à choux are supposed to be moist in the center (not wet) and crisp on the surface. And that's exactly how these turned out! The pastries are filled with a rich vanilla bean pastry cream that is quite straightforward to make.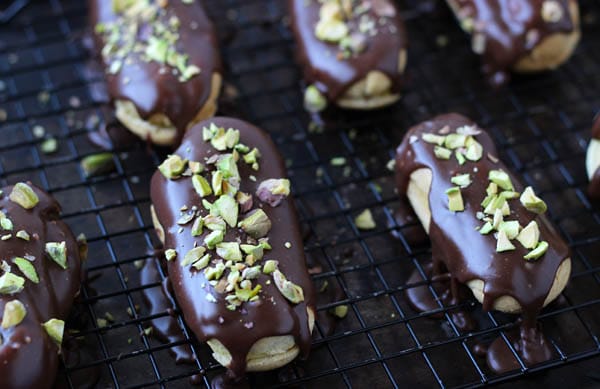 With everything, you want to start out focusing on mastering the basic technique but knowing that the flavor possibilities are endless here, I couldn't wait to deviate from the classic just a little bit. The salty crunch from the pistachios in these eclairs give them a nice sweet and salty balance that complements the chocolate glaze. I can't wait to experiment with more flavors as I try to perfect making pâte à choux. The hubby said "Dude, this actually tastes like eclairs. Wow". Well, thanks for the vote of confidence dear. But at least I succeeded on the first attempt on the taste. Next stop, looks 🙂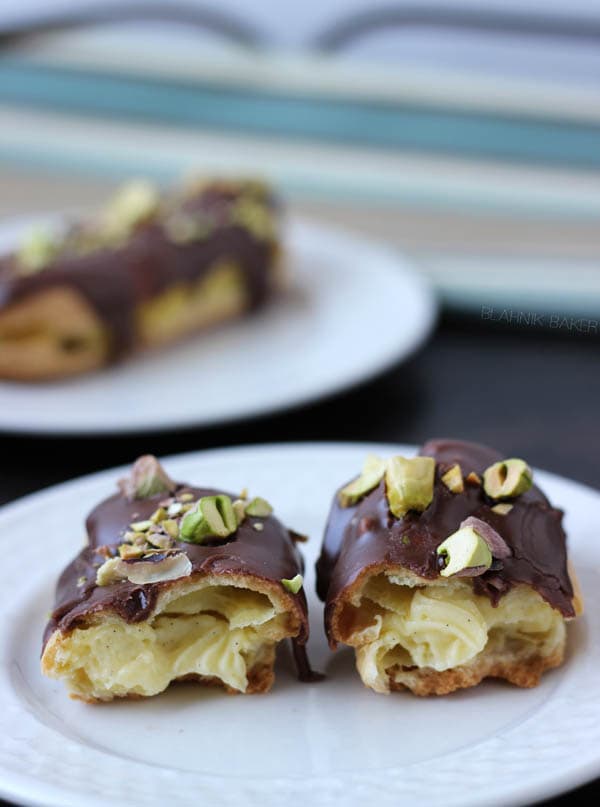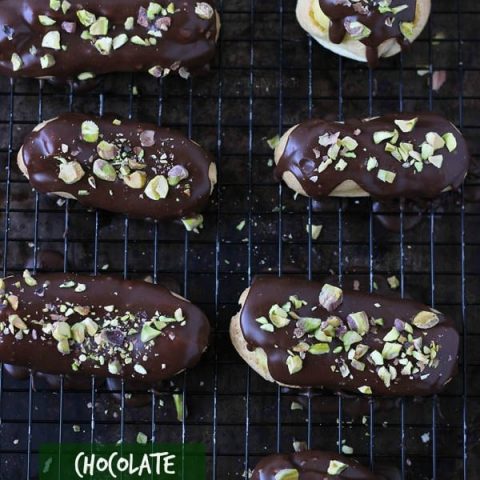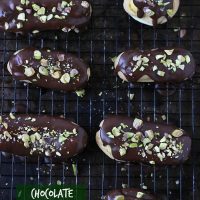 Yield: 8
Chocolate Pistachio Éclairs
These chocolate pistachio éclairs start with crisp pâte à choux filled with vanilla bean pastry cream and topped with a rich chocolate glaze and salted pistachios for the perfect sweet and salty treat.
Total Time
3 hours
25 minutes
Ingredients
2 large eggs
1 large egg white
6 tablespoons water
5 tablespoon unsalted butter, cut into cubes
2 tablespoons milk
1½ teaspoons granulated sugar
¼ teaspoon salt
½ cup all-purpose flour
2 cups half-and-half
½ cup sugar, divided
½ vanilla bean
pinch of salt
5 large egg yolks
3 tablespoons cornstarch
4 tablespoons unsalted butter, cut into cubes
3 tablespoons half-and-half
2 ounces semisweet or bittersweet chocolate, finely chopped
1 cup confectioner's sugar
¼ cup shelled pistachios, chopped
Instructions
For the Pâte à Choux
Place an oven rack to the middle of the oven. Preheat oven to 400 degrees. Lightly grease a baking sheet with baking spray and line with parchment. Prepare a pastry bag, fitted with a ½ - inch plain tip.
In a small bowl, beat the eggs and egg white together. In a small saucepan set over medium heat bring the water, butter, milk, sugar and salt to a boil. Remove from heat and stir in the flour until combined. Return the saucepan to low heat and cook the mixture until it looks like shiny wet-sand stirring constantly. About 3 minutes.
Transfer the mixture to the bowl of a food processor. With the processor running, pour the egg mixture through the feed tube gradually until incorporated, about 30 seconds. Scrape down the bowl and process for another 30 seconds until a thick smooth paste forms.
Transfer warm pâte à choux paste to prepared pastry bag. Pipe into eight 5 x 1-inch logs, separated 1 inch apart. To smooth out, wet a finger and shape the logs or smooth the surface.
Bake for 15 minutes. Without opening the door, reduce temperature to 350 degrees F and continue baking for additional 8-10 minutes until firm and golden brown. Turn off the oven and prop the door open with a wooden spoon and continue to bake for about 30 minutes, until the center is just moist and the surface is crisp. Transfer to cooling racks and cool completely.
For Pastry Cream
In a medium saucepan set over medium-high heat bring the half-and-half, 6 tablespoons sugar, seeds from vanilla bean, vanilla bean and salt to boil. Stir occasionally.
In the meantime, whisk together the egg yolks, cornstarch and remaining sugar together in a small bowl until smooth.
Gradually whisk one cup of the simmering hot half-and-half mixture into the egg yolk mixture to temper the eggs. Slowly whisk the egg mixture back into the simmering half-and-half mixture. Reduce heat to medium and continue cooking whisking constantly until the pastry cream is thickened, about 30 seconds.
Remove from heat and discard vanilla bean. Transfer to a bowl and press plastic wrap directly to surface to prevent a film from forming on the top. Chill pastry cream until set, about 3 hours.
Glaze
Microwave half-and-half and chocolate together in a microwave safe bowl, whisking occasionally until chocolate starts to melt about 30-45 seconds. Whisk in confectioner's sugar until smooth.
Assembly
Using a sharp knife, cut along one side of the pastries to open up the shells. Fill a pastry bag fitted with a ¼ -inch plain tip with pastry cream and pipe the pastry cream into the shells. Chill pastries for about 30 minutes for glazing.
Spoon warm glaze evenly over the tops of the eclairs. Be sure to cover the holes. Sprinkle chopped pistachios. Let glaze set for about 20 minutes before serving.
Filled eclairs can rest at room temperature up to 4 hours before serving. Store refrigerated.