Oatmeal Raisin Chocolate Chip Walnut Cookies
Last Tuesday was a bad day as I had a practice run for my presentation (which is tomorrow arghhh) and I was not happy with my performance. Sulking all afternoon long, until Nora sent me an email with this post. My day was instantly made as I could not stop drooling over these oatmeal raisin chocolate chip walnut cookies. So I did what any self-proclaimed baker will do, I made them as soon as I got home. A) I needed a study snack for the long night and B) well, I just had to taste test for you guys. (Oh, the troubles I go through for you! It's love, real love). OK back to the cookies. All I can say is that they are AMAZING and lasted just one night. Here is Nora from A Clean Bake: 
To be totally honest, when Zainab invited me to guest post, I sort of panicked. I mean, not only does she wow me week after week with her endlessly decadant creations and beautiful photography, but she bakes "normally", while all of my recipes are, for lack of a less awkward descriptor, "weird". Or worse, healthy. But I am here today determined to show you that healthy and dessert are not totally contradictory terms! Almost everything I bake is gluten-free, dairy-free, refined sugar-free and easily adapted to be vegan. I force – ahem, recruit – friends, family and colleagues who do not have any food sensitivities to be my taste testers, and I never tell them the desserts are healthy. They never notice.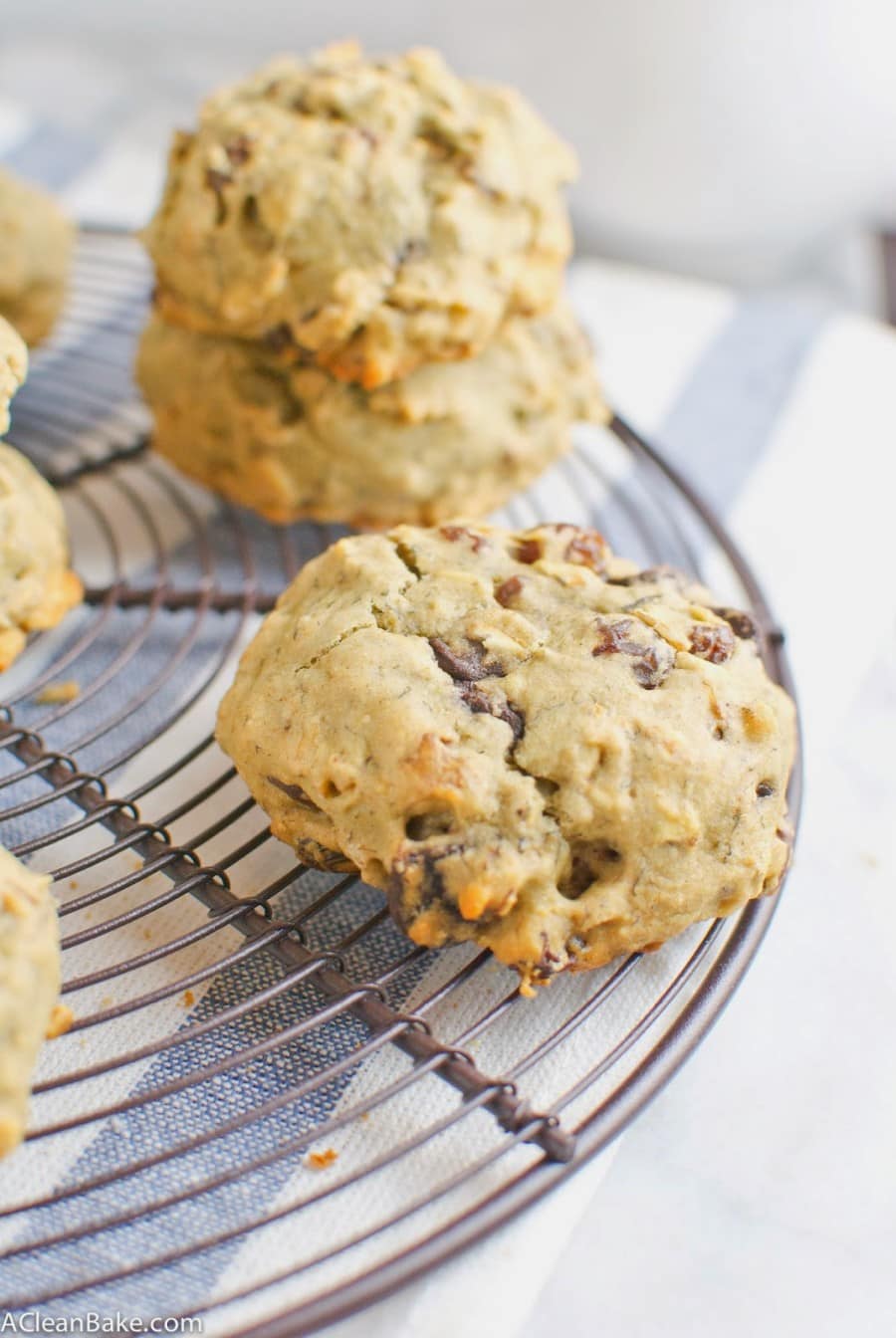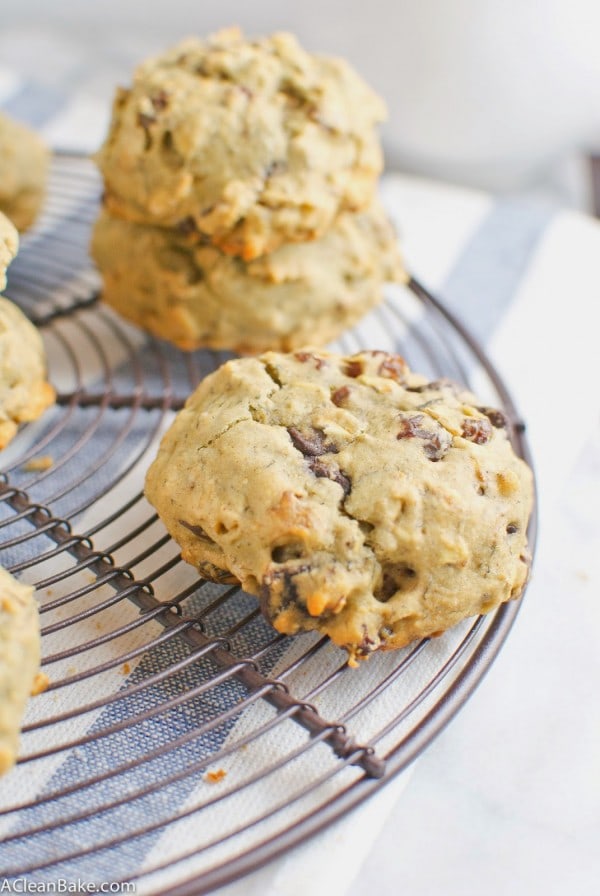 And I have to tell you: these cookies are one of my favorite treats that I've made, and you truly will not be able to tell they are healthy! What makes them healthy? Well, let's run down the ingredient list: 1) They are gluten-free, to start. Of course, removing the wheat, and by extension the gluten, doesn't automatically make something healthy, but in this case the wheat flour is replaced by whole grain oat flour, which is nutritious and full of fiber. Even if you don't eat gluten-free, I would still urge you to try the oat flour! If you want, you can even make it yourself.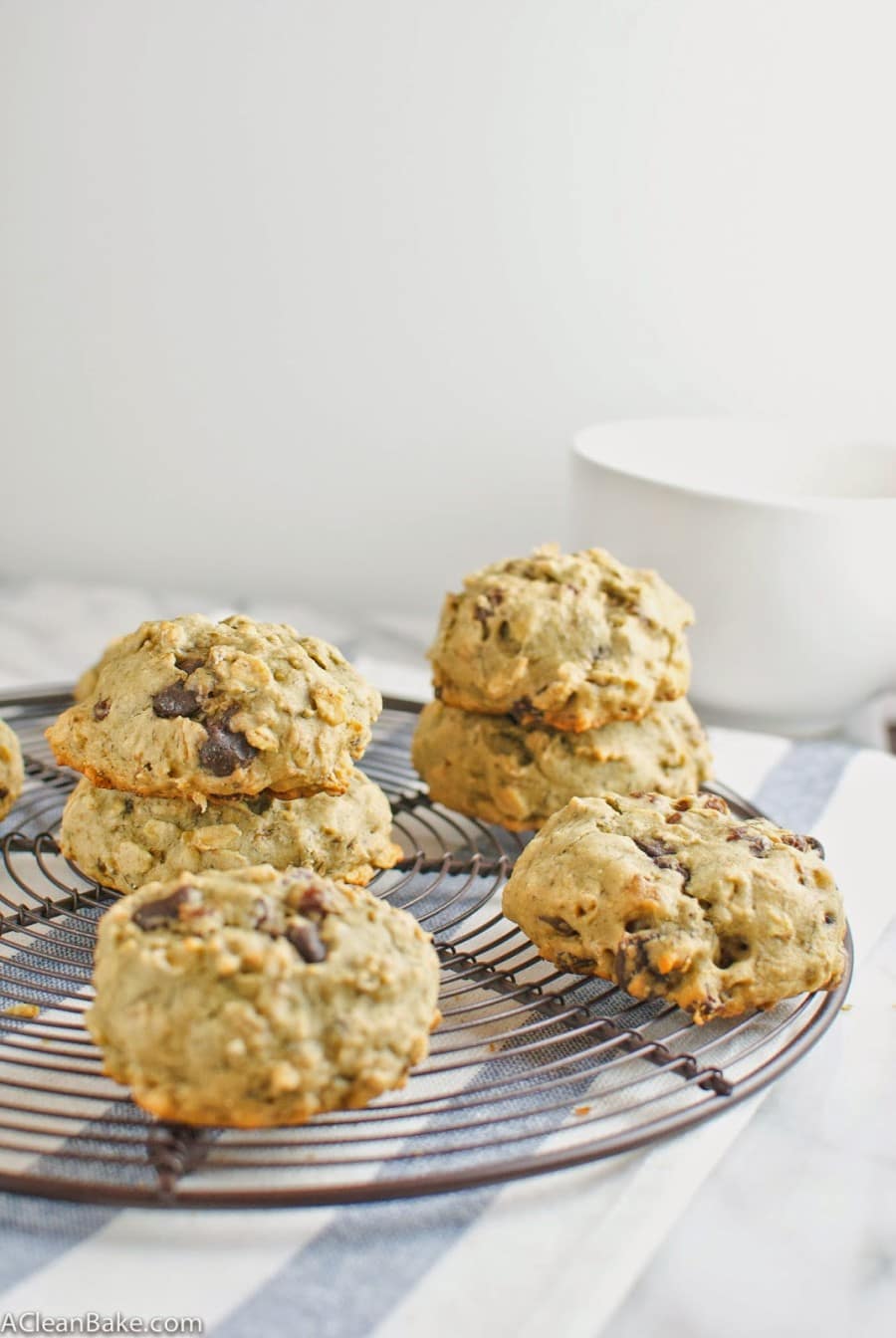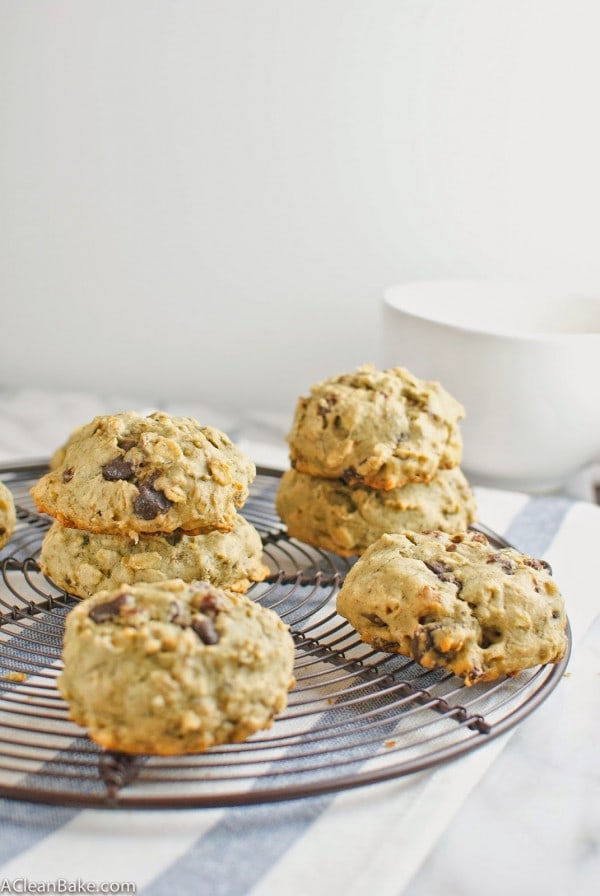 2) The butter is replaced with its vegan equivalent, which has less saturated fat, and the amount is reduced substantially from what a typical cookie recipe calls for: 1/3 cup compared to 1/2 – 1 cup. Fat is delicious in baked goods because it is a source of moisture, but here the bananas take over, meaning we can get away with using much less fat without noticing in the end product.
3) There is also no, that's right NO, sugar added to these cookies. All of the sweetness comes from the bananas plus a little bit of honey. Both sweeteners have a lower glycemic index (especially combined with the fiber from the oat flour) so there's no sugar spike and crash here!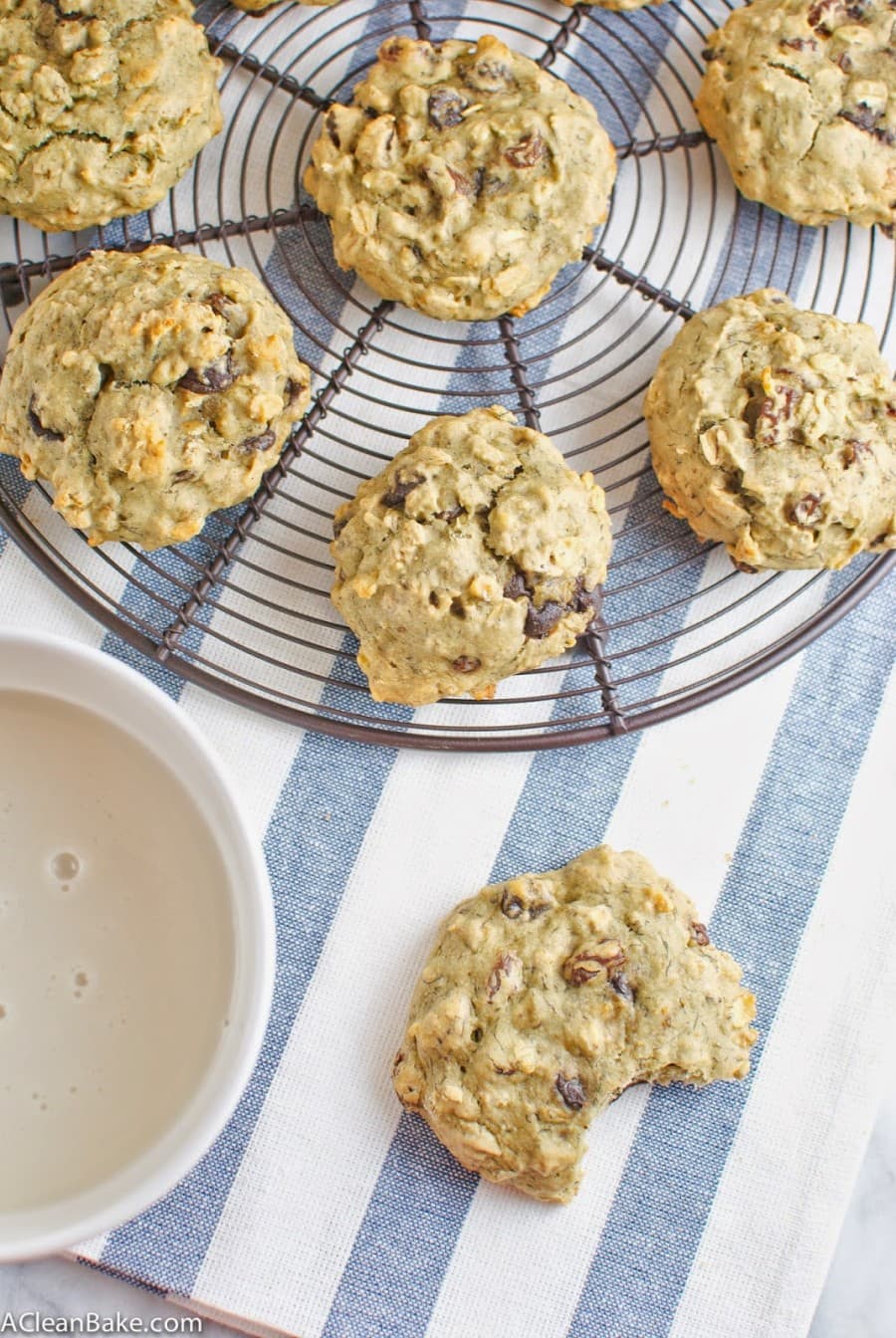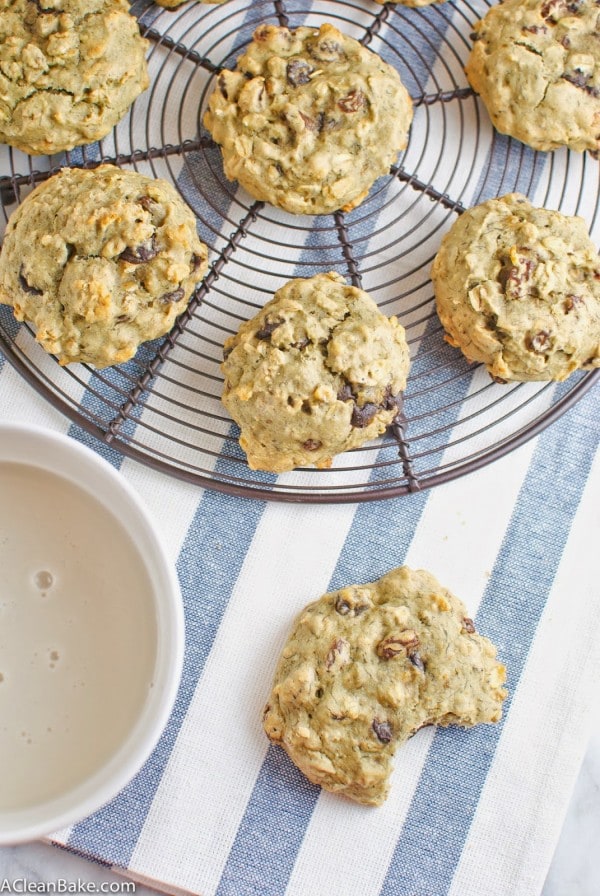 And yet, despite all of the (boring, hopefully-not-too-off-putting) ways that these are healthy, you'll forget all about it when you take a bite of these cookies. They're chewy and hearty, the way a good oatmeal cookie should be, yet still pillowy-soft. They are packed with nutty whole rolled oats, chewy raisins, smooth chocolate chips, and crunchy walnuts, so you get lots of flavor and texture in every bite.
And best of all, they are SO easy to make – all it takes is one bowl and a spoon or fork. So, go ahead! Treat yourself to a cookie that's kinda-sorta good for you, but tastes as flavorful and decadent as the "real" thing. (I suppose I should insert some sort of remark here about your skinny jeans thanking you, or bikini season looming, but I'm going to spare us both.) You've gotta try these!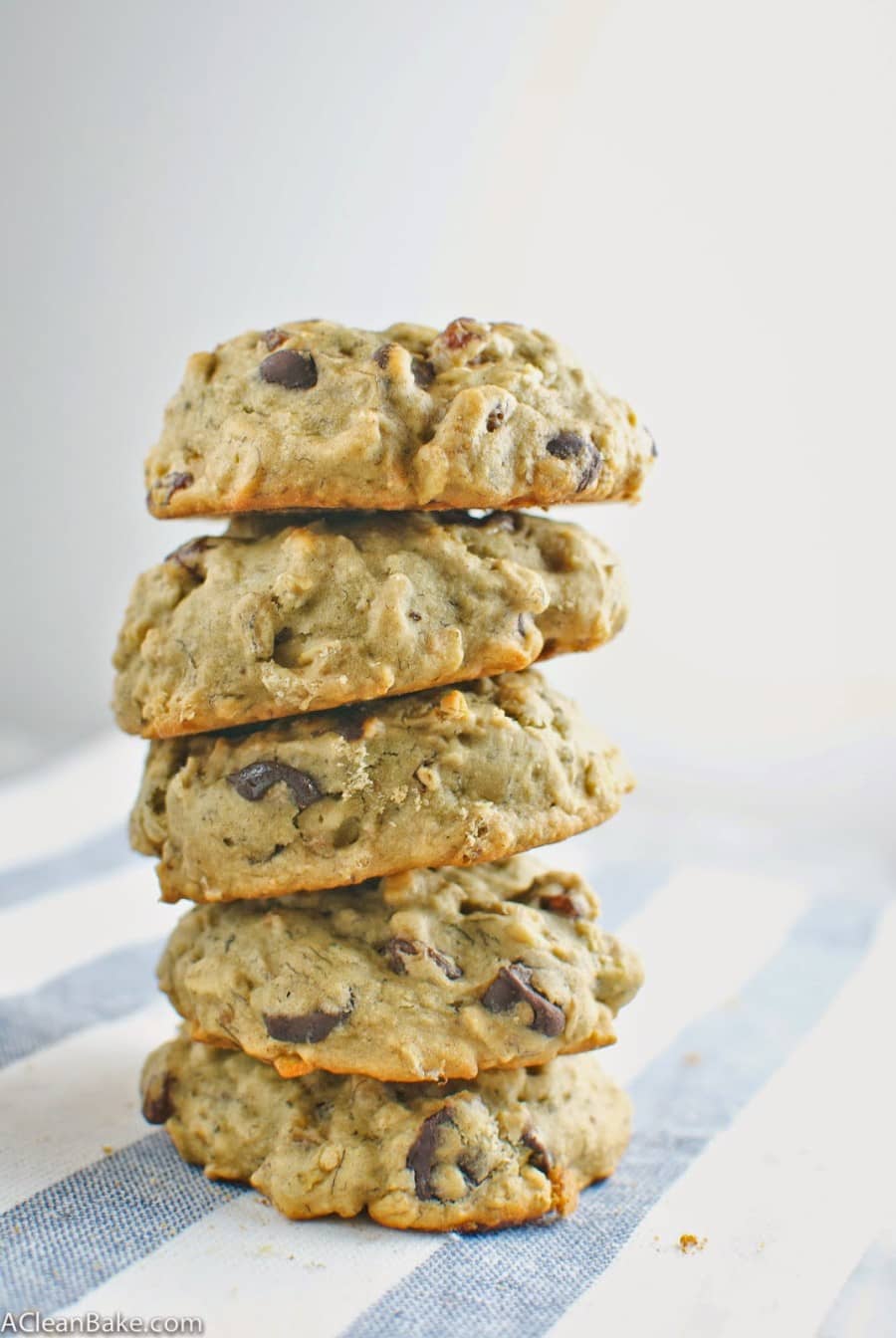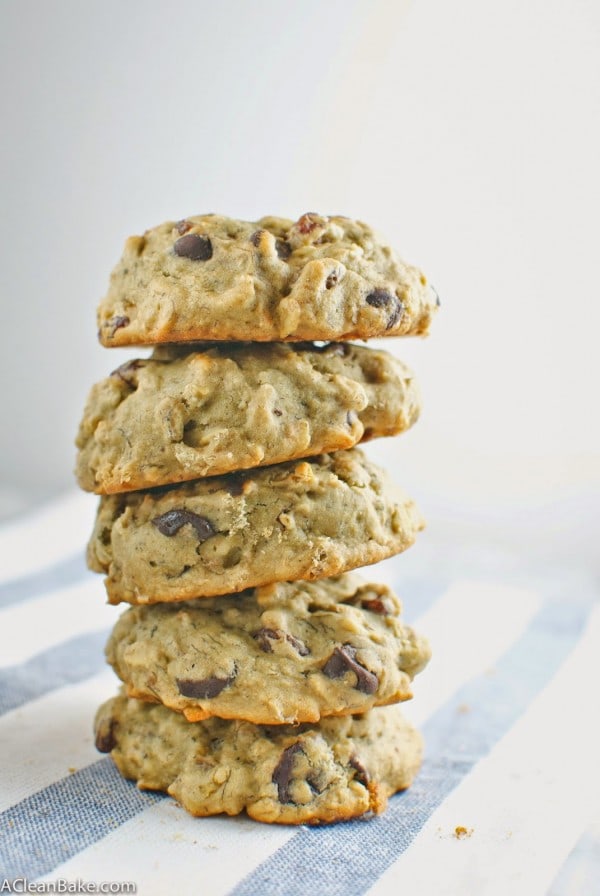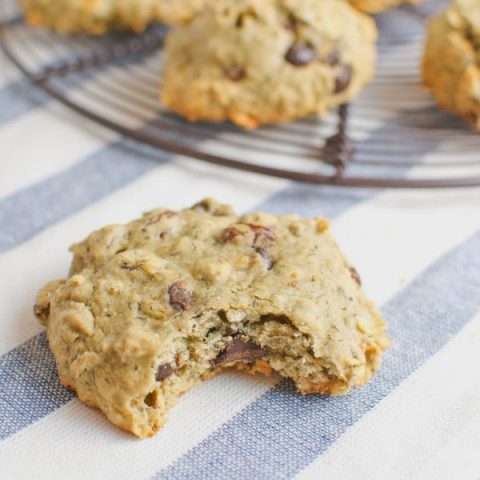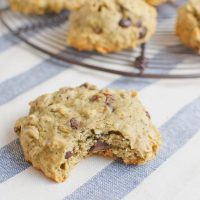 Yield: 16 cookies
Oatmeal Raisin Chocolate Chip Walnut Cookies
These Oatmeal Raisin Chocolate Chip Walnut Cookies are chewy and hearty, the way a good oatmeal cookie should be, yet still pillowy-soft. They are packed with nutty whole rolled oats, chewy raisins, smooth chocolate chips, and crunchy walnuts, so you get lots of flavor and texture in every bite!
Ingredients
2 large very ripe bananas, thoroughly mashed
⅓ cup vegan or regular butter, melted and slightly cooled
¼ cup honey
1 large egg (or 1 flax egg if vegan), lightly beaten
½ teaspoon vanilla extract
Pinch of salt
1½ teaspoons baking soda
2½ cups oat flour
1 cup rolled oats
½ cup chocolate chips
½ cup raisins
½ cup walnuts, roughly chopped
Instructions
Preheat the oven to 350F. Line 2 baking sheets with parchment or a nonstick pad.
In a large mixing bowl, stir bananas, butter, honey, egg/flax egg, and vanilla together until
combined.
Stir in salt and baking soda.
Stir in oat flour. Make sure it is well-incorporated and there are no lumps.
Fold in oats, then chocolate chips, raisins and walnuts.
Use an ice cream scoop to portion out approximately 3 Tablespoon balls of dough. Press down
slightly with your palm. Arrange 8 per cookie sheet and bake for 10 minutes until the edges are slightly golden.
Allow to cool on the pan for 5-10 minutes during which time they will firm up a bit. Then transfer to a wire rack to cool completely.
Thank you very much Nora for these delicious cookies. I will just echo what she said: "You gotta try these!". For more healthy recipes, check out Nora's beautiful blog, A Clean Bake and follow her on Facebook, Pinterest and Twitter.
The next time we talk, I'll be done with my busy school times. The presentation will have either gone well or not. But either way, we will be toasting with a cocktail!!