Samoa Stuffed Chocolate Chip Cookies| Tortillas and Honey
Chocolate chip cookies with shortbread, caramel, coconut, and more chocolate. These samoa stuffed chocolate chip cookies are a GREAT idea and it is no surprise they come from one of my favorite bakers. Renee, from Tortillas and Honey, always whips up amazing delicious treats that make you (for lack of a better word) drool. She is also the nicest person ever!! I'm so lucky to call her a friend and blessed to have a supportive and caring person like her in my life. Enjoy these cookies she made just for you!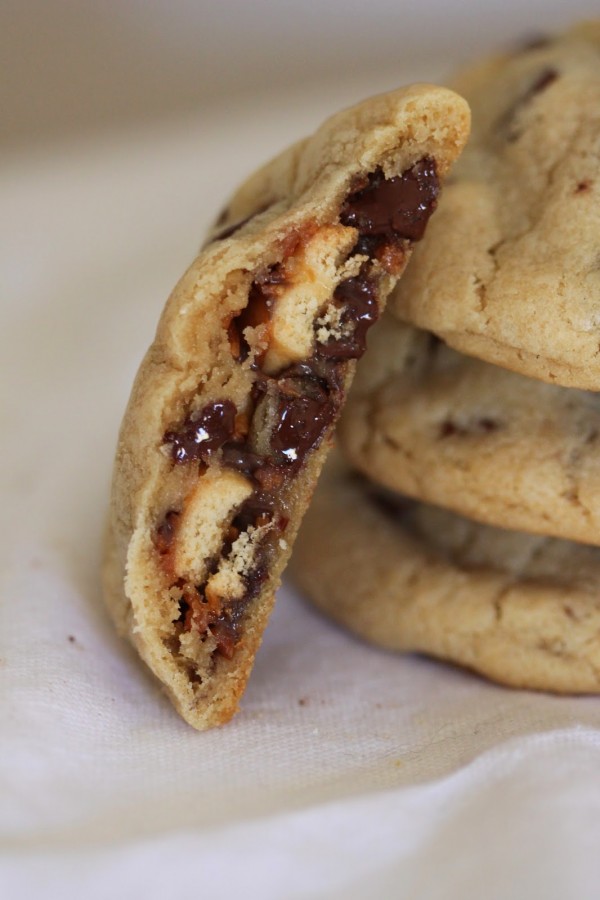 Hello Blahnkik Baker fans! I am Renee from the blog Tortillas and Honey! Zainab is one of my all-time favorite bloggers– I love her beautiful and creative desserts and her vivid photographs. Zainab is also one of the sweetest people that you will ever meet, and she has always been one of my biggest cheerleaders. I am so lucky to know Zainab and be able to call her a friend. So when Zainab mentioned that she would be busy with school, I knew all too well what she was going through because we both are currently students– though I'm getting a Masters in Public Administration and not a PhD in Neuroscience!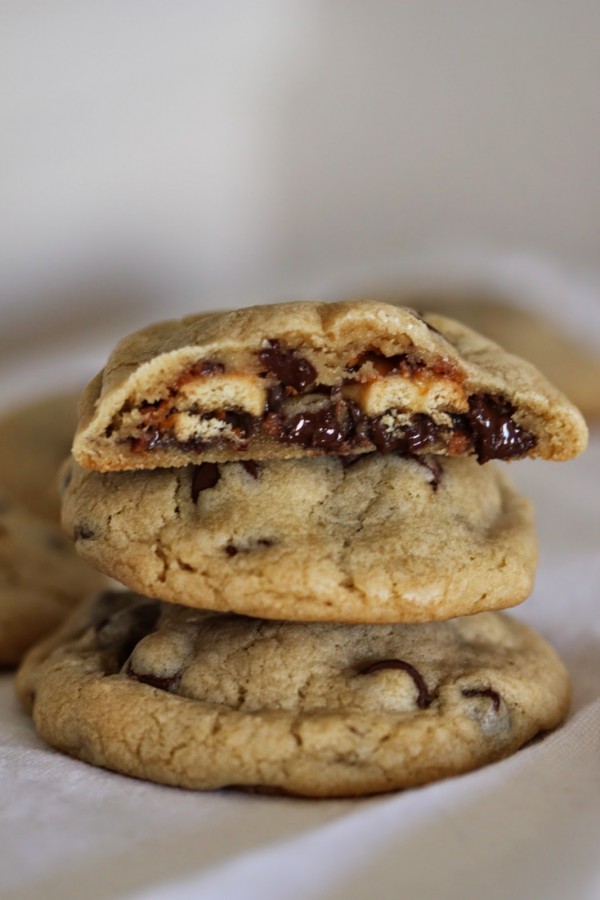 Today I am sharing with you a twist on a twist of favorite chocolate chip cookie. When Jenny from Picky Palate shared her Oreo Stuffed Chocolate Chip Cookies, it took the world by storm. It is one of my favorite recipes, and it even got me a marriage "proposal" from my best friend's brother, haha. What else would you expect when you combine two of people's favorite cookies??
This had me thinking… what else could you stuff chocolate chip cookies with? SAMOAS!!! Chocolate chip cookies with shortbread, caramel, coconut, and more chocolate cannot be a bad thing, right? No, absolutely not and, for me, these cookies serve as hard evidence that these cookies rule!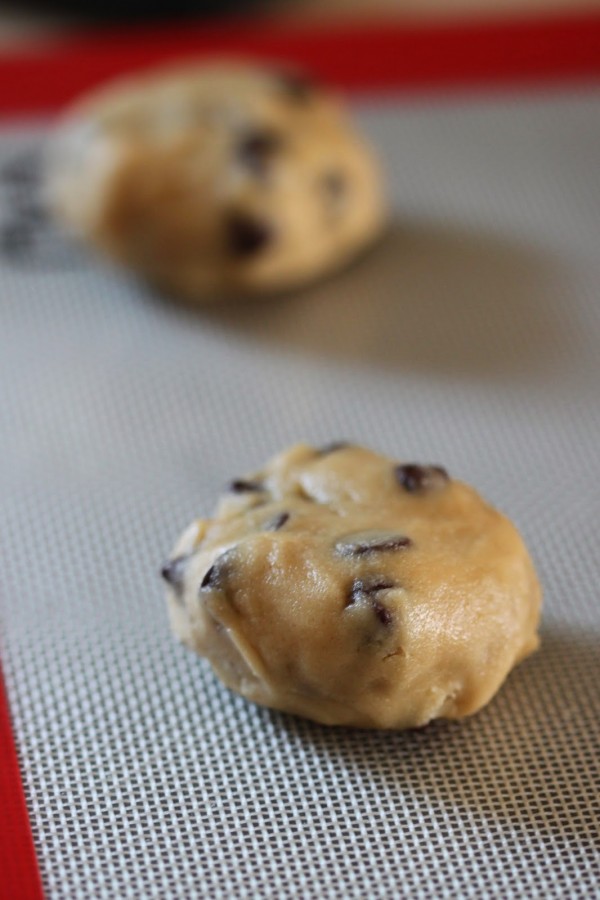 But it's not Girl Scout cookie season, right?? Nope… but I recently found that both Keebler and Walmart carry their own versions of the cookie and it comes very, very close to the real thing. So if you don't want to wait until next year to try these cookies or for your Samoa or Caramel De Lite fix, try to find the other versions.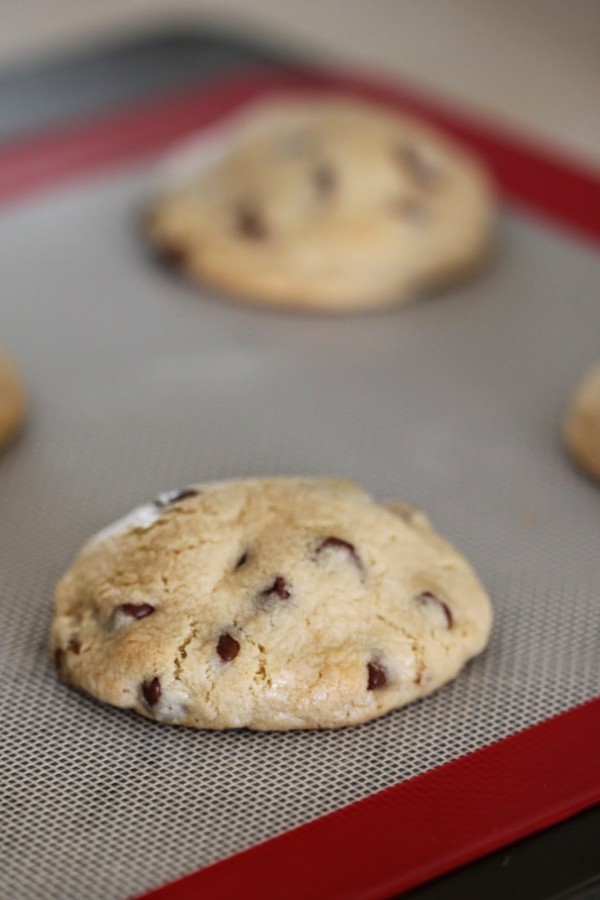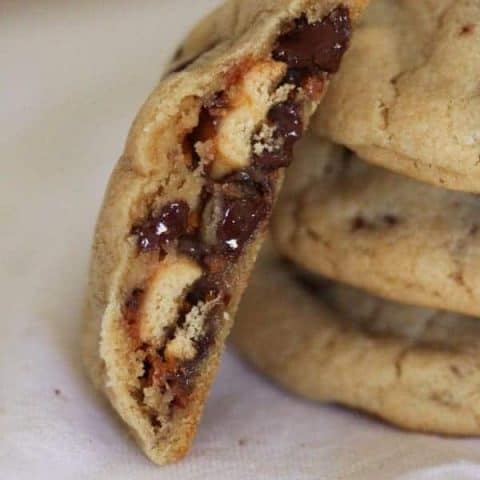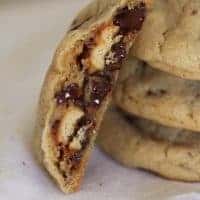 Yield: 18 cookies
Samoa Stuffed Chocolate Chip Cookies
Ingredients
1 c. softened butter (2 sticks)
3/4 c. light brown sugar (packed)
1 c. granulated sugar
2 large eggs
1 Tbs. vanilla extract
3 1/2 c. all-purpose flour
1 tsp. salt
1 tsp. baking soda
12 oz. bag semi-sweet chocolate chips
1 package Samoa or Caramel De Lites (you can also use alternative versions from Keebler and Walmart)
Instructions
Preheat oven to 350 degrees F.
Using an electric mixer, cream together the butter, brown sugar, and granulated sugar on medium-high speed until well combined. Add in eggs and vanilla, and beat on medium speed until well combined.
In a separate bowl, mix together flour, salt and baking soda. Slowly add to wet ingredients and mix until just combined. Fold in the chocolate chips.
Take about one tablespoon of cookie dough, then flatten it on the palm of your hand so that it is a thin layer. Then place a cookie on top of the flattened cookie dough. Take another tablespoon of cookie dough and flatten it like before, then place it on top of the cookie. Pinch together the sides of the cookie dough to make a round ball. (Note: You don't want to use too much cookie dough otherwise it won't bake all the way through and it will spread too much while baking. You want to make sure to use just enough cookie dough to cover the Samoa.)
Place cookies onto a parchment-lined or silpat-lined baking sheet and bake cookies 9-13 minutes.
Let cookies cool for 5 minutes, then transfer to cooling rack.
Makes about 18 stuffed cookies, plus about a dozen regular chocolate chip cookies. Or you can use two packages of cookies for more stuffed cookies with leftover Samoas.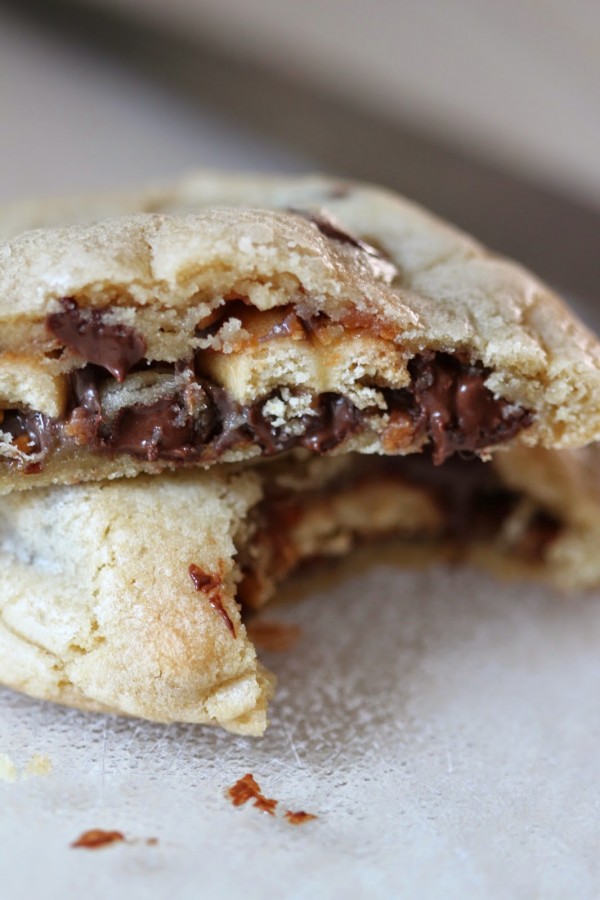 I hope that you enjoy these cookies as much as my family and I have! They are a very special treat. Thank you for reading my guest post and thank you to Zainab for giving me such a huge honor of guest posting on her blog!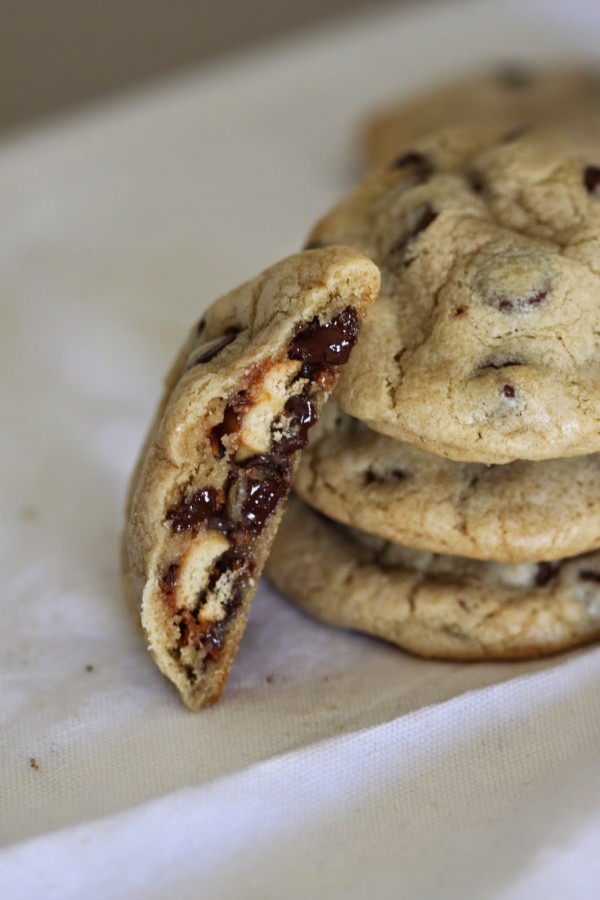 Renee, you managed to stuff everything I love in one cookie. You are the best!! Thank you!!!
Please follow along on Renee's cooking adventures over on her blog, Tortillas and Honey or on Facebook, Twitter or Pinterest.