Oreo Cinnamon Rolls with Oreo Cheesecake Filing
Hey guys. I did not abandon you, it's just been busy with school, work and graduation ceremonies. Luckily, I have the best blogging friends who stepped in to share some delicious recipes with you while I survive being a student. Today, the lovely Amy from Club Narwhal is here with her ever-so-always-drool-worthy desserts (or breakfast?). You have met my friend Amy before, she was here a few months ago sharing these lemon sugar cookies with marbled royal icing as we did a blog swap inspired by our favorites heels. Ahem…she is a shoe addict too and one of the many reasons I heart her. Here's Amy: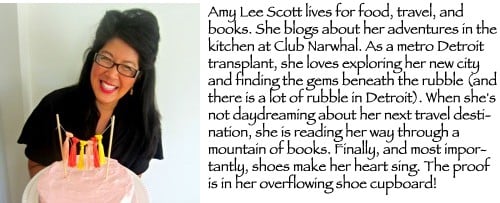 Cinnamon rolls get dressed up in buttery sweet dough and Oreo cheesecake filling. Top with a dollop of cream cheese Oreo frosting. 
Hello, lovely Blahnik Baker readers! My name is Amy and blog at
Club Narwhal
. Like Zainab, I pretty much live and dream in food. And shoes. In fact, last time I was here, I talked about my favorite peep toe pumps and shared a delicious recipe for 
Lemon Sugar Cookies with Marbled Royal Icing
. I'm so excited to show you my newest kitchen creation because it involves almost en entire package of Oreos. And frosting. And butter. Lots and lots of butter.
These Oreo Cinnamon Rolls have all the workings of regular cinnamon rolls (I used our favorite Cinnabon copycat recipe for the dough) but are swirled with incredible–and decadent–Oreo cheesecake filling. I sometimes can't choose between breakfast and dessert. In those cases, I tend to go over the top on both ends, which is exactly what happened here.
You will probably want to eat these rolls fresh from the oven so that the cream cheese Oreo frosting melts in that perfect way. Chase it down with a glass of milk and give yourself a pat on the back. You just achieved breakfast (dessert? snack?) perfection.
Hop on over to
Club Narwhal
to check out some behind the scenes photos of awesome rolls–I particularly love how the crushed Oreos give the dough a marbled look. Thanks so much for having me, Zainab!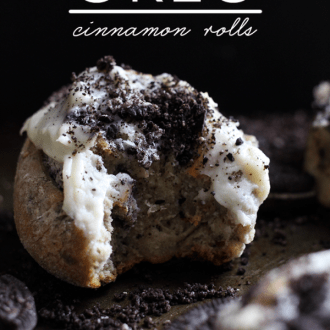 Orep Cinnamon Rolls
Ingredients:
Oreo Dough
1 cup warm milk
2½ teaspoons active dry yeast
½ cup white sugar
1 teaspoon salt
2 eggs, room temperature
⅓ cup butter, melted and cooled slightly
4½ cups flour (I used All Purpose, but bread flour is a great choice)
1 cup crushed Oreo cookies
Oreo Cheesecake Filling
2 (8 ounce) packages cream cheese, room temperature
1 stick unsalted butter, room temperature
½ cup sugar
1 egg, room temperature
1 cup crushed Oreo cookies
Oreo Cream Cheese Frosting
1 (8 ounce) package cream cheese, room temperature
¼ cup butter, room temperature
1½ cups powdered sugar
½ teaspoon vanilla
⅛ teaspoon salt
½ cup crushed Oreo cookies
Directions:
For the Dough
Pour warm milk in a large bowl (or bowl of your stand mixer). Sprinkle with yeast, sugar, and salt. Let it sit for 2-3 minutes until the yeast is slightly frothy. Add the eggs one at a time and stir to completely combine after each one. Pour in the butter and stir.
Add the flour 1 cup at a time, stirring to combine. If you're using a stand mixer, use the dough attachment and knead for five minutes, until the dough is pulling away from the bowl and leaving the bowl clean looking. If you're mixing by hand, knead for 10 minutes until the dough is smooth and not sticky. Add the Oreos during the last minute or so of kneading.
Transfer dough to a greased bowl, cover with a clean cloth, and place it somewhere warm to rise until double in size, about an hour. Meanwhile, make the filling and frosting.
For the Filling
Beat cream cheese and butter together until light and fluffy, about 3 minutes. Add sugar and egg, mixing well. Fold in Oreos. Set aside until ready to assemble the rolls.
For the Frosting
Beat cream cheese and butter together until light and fluffy, about 3 minutes. Add vanilla and salt. Whisk in powdered sugar, one cup at a time. Fold in Oreos. Set aside until ready to assemble the rolls.
To Assemble
Once the dough has risen, roll into a large rectangle, 16 x 20 inches). Spread the cheesecake filling evenly across the rectangle, leaving one-inch borders all the way around. Roll the dough lengthwise, forming a long log.
Use plain dental floss to evenly cut the log into 12 equal parts. Place rolls in a greased 9 x 13 baking dish and let it rise until double in size, about 30 minutes.
Preheat oven to 400 degrees while the rolls are rising. Bake the rolls for 15 minutes, until golden brown. Let rolls cool slightly, then frost and enjoy.
MAKING THIS RECIPE? Share it with us on Instagram using #aclassictwist so we can see what you are baking up in your kitchen!
Thank you very much Amy for making me realize my breakfast this morning cannot compare to this awesomeness. I am making sure this happens this weekend. Wouldn't that be the best way to start Saturday?