Pear Hazelnut Bread with Orange Maple Glaze
Sweet orange maple glaze wraps around a moist pear and hazelnut  filled bread! Simply good and a perfect fall snack.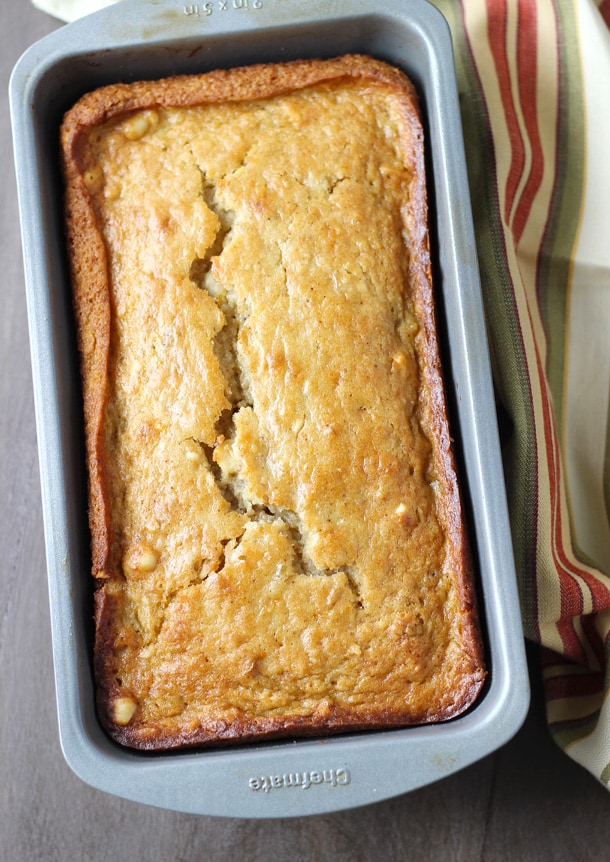 It's time for another Mystery Dish recipe! Which sadly means we are done with another month. Man, I can't take how fast time is flying and it is starting to stress me out. Before you know it the holiday season will be well upon us and jingle bells will be everywhere. Not that I am not looking forward to the holiday season but I am just NOT ready!!  And I am sure Starbucks is just waiting to unleash their peppermint and gingerbread lattes to declare it holiday season (Darn you Starbucks, who made you the declarer of holidays?). Aieeee, I need a slice of cake. This pear hazelnut bread with orange maple glaze is really a cake (so moist and delicious) … but I guess so we don't feel bad about eating cake for breakfast, we will call it a sweet bread! Ahhh, that makes me feel better.
Our host for Mystery Dish this month is Marcie, from Flavor the Moment! You probbaly know her already but if not, I urge you to check out her blog as you will find many wonderful recipes. The basket of ingredients she gave us to get creative with were: pork, fennel, kabocha squash, hard apple cider, heavy cream, orange, farro, hazelnuts, quince, thyme, maple syrup, brussels sprouts.
I really loved the diversity of the basket and I wanted to do more with it but I ended up being lazy by the time it came around to baking. I had pears in the head after these poached pears so I just went with a simple flavor combination of pears, hazelnuts, orange and maple syrup. I'm so glad I did because I created a new favorite sweet bread. I love how simple yet subtly incredible it is. The batter is filled with spices, crunchy hazelnut (totally use toasted hazelnuts for this!!) and shreded pears for added moisture. All of this is topped with a sweet orange maple glaze that just makes a slice of this perfect with a cup of tea or coffee.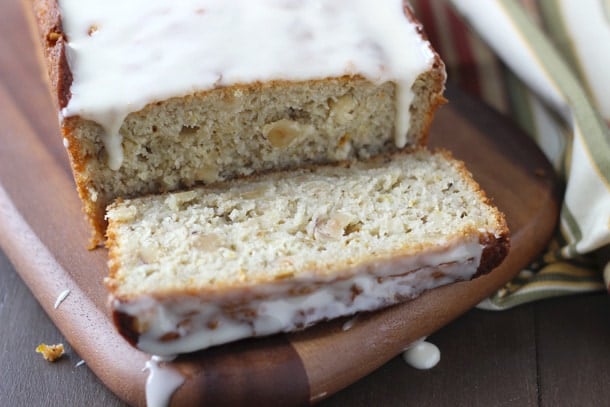 Pear Hazelnut Bread with Orange Maple Glaze
Sweet orange maple glaze wraps around a moist pear and hazelnut filled bread! Simply good and a perfect fall snack.
Author: Blahnik Baker
Recipe type: Dessert, Bread
Yield: 1 9x5 loaf
INGREDIENTS
1 cup shredded peeled pears, (about 2 medium, squeezed dry)
½ cup vegetable oil
½ cup Greek yogurt
2 eggs
1 teaspoon orange vanilla extract (or 1 teaspoon vanilla extract)
1 ½ cups flour
¾ cup brown sugar
½ cup toasted hazelnuts, chopped
½ teaspoon cloves
1 teaspoon cinnamon
1 teaspoon baking powder
½ teaspoon salt
¼ teaspoon baking soda
1 teaspoon orange zest
Glaze:
1 cup powdered sugar
1 teaspoon orange zest
1-2 tablespoon maple syrup
DIRECTIONS
Preheat oven to 350 degrees F. Grease and line a 9 x 5-inch loaf pan with parchment paper, leaving an overhang on two sides. Grease parchment.
In a large bowl, whisk together shredded pear oil, yogurt, eggs and orange vanilla extract.
In another medium bowl, whisk together flour, brown sugar, hazelnuts, cloves, cinnamon, baking powder, salt, baking soda and orange zest. Add the dry ingredients to the wet ingredients and fold gently. Mix until combined. Pour batter into prepared pan. Bake bread until a toothpick inserted into the center comes out clean, about 55-60 minutes.
Let bread cool in pan for about an hour and then remove from the pan.
Whisk together powdered sugar and orange juice in a small bowl. Top cooled cake with glaze and let set for 20 minutes before serving.
Store in an airtight container at room temperature for 2-3 days.
ZAINAB'S NOTES

Adapted from Food Network Magazine


Here's the list of recipes from the rest of the Mystery Dish ladies. Be sure to check out their delicious creations!

Baked Apple Donuts with Maple Glaze by Yummy Healthy Easy
Baked French Toast Casserole by I Want Crazy
Hazelnut Maple-Glazed Cinnamon Rolls by I Dig Pinterest
Hazelnut Macarons with Pumpkin Maple Filling by Baking a Moment
Honey-Thyme Roasted Pork Tenderloin from The Pajama Chef
Italian Sausage and Ravioli Skillet by Simply Gloria
Kabocha Squash Curry with Roasted Brussels Sprouts and Farro by Chez CateyLou
Maple Glazed Fennel and Brussels Sprouts by The Well Floured Kitchen
Pear Hazelnut Bread with Orange Maple Glaze by Blahnik Baker
Shaved Brussels Sprouts Salad with Apples, Bacon, and Hazelnuts by Flavor the Moments
Shaved Brussels Sprouts Harvest Salad with a Hard Apple Cider Vinaigrette by Joyful Healthy Eats
{Vegan} Orange Hazelnut Maple Cinnamon Rolls by Sweet Tooth Life