Pumpkin Butterscotch Cookie Sandwiches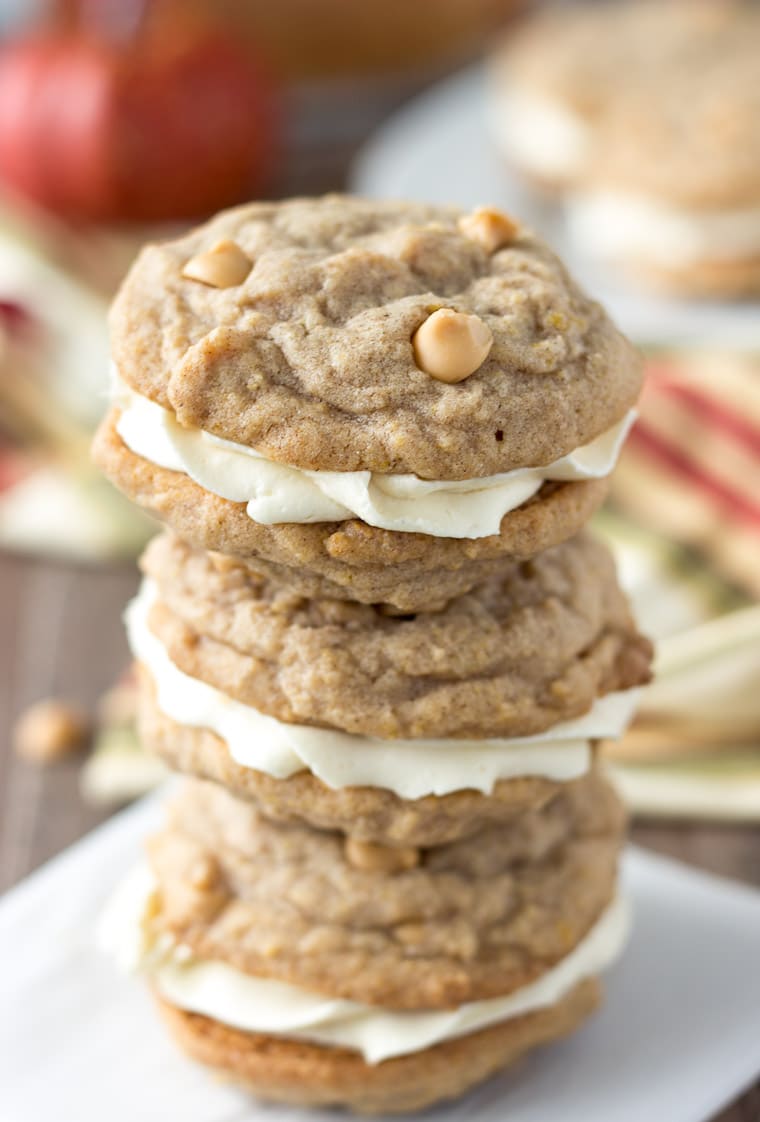 Now that we are in November, the holiday season is fast approaching. There is no more denying it. Some stores are already decked up and ready to convince us to shop NOW. Pffft, I am waiting until December to get any holiday shopping started. However, I am never late with my holiday exchange cookies. I always start testing recipes a good month in advance before I decide on the final ones that will make the cut into the cookie boxes I ship to friends and family. These pumpkin butterscotch cookie sandwiches will be front runners.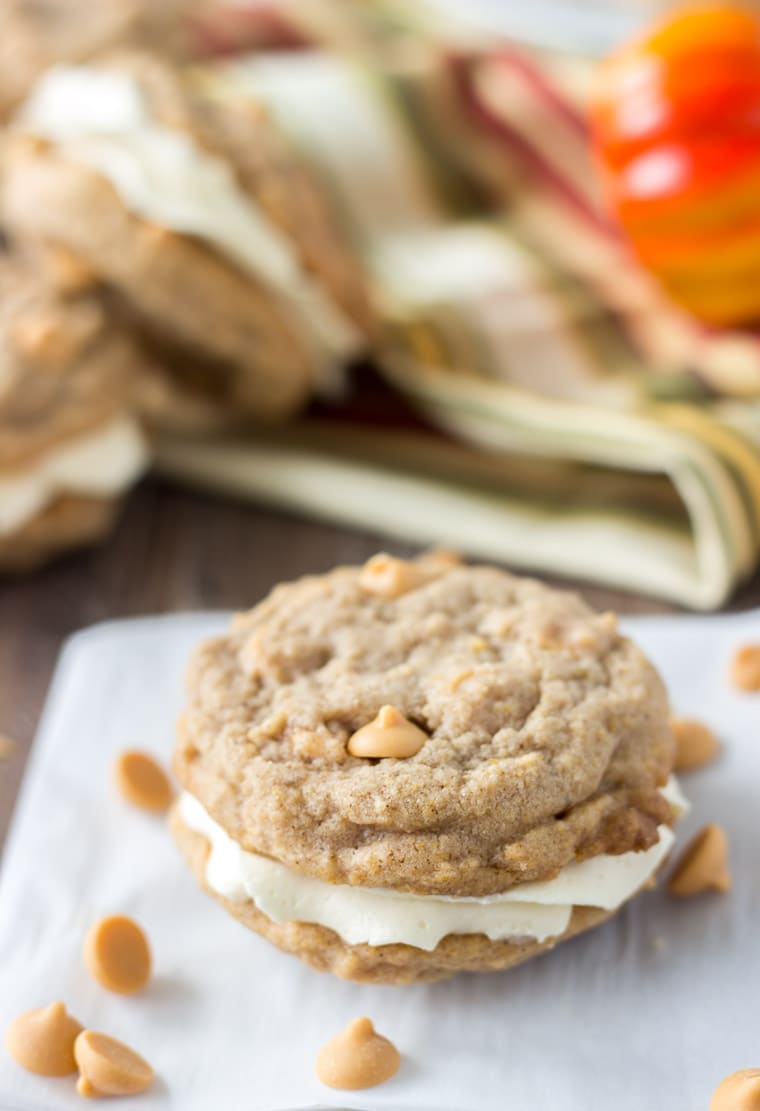 I used a basic, yet great pumpkin spice cookie and added some butterscotch chips to them. So simple and amazing at the same time. Sandwiching the cookies with caramel frosting just takes them over the edge. I mean, two cookies are always better than one. ALWAYS!
I love butterscotch and I think it is undervalued in baking but it's such a comforting fall flavor that it deserves to be a front runner in any holiday cookie exchange line up.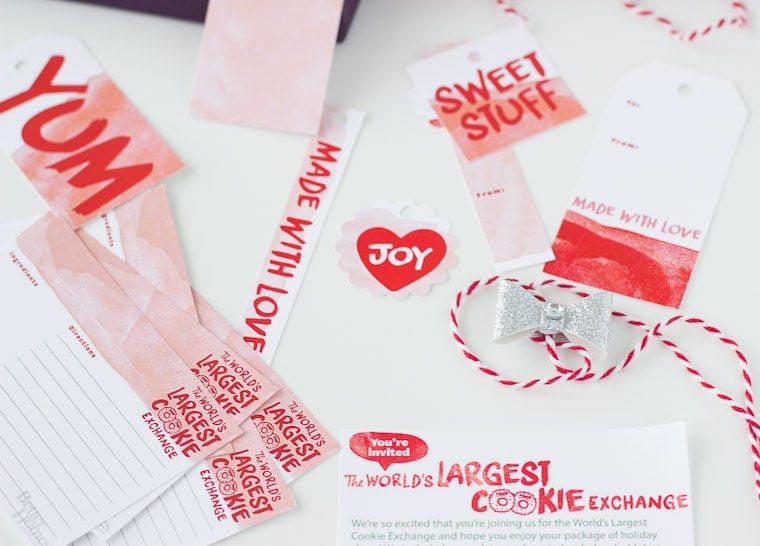 On that cookie exchange note, Better Homes and Gardens is celebrating National Cookie Day on December 4th by hosting the World's Largest Cookie Exchange!! They are sharing LOTS of holiday cookie ideas for your cookie exchange pleasure and some super cute tags (pictured above) that you can download for free HERE!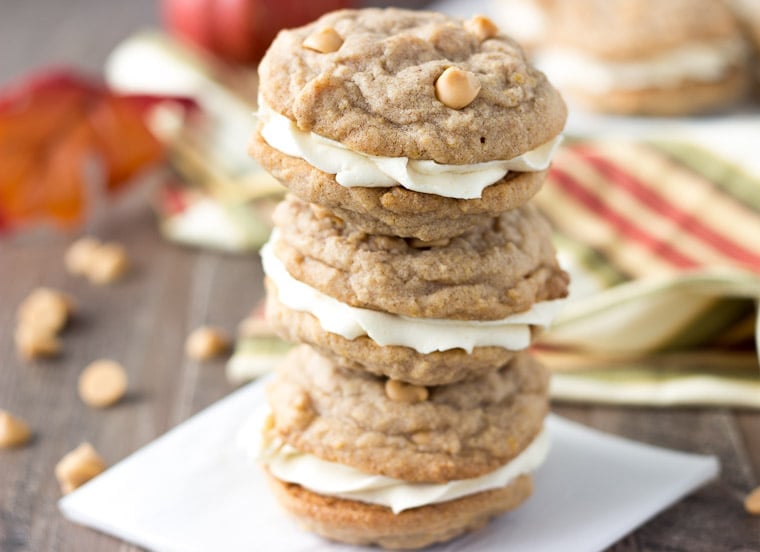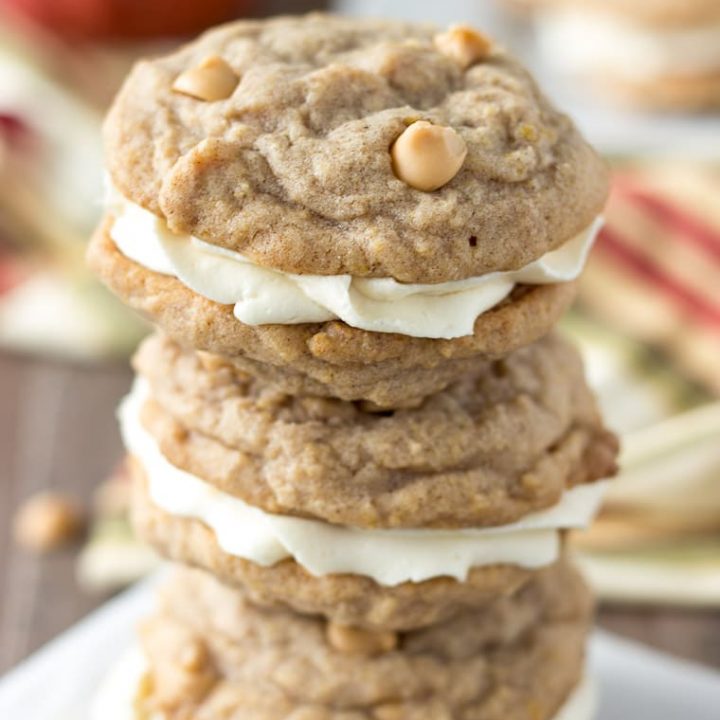 Yield: ~12 cookie sandwiches
Pumpkin Butterscotch Cookie Sandwiches
Ingredients
1/2 cup unsalted butter, softened
1 large egg
1 package Krusteaz Pumpkin Spice Cookie Mix
1/3 cup butterscotch chips
Frosting:
1 cup unsalted butter, softened
2-3 cups powdered sugar
2-3 tablespoons caramel sauce
Instructions
Line a cookie sheet with parchment paper or a silicone mat.
In a medium bowl, beat the butter and eggs until pale, about 2-3 minutes on medium speed.
Add the cookie mix and mix until combined and dough forms. Fold in the butterscotch chips into dough.
Using a 2 tablespoon cookie scoop, ball out dough and place on prepared sheet. Chill cookie dough balls for at least 30 mins - 1hr.
Heat oven to 350 degrees F. Bake cookies for 10-12 minutes until the edges are lightly browned. Remove from oven and let cool on sheet for 2 mins. Transfer to a cooling rack and let cool completely.
Meanwhile make the filling. In a medium bowl, combine all the frosting ingredients and beat until combined.
When cookies are cooled, fill with frosting to make cookie sandwiches