Raspberry Mocha Pie
Thank you Driscoll's for sponsoring this post. Visit www.driscolls.com/raspberry for more berry recipes & holiday sweepstakes.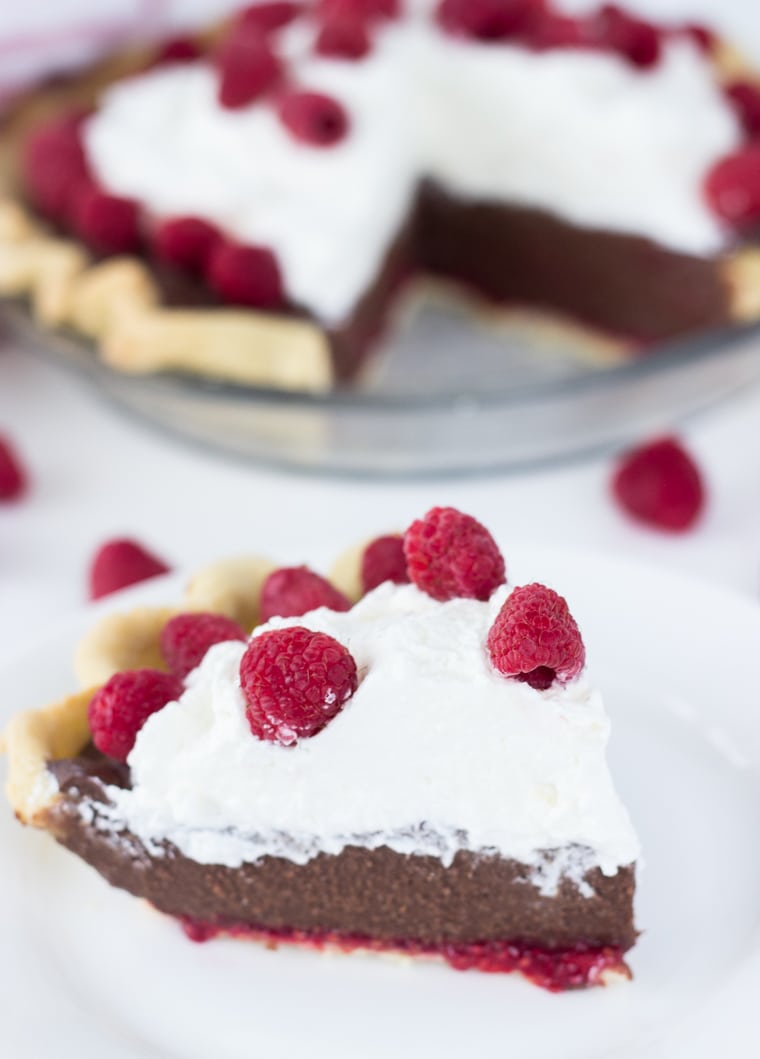 After a week of travel and the emotional turmoil of leaving my baby for that long, I finally hunkered down this past weekend to catch up on some housework, holiday baking preparations and lab work (the three pillars of my everyday). I always feel stressed when it comes to holiday baking because there are just so many things I want to create and test. Then I also have to decide on which to serve up at our Thanksgiving, Friends-giving and Christmas dinners. All the pumpkin, peppermint and gingerbread recipes are waiting but first up from the Blahnik Baker test kitchen on holiday desserts is this Raspberry Mocha Pie.
Why Raspberries?? Well, holiday desserts, in my opinion, should be simple, classic and always WOW the crowd. But I am sure you can tell that is a theme around here from several of my holiday recipes. One of my favorite and classic flavor combinations is chocolate and raspberries but because raspberries only seem to be popular over the summer, most people miss out on them during the holidays. But again, that's why I am here…giving you this lovely Raspberry Mocha Pie as a wonderful holiday dessert option.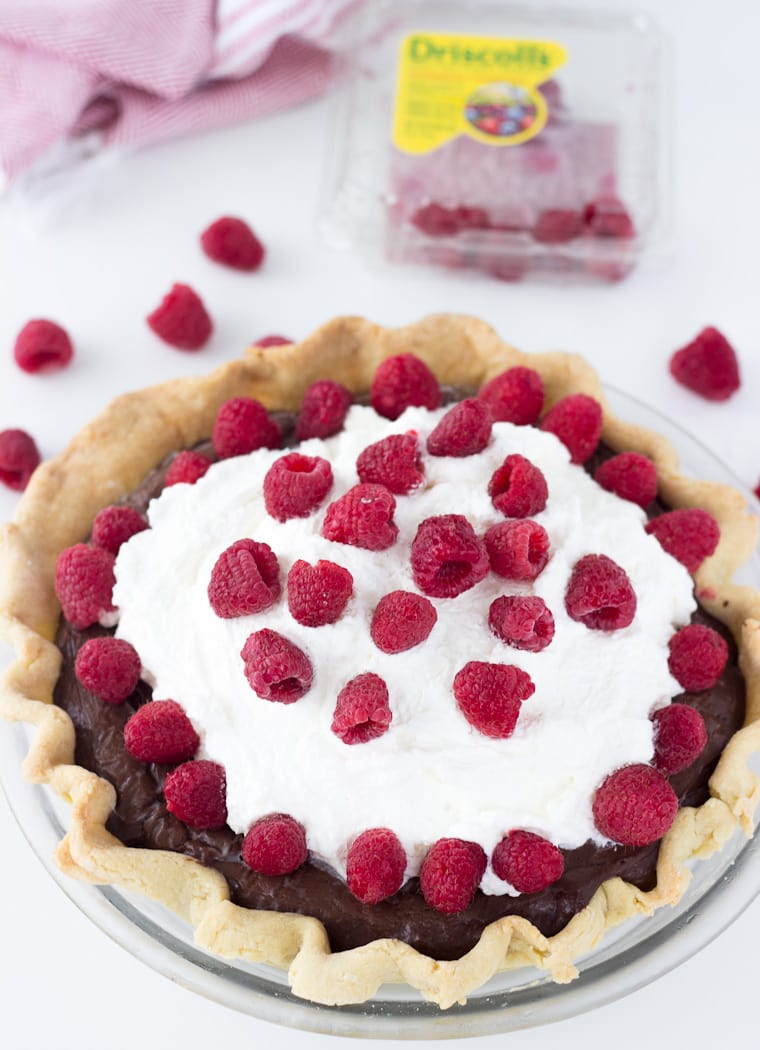 I love grabbing a few packs of Driscoll's berries every few weeks to have around to snack on, top cakes and, in this case today, use as an inspiration for this raspberry mocha pie. A rich and decadent chocolate + coffee pudding is filled into a flaky buttery pie crust lined with raspberry puree and then topped with homemade whipped cream and fresh raspberries. Doesn't that sound delightful? Yes, I said delightful because it really is.
I used dark chocolate and dark roast coffee (plus a little bit of espresso powder) to richen the chocolate flavor. With hints of sweet raspberries in each bite, this pie is an easy, (almost) no-bake option for Thanksgiving and Christmas dinners.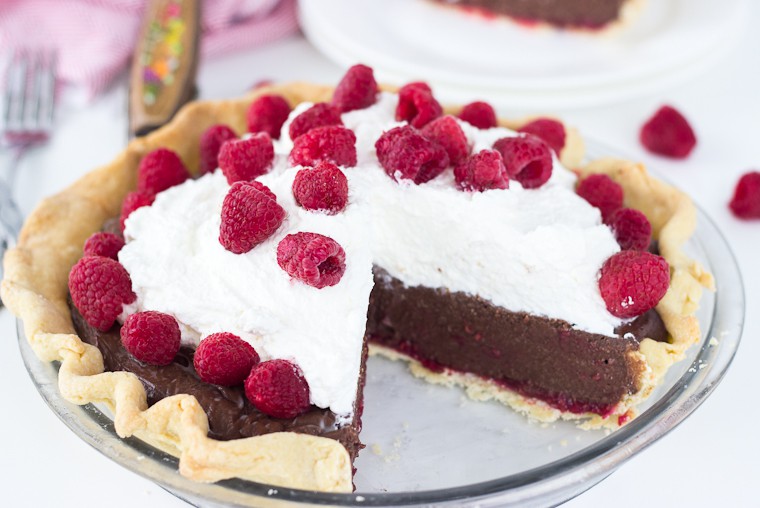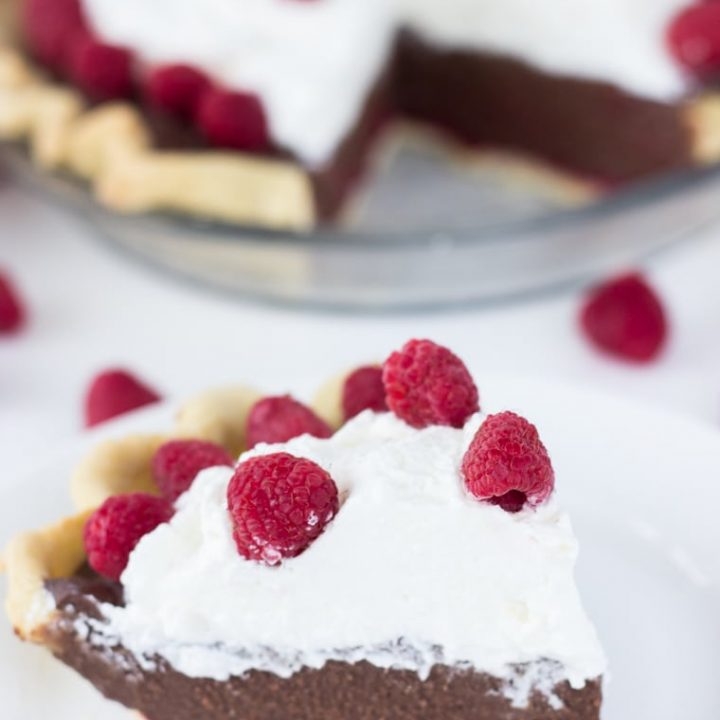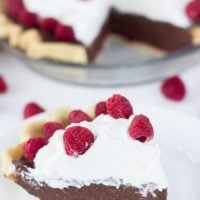 Yield: 1 9-inch pie
Raspberry Mocha Pie
A decadent no-bake raspberry mocha pie.
Total Time
1 hour
5 minutes
Ingredients
For Pie Crust:
1 1/4 cup all-purpose flour
6 tablespoons unsalted butter, cold and cut into cubes
2 tablespoon shortening, cold and cut into cubes
2 tablespoons granulated sugar
¼ cup ice cold water
For Filling:
1 cup fresh Driscoll's raspberries
¼ cup granulated sugar
1 1/2 cups milk (I used 2%)
½ cup freshly brewed hot coffee
¼ cup cornstarch
¼ teaspoon kosher salt
2 tablespoons espresso powder
1 cup heavy whipping cream
3 large egg yolks
1 teaspoon vanilla extract
6 oz dark chocolate, chopped finely
For Whipped Cream Topping:
Homemade whipped cream
½ cup fresh Driscoll's Raspberries
Instructions
For Pie Crust:
Combine all the ingredients except the water in the bowl of a Food Processor. Process a few times until butter is about the size of a pea. With Food Processor on, slowly drizzle in ice-cold water to mixture, one tablespoon at a time, until dough comes together. Remove dough from bowl and pat down into a disc. Wrap in plastic wrap and chill for at least an hour.
Preheat oven to 400 degrees F. When dough is chilled, roll out onto a lightly floured surface into a 12-inch circle. Loosely place dough into a 9-inch round pie dish. Trim and primp the edges of the crust. Line dough with aluminum foil and fill with pie weights (or beans). Bake dough for 20-25 minutes or until lightly browned. Let cool completely before using.
For Pudding Filling:
Meanwhile, prepare the filling. In a medium saucepan, cook the raspberries and sugar over medium heat. Bring to a boil and cook for about 3-4 minutes until raspberries disintegrate. Remove from heat and transfer raspberry puree into a small bowl. Chill until ready to use.
For mocha filling: In a large saucepan set over medium heat, combine the milk and hot coffee. Bring to a low simmer and reduce heat. Don't let it boil. Meanwhile, in a medium bowl, whisk together cornstarch, salt, espresso powder and heavy cream until well combined. Add in the eggs and whisk until combined. Slowly add in a cup of the hot milk mixture, whisking constantly. Pour the contents of the bowl into the saucepan and whisk continuously until pudding starts to boil and thicken. Whisk (do not stop) until smooth, about 5 minutes. Remove from heat and whisk in the vanilla extract and chopped chocolate. Whisk until smooth. Let pudding cool for 10-15 minutes, whisking occasionally.
Pour pudding into cooled pie crust. Cover with plastic wrap, touching the surface of the pie, and refrigerate for at least 4 hours or overnight.
When ready to serve, top pie with whipped cream and raspberries.