Coconut Apple Bread with Caramel Glaze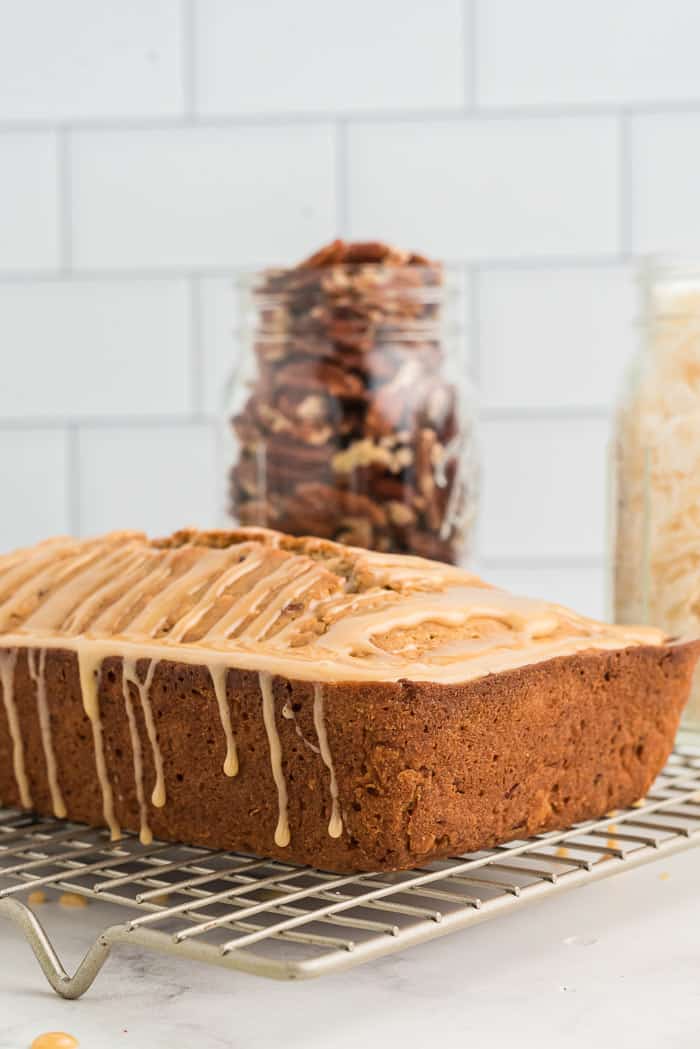 You knew I had to make coconut apple bread, didn't you?? Apples and coconut!! Well, coconut and anything seems to be my mission in life and so far I have yet to meet a flavor that does not go with coconut. Although I haven't tried coconut and bacon who knows, that could be epic like this easy coconut apple bread that's going to be one of my holiday favorites.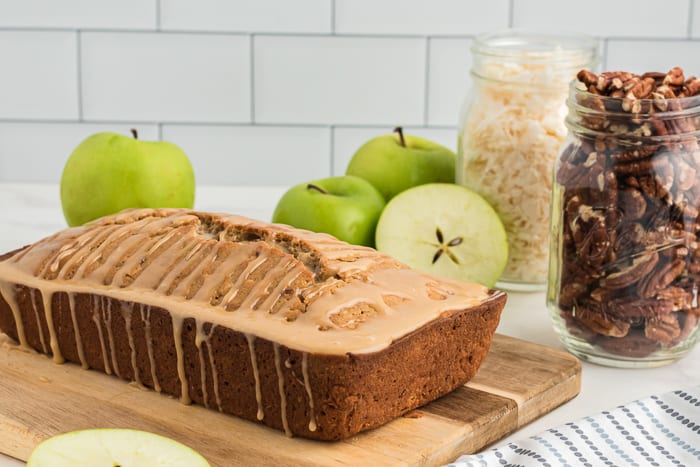 Quick breads are the best!! They are really just cake for breakfast or a coffee snack but with fruits in them. Who can say no to that? These chilly fall mornings and upcoming holiday gatherings need something special beyond toast and apple butter (although yum!!). A slice of this bread with a cup of coffee will be perfect as we start entertaining family this season and catch up on life.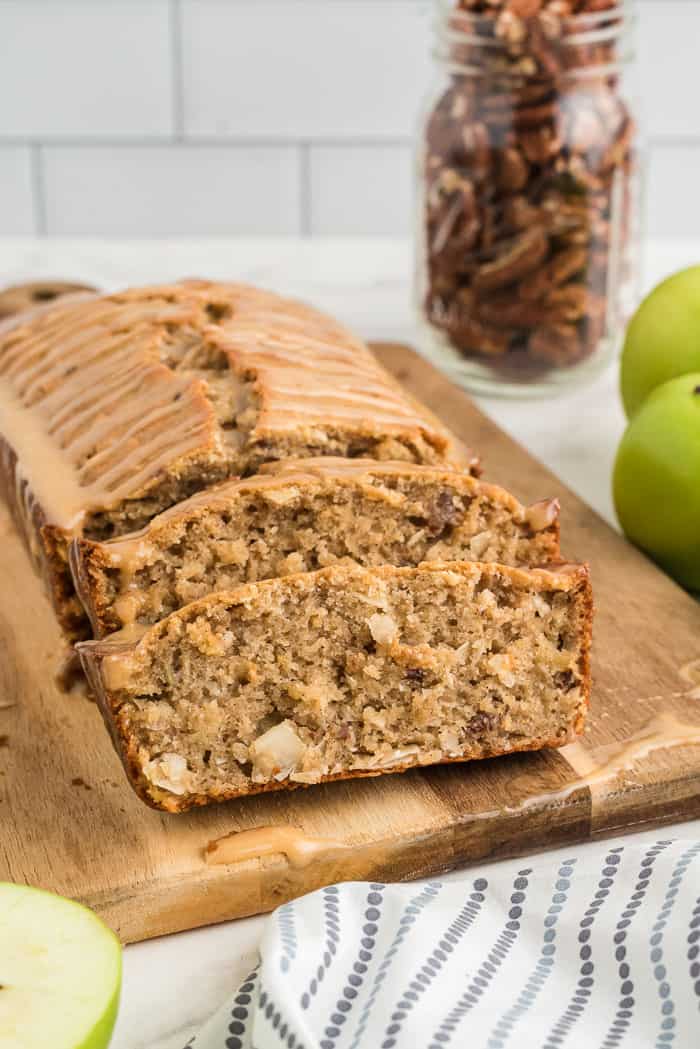 It's moist, filled with fresh apple chunks, coconut flakes, and crunchy pecans or walnuts.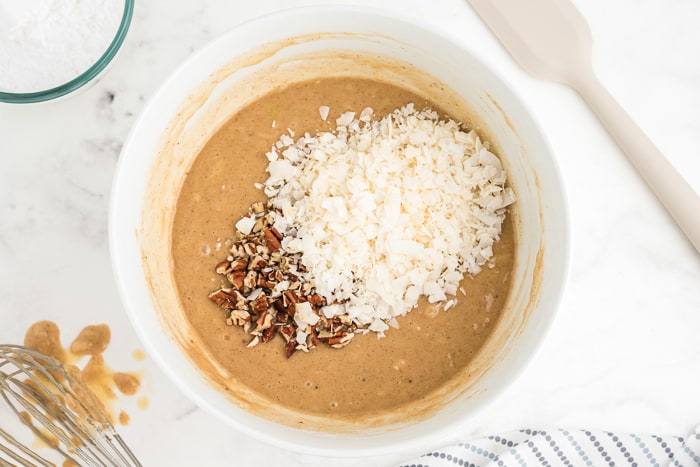 Amazing texture all around and it's perfectly spiced too! Topped with a sweet caramel glaze, you do not want to miss out on this wonder. I promise!!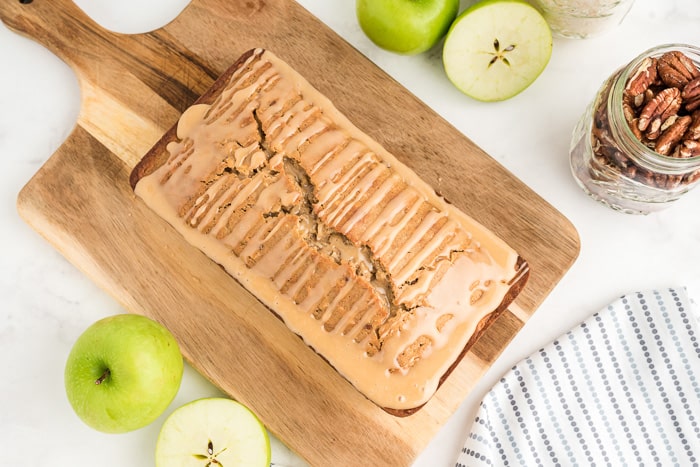 Especially that it is a great gluten-free option for your family and friends that have gluten intolerance.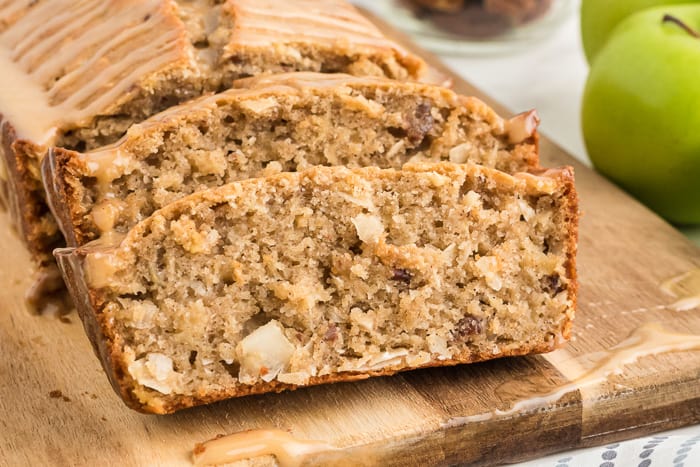 I made this apple bread gluten-free by using Bob's Red Mill Gluten Free 1-to-1 Baking Flour. I love using this flour in place of wheat flour when I want to make one of my recipes gluten-free. I am still learning about GF baking but this flour makes it easy to experiment with. It is perfectly formulated for baked goods with terrific taste and texture – no additional specialty ingredients or custom recipes required.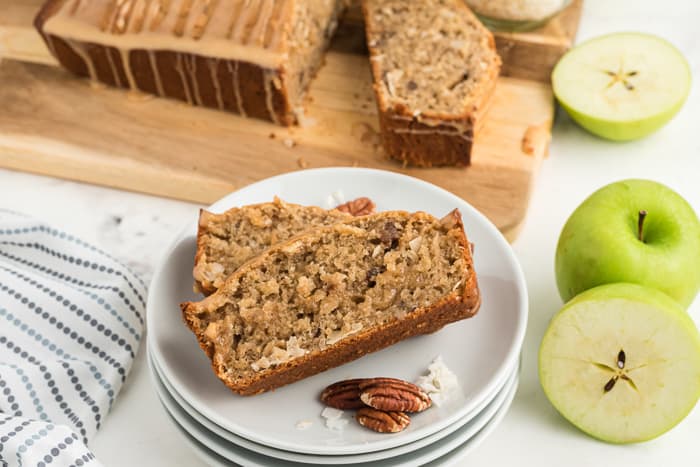 Grab a cup of coffee, a slice of this coconut apple bread, and enjoy your day! Happy baking friends.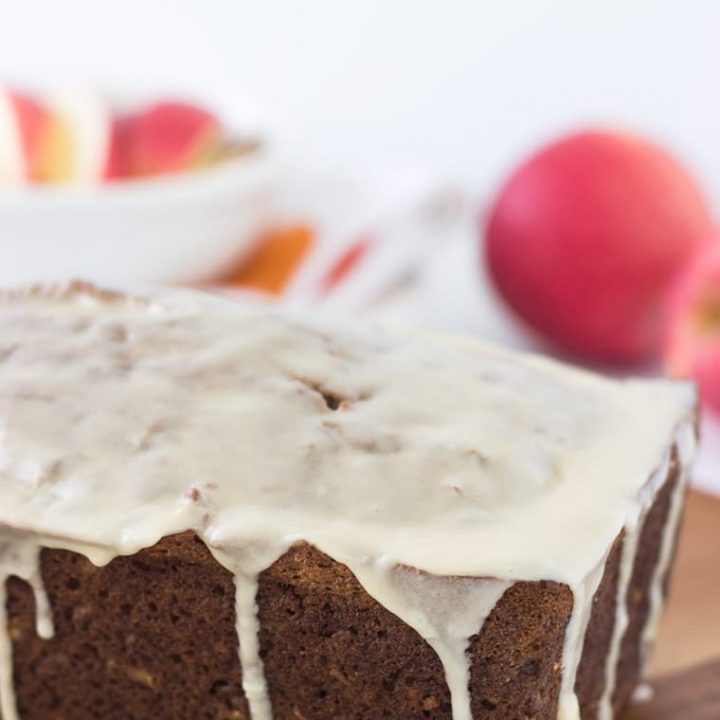 Yield: 1 8x4-inch loaf
Coconut Apple Bread with Caramel Glaze
Total Time
1 hour
20 minutes
Ingredients
For Bread:
¾ cup shredded apples (1-2 medium apples, peeled)
½ cup brown sugar
¼ cup granulated sugar
1 cup coconut milk
¼ cup olive oil
2 eggs, room temperature
1 ½ teaspoon baking powder
1 teaspoon ground cinnamon
¼ teaspoon nutmeg
½ teaspoon salt
½ cup unsweetened coconut flakes
1/3 cup walnuts (or pecans)
Glaze
½ cup powdered sugar
2-3 tablespoons caramel sauce
Instructions
Heat oven to 350 degrees F. Lightly grease and flour a 8 x 4-inch loaf pan.
In a large bowl, whisk together the apples, sugars, milk, oil and eggs until well combined. Add in the flour, baking powder, cinnamon, nutmeg and salt. Mix until well combined. Fold in the coconut flakes and walnuts.
Pour batter into the prepared pan. Bake for 50-60 minutes or until a tester inserted into the center comes out clean.
Let cake cool in pan for 10 minutes before inverting onto a cooling rack. Let bread cool completely.
To make glaze, mix together the sugar and caramel sauce until pourable.
Pour over bread and let glaze harden. Store leftovers in an airtight container for 2-3 days.