Rice Krispie Treats Recipe
This post is sponsored by Walmart's Fight Hunger Spark Change campaign. All opinions, as always, are 100% my own.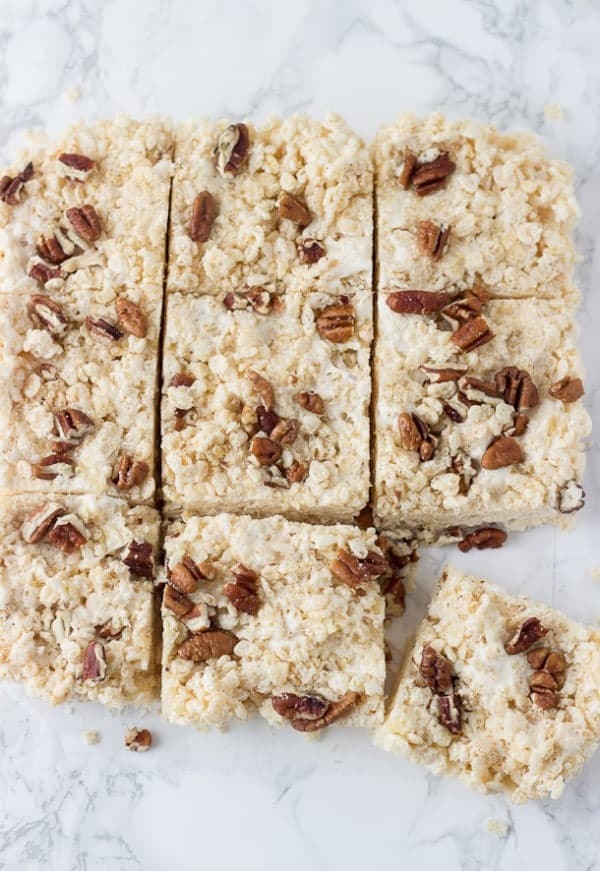 It is sad that there are people who go to bed hungry right here in America. Just plain sad. But the reality is there are millions of people everyday who are fighting hunger and struggling to feed their families. Those of us who don't have to struggle to feed our families NEED to lend a helping hand. We need to find ways we can help these families in our own communities. From visiting a local shelter and volunteering to identifying what our local food banks need to keep running, there is always something we can do.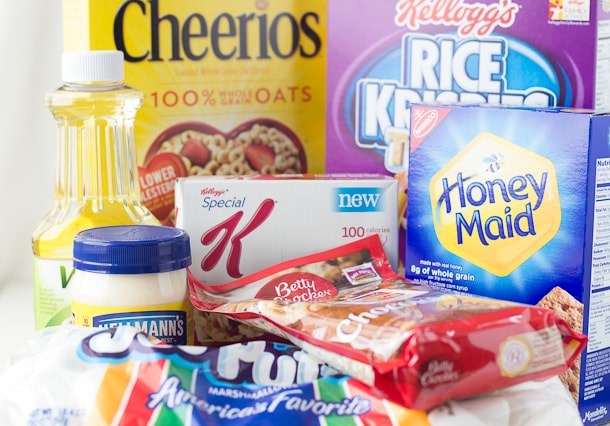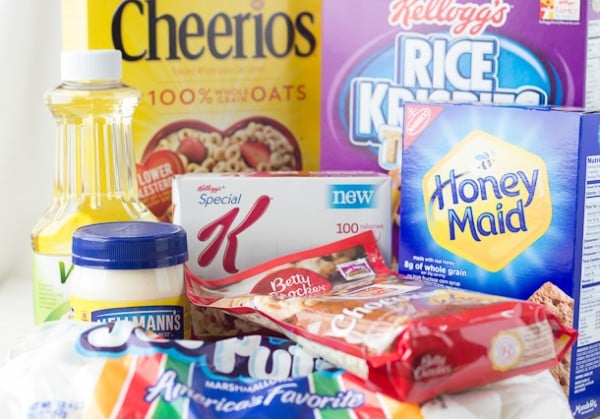 Another way you can help is by visiting your local Walmart. Walmart has partnered with six big food vendors to provide 75 million meals to Feeding America Food Banks nationwide in their Fight Hunger Spark Change campaign. With the help of their customers and consumers, Walmart and these vendors hope to eradicate hunger from our communities. From April 6, 2015 to May 3, 2015, when you purchase specific products marked with the Fight Hunger sign, these vendors (Unilever, General Mills, ConAgra, Campbell's, Kellogg's, Kraft) will donate a meal to Feeding America Food Banks. One purchase = one meal donated to Feeding America to help end hunger!! And guys, these are products we all usually purchase regularly, like my sample above of cereal, vegetable oil and mayo.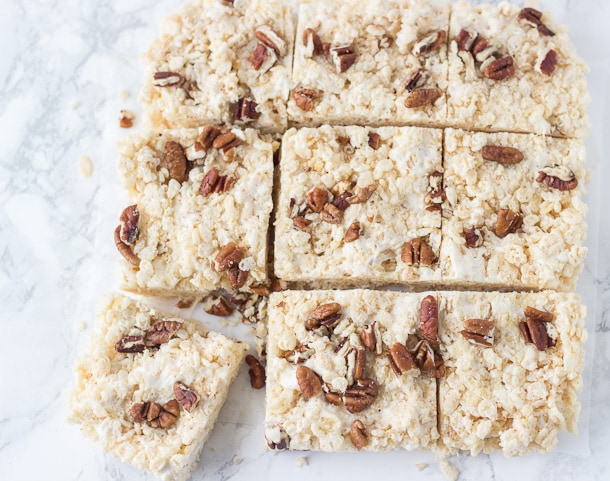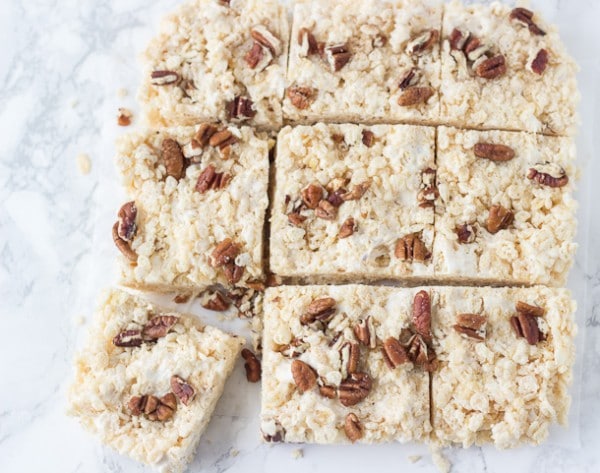 In support of the Fight Hunger campaign, I purchased a few of the marked items to make this simple treat! Rice Krispie Treats are every kid's favorite and my husband always tells me stories about how he used to make them after school with his grandmother. It's one of the easiest recipes in the books (that is if we can even call it a recipe) as it's just melted butter, marshmallows and krispie cereal. I added a few pecans to this rice krispie treat recipe just for added crunch and something to break the sweetness. And of course since I was melting butter in a pot, I had to brown it so we have an extra nutty flavor in these classic treats.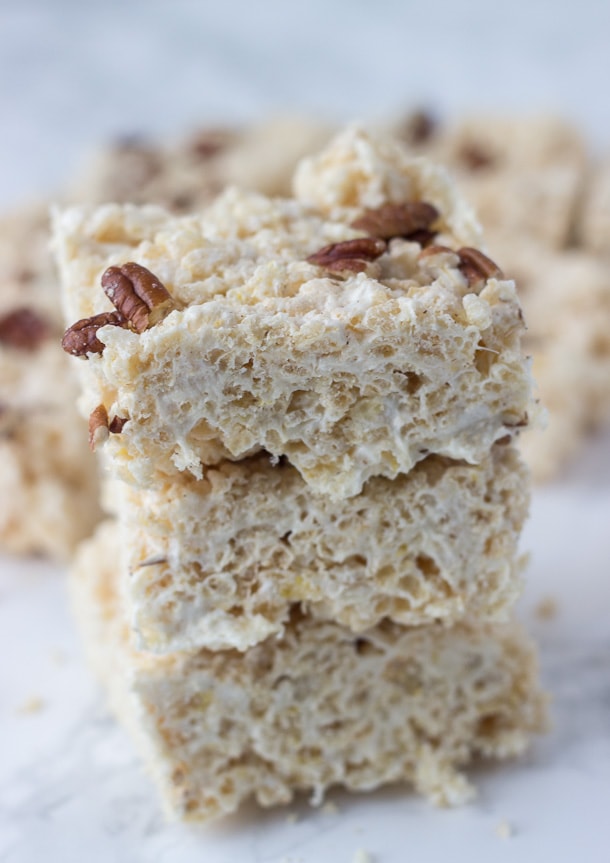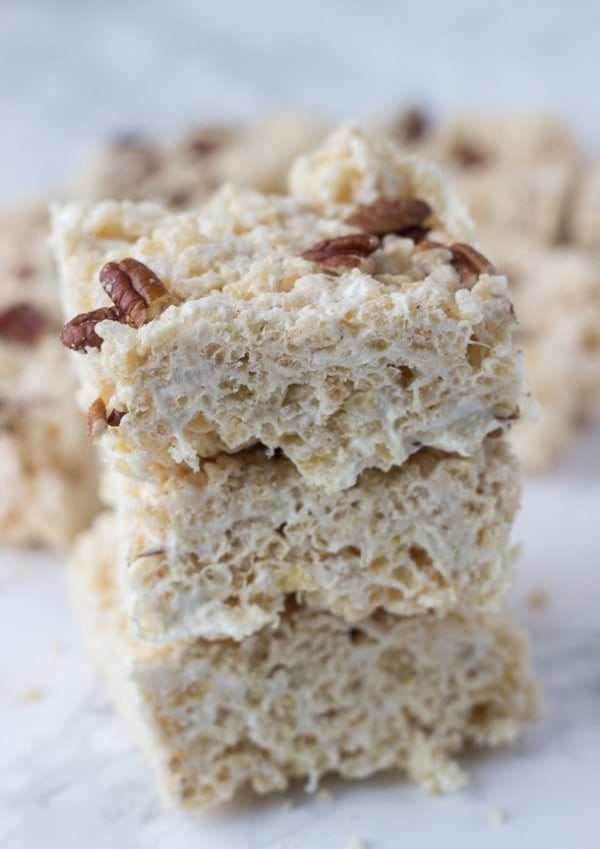 So my friends, as you sit down to dinner tonight with your family or go into your kitchen to bake with your kids, think about the millions of families out there that cannot enjoy this simple privilege. I hope you can take one step to help those who have to go without today and everyday you think of them.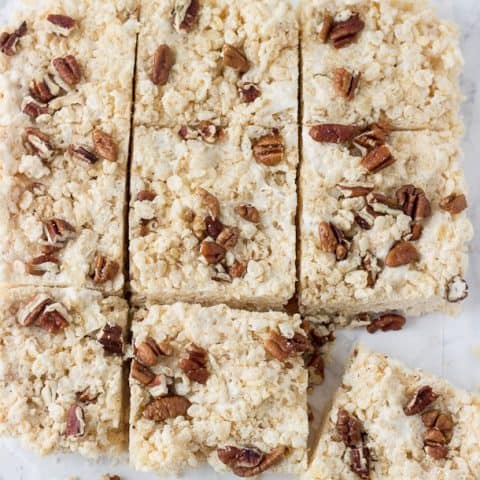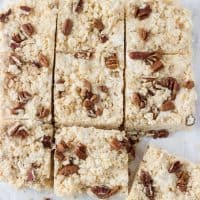 Yield: 9 squares
Rice Krispie Treats Recipe
Ingredients
4 tablespoons unsalted butter
5 cups mini marshmallows
3-4 cups Krispie cereal
A pinch of slat
1/3 cup chopped pecans
Instructions
Line a 9 x 9 –inch baking pan with parchment, leaving an overhang. Grease the parchment with cooking spray.
In a large pot (I used a deep one) set over low heat, melt the butter. Once melted, whisk butter constantly until it starts to turn brown. Add in the marshmallows and continue stirring until marshmallows are just melted. Remove from heat and stir in cereal and salt until just coated. Toss in the chopped pecans,
Press the mixture evenly into the prepared pan. Make sure it's evil. Top with any remaining pecans that didn't incorporate into the mixture/
Let cool completely (about 30 minutes) before cutting into squares. Enjoy immediately!
As a participant in this campaign with Walmart, I have received compensation for my time and efforts in creating this post. All thoughts and opinions are my own. #WeSparkChange #Shop2Give