Lemon Almond Tea Cakes
These lemon almond tea cakes are laced with fresh lemon zest, flavorful black tea and nutty almond meal making them moist and delicious. The perfect afternoon tea companion.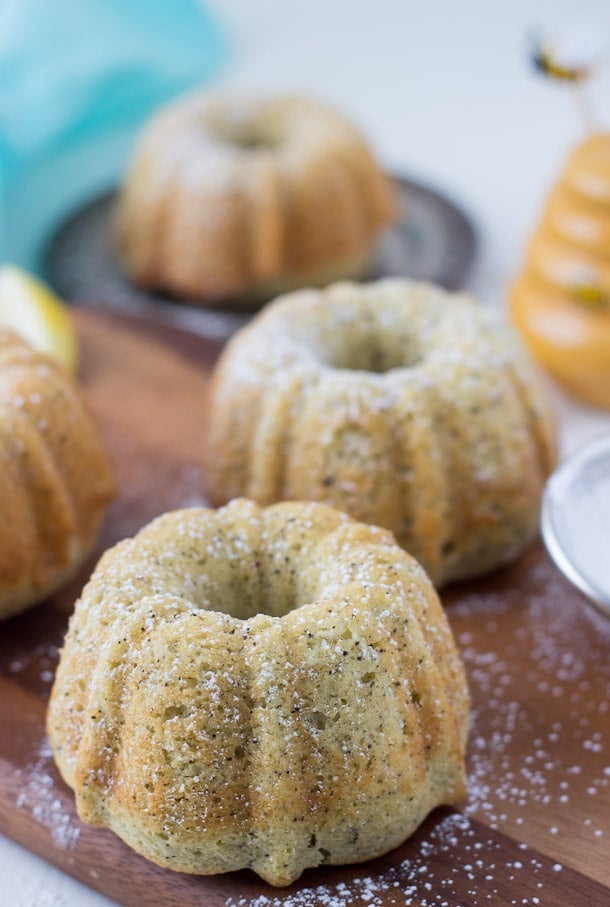 The hubs and I are moving this week from a two-bedroom apartment to a 4-bedroom house. We are going to be living in a house for the first time since we've been dating/engaged/married (5 years!!) and it is all kinds of exciting (even though we are renting)!!
The not-so-exciting part is the packing. We've outgrown our little two bedroom apartment (and by we I mean all my junk) and our apartment is in chaos right now with boxes everywhere and my kitchen is in disarray. I am insisting the kitchen is the last thing we pack but he was on my tails to get things boxed up this past weekend, especially my gazillion baking pans and cakes stands. I do not mess around with my baking equipment and he knows he can't touch them without supervision. I promise I will have them packed up by the time the movers arrive on Wednesday (pinkie-swear!).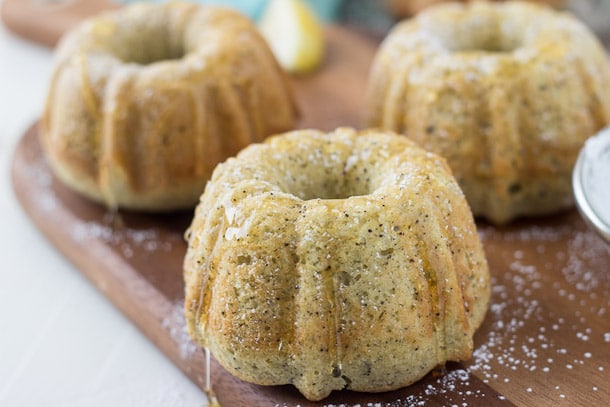 One of my favorite things about Spring is the switch in baking flavors. All winter long we craved comforting spices like cinnamon but as the season changes, we want fresh, light and citrus-y baked goods. These lemon almond tea cakes are my recent spring baking adventure. They were the last thing I made this weekend and probably the last in this kitchen (sad!). I guess it's best to go out with a bang as these tea cakes are just amazing!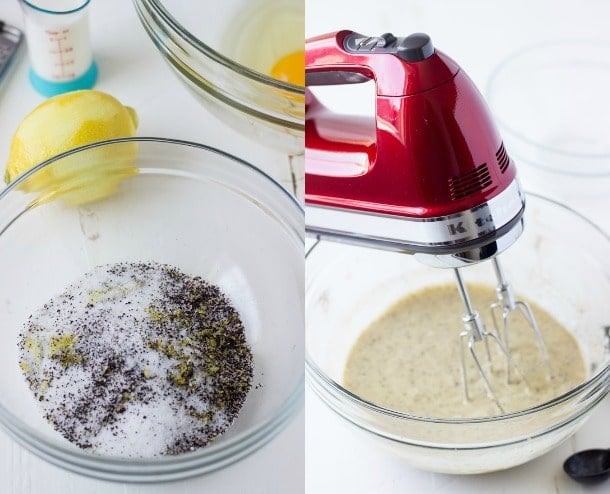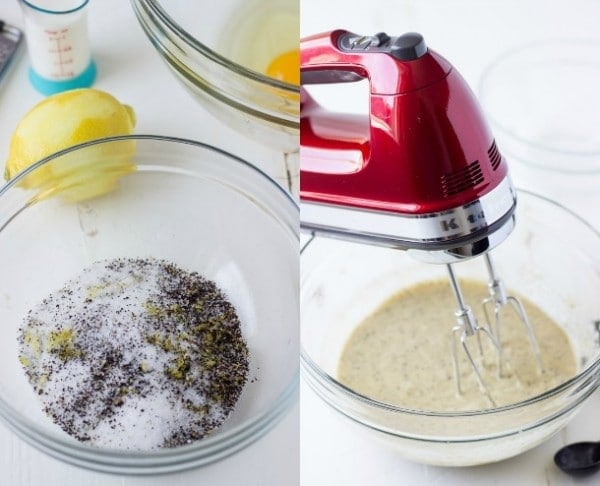 Fresh lemon zest, flavorful black tea (raspberry and lemon) and nutty almond meal lace these tea cakes and make them ideal for any occasion. Whether it's breakfast (yes I have cake with my tea in the morning sometimes) or brunch or even as a dessert, these lemon almond tea cakes will be a delight. Moist, nutty, small and incredibly delicious, they are a spring must-have.
Because I was whipping up a small batch (the recipe makes 4-5 mini bundts), I used my 9-speed KitchenAid hand mixer for this recipe. The stand mixer is my go-to for making most things but I love the nifty hand mixer for smaller batches and also for when I don't feel like washing my mixer bowl (truth be told!).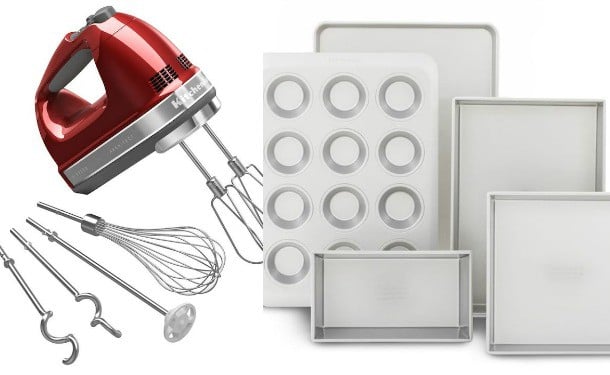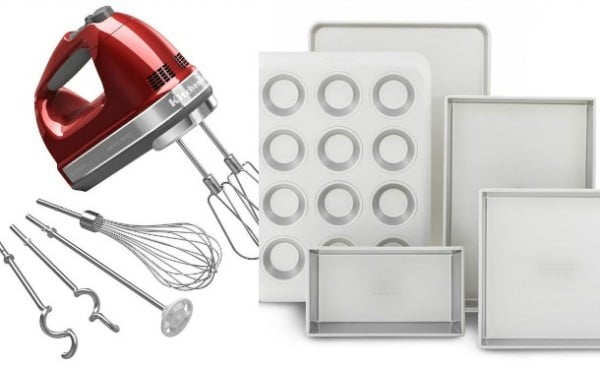 Lucky for you (and thanks to the good folks over at KitchenAid!), I am giving away one of these KitchenAid hand mixers as well as a set of my favorite baking pans. I seriously do not mess around when it comes to my baking pans and need good quality pans to make sure my cakes come out perfect every time. That's why I love KitchenAid baking pans as they are reliable and sturdy and use them all the time. You can win a set today too! Use the widget below to enter.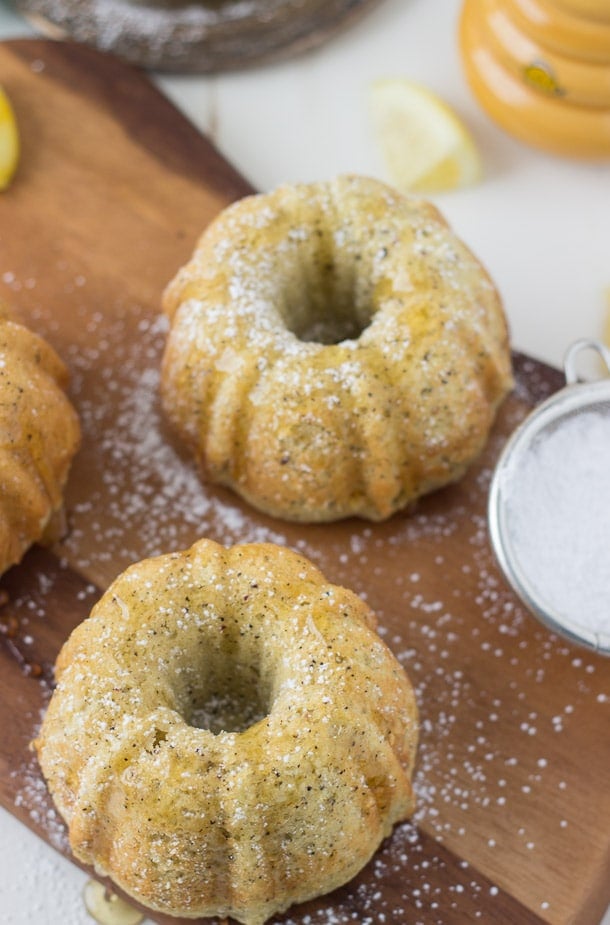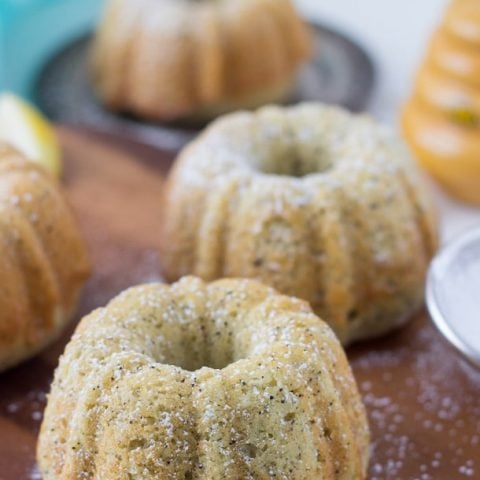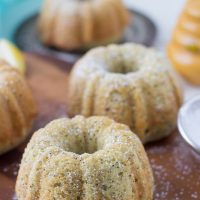 Yield: 4-5 mini bundts
Lemon Almond Tea Cakes
Ingredients
½ cup sugar
zest of one lemon
2 black tea bags
¾ all-purpose flour
¼ cup almond flour/meal
1 teaspoon baking powder
2 large eggs, at room temperature
2 tablespoons canola oil (or melted coconut oil)
2 tablespoons buttermilk
1 teaspoon vanilla extract
½ teaspoon almond extract
1 teaspoon lemon juice
Instructions
Preheat oven to 350 degrees. Grease 4 mini bundt pans with baking spray.
In the bowl of a food processor, combine the sugar, lemon zest and the contents of the two black tea bags. Process together for 1-2 minutes until fragrant and tea grounds are well processed.
In a small bowl, combine the flours and baking powder.
In a large bowl, whisk the eggs with an electric mixer on medium speed until they are light in color, a full 5 minutes.
Still mixing, slowly add in the sugar-tea mixture and mix until combined. Add the oil, buttermilk, vanilla extract, almond extract, and lemon juice.
Add the dry ingredients all at once and mix on low speed until well combined.
Divide batter evenly into prepared mini bundt pans, filling each ⅔ full.
Bake cakes for 10-12 minutes or until a toothpick inserted into the center comes out clean. Let cool completely in pan before turning cakes onto a wire rack. Serve with a dusting of confectioner's sugar or a drizzle of honey.
For more chances to win, head on over to my baking boos Grandbaby Cakes, Hip Foodie Mom and Baking A Moment, who are each giving away a KitchenAid Baking Set!!
Disclosure: This is not a sponsored post. I love my KitchenAid Stand Mixer and baking equipment very much and wanted to share them with you! The good folks at KitchenAid were kind to sponsor the prizes.