Salted Caramel Spiced Apple Macarons #appleweek
Happy Thanksgiving to my Canadian friends! Hope you all had a great weekend.
Thanks to Mr. Columbus, it's a three-day weekend and it does not feel like Monday today. I'm going to keep this post very short so I can carry on with my lazy Monday plans which includes waking up after 10 am (check), sharing these salted caramel spiced apple macarons with you (almost check), and meeting my mother-in-law at the mall at 2 pm for a girls' date!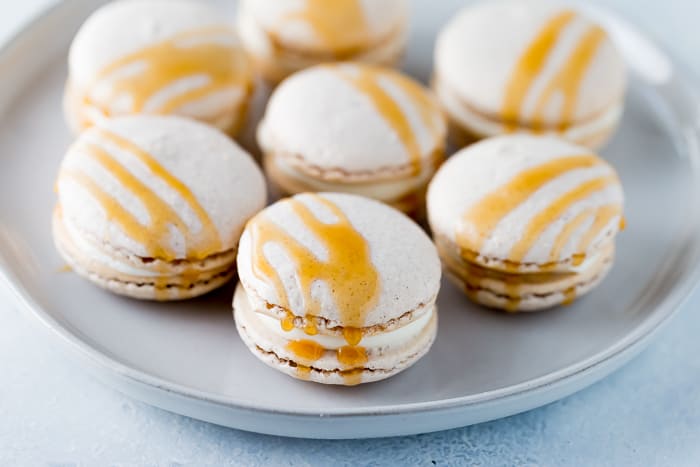 I went to our annual apple festival this Saturday to enjoy more apples. I may have a problem which is why I am dedicating an entire week to apple recipes! Get ready for some great apple creations to celebrate my favorite fall harvest. Starting with these scrumptious salted caramel spiced apple macarons.
One of the first things I made with my 15-pound haul of apples was a big batch of applesauce and I used some to fill these salted caramel spiced apple macarons. There is nothing like homemade spiced applesauce. It makes your house smell heavenly and is much better than store-bought. I always can my applesauce to enjoy it year long.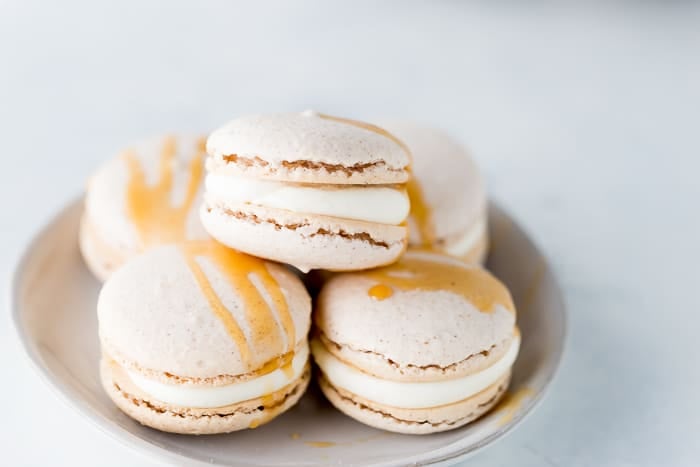 The macaron shells are perfectly spiced with cinnamon and nutmeg and are filled with homemade applesauce and topped with salted caramel sauce to give you a delightful fall sandwich. Just make sure you have a glass of milk to go with these cookies.
Macaron Update: Since I made these S'mores macarons, I have acquired a kitchen scale (thanks LTP!) and this is reflected in the recipe below. Using exact measurements has helped me make more successful batches of macarons and I would strongly suggest you get a scale if you are having difficulties with macarons.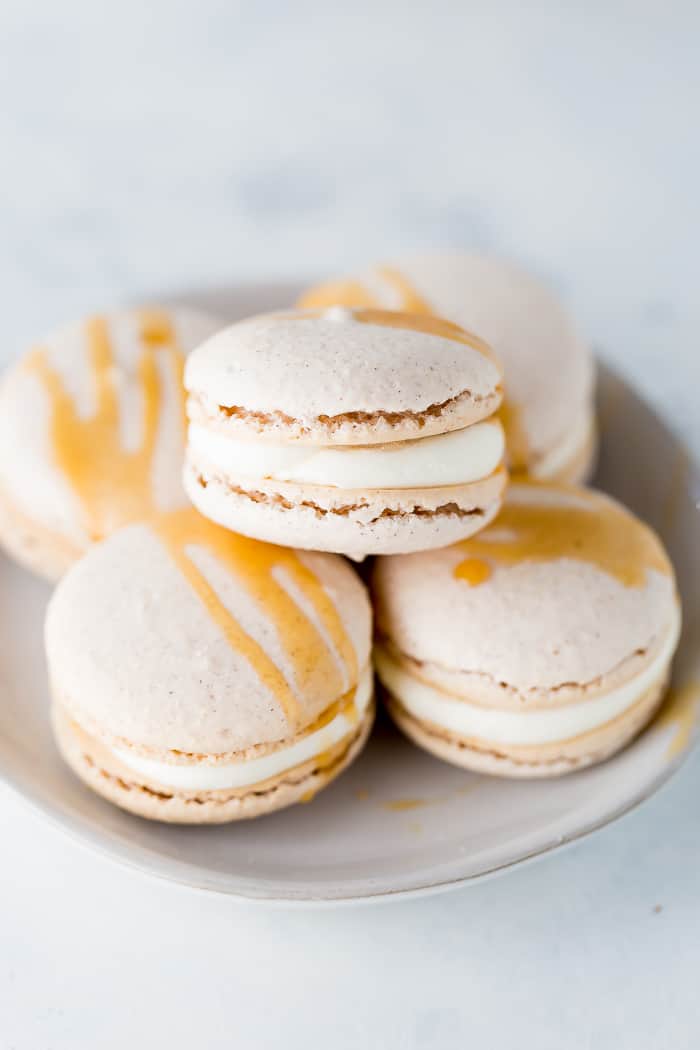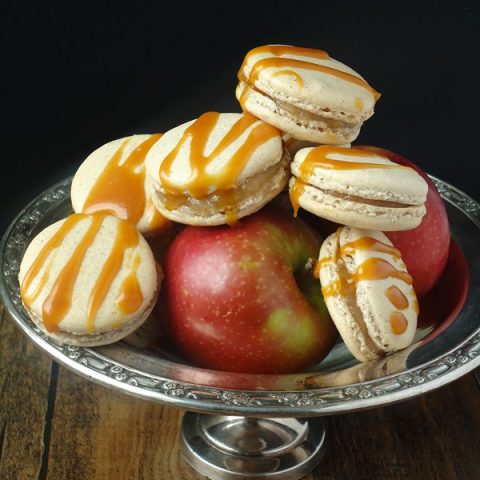 Yield: About 30 macarons
Salted Caramel Spiced Apple Macarons
The macaron shells are perfectly spiced with cinnamon and nutmeg and are filled with homemade applesauce and topped with salted caramel sauce to give you a delightful fall sandwich.
Prep Time
1 hour
15 minutes
Total Time
2 hours
35 minutes
Ingredients
Spiced Apple Macarons
4 ounces (115g) almond flour
8 ounces (230g) powdered sugar
1 teaspoon cinnamon
¼ teaspoon freshly grated nutmeg
5 ounces (144g) egg whites, room temperature
2 ½ ounces (72g) granulated sugar
1 teaspoon vanilla extract
½ teaspoon salt
Filling
3 medium apples (I used a combination of Macintosh, Granny Smiths, and Galas), peeled, cored, and chopped.
1 tablespoon brown sugar (or more if you want it sweeter)
1/2 teaspoon lemon zest
1/2 teaspoon lemon juice
½ teaspoon ground cinnamon
A pinch of nutmeg
2 tablespoons water
Topping:
Instructions
Spiced Apple Macarons
Line two sheet pans with parchment paper. I used a 1½-inch round cookie cutter to draw circles on the parchment paper and flipped the paper (drawing side down).
Preheat oven to 300 degrees and prepare a pastry bag with a round tip. I used Wilton 2A.
Using a food processor, pulse the powdered sugar, almond flour and spices into fine powder. Sift several times until there is less than 2 tablespoons of almond bits left. Add in almond bits to sifted dry ingredients
In the bowl of an electric mixer with the whisk attachment, combine the egg whites, sugar and salt. Whip on medium-high speed until stiff peaks form, about 5-7 minutes. Add the vanilla extract and whip for another minute.
Add the dry ingredients to the meringue in two additions and fold with a rubber spatula. Gently fold to deflate the meringue by pressing against the side of bowl and scooping from bottom until batter is smooth and shiny; about 20-25 folds. To check consistency, drop a spoonful of batter and it should have a peak that quickly relaxes back into the batter. Start checking the batter after 20 folds.
Transfer batter into pastry bag and pipe the batter into the pre-traced circles on the baking sheet. Tap baking sheet hard on counter to release any air bubbles trapped in the batter.
Bake for 15-20 minutes until hard and slightly golden, rotating cookie sheets halfway through baking time. You should be able to peel off the macaron from the parchment. Cool completely on cookie sheets before peeling from the parchment.
Filling
Combine all the ingredients in a small pot and bring to boil over medium heat. Lower heat and simmer until apples are soft, about 15-20 minutes. Remove from heat and mash apples with a fork or potato masher. Let cool to room temperature before using. You will have way more apple sauce than you need to fill the macarons.
Use applesauce to fill macarons. Drizzle with salted caramel. Fully assembled macarons should be enjoyed within a day.
Stay tuned for more apple recipes this week! Have a great day 🙂