Salted Gingerbread Pots de Creme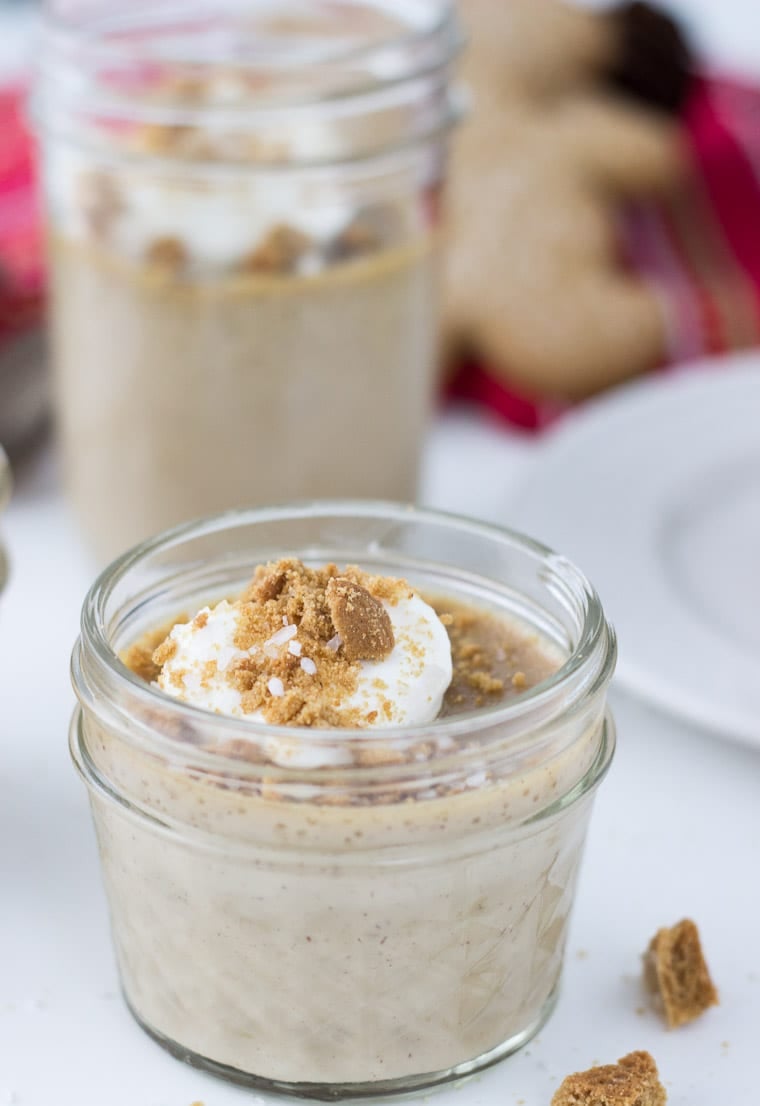 Salted Gingerbread Pots de Creme. That's really all I can say about this.
Wait, fine no. I guess I can't just drop that there and walk away. A rich, silky custard with gingerbread spices, sea salt and crushed gingerbread cookies deserves more than a one liner. So here's the detail:
Pots de creme is just a fancy name for baked custard – cream and egg yolks whipped together and cooked in ramekins. This gingerbread pots de creme combines seasonal flavors of ginger, cinnamon and nutmeg with butterscotch and bourbon with a dash of smoky sea salt to come together in a silky, creamy and perfectly spiced custard. It's really as good as it sounds and even easier to make. Trust me when I say you will LOVE it as much as we did.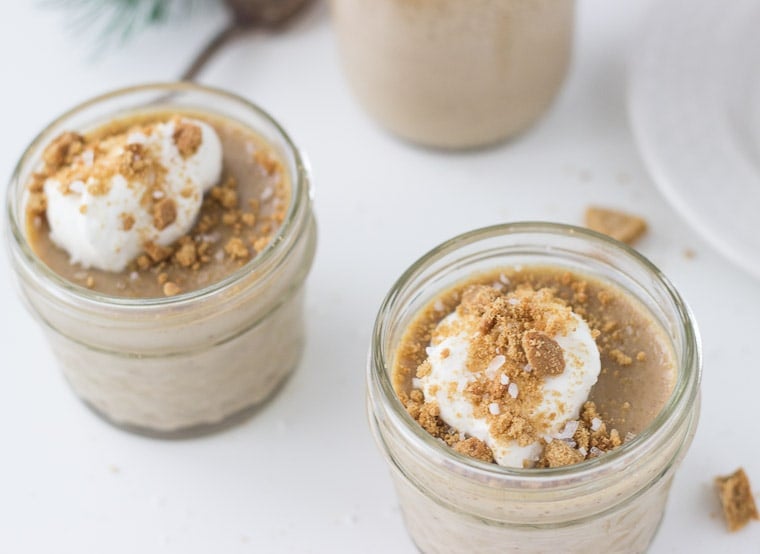 Now that you know more about these pots de creme, can we talk about what to get a baby for Christmas? And yes, I am one of those people who still need to shop although I did most of our family last weekend. But back to the baby… what do you mamas get your babies for their first Christmas? Baby E is 5 months old and right now doesn't do much so I should be thinking ahead right? I need some ideas please. THANK YOU!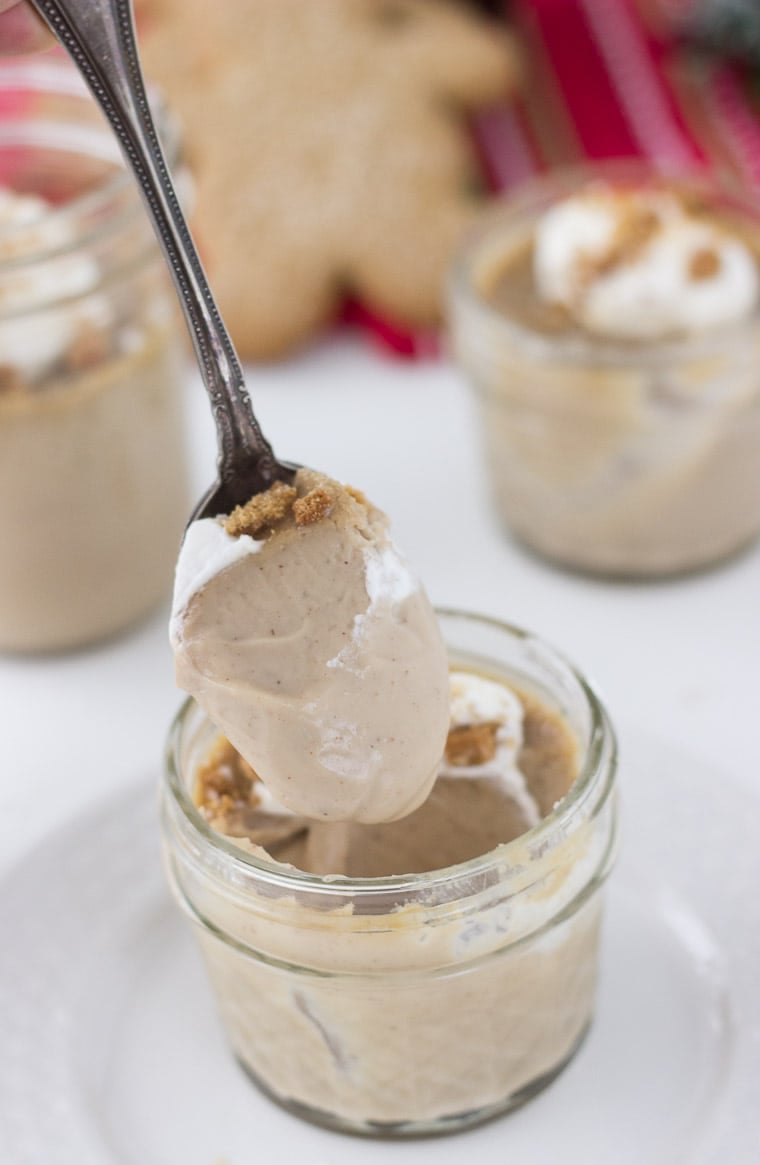 Back to the dessert > these pots de creme are the perfect last minute holiday dessert to whip up. Even if you are not entertaining this week, you need them in your winter line up.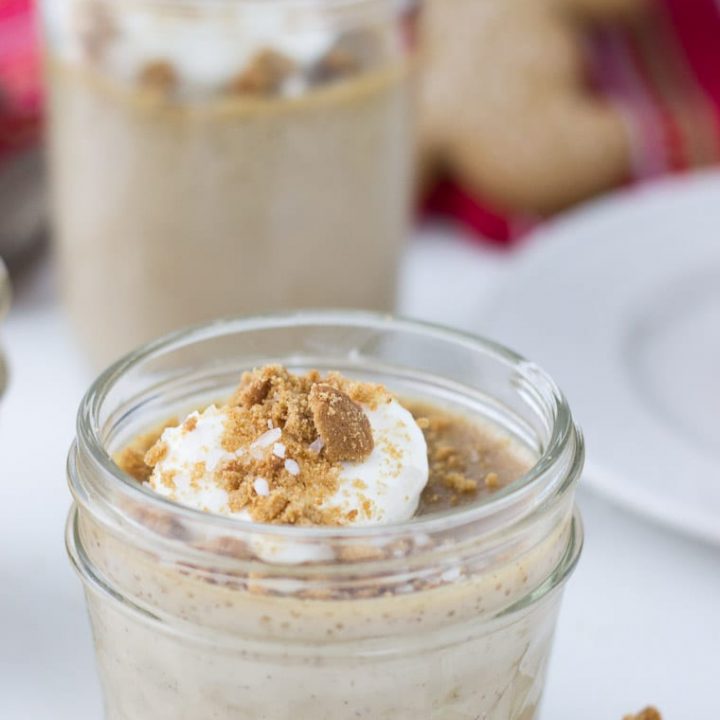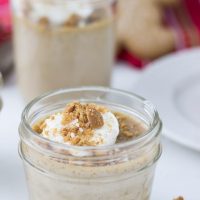 Yield: Six 4-ounce Ramekins
Salted Gingerbread Pots de Creme
Ingredients
1 ½ cups heavy whipping cream
¼ cup dark brown sugar
¼ teaspoon salt
1 teaspoon ground cinnamon
1 teaspoon ground ginger
½ teaspoon ground cloves
dash of nutmeg
2 tablespoons turbinado sugar
4 large egg yolks
1 teaspoon vanilla extract
2 tablespoons bourbon
Toppings:
Whipped cream
Coarse Sea Salt
Crushed gingerbread men cookies
Instructions
Heat oven to 300 degrees F. Prepare six 4-ounce ramekins or four 6-ounce ramekins.
In a small saucepan, bring the cream, sugar, salt and spices to a slow simmer over medium heat.
In a medium saucepan, combine the turbinado sugar with 6 tablespoons water. Bring to a boil over medium heat and let sugar melt and solution turns brown, about 5 minutes. Remove from heat and carefully add the hot cream mixture to it, whisking constantly. The mixture will bubble.
In a large bowl, whisk together the egg yolks, vanilla extract and bourbon. Gradually add the hot cream mixture into the eggs while constantly mixing.
Pour the custard into the prepared ramekins or mason jars. Place the ramekins into a large baking pan and pour hot water into the baking pan, about half way up the sides of the ramekins.
Bake custards until they set around the edges but still jiggly in the center, about 40 minutes.
Remove from water bath and move ramekins to a cooling rack. Let cool completely before chilling for at least an hour or two.
When ready to serve, top with whipped cream, a sprinkling of sea salt and crushed gingerbread men cookies.