Gingerbread Crepe Cake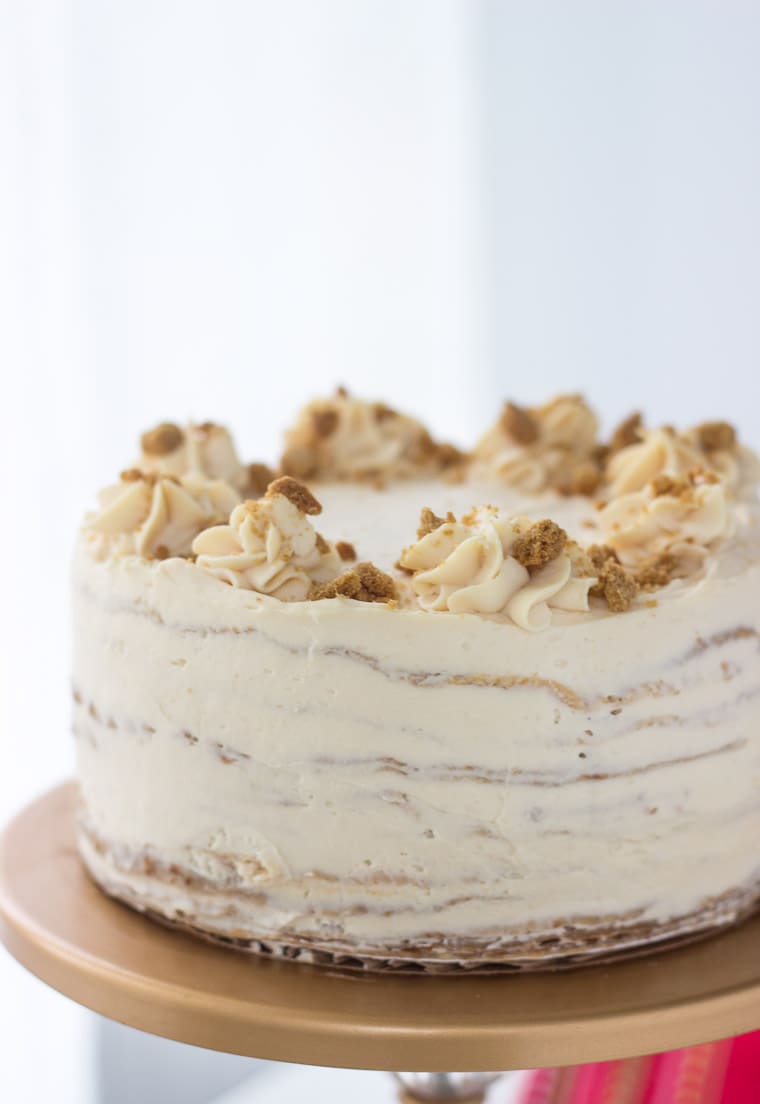 Happy Christmas week and happy first day of Winter! It's probably the busiest and craziest week of the year but thankfully, it's one of the warmest. Family gatherings, friendship rekindling and lots of cozy, winter recipes floating around in the air. I find this saying is indeed true 'the coldest time of the year is also the warmest' as I wrap presents, plan my Christmas day menu and bake delicious treats like this gingerbread crepe cake.
As you get together with loved ones this year, remember to slow down and enjoy the moments. The moments that will be remembered for years to come.
And if you are a last minute kind of girl like me, and still looking for a gorgeous dessert to serve your family, try this gingerbread crepe cake. It's stunning, simple to create and filled with warm spices of the season.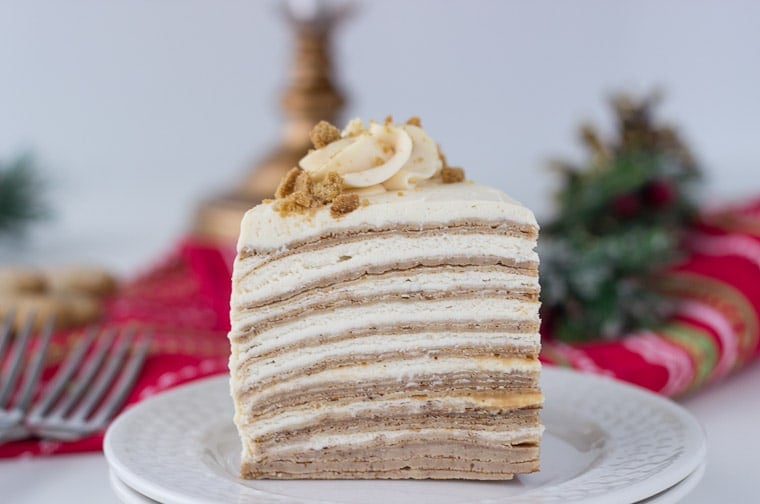 A crepe cake is a great way to turn a brunch favorite into dessert. This gingerbread version uses my basic crepe recipe and adds to it warm spices of ginger, cinnamon and cloves. The crepes are made as you would normally and layered with repeating layers of a caramel cream cheese filling and some more caramel sauce. It's all wrapped in a rustic naked way with the filling for a simple, yet delicious dessert.
This is not only for this time of the year but will be great all winter long as we cozy up around the fire. So if your holiday menu is already decked out, save this recipe in your arsenal for winter dinner parties and gatherings.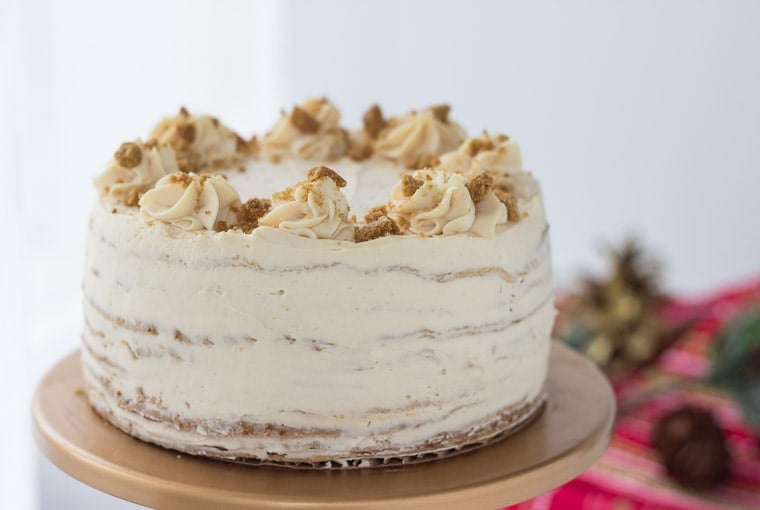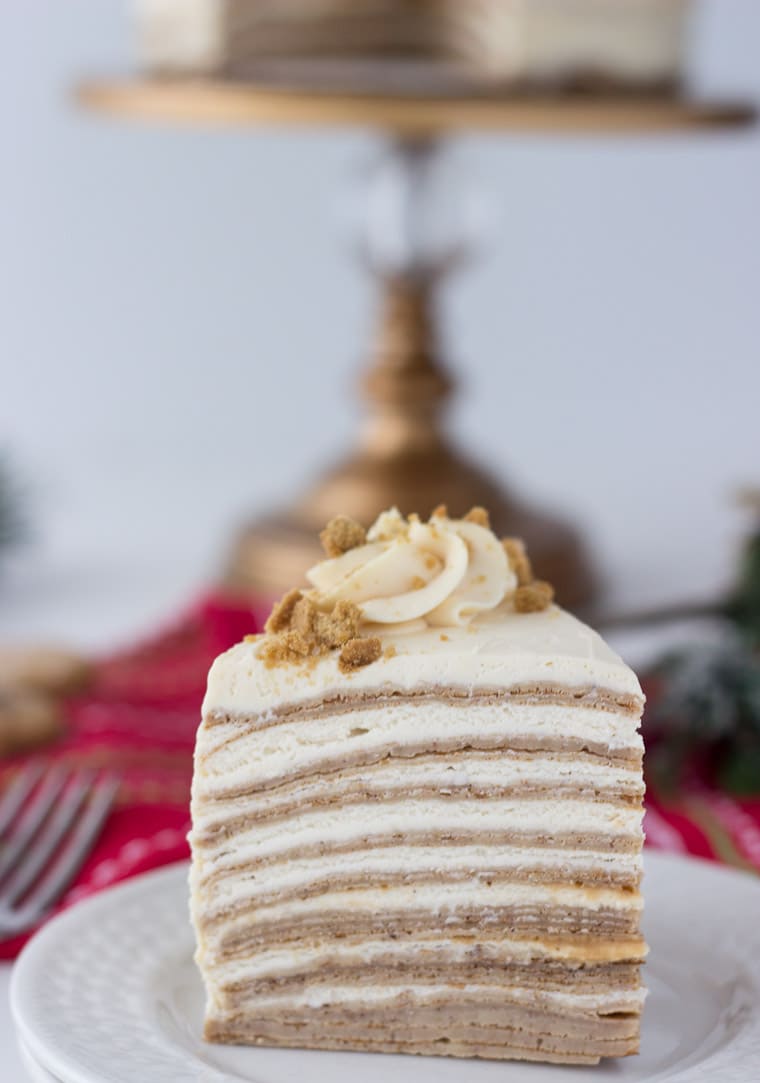 Merry Christmas and Happy Holidays friends! Wishing you a safe and wonderful time with friends, family and loved ones.
xo,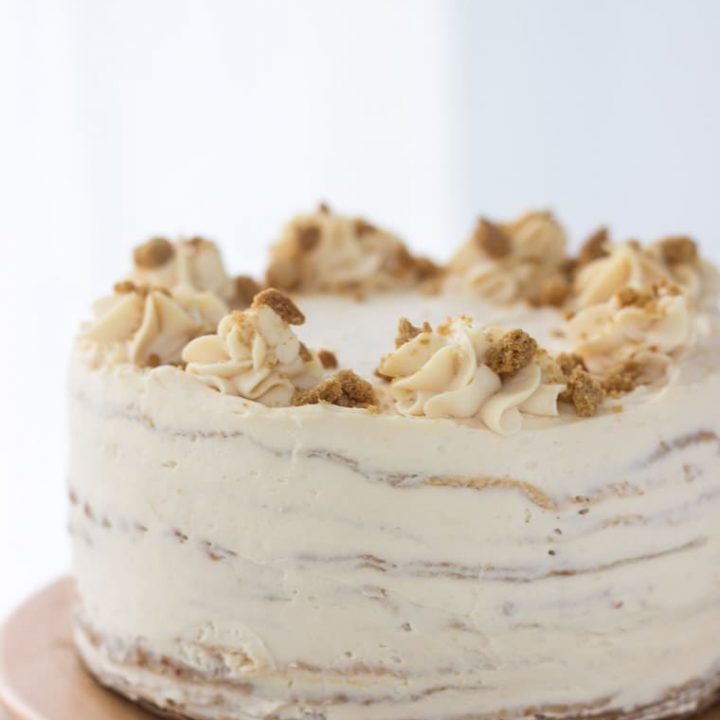 Yield: 1 8-inch layered cake
Gingerbread Crepe Cake
Ingredients
Crepes
• 4 large eggs
• 1 ½ cups milk
• 1 cup water
• 2 cups all-purpose flour
• ¾ teaspoon ground cinnamon
• ¾ teaspoon ground ginger
• ½ teaspoon ground cloves
• 6 tablespoons melted butter
Filling:
• 8 ounce cream cheese, softened to room temperature
• 1/3 cup caramel sauce + more for stacking
• 1 ½ cup heavy cream, cold
• ½ cup powdered sugar
Topping:
• Crushed gingerbread cookies
Instructions
In the pitcher of your KitchenAid® Torrent™ Blender, combine all the ingredients for the crepe. Blend on the "Soup" setting until very smooth. Pour the batter into a large bowl and chill for at least an hour or overnight.

Heat your KitchenAid® Tri-Ply Stainless Steel 12″ Nonstick Skillet over medium heat on your KitchenAid® 30-Inch 5-Element Electric Convection Slide-In Range. Pour a little less than 1/4 cup of batter into the center of the pan and spread evenly by swirling. Let cook for 30 seconds and then flip. Let cook for another 10 seconds. Place crepe flat on a cutting board to cool. Continue making crepes until all the batter is gone (~40 crepes). Let them cool completely. Using a 6-inch or 8-inch biscuit cutter, cut each crepe before stacking.

To make the filling: In a medium bowl, beat the cream cheese and caramel sauce until smooth. In another medium bowl, whip the heavy cream and powdered sugar until soft peaks form. Gently fold the whipped cream into the cream cheese mixture.

To assemble: Place two or three crepes down on a plate. Add a dollop of the filling on top and spread out evenly to cover the whole crepe. Add another few crepes on top and repeat. Every few stacks, top the filling with a tablespoon of caramel sauce. Finish the cake with a rough coating of mousse filling around and on top of the cake. Top with crushed gingerbread cookies.
This post is sponsored by KitchenAid. All opinions are 100% mine as usual. Thank you for supporting the occasional sponsored posts that make it possible for me to continue to create quality content!