Savory Breakfast Danishes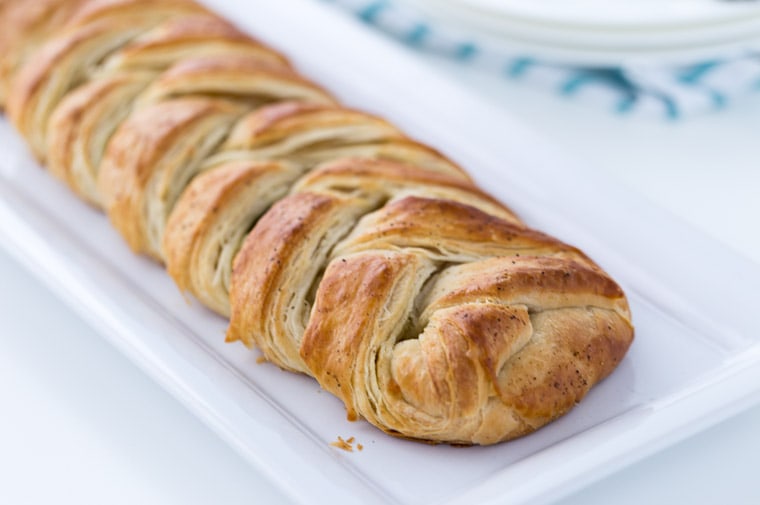 What are you doing this weekend? May I suggest some savory breakfast danishes? These will be a great lazy Sunday project with a fulfilling result. Right? And they will even be great at your Easter day brunch.
If you are a baking enthusiast like myself, you have a baking bucket list. Danishes were on mine until recently when I tackled them head on and made the dough from scratch. And instead of the usual sweet fillings, I stuffed these with cheddar, bacon, spinach and eggs for a savory breakfast treat. A great decision that I am still proud of.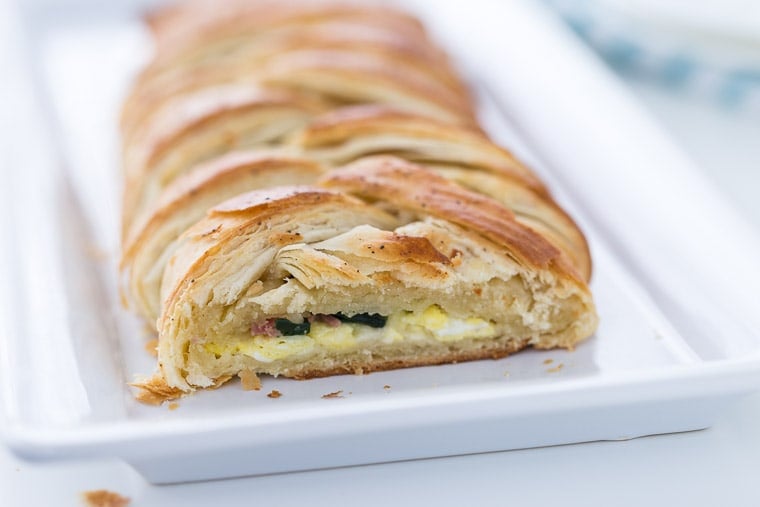 I've always been intimidated of the danish dough as we all know it's flakiness is incredible which means there's some technique to it. Those layers of flaky buttery dough are essential for a good danish and this recipe gives you that. It's incredibly easy to achieve with some rolling (and rolling and more rolling) of butter into the dough. I found this video from Baking A Moment helpful in making the dough and for the braiding, I loved the techniques in this video.

They are easier than you think!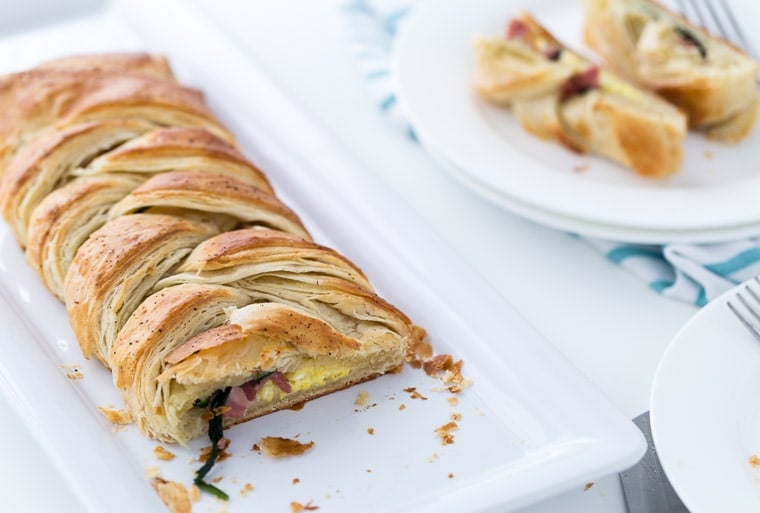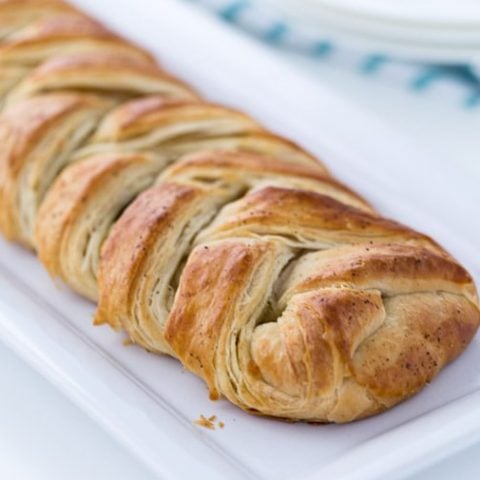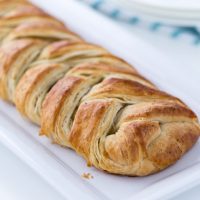 Savory Breakfast Danishes
Ingredients
For dough:
1 cup (2 sticks) unsalted butter, cold
2 3/4 cups all-purpose flour
3 tablespoons granulated sugar
2 teaspoons instant active yeast
1 teaspoon kosher salt
1/4 teaspoon ground cardamom
1/2 teaspoon vanilla extract
1/2 cup milk, cold
1/4 cup warm water
1 large egg
For filling:
2 ounces bacon, diced
A handful of spinach
2 large eggs, lightly beaten
1/4 cup sharp cheddar cheese, grated
Egg wash: 1 egg white whisked with 1 tablespoon water
Instructions
For dough

To start, cut 1/2 tablespoon off the ends of each butter stick and set aside. Cut a stick of butter in half length-wise and lay the two pieces of butter in between two lightly floured pieces of parchment paper. Pound the butter flat with a rolling pin and roll into a flat rectangle. You want the rectangle to be roughly about 6 inches by 9 inches. Repeat with the other stick of butter and place both in the refrigerator to chill while you prepare the dough.

In the bowl of your KitchenAid® Stand Mixer with the flat beater attached, whisk together the flour, granulated sugar, yeast, salt and cardamom. Add in the reserved pieces of butter to the dry ingredients and work into the flour until pea-sized.

In a small bowl, combine the vanilla extract, milk, warm water and egg. Whisk together. Add the wet ingredients into the dry and beat until combined. Replace the flat beater with the dough hook, and mix and knead the dough for about 7 minutes on medium speed until sticky.

Transfer the dough to a lightly floured surface and cover with a plastic wrap. Let rest for 10 minutes.

Start by rolling the dough into a rectangle, about 12 inches by 24 inches. Place one chilled butter slab on the center third of the rectangle and fold each side of the dough over top, as though folding a letter to place inside an evelope. Place the other butter slab on one half of the folded dough and fold the remaining dough over top. You will now have a rectangular packet of dough-enclosed butter. Pinch the edges together to close the 'packet'.

Now roll the dough (with the enclosed butter) into a rectangle, about 10 inches by 24 inches. Fold each side into the center; then fold one side over the other. It will look again like a rectangular packet, about 6 inches by 10 inches. Lightly flour the top of the dough and wrap in plastic wrap. Chill dough for about 20 minutes so the butter rests.

Remove the dough from the fridge and roll it out again into a rectangle. Fold the rectangular into thirds as before and then fold the dough in half. Wrap in plastic wrap and chill dough again for at least 2 hours or overnight.

For filling

While the dough rests, prepare the filling. In a KitchenAid® Tri-Ply Stainless Steel 12″ Nonstick Skillet, cook the bacon over medium heat on a KitchenAid® 30″ Electric Convection Slide-In Range with Baking Drawer until crispy. Add in the spinach and eggs and cook until spinach wilts and eggs scramble, about 2 minutes. Remove from heat and set aside.

Remove the dough from the fridge and divide it into two halves. Roll the first half into a rectangle, about 12 inches by 6 inches. Cut off the two top corners of the dough and make small triangles at the bottom. (See above and this video for visual).

To fill the pastry, sprinkle half of the cheese down the middle of the dough and then top with the cooked eggs, bacon and spinach. Finish with another sprinkle of cheese down the middle.

Cut slanting strips along both sides using a sharp knife (pictured above). Fold in the bottom end (where you cut two triangles out) to seal the filling and braid the dough using alternating strips.

Repeat with the other half of the dough. Cover both braided danishes with plastic wrap and let rest on a KitchenAid® Professional-Grade Nonstick Sheet Pan for about an hour at room temperature before baking.

When ready to bake danishes, brush the danishes with egg wash and bake them in your KitchenAid® 30″ Electric Convection Slide-In Range at 400 degrees F until golden brown, about 18 minutes.
This post is sponsored by KitchenAid. All opinions are 100% mine as usual. Thank you for supporting the occasional sponsored posts that make it possible for me to continue to create quality content!