Spiced Pear Cake with Honey Caramel Frosting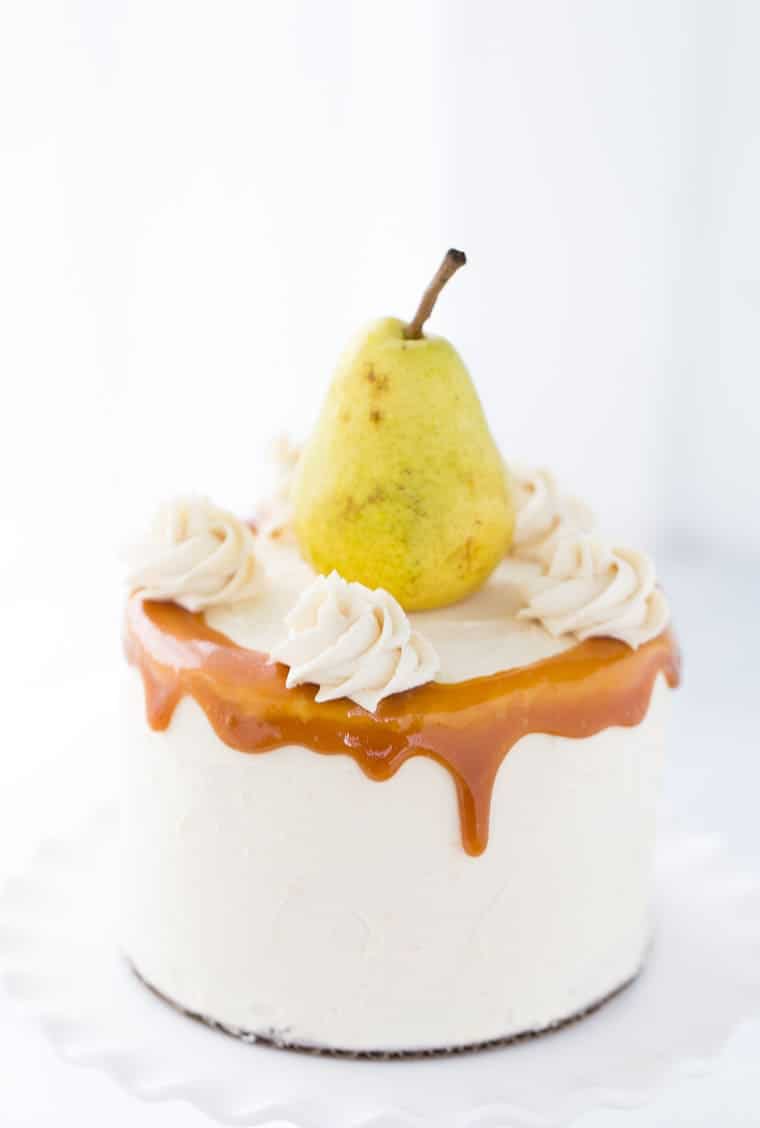 Happy Monday friends! A slice of this spiced pear cake will make any day a happy one. I know this because it solved my weekend traveling woes. After almost 12 hours of trying to get home from Atlanta this weekend, I relaxed with a cup of tea and the last slice of this cake that I left in the fridge. For a moment there, I was able to forget about the miserable hours spent trying to get home.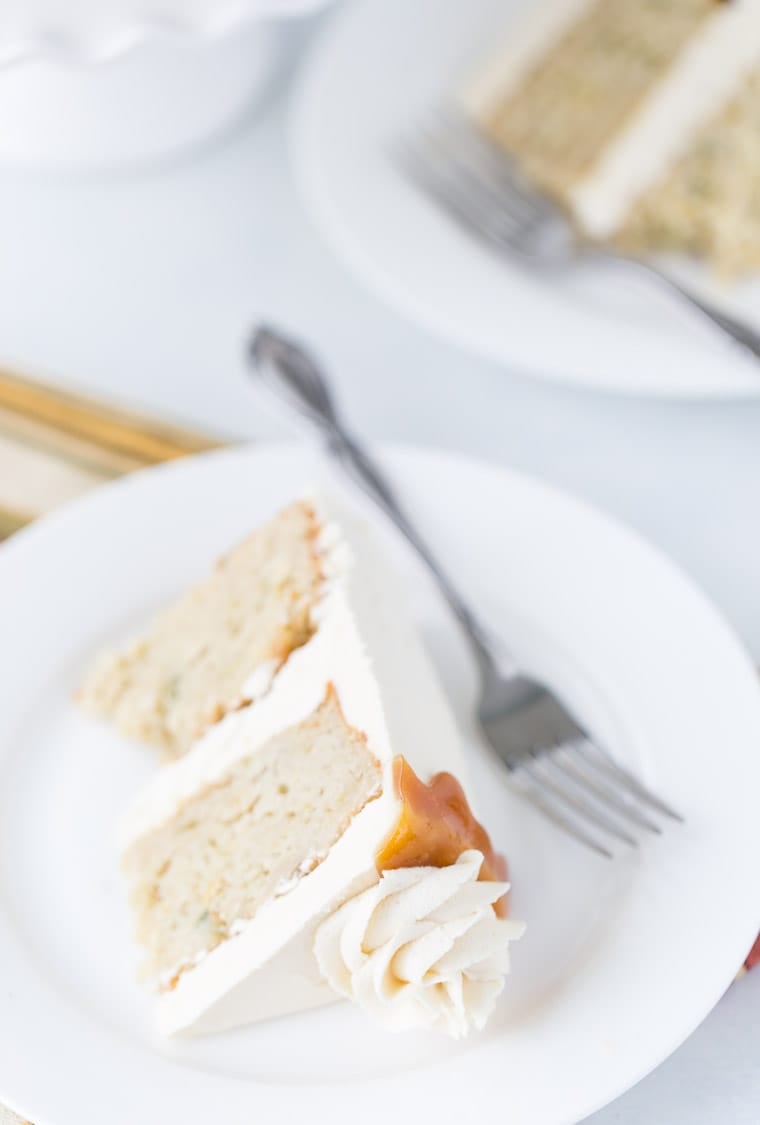 Since when is traveling by plane so much hassle?? It makes you hate flying and dread leaving your house as you may never return to it in time to get anything done. Sadly, I LOVE traveling and can't imagine not being able to. Ever since my late teens when I moved to Singapore for high school, I've been traveling back and forth. When I finally settled in Upstate NY for graduate school and started a family, my traveling has reduced but I still look forward to that 2-3 trips a year when I visit family, friends and attend blogging events. But with always being delayed and unforeseen airline cancellations, I am dreading leaving home. Just this past summer, it took me 12 hours to fly to NC for a work trip. 12 hours for a 2-hour flight!! It would have been faster to drive at that rate.
And this weekend, I went down to Atlanta for a surprise baby shower for my sister (which was AMAZING) and it took me a again a whole day to make it home. I am slowly hating to fly and just have to suck it up and start doing the long drives. But that reduces the already limited time I can spend with the folks I am visiting. Bottom line, airlines suck. They take the fun out of traveling and exploring new places.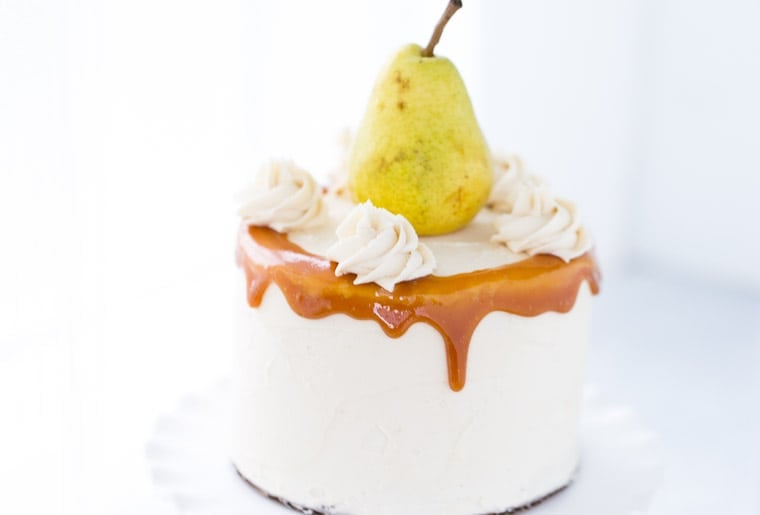 Now that I have that off my chest, how about we talk about this spiced pear cake?? I am LOVING everything about it for so many reasons. First of all, there are pears in the cake which are amazing in baked goods and makes everything moist and soft. Then, there is browned butter, which we all know makes everything so much better. That nutty browned butter flavor and juicy pears gives this cake a unique flavor that is almost earthy. Finally, the dash of warm fall spices in the cake and a spiced cinnamon syrup soak makes it all comforting.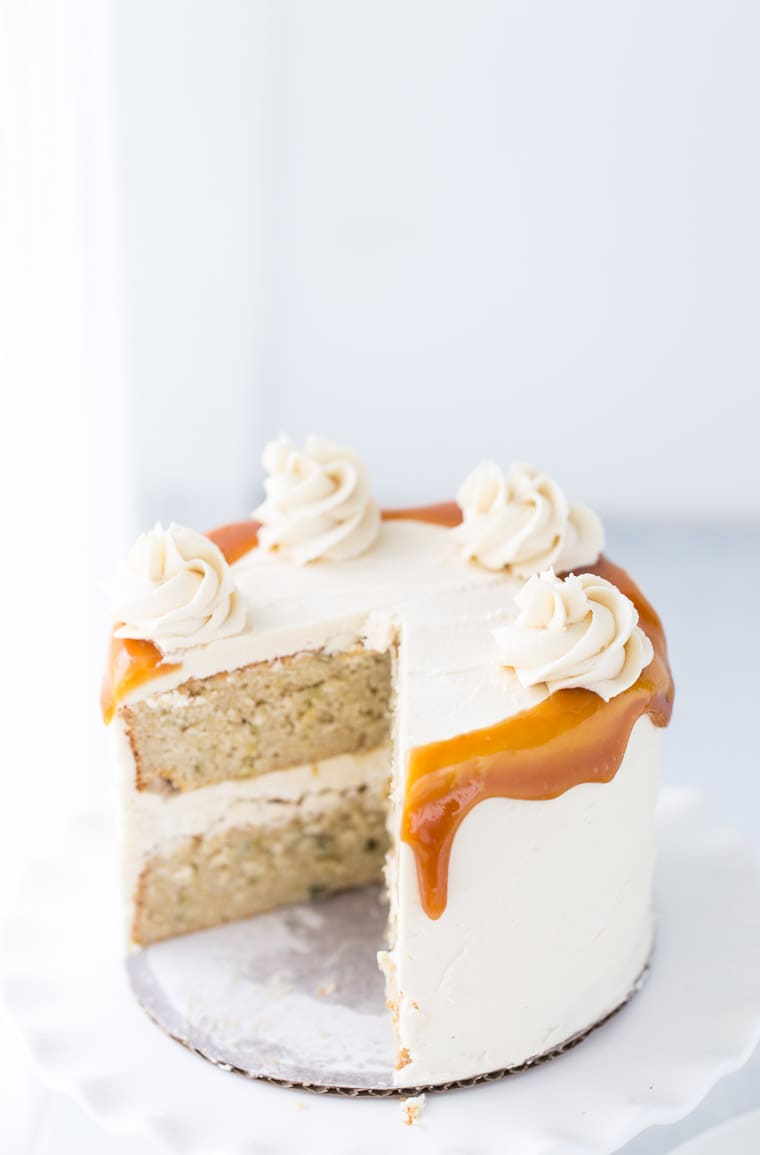 I must say, my favorite part about this spiced pear cake is the honey caramel frosting that goes with it. Honey caramel (made of just honey and butter) is whipped into a light vanilla buttercream and that sweetness is beautifully paired with the moist, soft cake. All and all, this cake is a perfect rendition of fall flavors and you need to HAVE it on your table at some point this fall and holiday season.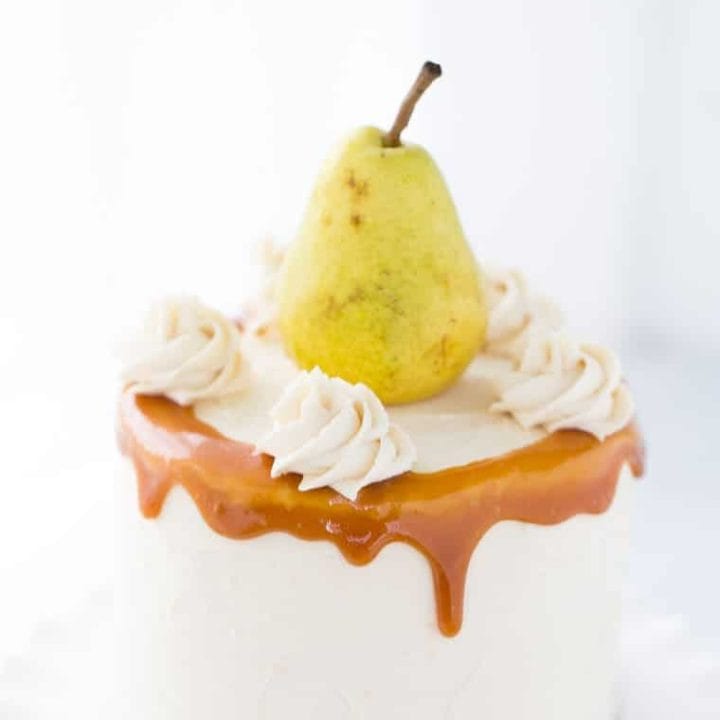 Yield: one 8 or 9-inch cake
Spiced Pear Cake with Honey Caramel Frosting
Additional Time
1 hour
39 minutes
Total Time
2 hours
25 minutes
Ingredients
For Cake:
2 ½ cups all-purpose flour
1 ½ cups sugar
¾ teaspoon baking soda
1 ½ teaspoons baking powder
1 teaspoon kosher salt
½ cup full-fat plain yogurt
1 cup (2 sticks) unsalted butter, melted, browned and cooled
¼ cup apple cider
4 large eggs, at room temperature
3 cups peeled and grated pears
For Spiced Syrup:
½ cup granulated sugar
1/2 cup water
2 cinnamon sticks
4 whole cloves
pinch of ground nutmeg
pinch of salt
1/2 teaspoon pure vanilla extract
Honey Caramel
1 cup honey
3 tablespoons unsalted butter
Honey Caramel Frosting
1 ½ cups (3 sticks) unsalted butter, at room temperature
1/2 cup honey caramel
pinch of salt
3-4 cups confectioner's sugar
1 teaspoon pure vanilla extract
Instructions
For Spiced Pear Cake:
Preheat oven to 350 degrees F. Grease three 8-inch round cake pans with baking spray. Line with parchment circles and grease parchment.
In the bowl of a stand mixer, combine the flour, sugar, baking soda, baking powder and salt. In a medium bowl, whisk together the yogurt, browned butter, apple cider and eggs.
Add the wet ingredients to the flour mixture and mix on low speed until combined. Increase speed to medium and mix for 1 minute. Be careful not to overmix. Fold in the grated pears using a rubber spatula.
Divide the batter evenly into the prepared pans.
Bake cake layers until golden brown on top and a toothpick inserted into the center comes out clean, about 40-45 minutes.
For the spiced syrup:
Make the syrup while the cake cools. Combine the sugar, water, cinnamon stick, cloves, nutmeg and salt in a small saucepan. Bring to a boil over medium heat. Stir to dissolve the sugar and stir in the vanilla. Remove from heat and let sit for at least 20 minutes. Strain to remove the cinnamon sticks and cloves and let cool completely.
Remove cakes from oven and let cool slightly in pans, 2-3 minutes. Poke holes in the cakes with a skewer. Brush the hot cake layers with the syrup. Let cake layers cool completely in pans.
Honey Caramel:
Combine the honey and butter in a small saucepan and bring to a boil over medium heat. Boil without stirring for about a minute. Remove from heat and stir occasionally as the caramel cools completely.
Honey Frosting:
In a medium bowl, beat butter and honey caramel sauce on low speed until just combined. Increase speed to medium-high and beat for 2-3 minutes until light. Add in the powdered sugar and vanilla extract. Mix on low speed until incorporated about 1 minute. Increase speed to medium and beat until light and fluffy, about 2-3 minutes.
Assembly:
Place on cake layer on a serving plate. Top with ½ cup frosting and spread evenly. Place another cake on top and repeat the process until the last layer. Frost the outside of the cake and decorate as desired. Here, I sifted cinnamon + powdered sugar on the top