Strawberry Shortcake Recipe
Everything about this classic strawberry shortcake recipe is perfect. With a soft, fluffy buttery biscuit, sweet strawberry filling and light whipped cream, it is everything summer should be.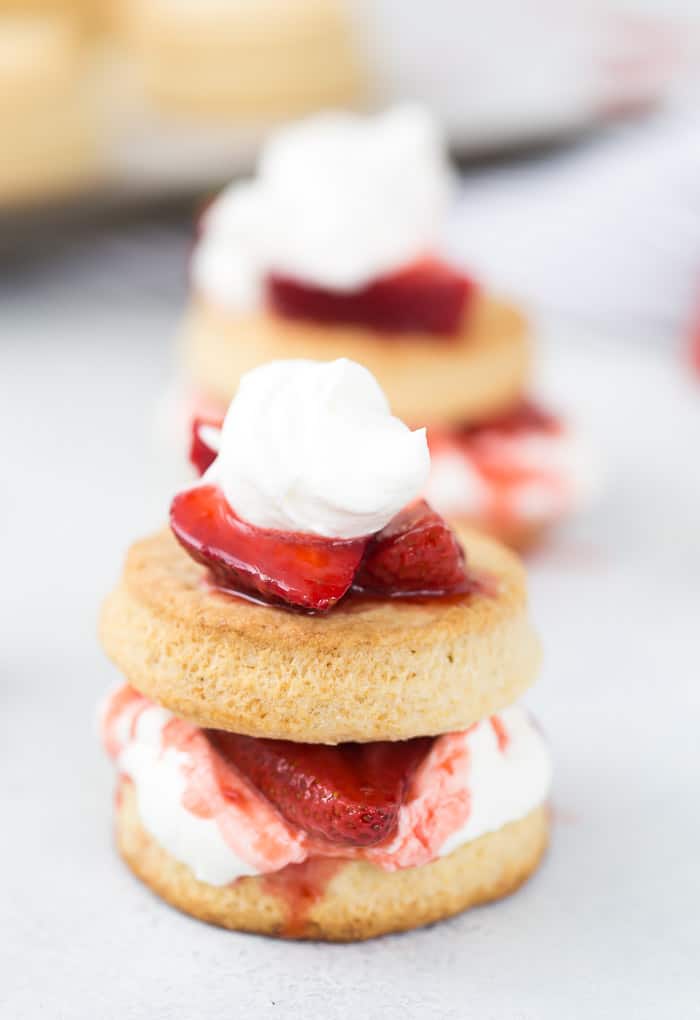 Hi friends! I hope you are having a great week so far. Today's recipe is a summer classic. I am actually surprised this is the first strawberry shortcake recipe on the blog given how much I love strawberry shortcake. It is a summer classic for a reason and definitely, a favorite in our house which deserves to be celebrated. Everything about it is perfect. From the fluffy buttery biscuit to the sweet strawberry filling and light whipped cream, it highlights juicy berries and there's just something about it that's comforting to the soul. It is everything summer should be!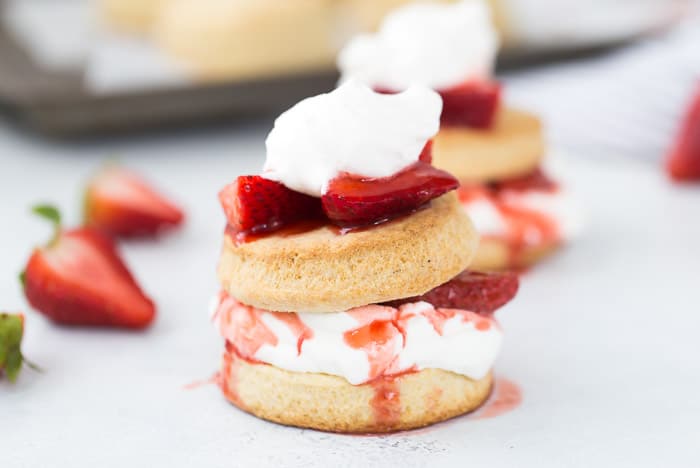 Strawberry shortcake is one of those recipes like chocolate chip cookies that I always try a variety of recipes to find the best. It's very easy to overwork your dough and end up with a bone dry biscuit. Ain't no one wants that! So I take my biscuit seriously. I've tried a few versions but my favorite biscuit recipe uses all all-purpose flour for a soft, fluffy biscuit, heavy cream instead of buttermilk and it is made in just 20 minutes. Finally, a hint of black pepper in the dough gives you a smidgen of sweet and savory in this recipe.
For me, this is the perfect biscuit recipe for strawberry shortcake and why I am sharing it with you! Just as a warming, like all doughs, you need to treat it right to get your desired outcome. Use good quality butter, use your fingertips or a pastry cutter to cut the butter into the dry ingredients and don't overwork it for maximum effect.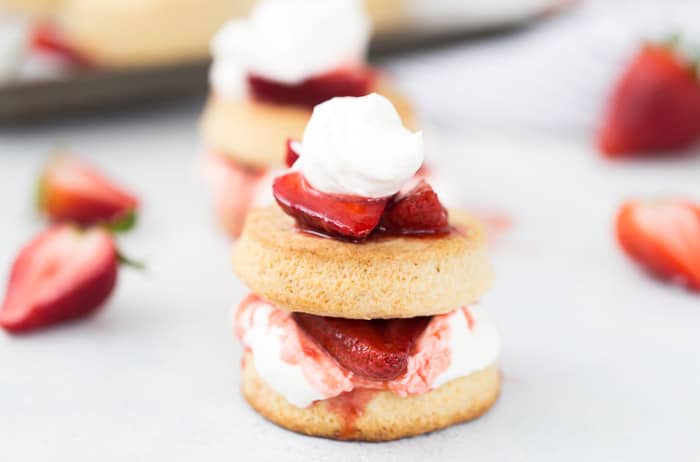 These strawberry shortcakes are filled with a thicker strawberry filling or 'coulis' if you want to get fancy. Unlike the simple strawberry + sugar maceration, this filling cooks some of the strawberries down into a thick sauce, breaking down most of the berries and developing the flavor with brown sugar and lemon juice. The rest of the chunky strawberries are mixed in at the end. I prefer this as a filling because it truly highlights the strawberries and the flavors. Perfect for sandwiching between two soft buttery biscuits.
I hope you find some time this summer to make this strawberry shortcake recipe for yourself or family. It is truly a treat and a summer must-have!!
Enjoy!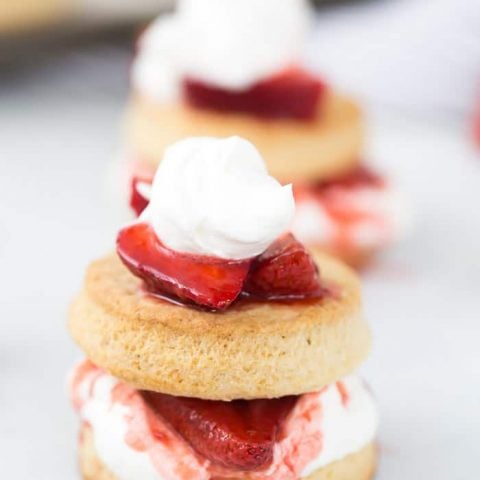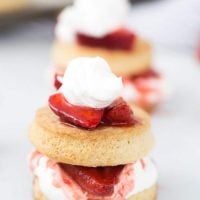 Yield: 4 servings
Strawberry Shortcake Recipe
Everything about this classic strawberry shortcake recipe is perfect. With a soft, fluffy buttery biscuit, sweet strawberry filling and light whipped cream, it is everything summer should be.
Ingredients
For the Strawberry Filling:
2 1/2 cups fresh strawberries, hulled and halved, divided
¼ cup brown sugar
1 medium lemon, juiced
1 teaspoon cornstarch
For the Shortcakes:
4 cups all-purpose flour
3 tablespoons granulated sugar
¼ teaspoon kosher salt
5 teaspoons baking powder
¼ teaspoon ground black pepper
1¼ cups butter, softened and divided
3 cups whipping cream, divided
Instructions
For the Strawberry Filling:
In a medium saucepan, combine 2 cups of the strawberries, brown sugar and lemon juice. Bring to simmer over medium heat. Reduce heat to low, cover and cook for 15 minutes, stirring occasionally and mashing larger strawberries.
In a small bowl, combine the cornstarch with 2 tablespoons of water. Add the cornstarch to the strawberry mixture and bring to a simmer, cooking until thickened.
Remove from heat and stir in the reserved ½ cup strawberries.
Let cool completely. You can make this up to a week in advance. Store refrigerated.
For the Shortcake:
In a large mixing bowl, sift together the flour, sugar, salt, baking powder and black pepper. Add in ¾ cup of the butter and rub it into the dry ingredients using a pastry cutter. Add 1 ¼ cups of the heavy cream to the dry ingredients and stir to a soft dough.
On a lightly floured surface, knead the dough for about one minute before rolling to about ½ -inch thickness. Use a 3-inch biscuit cutter, cut out even number of rounds.
Grease a baking sheet with some of the butter. Place half of the rounds on the baking sheet. Melt the remaining butter and brush a little on the rounds. Place the remaining rounds on top of the brushed rounds.
Bake for 10 to 15 minutes, or until golden brown. Remove from oven. Pull apart the shortcakes and brush the inside with some of the remaining melted butter.
When ready to serve, beat the remaining heavy cream on medium-high speed until soft peaks form. Add in the vanilla extract and mix for an additional minute.
To serve, place a bottom half of a shortcake on a plate. Top with a generous serving of the strawberry filling, top with a heaping spoon of whipped cream. Cover with a top half shortcake and add another spoon of strawberries and more whipped cream.
Serve immediately.
Notes
Shortcake recipe adapted from Bake from Scratch