Apple Almond Tart (Gluten-Free)
Apples + almond + cranberry = an irresistible holiday tart! This gluten-free apple almond tart is a buttery, flaky slice of goodness.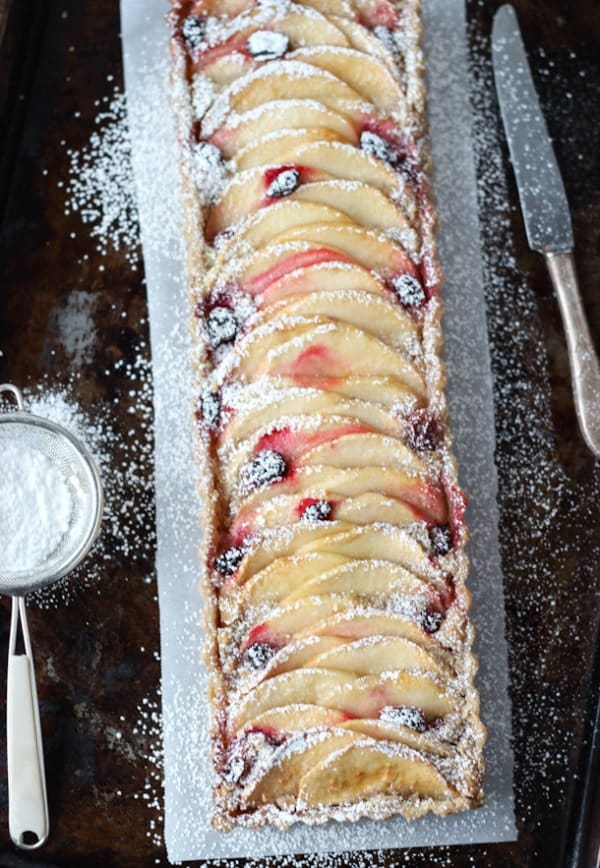 As the resident baker here, I love creating and testing new recipes for you guys. However, it is hard to test one recipe for every dietary restriction out there. So a lot of my recipes usually fall in one or two categories. But I love that you guys are always asking for more variations and this gets me motivated to test more recipes for you. Thanks to the gluten-free 1-to-1 baking flour from Bob's Red Mill, I've been able to easily convert some of my favorite recipes to fit into a gluten free diet starting with my go-to buttery, flaky tart crust recipe.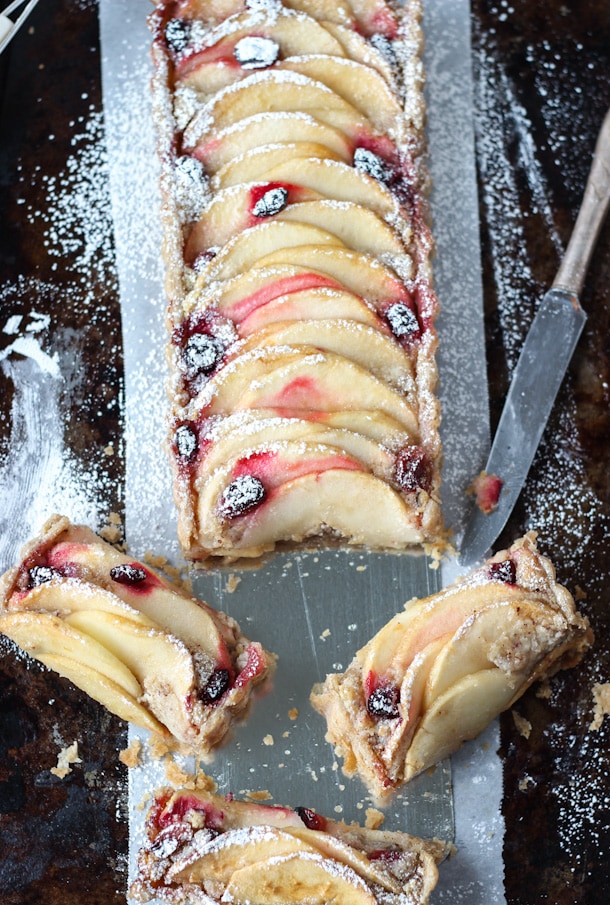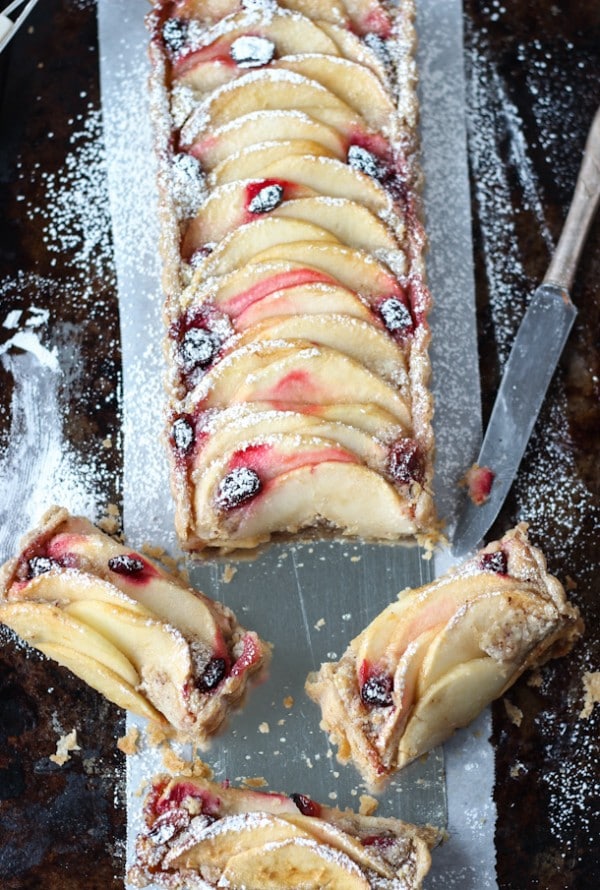 And we all know most good things start with a buttery crust. At least in my world! To start, I used my go-to crust recipe and using this gluten-free 1-to-1 baking flour  I substituted the all-purpose flour to make it a gluten-free tart shell. I love this flour because you don't have to ditch your favorite recipes anymore, just replace the flour and you don't have to worry about any specialty ingredients. Use this flour to replace wheat flour in your favorite recipes for cookies, cakes, brownies, muffins, and more.
This golden crust is filled with an almond paste and topped with fresh apple slices that are dotted with tart cranberries. Oh you thought we were done with apple recipes now that we are in November? Never!! There are still juicy apples to be enjoyed and the combination of flaky crust, almond with some bourbon, sweet apples and a hint of tartness from the cranberries in this tart is a wonderful way to keep enjoying apples. All that is missing from this equation is a scoop of ice cream to make it the perfect fall dessert.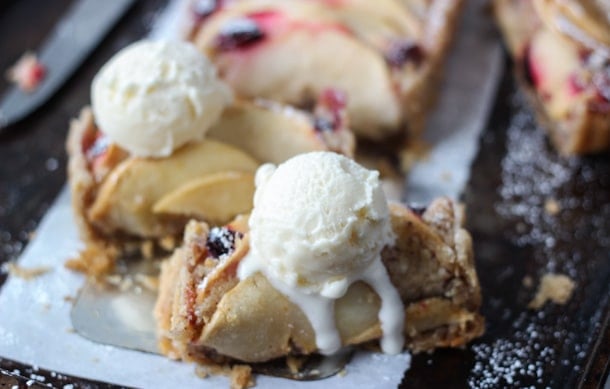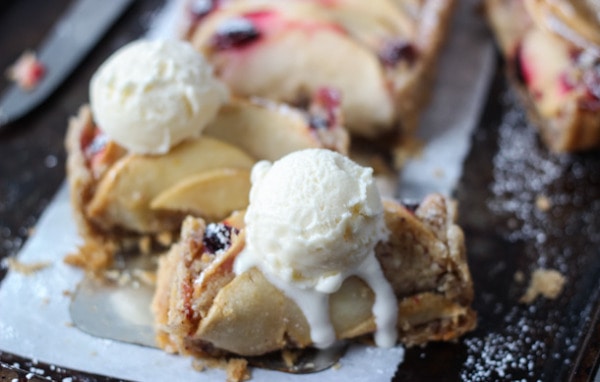 Oh wait, scratch that…scoop of ice cream for perfection!! It's just an apple pie in a slice :0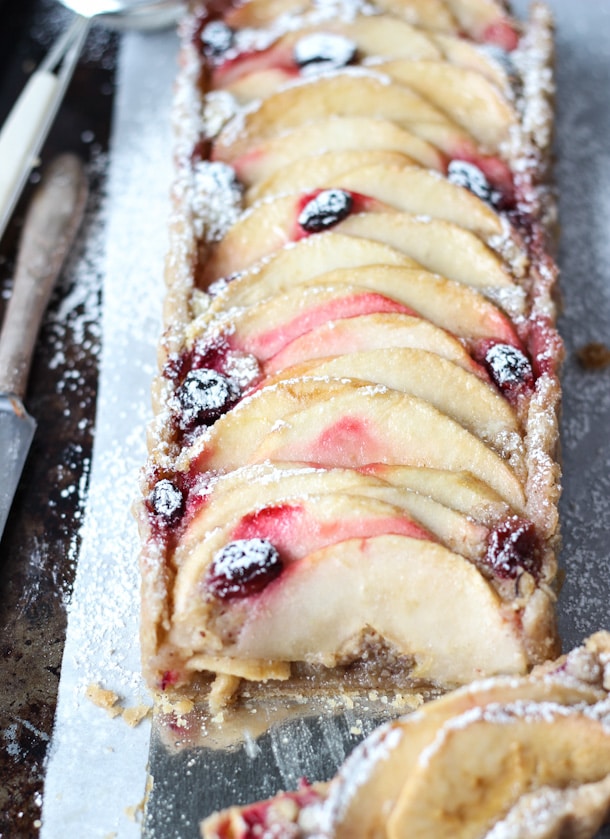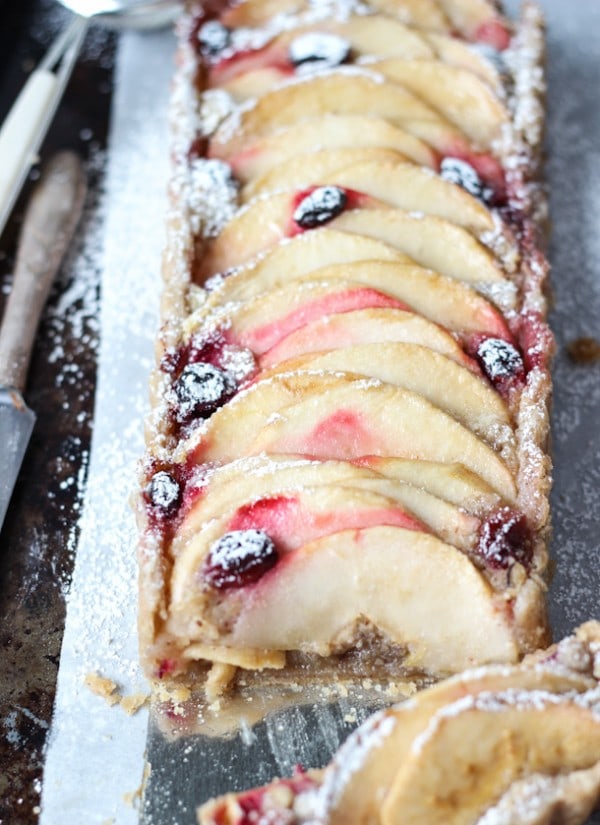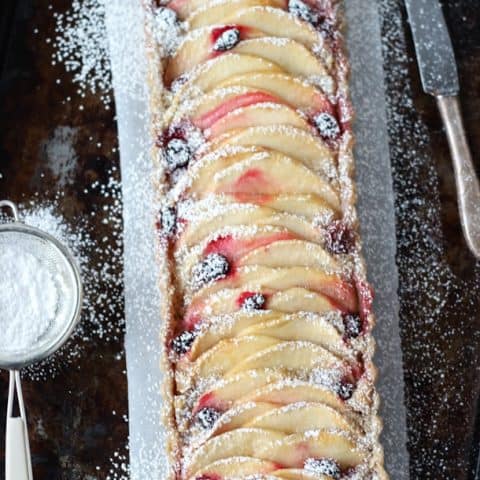 Yield: 1 rectangular tart
Apple Almond Tart (Gluten-Free)
Apples + almond + cranberry = an irresistible holiday tart! This gluten-free apple almond tart is a buttery, flaky slice of goodness. 
Total Time
1 hour
20 minutes
Ingredients
For Crust:
1¼ cup Bob's Red Mill 1-to-1 Gluten-Free Baking Flour (Or all-purpose flour)
3 tablespoons cold vegetable shortening
1 tablespoon sugar
½ teaspoon salt
5 tablespoons cold unsalted butter, cut into cube sized (use a dairy-free butter like Earth Balance to make recipe dairy-free)
1 cup almond flour
4 tablespoons unsalted butter, cut into cube sized and at room temperature
¼ cup brown sugar
1 large egg
¼ teaspoon ground cinnamon
1 tablespoon bourbon (optional)
A pinch of salt
2-3 medium apples (I used Cortlands), peeled, cored and sliced into thin slices
A handful of cranberries (fresh or frozen), about 2 tablespoons
2 tablespoon turbinado sugar
Vanilla ice cream, to serve
Instructions
To make the crust:
Prepare ¼ cup ice-cold water and keep in fridge. In a food processor, pulse the flour, shortening, sugar and salt until combined. Add in half of the butter and pulse for 30 seconds. Add in the rest of butter and pulse until the mixture looks like coarse meal. Sprinkle about 2 tablespoons cold water over mixture and pulse until dough starts to come together in clumps. If dry, add a little bit more water (1 teaspoon at a time). Remove dough from processor and form into a disk. Wrap in plastic wrap and chill for at least an hour. The dough can be made up to 3 days ahead. Keep chilled. Let stand at room temperature about 15 minutes before rolling out.
Roll out dough on a lightly floured surface and fit into a long rectangular tart pan with a removable bottom. Press the dough into the bottom and up the sides. (Alternatively, just press dough into the bottom and up the sides of the pan). Chill for at least 30 minutes.
Preheat oven to 375 degrees F.
To make filling:
In the bowl of a food processor or stand mixer, mix together the almond flour, butter, sugar, egg and cinnamon. Pulse until well combined. Drizzle in the bourbon and mix.
Spread a thin layer of the almond mixture across the bottom of the prepared tart shell. Arrange sliced apples gently onto paste. Layer apples tightly together. Fill in gaps with cranberries.
Sprinkle with turbinado sugar. Bake tart until golden brown, about 50-60 minutes.
Transfer tart to a cooling rack and let cool completely before slicing up. Serve slices with a scoop of vanilla ice cream or whipped cream
 More Apple Recipes for your holiday table:
Brown Butter Cheddar Apple Pie – yup there is cheese in the crust!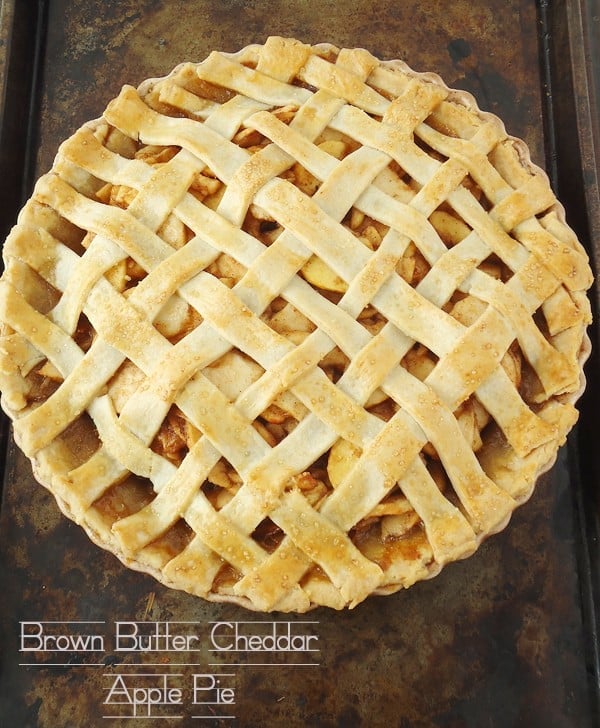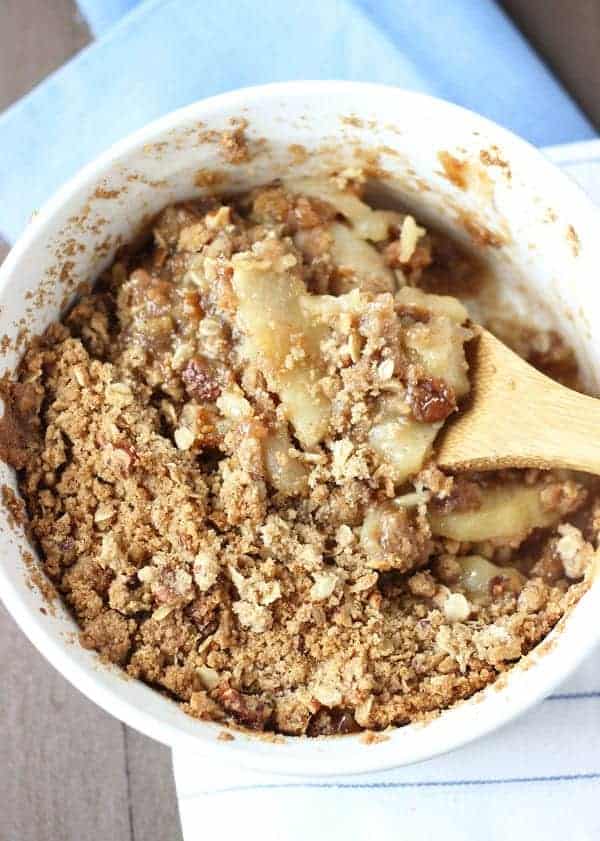 Spiced Apple Cake with Salted Caramel Frosting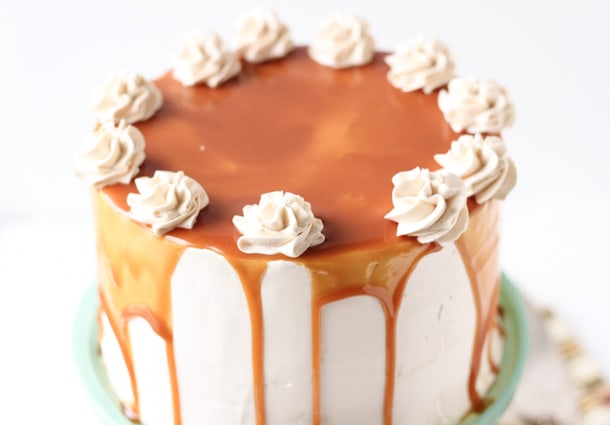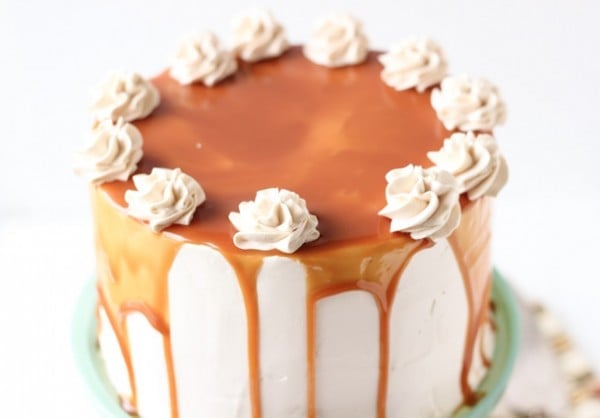 This post is sponsored by Bob's Red Mill. As usual, all opinions are 100% mine. Thank you for supporting the brands that keep me inspired!