Caramel Coconut TWIX® Ice Cream
A creamy Caramel Coconut TWIX Ice Cream that is loaded with crunchy TWIX bites in each bite and an easy no-bake silky smooth Caramel TWIX Pie perfect for any summer soiree!
Yup, you read that right. We have two recipes today!!! I went a little crazy with my excitement and love for TWIX Bites that I created not ONE but TWO new recipes and they are both oh so good! A creamy Caramel Coconut Twix Ice Cream AND a Caramel Twix Pie. But we will get to them in a minute.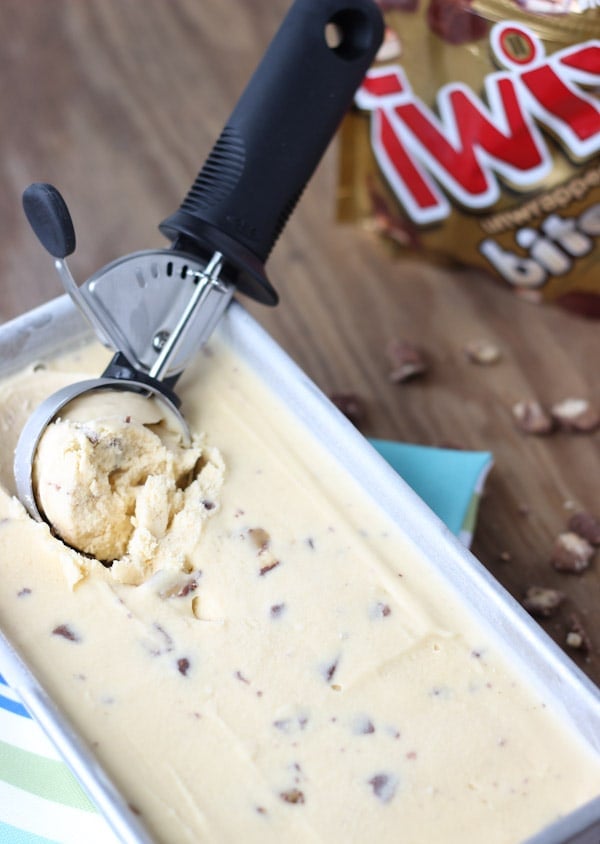 We've had a few graduations the past few weeks which has kept me quite busy in the baking department. In addition to my cousin in Indiana last weekend, the hubby graduated about three weeks ago and we had a small celebration for him with our family. Here he is all smiling 🙂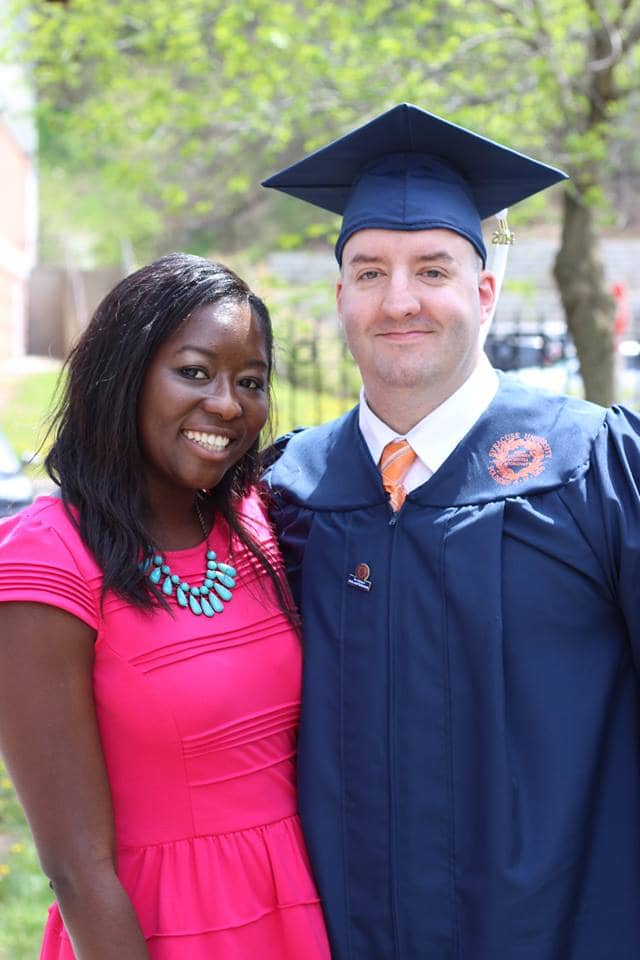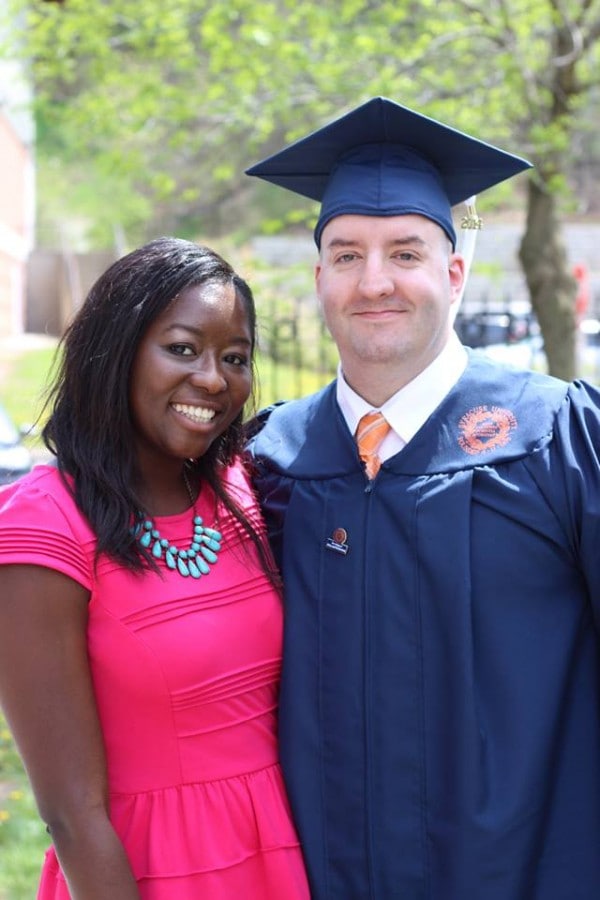 His request was this peanut butter chocolate cake (duh, it always is) but of course, I had to make something else in addition. I loved the combination of TWIX Bites and my favorite chocolate chip cookie in these Salted Caramel TWIX Cookie Bars. And so did you because those bars have been pinned like crazy and a few of you have told me you love the recipe too; thank you!! These two new TWIX recipes are new favorites and I have no doubt will be yours soon especially that one is ice cream and the other is a no-bake pie! Summer-perfect!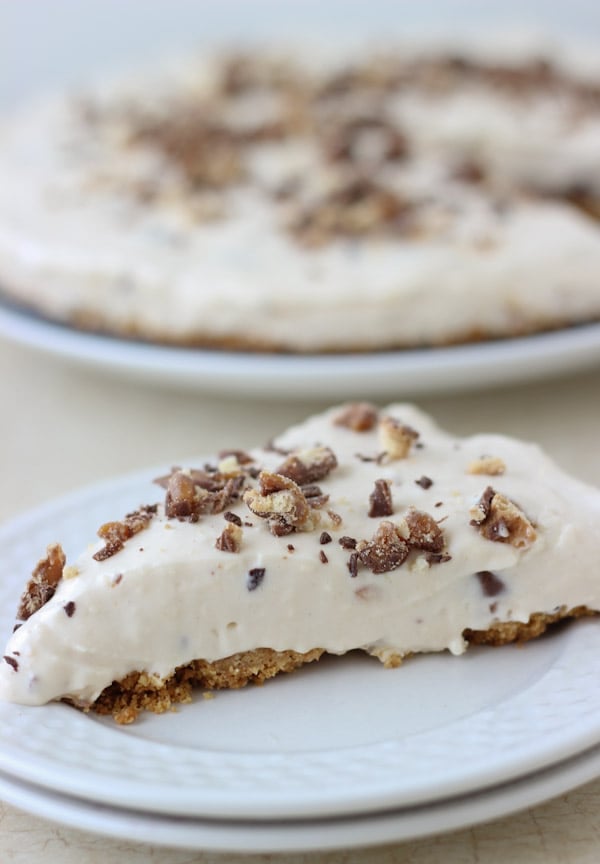 The Caramel TWIX Pie is my new go-to pie to whip up for any summer picnic or gathering and I've made it twice already!! It starts with a crunchy crust- a graham cracker pecan crust that is filled with a no-bake creamy yet slightly tangy caramel pie filling of cream cheese, whipped cream, salted caramel and TWIX Bites! It's a piece of heaven in each bite. Crunchy creamy goodness!! But then the ice cream is just that too!!!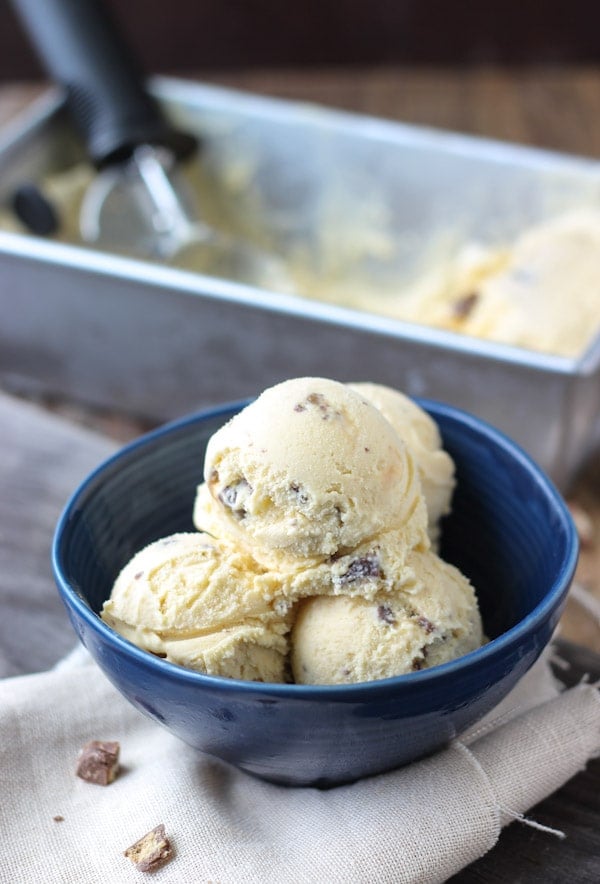 The caramel coconut TWIX ice cream is the best ice cream I've made for you so far! I initially was just going to make a creamy caramel ice cream with some TWIX Bites and drizzle in some chocolate. But as I was making this around midnight (when all the magic happens in my kitchen), I ran out of milk and since I wasn't about to make a run to the store, I had to improvise. Coconut milk was all I had so I used it instead and this happened. I created a monster is all I can say. The combination of coconut, caramel, and chocolate is just freaking awesome. None of the flavors are overpowering but they are all distinctively blended yet each standout. You just have to trust me when I say this is awesome or better yet, try it!!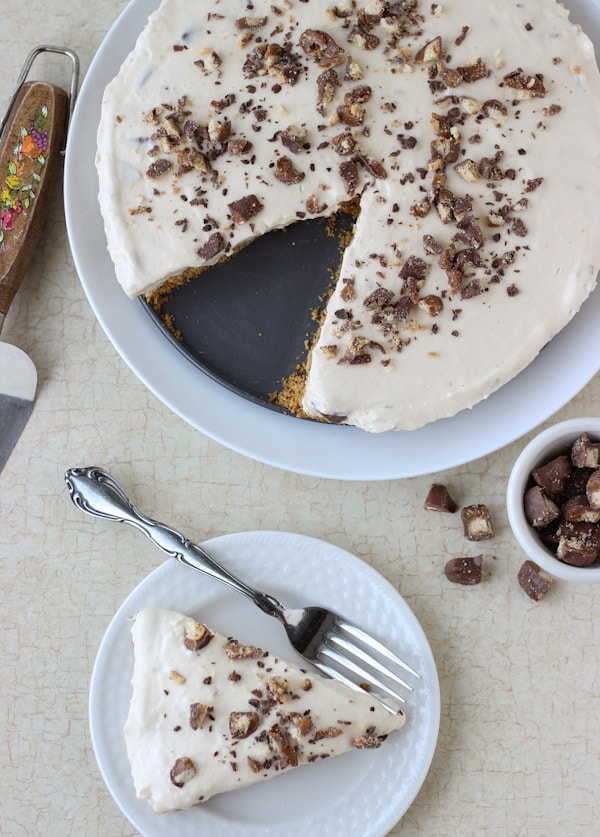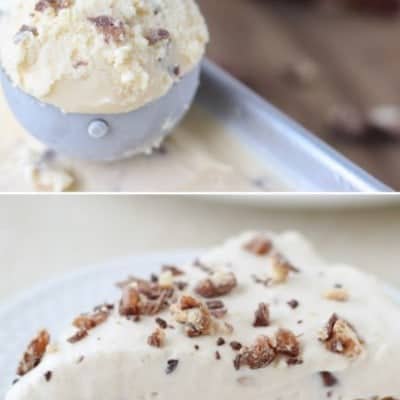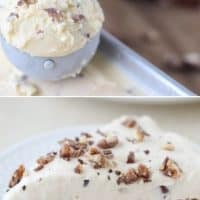 Yield: ~ 5 cups
Caramel Coconut Twix Ice Cream
This creamy homemade caramel coconut ice cream is filled with crunchy TWIX bites!
Cook Time
3 hours
25 minutes
Total Time
3 hours
55 minutes
Ingredients
1/2 cup whole milk
1 cup coconut milk
1 ½ cups heavy cream
1 vanilla bean, cut in half
2 large eggs
3 large egg yolks
¾ cup granulated sugar
1/2 cup TWIX Bites, chopped
Instructions
In a medium saucepan, combine the milks and cream. Split the vanilla bean and scrape out the seeds. Stir the seeds into the milk mixture. Over medium heat, bring the milk/cream mixture to a slow boil. Reduce heat to low and simmer for 30 minutes, stirring occasionally.
In a large bowl, combine the eggs, yolks and sugar together. Using a mixer, beat the eggs until the mixture is thick, smooth and pale yellow in color, about 2 minutes on medium speed.
Remove the vanilla bean pod from the milk mixture and pour out a cup of the hot milk/cream mixture. Reduce the mixer speed to low and slowly add the hot milk to the egg mixture. Be sure not to scramble your eggs, so add the milk in a slow steady stream while mixing the eggs on low speed. Mix until combined. Then pour the egg mixture back into the saucepan with the remaining milk/cream mixture and stir to combine. Cook, stirring constantly, over medium low heat until the mixture is thick enough to cover the back of a spoon. Transfer to a bowl, cover and chill completely.
When chilled, turn on your ice cream maker. Pour the chilled custard into the bowl and churn according to your manufacturer's instruction. About 5 minutes before completion add in the caramel sauce and keep mixing. Add chopped TWIX bites in the final two minutes.
Transfer ice cream to a freezer safe bowl and freeze for about 3 hours or overnight.
Notes
Adapted from Cuisinart Recipe Booklet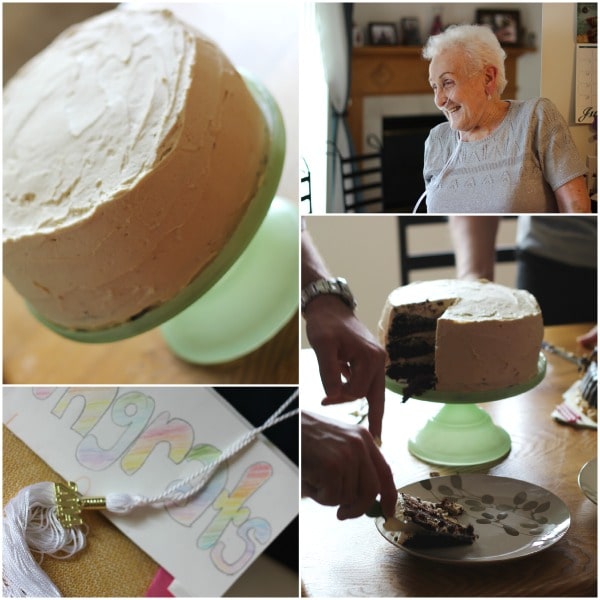 Needless to say, I'm very thrilled about these two recipes and so were our party guests!! They are both perfect for any summer gathering!! The caramel pie was gobbled so fast I couldn't get a picture before people started eating. Here was the aftermath: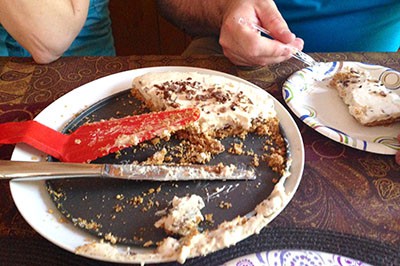 Seriously, you have to try these.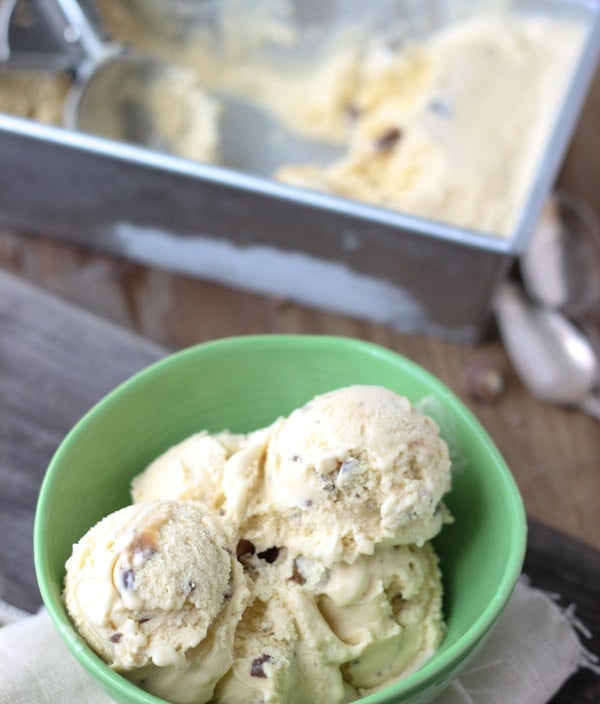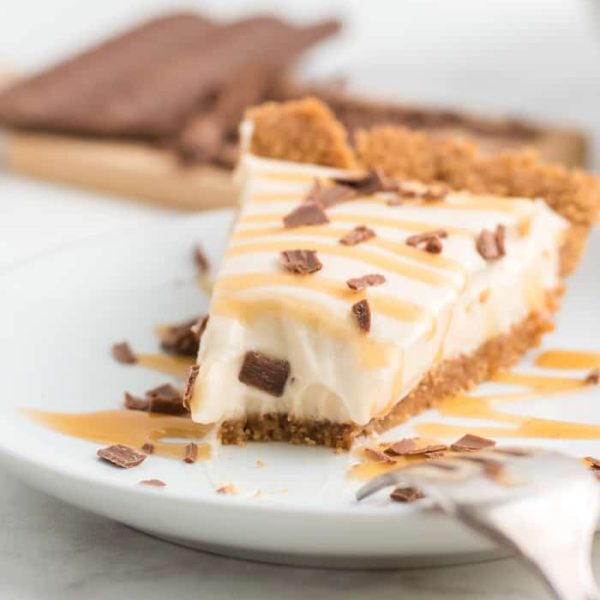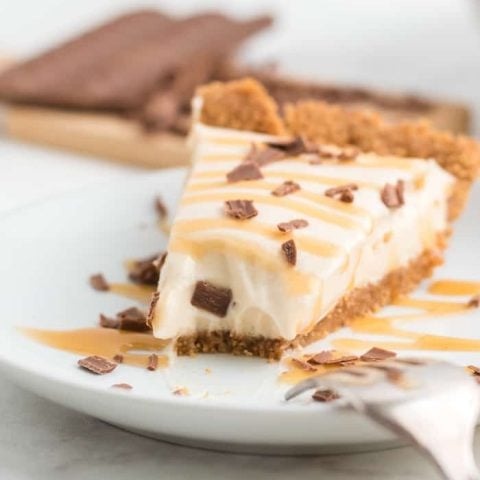 Yield: 1 9-inch pie
No Bake Caramel Pie
A No-Bake Caramel Pie with a crunchy pecan graham cracker crust and a creamy caramel filling.
Cook Time
3 hours
25 minutes
Total Time
3 hours
55 minutes
Ingredients
For Peanut Graham Cracker Crust
1 cup graham cracker crumbs (or 9 whole graham crackers)
¼ cup pecans (or cocktail peanuts if you like)
4 tablespoons unsalted butter, melted
For Filling
1/2 cup heavy cream, cold
12 ounces cream cheese (1 1/2 packages), at room temperature
⅓ cup whole milk
1 teaspoon pure vanilla extract
¾ cup powdered sugar
Topping
caramel drizzle, chocolate shavings
Instructions
To make the crust:
Preheat oven to 350 degrees F. Grease a 9-ince pie dish and set aside.
Combine the graham cracker crumbs and pecans (or peanuts) in the bowl of a food processor and pulse until finely ground. Drizzle the melted butter over the mixture and pulse until combined and mixtures looks like wet sand.
Press into the bottom and sides of the prepared pie dish. Bake the crust until set, about 10-12 minutes. Transfer to a rack and let cool completely.
To make filling:
Meanwhile, in the bowl of an electric mixer, beat the heavy cream on medium-high speed until soft peaks form. Transfer to a small bowl and refrigerate until ready to use.
In a clean bowl, beat the cream cheese until smooth, about 2-3 minute son medium speed. Beat in the caramel sauce, milk and vanilla extract until combined and smooth.
Reduce speed to low and add in the powdered sugar. Mix until combined. Using a rubber spatula, gently fold in half of the whipped cream until just incorporated and then fold in the rest. Spoon the filling into the crust and smooth the top.
Cover with plastic wrap and chill until set, about 3 hours or overnight.
To serve, top with chocolate shavings and caramel drizzles.
Notes
Cook time includes chilling time.
Recommended Products
As an Amazon Associate and member of other affiliate programs, I earn from qualifying purchases.