Caramel Macchiato Cake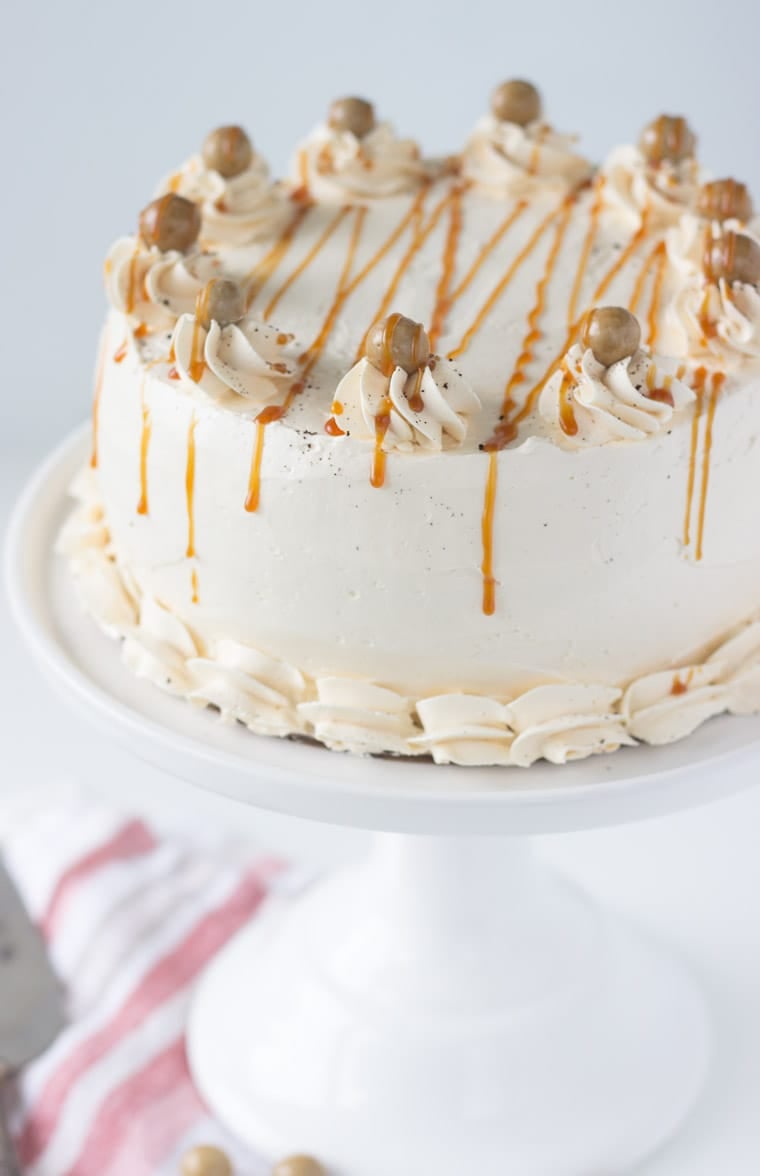 You guys I am on cloud 9 today!! My mother is here. My mother is here!! I haven't seen her in over three years (since our wedding in Sept 2012) so excuse me if I am super super excited to have her around for the next three months. She lives in Sierra Leone (Africa) with the rest of my siblings and family and she only comes to visit every now and then for big life events (my college graduation, wedding and now the arrival of her first grandkid). I picked her up yesterday morning and we are still catching up 24 hours later. Although she seems way too interested in Elliott than me 🙁 but I guess his cuteness prevails.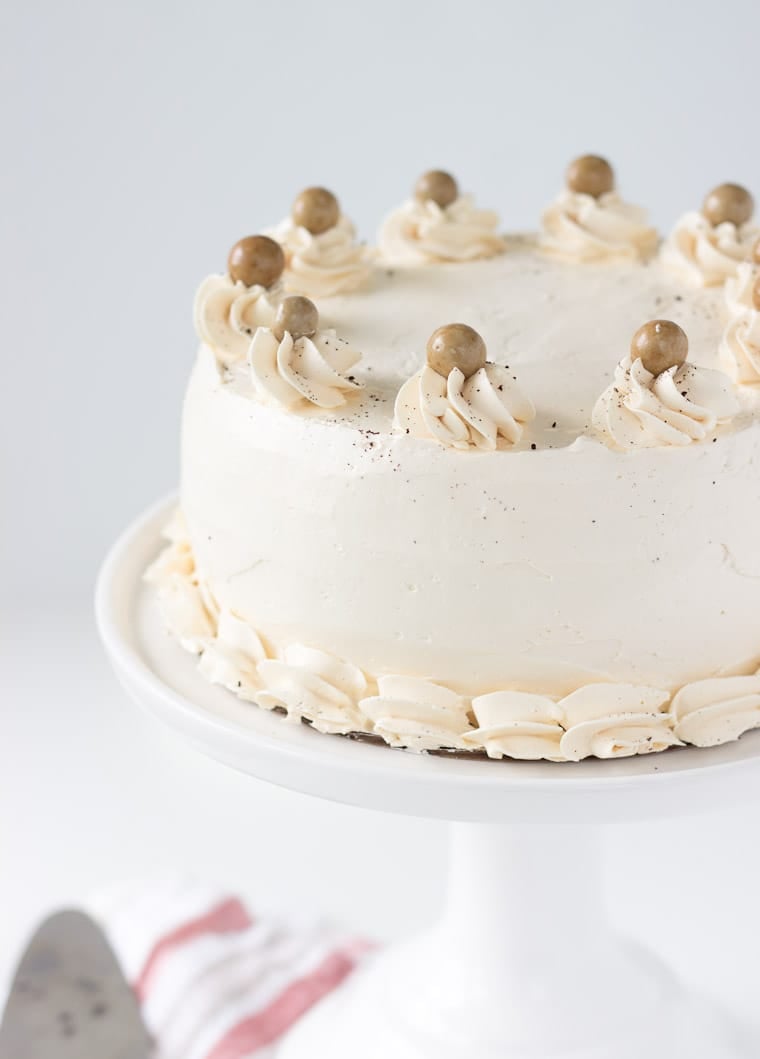 Anyway, let's get to this beauty of a cake in front of us before I log off to enjoy my mother's cooking. I've been making this caramel macchiato cake in my head for at least a year now. Last fall, I bought some caramel brûlé chocolate bites at Starbucks and thought to myself  "Wouldn't these be cute on top of a cake?" A caramel macchiato cake to be exact since that was what I ordered that day. Of course I never got around to it and I am sure I lost the chocolate bites somewhere in the move.
Fast forward to last week when I went again to Starbucks for a coconut pumpkin spice latte (<<< My NEW obsession) and saw them again so of course I bought them and this time I did make the cake and topped it with the bites.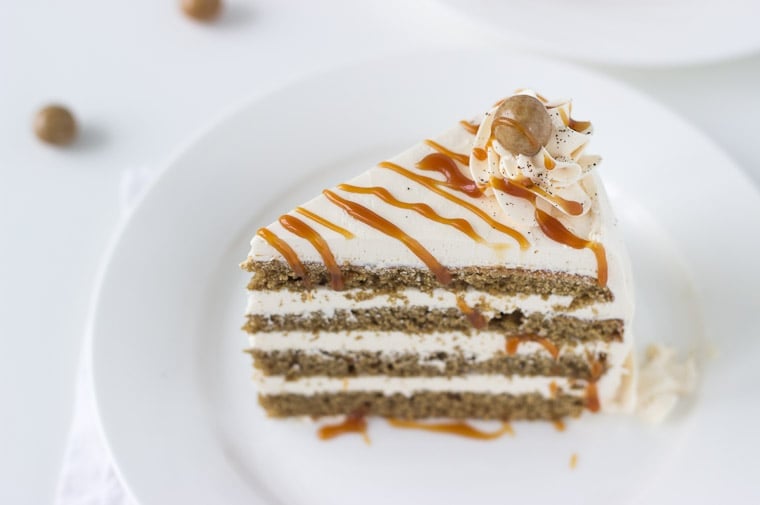 Caramel macchiato (for those who have no idea what I am talking about) is one of my favorite lattes at Starbucks and it's a blend of caramel and coffee. A lovely blend that always brightens up my day. It is sold all year round (unlike the peppermint and pumpkin alternatives) but for some reason I only get it in the fall. Must be something about that brown sugar/caramel taste that is all around during the fall.
This cake embodies everything the latte boasts. A rich brown sugar coffee cake is layered with smooth and silky caramel swiss meringue buttercream and finished with drizzles of caramel. The cake has a bold coffee flavor that is well balanced with the sweet caramel frosting. I was thinking of adding a coffee glaze to the cake but left that out not to overpower the coffee flavor but you can definitely add this step if you are a huge coffee fan.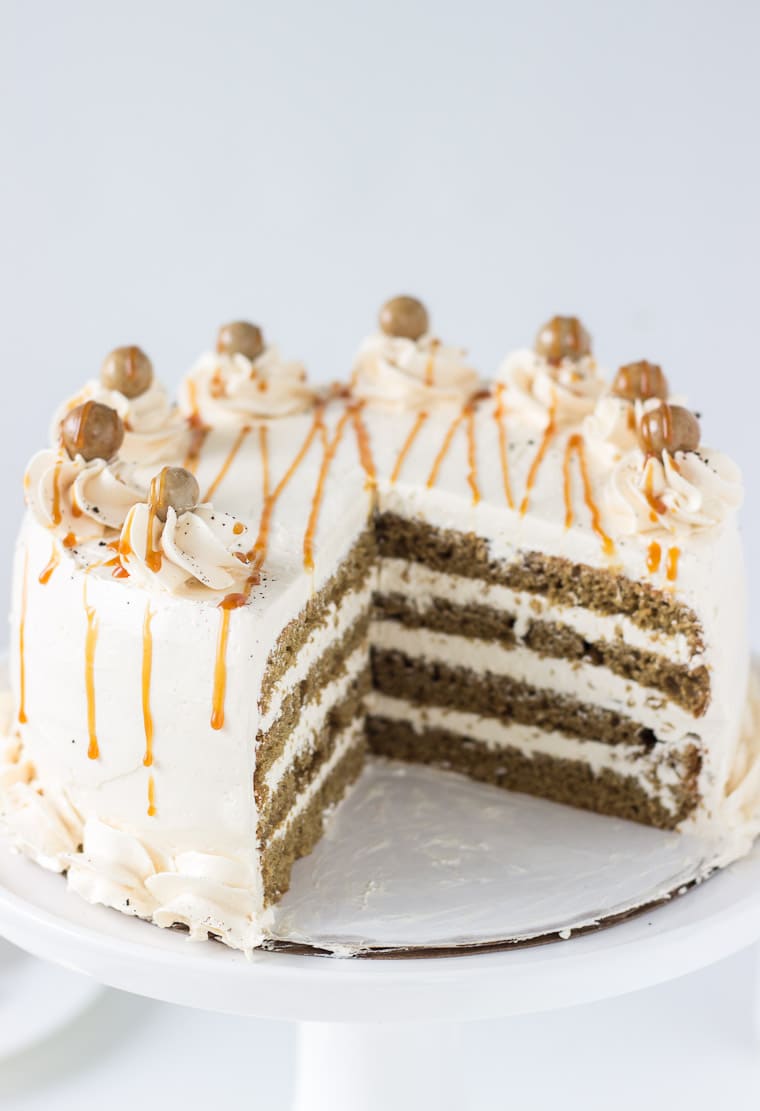 I hope you keep this cake in your arsenal for the next time you need a celebration cake. Till then, excuse me while I go cozy up with my mama.
xo
PS: I would LOVE for you to take my reader survey to help me improve on this space we all love! Thank you. Survey: https://goo.gl/forms/KLlt0olnta
PSS: Don't forget to enter the KitchenAid Stand Mixer giveaway going on now. ENTER HERE for a chance to win a Raspberry Pink Stand Mixer.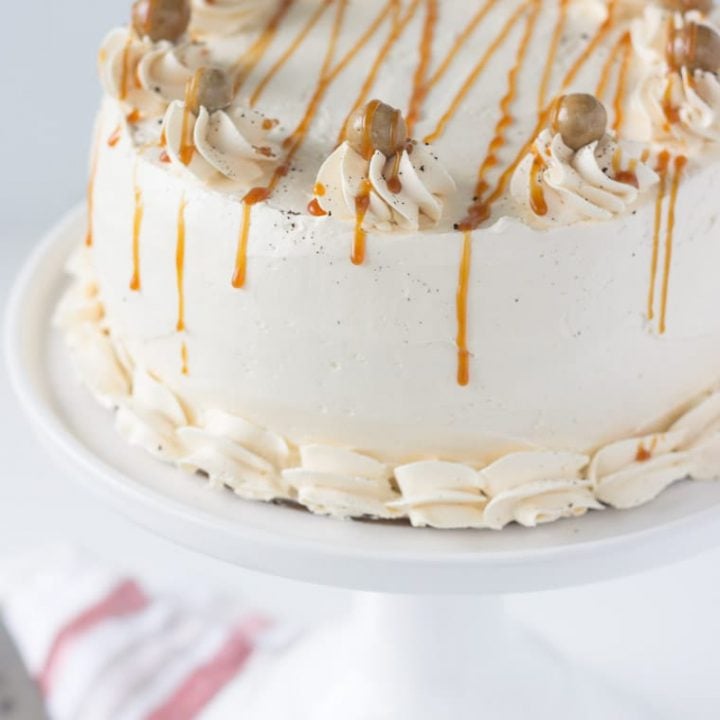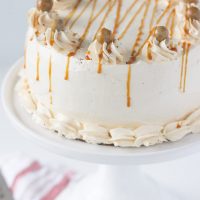 Yield: One 8-inch layered cake
Caramel Macchiato Cake
Total Time
1 hour
35 minutes
Ingredients
For Cake
3 ½ cups all purpose flour
2 teaspoons baking powder
½ teaspoon baking soda
½ teaspoon salt
1 cup boiling water
¼ cup espresso powder
1 cup (2 sticks) unsalted butter, at room temperature
1 cup granulated sugar
1 cup light brown sugar, packed
3 large eggs
½ cup milk, room temperature
Caramel Sauce
1 cup granulated sugar
6 tablespoons unsalted butter (cut up into cubes)
½ cup heavy cream
Caramel Swiss Meringue Buttercream
5 large egg whites, room temperature
1¼ cup granulated sugar
1 ½ cup (3 sticks) unsalted butter, room temperature
½ cup homemade caramel sauce (above)
2 teaspoons pure vanilla extract
½ teaspoon coffee extract (or 1 teaspoon espresso powder)
Instructions
For Cakes:
Heat oven to 350 degrees F. Butter and flour three 8-inch round cake pans. Line with parchment and grease parchment.
In a medium bowl, whisk together flour, baking powder, baking soda, and salt.
In a small cup, combine the boiling water and espresso. Let cool while you continue.
In the bowl of an electric mixer, beat butter and sugars on medium speed until light and fluffy, about 3-5 minutes. Add in eggs, one at a time, and mix until combined. Scrape down the sides of the bowl as needed. Combine the espresso mixture with milk. Alternatively add the flour mixture and espresso-milk mixture to the batter, starting and ending with flour and beating well after each addition.
Divide the batter into the prepared baking pans. Bake cakes until the center springs back when touched and a tester comes out clean, about 30-35 minutes. Let cakes cool in pan for at least 10 minutes before turning out onto a cooling rack. Let cool completely before frosting.
To make caramel sauce:
In a medium saucepan, melt sugar over medium high heat. When sugar starts melting, whisk until all the sugar melts. Sugar will clump in whisk but keep whisking.
Once all the sugar is melted, stop whisking and let sugar get to a deep amber color. You can swirl the pan to mix. Keep your eye on the caramel, as it will easily burn at this stage.
Whisk in the butter and mix until completely melted. Remove pan from heat and gradually add in the heavy cream. Whisk until smooth.
Transfer caramel immediately into a glass jar and let cool.
For Caramel Swiss Meringue Buttercream:
Whisk together sugar and egg whites in a heatproof mixing bowl set over (not in) a pan of simmering water. Whisk until warm and sugar is dissolved (mixture should feel completely smooth when rubbed between your fingers), 2 to 3 minutes. Remove from heat.
With an electric mixer on medium speed, whisk egg white mixture 5 minutes (using the whisk attachment). Increase speed to medium-high, and whisk until stiff, glossy peaks form and meringue has cooled (test by feeling bottom of bowl), about 6 minutes.
Reduce speed to medium and switch to the paddle attachment. Add butter, one piece at a time, beating well after each addition. Keep beating until the buttercream comes together (IT WILL). Beat in vanilla and coffee extract and caramel until smooth and silky.
Use immediately or store in an airtight container in fridge for up to a week.
Assembly:
Place one layer of cake on a cake stand or serving platter. Spread about ½ cup of frosting over the top using an offset spatula. Top with another layer of cake and repeat with another layer of frosting. Smooth with offset spatula. Top with final layer of cake.
Frost cake with a crumb coat of buttercream and refrigerate for at least 30 minutes. Finish frosting cake and decorate as desired.