Classic Carrot Cake Recipe with Ginger Cream Cheese Frosting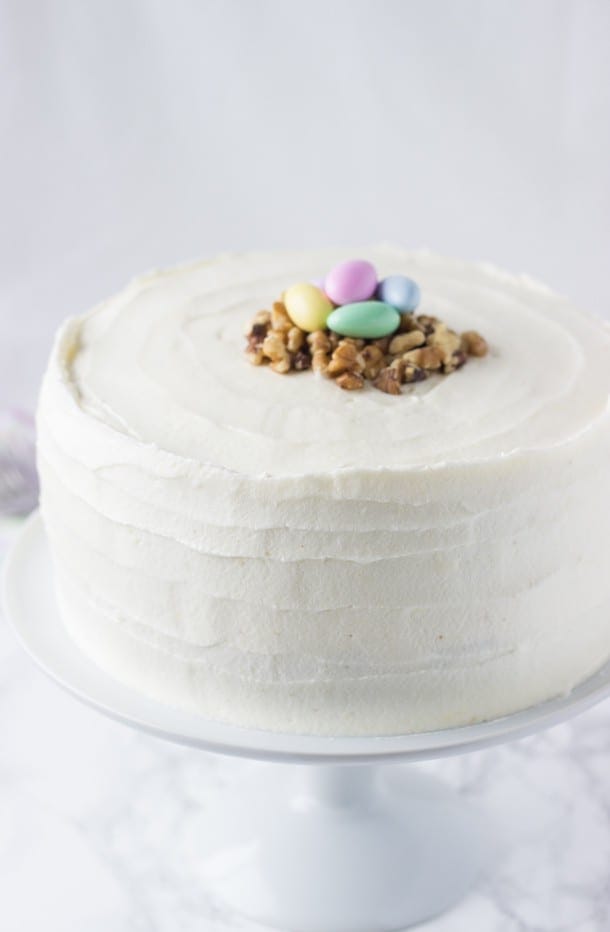 Happy Monday!! Easter is just around the corner and a classic carrot cake recipe is a must. I love carrot cake but it's hard to find a recipe that hits just that spot. especially one that my entire family will enjoy too. These carrot cake cupcakes were my favorite for a long time until the rest of the family declared they are not fans of pineapples in their carrot cakes. What?? Seriously people? So I went on the hunt for another carrot cake recipe and I think I found one that we will all love.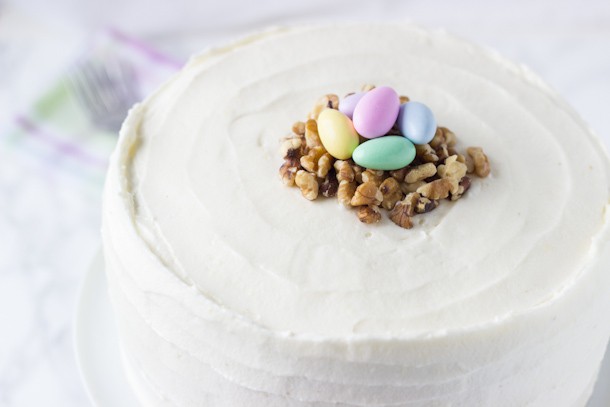 This classic carrot cake recipe is everything you want your slice of carrot cake to be. It's moist…like seriously moist, filled with spices that warms the cockles (cinnamon, ginger, nutmeg, cloves, you know!), dense with carrots, walnuts and bursting with orange zest for a citrus flavor. It is seriously a cake to contend with. It gets even better when frosted with a ginger cream cheese frosting. The traditional cream cheese frosting is OK but when infused with freshly grated ginger, it is AMAZING. I just wanted to drink the frosting by itself.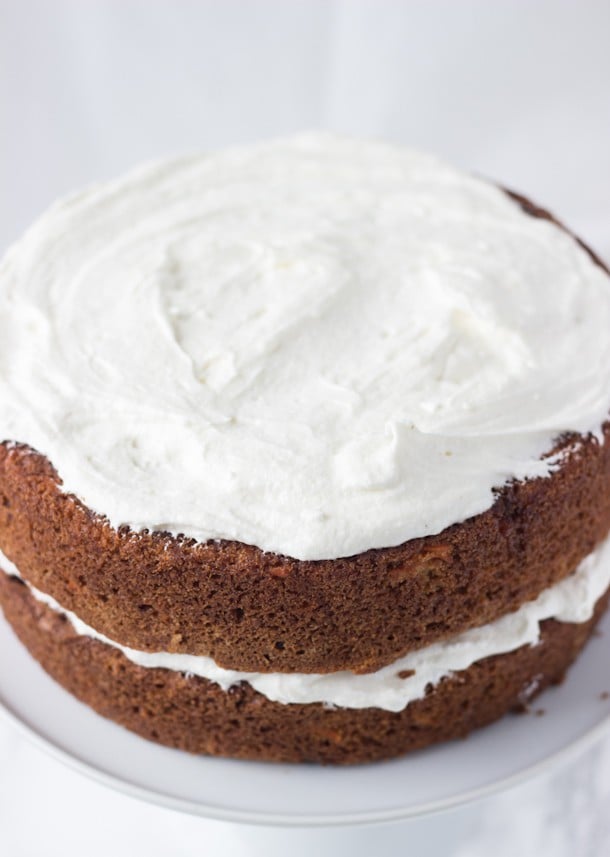 So my friends if you are looking for a solid carrot cake recipe, this is it for you! Whether you have one that you swear by, I urge you to try this and be prepared to love it like I did. Of course if you are like me and still like some pineapple chunks in your carrot cake (or raisins…to each their own), feel free to add them to this recipe. Make it your own and what your family will enjoy. After all, it's all about the feeding the people you love!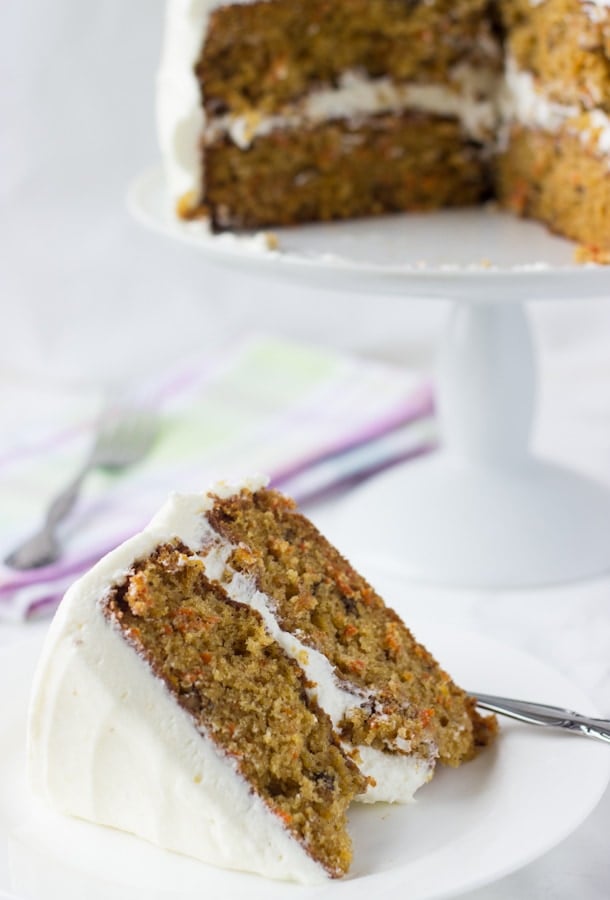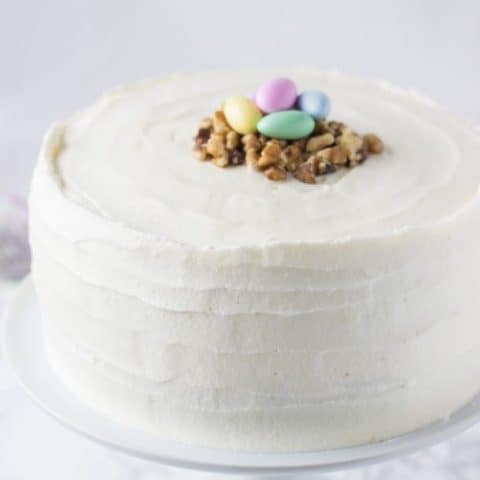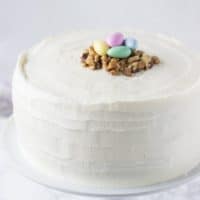 Yield: 1 9-inch cake
Classic Carrot Cake with Ginger Cream Cheese Frosting
Total Time
1 hour
5 minutes
Ingredients
For Cake:
2 ½ cups all-purpose flour
2 teaspoons baking powder
1 teaspoon baking soda
1 teaspoon cinnamon
2 teaspoons ground ginger
¼ teaspoon ground allspice
¼ teaspoon ground nutmeg
¼ teaspoon salt
1 ½ cups granulated sugar
½ cup light brown sugar
1 ¼ cups vegetable oil
4 large eggs
½ cup applesauce
freshly grated zest of 1 orange
1 teaspoon pure vanilla extract
2 cups grated carrots (about 4 medium carrots)
¾ cup chopped walnuts (toasted)
For Frosting:
2 8-ounce cream cheese packages, at room temperature
½ cup (1 stick) unsalted butter, at room temperature
1 4-inch piece ginger, grated
3-4 cups powdered sugar
½ teaspoon pure vanilla extract
2-3 tablespoons milk
Instructions
Preheat oven to 350 degrees F. Coat two 9-inch round cake pans with baking spray. Line the bottom of the pans with parchment paper and grease the parchment.
In a medium bowl, whisk together the flour, baking powder, baking soda, cinnamon, ginger, allspice, nutmeg, and salt.
In a large bowl, using an electric mixer, beat the sugars and vegetable oil on medium speed. Beat until smooth, about a minute. Increase speed to medium high and add eggs one at a time; beat until smooth about 2 minutes. Reduce speed to low; add in applesauce, zest of orange, and vanilla extract and beat until well combined and smooth. Add the flour mixture in two additions, mixing after each addition until just combined. Fold in the carrots and walnuts using a rubber spatula, making sure it is well mixed.
Divide cake batter evenly into the two prepared pans. Bake cakes until a toothpick inserted into the center comes out clean, about 35 minutes. Let cool in pan for 10 minutes before turning out onto a cooling rack. Let cakes cool completely.
To make frosting: In a large bowl whip the cream cheese, butter and grated ginger until smooth with a mixer on medium speed. Reduce speed to low and add powdered sugar, vanilla extract and 2 tablespoons milk. Mix until combined. Increase speed to medium-high speed and whip frosting for an additional 2 minutes.
To assemble, place 1 cake layer onto a cake stand/platter and spread 1 cup frosting on top. Top with the second layer and cover the top and sides with the remaining frosting. Decorate with chopped walnuts if desired.