Classic Pimm's Cup Recipe
I created this Classic Pimm's Cup recipe in partnership with Nielsen-Massey. As always, all opinions are 100% mine. Thank you for supporting the brands that make it possible for me to continue to create great recipes for you!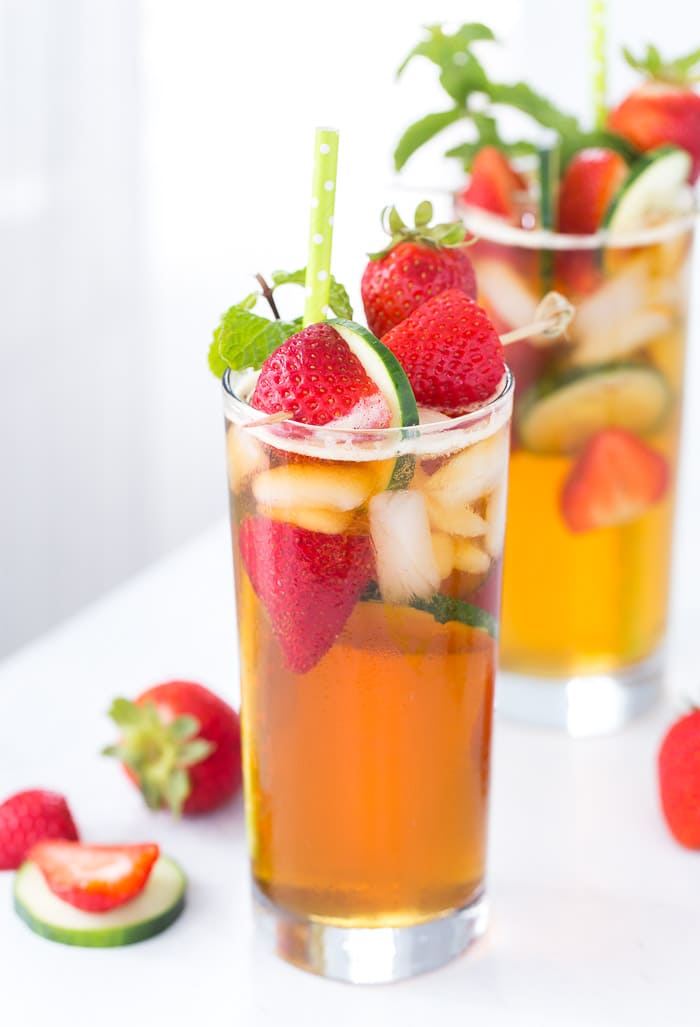 Have you guys heard of Pimm's Cup? It's a refreshing cocktail filled with fresh summer fruits that originated in England and somehow landed in New Orleans. Don't worry if you haven't heard of it because the first time I came across this cocktail was a few months ago when I went to New Orleans (Side bar: check out my NOLA Eats). It was clear instantly that this is a local favorite! Of course, I had to try to recreate at home because who can say no to a classic like this? My rendition of this classic Pimm's cup recipe is equally as refreshing with a splash of orange blossom water from Nielsen-Massey and filled with fresh strawberries and sliced cucumber.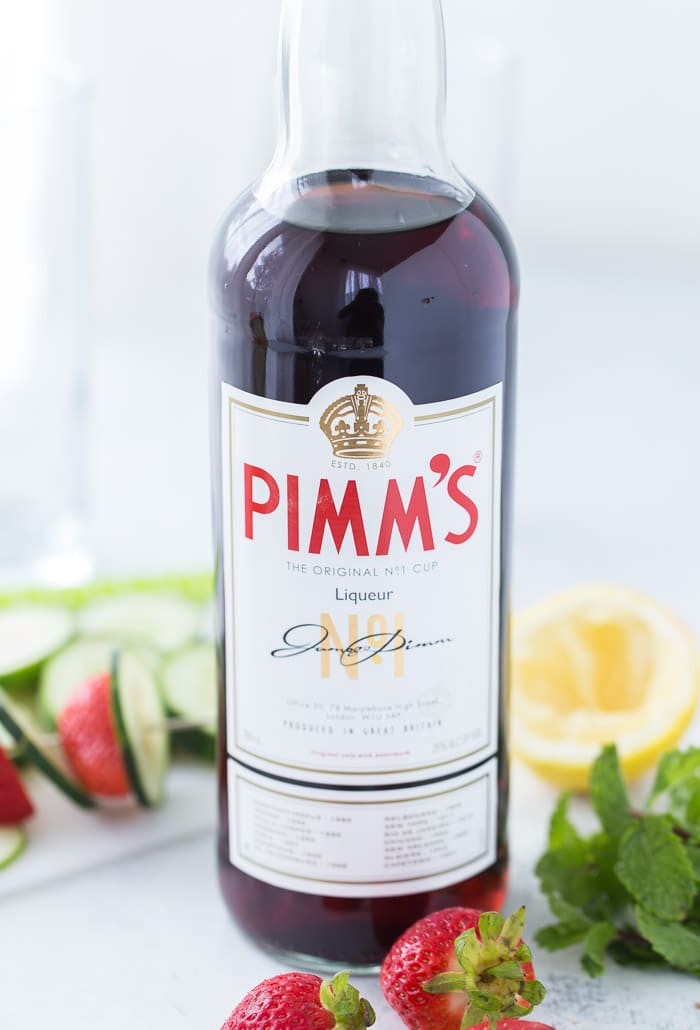 Let's take a little trip down history lane, shall we? According to the interwebs, the Pimm's cup originates from England where a guy named James Pimm concocted this cocktail using Pimm's No. 1 liqueur (pictured above). Apparently, it's the 'official' drink of Wimbledon which makes sense since it's refreshing and perfect for the summer heat.
How this classic British cocktail ended up in New Orleans is a mystery but it did and locals are obsessed with it. Every bar I visited in NOLA (and I visited a few) had their version of this drink.  Some were served with ginger ale, lemonade or lemon lime soda. Most were adorned with fresh summer fruits like strawberries, cucumber and oranges. I loved all these variations and could not wait to try making it at home.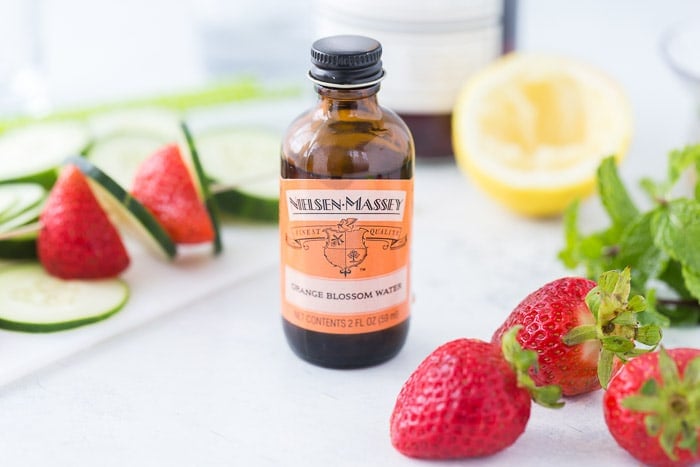 Because Pimm's liqueur has a citrus note, I added a splash of Nielsen-Massey orange blossom water to enhance the flavor. I love using orange blossom water to my cocktails, baked goods and smoothies for that delicate floral note. Have you tried it in anything? You need to this summer to enhance your recipes. And no better place to start than this warm day ready cocktail!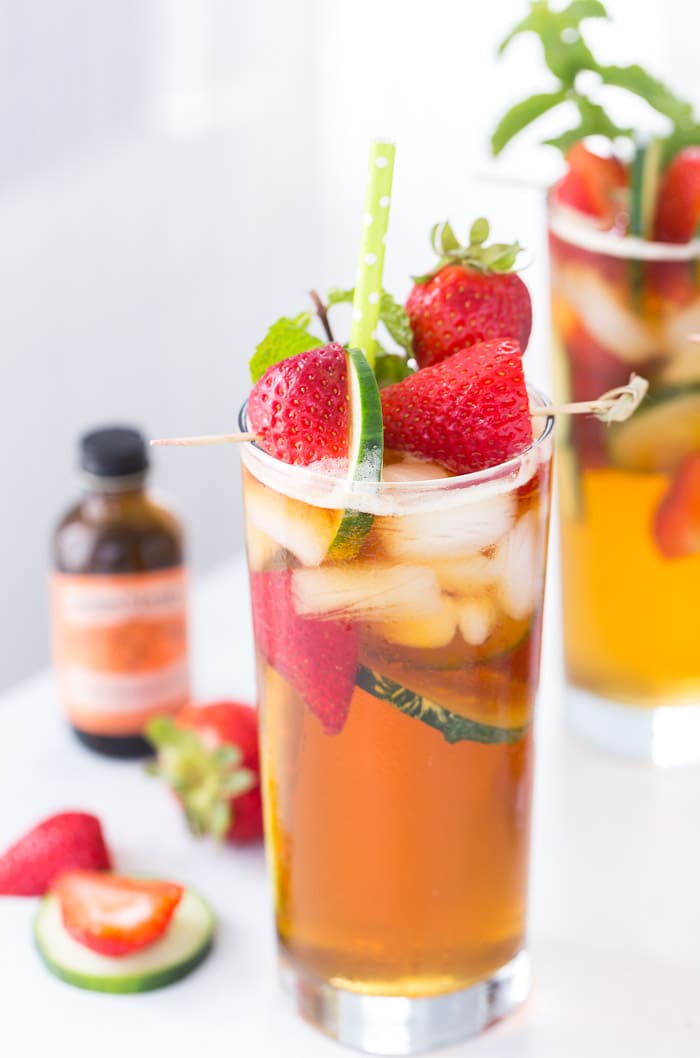 This is seriously one of those refreshing drinks you will enjoy at a spa when you have cucumbers on your eyes!! Make it at home to have that relaxing experience while you plan your first (or next trip) to New Orleans.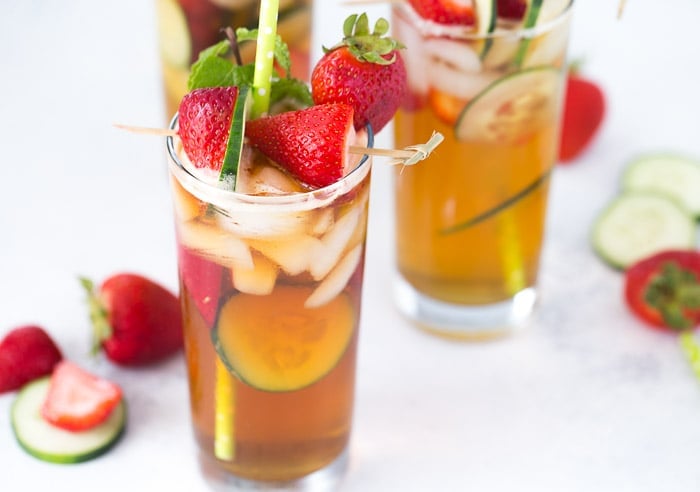 Be sure to follow Nielsen Massey on Facebook, Twitter and Instagram for more recipe inspiration.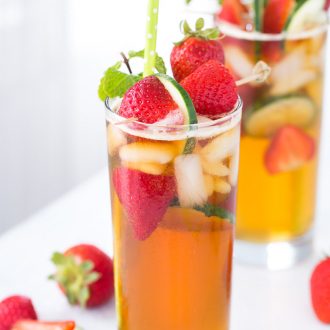 Classic Pimm's Cup Recipe
This classic Pimm's cup recipe is refreshing with a splash of orange blossom water and filled with fresh strawberries and sliced cucumber.
Ingredients:
1 part Pimm's No. 1
a splash of bourbon or gin
1/4 ounce fresh lemon juice
1/8 teaspoon Nielsen Massey Orange blossom water
3 parts ginger beer or ginger ale or lemon-lime soda
Toppings: mint, sliced cucumber, and strawberries
Directions:
In a large pitcher combine the Pimm's, bourbon (or gin) and lemon juice. Top with ginger beer and mix. Serve in glasses filled with ice. Top with mint, cucumber slices, and strawberries. Enjoy immediately!
MAKING THIS RECIPE? Share it with us on Instagram using #aclassictwist so we can see what you are baking up in your kitchen!