Flourless Chocolate Coconut Cake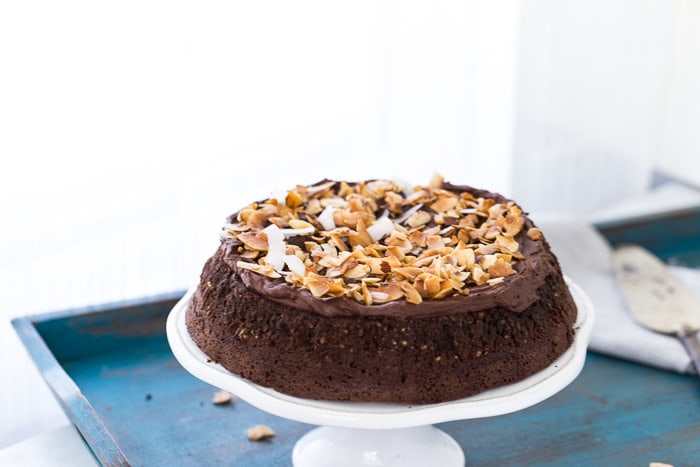 Did you guys see this chocolate macaroon cake in the April issue of bon appetit? It looked so good that I had to make it immediately! I mean it's got decadent chocolate and coconut plus more crunchy coconut almond topping!! Had my name all over it and I was amazed that it was flourless, dairy free and gluten free. My version of that cake is what I am calling flourless chocolate coconut cake. I added a little crunch to the cake itself and mixed my chocolate using both bittersweet and semisweet ghirardelli chocolate bars.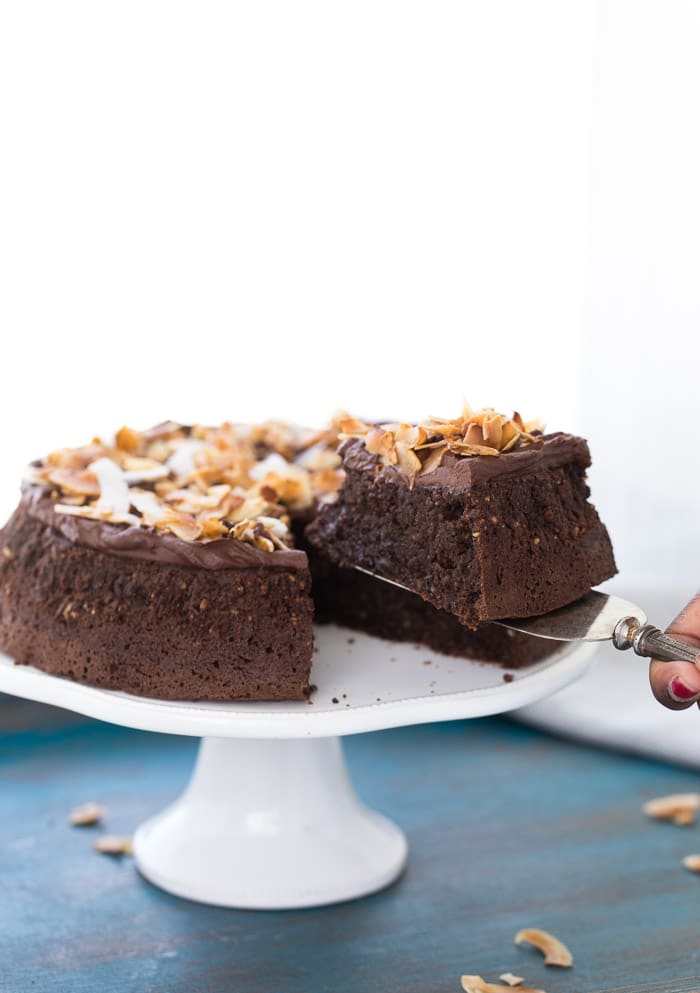 The cake is rich and decadent like a brownie. You use whole almonds and process until finely ground. I chose not to completely process my almonds so I have some crunchy bits in the cake as you can see. This adds some crunch and the almond flavor comes out in each bite.
The ganache frosting here is simple and rich. Use any chocolate you like; bittersweet, semisweet or milk chocolate. It's melted with coconut oil and whipped into spreadable consistency. Be careful not to over beat it because you will seize up the chocolate.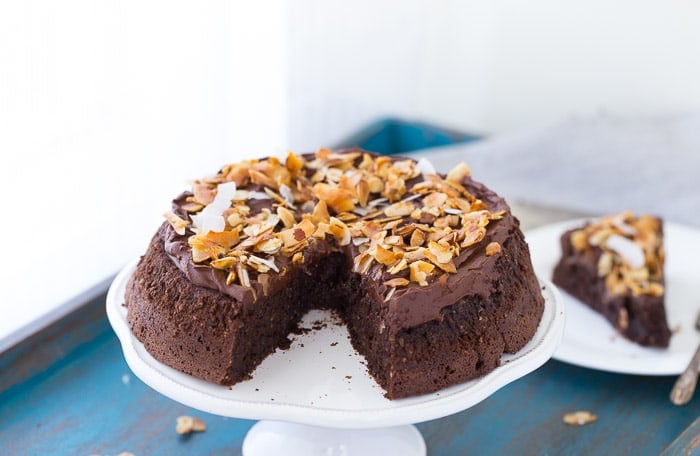 The whole cake is topped with a coconut Almond crunch topping. It's coconut flakes and sliced almonds mixed with agave and toasted to perfection. These clusters are spread on top of the ganache and finishes up the cake beautifully! And it helps that the clusters add a crunchy layer to the cake.
If you are looking for an easy, classic and amazing chocolate cake, try this flourless chocolate coconut cake. It will make everyone happy and perfect for any dietary restrictions you or your family members may have.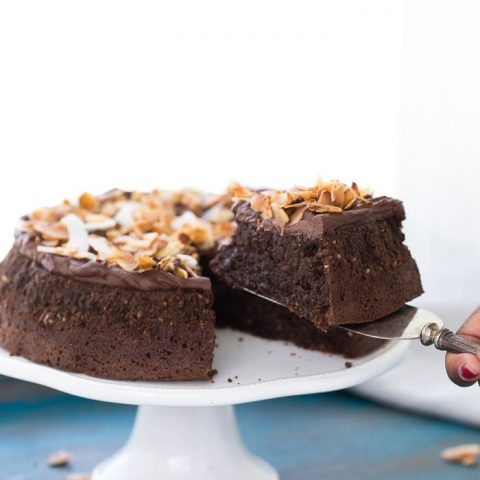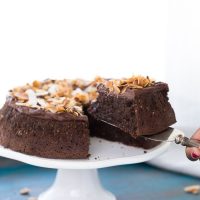 Yield: 1 9-inch cake
Flourless Chocolate Coconut Cake
This flourless chocolate coconut cake has a decadent chocolate cake topped with whipped chocolate ganache and a crunchy coconut almond topping.
Ingredients
For the Cake:
1 cup skin-on almonds
1 cup coconut oil, melted
8 ounces chocolate, chopped (I used a mix of bittersweet and semisweet)
¼ cup unsweetened cocoa powder
1 teaspoon salt
½ cup unsweetened shredded coconut
6 large eggs, room temperature
½ cup granulated sugar
½ cup light brown sugar
2 teaspoons pure vanilla extract
Ganache and topping:
2 tablespoons unsweetened coconut flakes
1 tablespoon sliced almonds
1 teaspoon granulated sugar
1 tablespoon plus 1 teaspoon pure maple syrup (or agave nectar), divided
4 ounces chocolate, chopped (I used semisweet)
Pinch of kosher salt
½ cup unsweetened coconut milk (from a very well shaken 13.5-ounce can)
Instructions
Preheat oven to 350 degrees F. Grease a 9-inch or 10-inch round cake pan with baking spray. Line with a parchment circle and grease again. Dust lightly with cocoa powder.
In a lined baking sheet, roast the almonds until fragrant and slightly darkened about 8-10 minutes. Let cool completely. Reduce oven to 325 degrees F.
In a medium heatproof bowl, combine the coconut oil and chopped chocolate. Set over a simmering pot of water and melt, mixing occasionally, until smooth. Set aside.
In the bowl of a food processor, process the toasted almonds, cocoa powder, and salt until nuts are finely ground. Add the coconut and pulse until combined.
In the bowl of a stand mixer (or large bowl), beat the eggs on medium speed with the whisk attachment for about 30 seconds. Add the sugars and vanilla extract. Increase speed to high and mix until mixture is pale and thick, about 2-3 minutes. Switch to the paddle attachment and mix on low. With the mixer on gradually add the melted chocolate until combined. Add the almond mixture and mix until just combined. Using a rubber spatula, fold the batter a few more times making sure you scrape the bottom of the bowl. Transfer batter into prepared pan.
Bake cake until a toothpick inserted into the center comes out clean, about 35-45 minutes. Transfer cake to a cooling rack and let the cake cool in pan for 15-20 minutes. Using a spatula, loosen the cake around the edges before turning over onto the cooling rack. Remove parchment and let cool.
Meanwhile, work on the frosting and topping. Preheat oven to 350 degrees F. Line a baking sheet with parchment and set aside.
In a small bowl toss together the coconut flakes, almonds, sugar and 1 teaspoon maple syrup. Transfer to the prepared baking sheet and toast in oven until lightly golden, about 4 minutes. DO NOT BURN, so watch closely. Remove and let cool completely.
Meanwhile in a medium bowl, combine the chocolate, 1 tablespoon maple syrup, and salt. In a small saucepan set over low heat, bring the coconut to a simmer. Pour the hot coconut milk over the chocolate and let sit about 5 minutes, until chocolate is melted. Using an electric mixture on medium speed, beat the chocolate until very soft peaks form, about 5-6 minutes.
Work quickly from here and spread the ganache on top of the cooled cake. Spread evenly to the edges. Scatter the coconut-almond clusters on top of the ganache.