Coconut Basil Ice Cream
A rich vanilla bean custard base is infused with fresh basil in this coconut basil ice cream. It is sweet, creamy, refreshing and perfect for indulging in.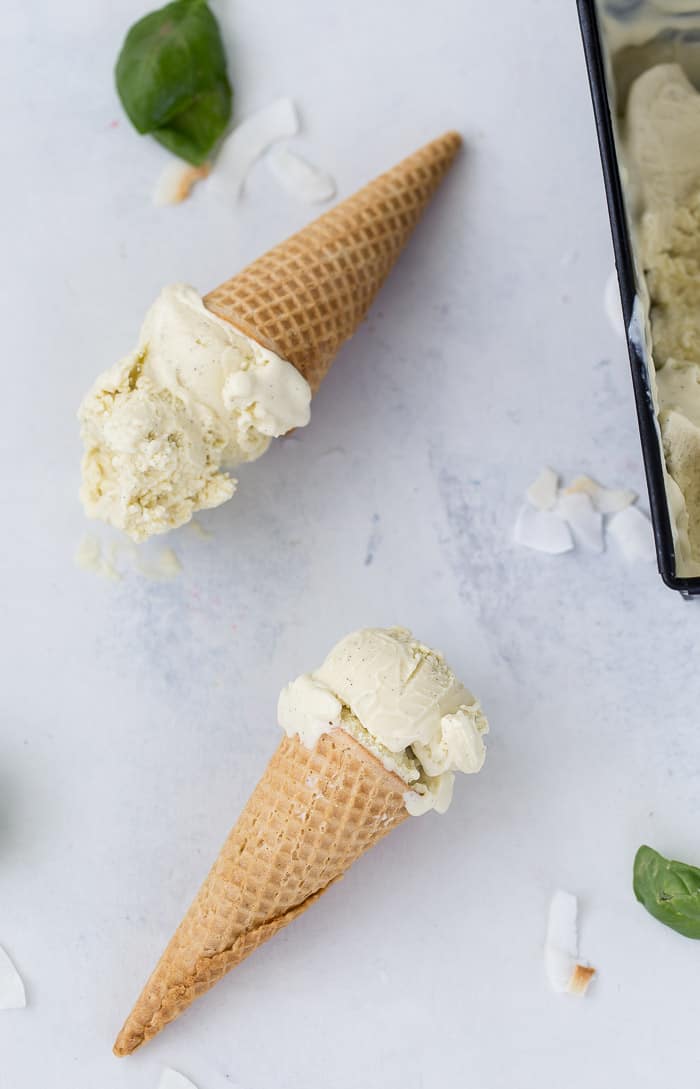 Hi guys! I hope you all had a wonderful July 4th celebration (my US friends). I am popping in today to share with you a new recipe that I know you will love. This coconut basil ice cream is my new summer favorite and it is everything a summer ice cream should be. Sweet, refreshing and creamy.
The combination of fresh herbs with desserts is one of my favorite things. I love adding fresh thyme leaves to pie crust like in these double berry hand pies or in the berry filling of this blueberry thyme galette. It always enhances the berry flavors. Imagine how intrigued I was when I saw a gelato flavor for coconut and basil in Italy. I had to try it! I was equally surprised and amazed at how well the two flavors went together. I knew I had to try to recreate it at home.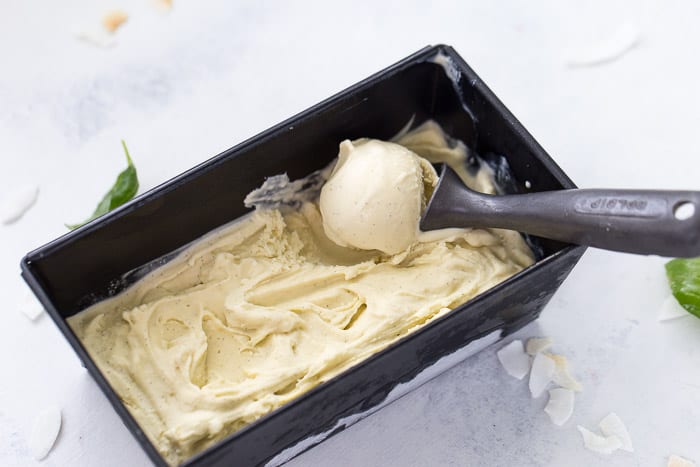 This is my recreation, in ice cream form. For the base of this coconut basil ice cream, I used my creamy vanilla bean custard base I know everyone loves. It takes a little bit of time to make the custard and chill but it is worth it. Nothing beats a rich creamy ice cream.
I infused fresh basil from my garden into the milk as it steamed. This extracts the flavor of the basil leaves. The infused milk is used to make the custard base.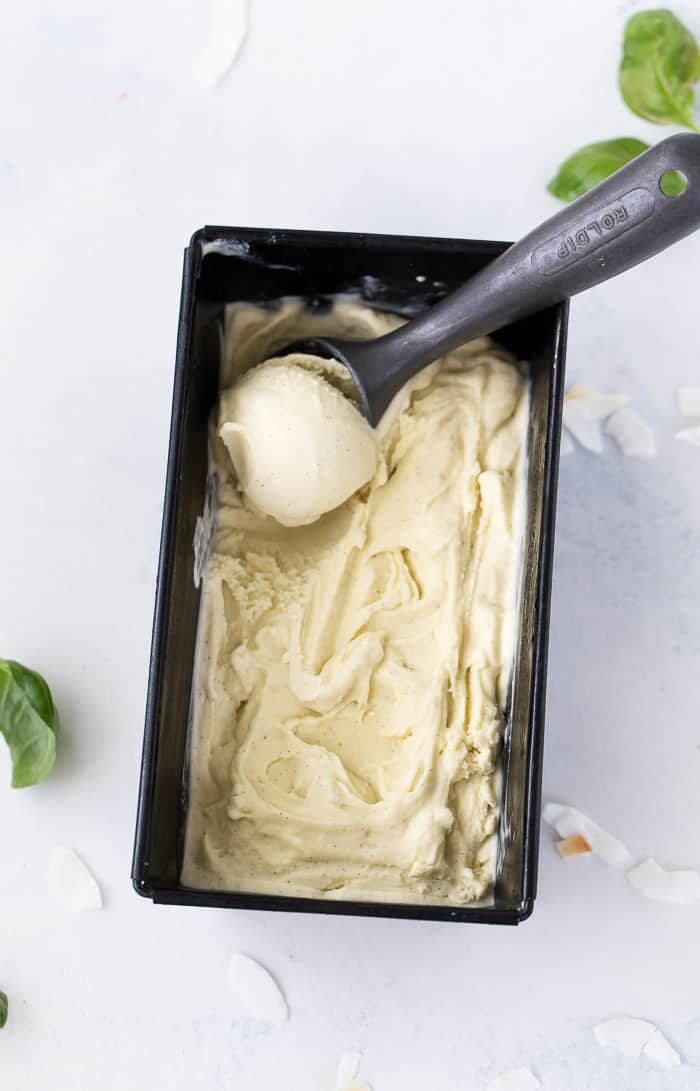 I used a handful or about two tablespoons of fresh basil in the recipe. I think it was the perfect amount to enjoy the basil flavor and also enjoy the blend with the coconut flavor. However, about 20% of my taste testers (aka 2 out of 10 people at the BBQ I brought this ice cream to) thought it was too much basil. So if you think you want less basil in the recipe, I'd recommend using about 1 tablespoon of basil. I'll note that in the recipe too for you.
Okay friends, there you have it. This coconut basil ice cream is one of my favorites yet and my freezer is fully stocked with it. I hope you find time this summer to try it as it will blow your mind away. Ask my son Elliott, he loved it.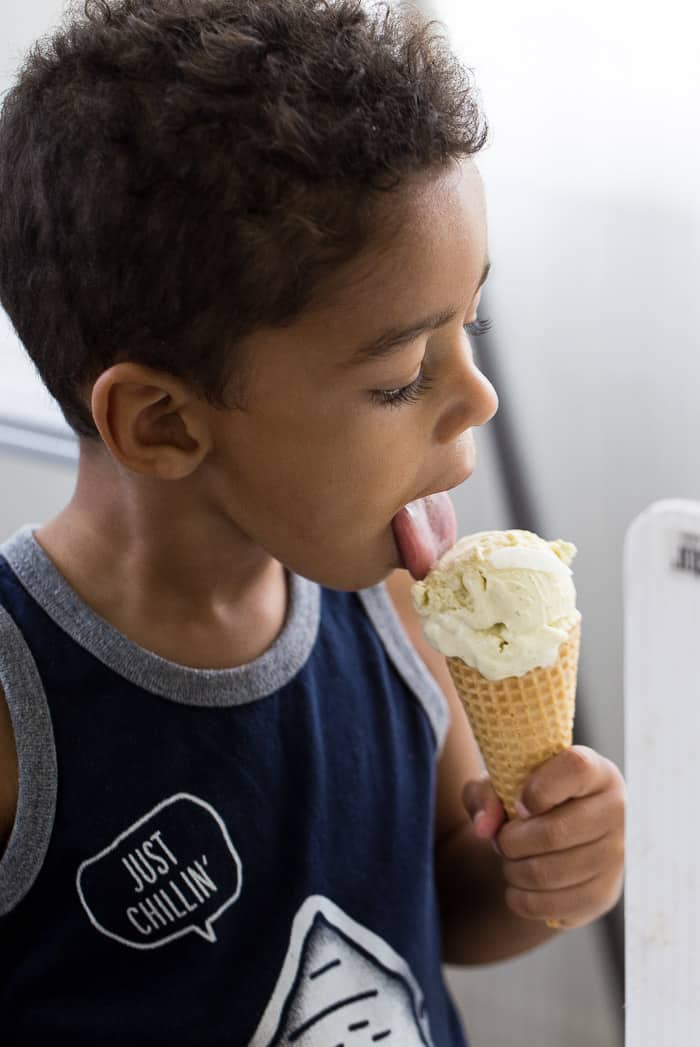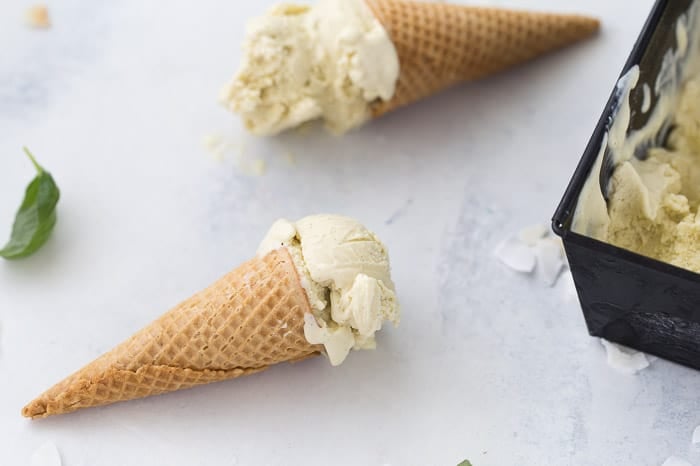 It's going to be slow around here this summer as I intend to unplug and enjoy the wonderful season with my family as much as possible. I'll check in every now and then to see if you need anything and share any new recipes. If you have any questions please feel free to reach out via email or social. If you are looking for more summer recipes, check out my summer archives.
Enjoy!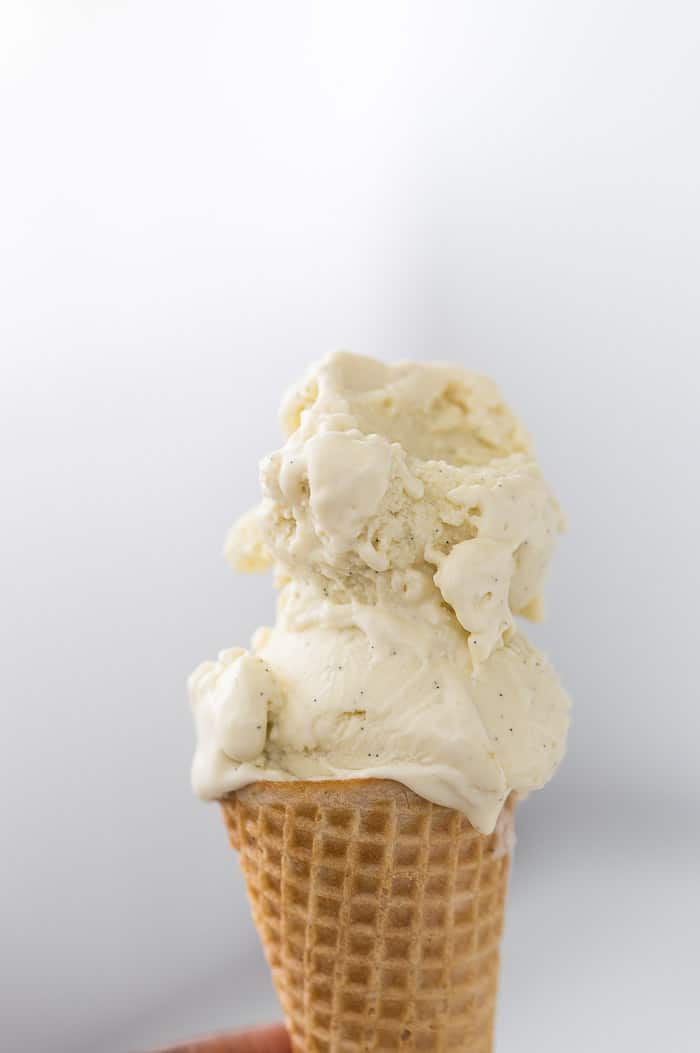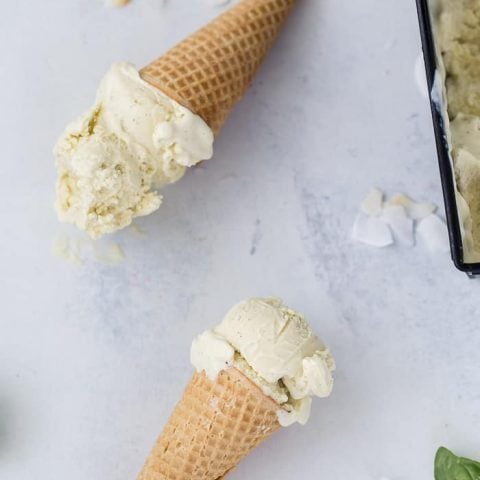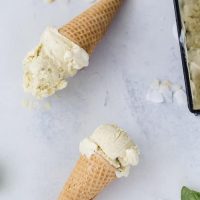 Yield: ~ 5 cups
Coconut Basil Ice Cream
A rich vanilla bean custard base is infused with fresh basil in this coconut basil ice cream. It is sweet, creamy, refreshing and perfect for indulging in.
Total Time
1 hour
10 minutes
Ingredients
½ cup whole milk
1 cup coconut milk
1 ½ cups heavy cream
1 vanilla bean, cut in half (or vanilla bean paste)
1-2 tablespoons fresh basil leaves
2 large eggs
3 large egg yolks
¾ cup granulated sugar
Instructions
In a medium saucepan, combine the milks and cream. Split the vanilla bean and scrape out the seeds. Stir the seeds into the milk mixture. Over medium heat, bring the milk/cream mixture to a slow boil. Reduce heat to low and simmer for 30 minutes, stirring occasionally. Add in the fresh basil leaves when you have about 10 minutes.
In a large bowl, combine the eggs, yolks and sugar together. Using a mixer, beat the eggs until the mixture is thick, smooth and pale yellow in color, about 3 minutes on medium speed.
Remove the vanilla bean pod and basil leaves from the milk mixture by straining it and pour out a cup of the hot milk/cream mixture.
Reduce the mixer speed to low and slowly add the hot cup of milk mixture to the egg mixture. Be sure not to scramble your eggs, so add the milk in a slow steady stream while mixing the eggs on low speed. Mix until combined. Then pour the egg mixture back into the saucepan with the remaining milk/cream mixture and stir to combine. Cook, stirring constantly, over medium-low heat until the mixture is thick enough to cover the back of a spoon. Transfer to a bowl, cover and chill completely.
When chilled, turn on your ice cream maker. Pour the chilled custard into the bowl and churn according to your manufacturer's instruction. Transfer ice cream to a freezer safe bowl and freeze for about 3 hours or overnight.