Coconut Brownies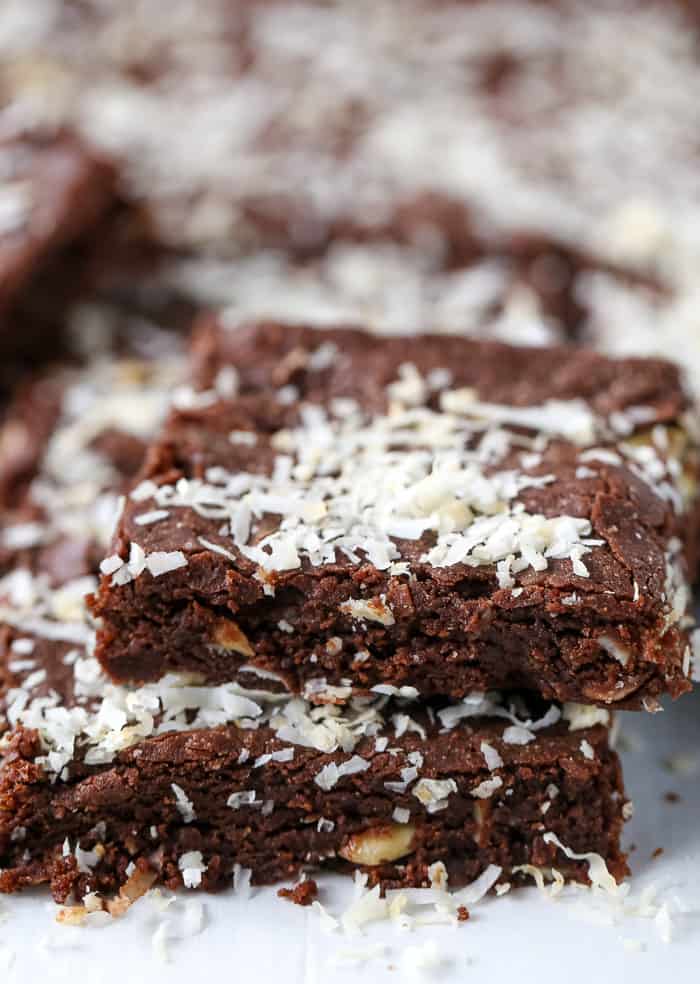 Hi friends! I have last-minute chocolate and thus Valentine's Day dessert recipe for you. These decadent coconut brownies are perfect for the chocolate lovers who want something to indulge in. They are chocolatey and gooey in the middle but chewy on the edges and of course filled with coconut flavor for a boost.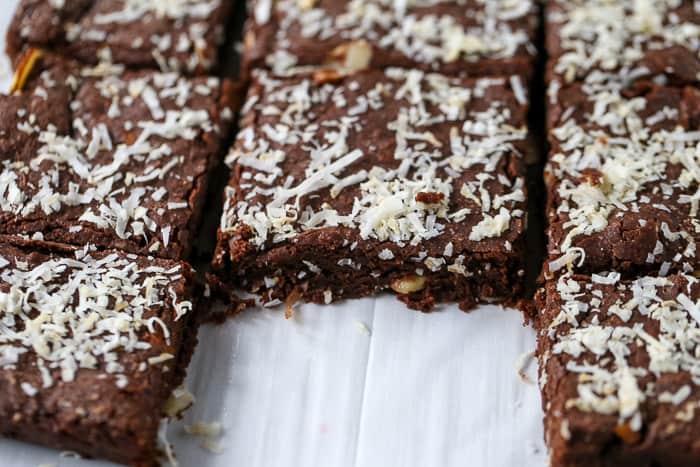 Apparently, I do not have a lot of brownie recipes on here. I think I have maybe five in my recipe archive. My husband actually loves brownies but I don't for some reason find them exciting. They don't fulfill my creative need at all but they are incredible for that chocolate craving. So every now and then I indulge in brownies for my husband.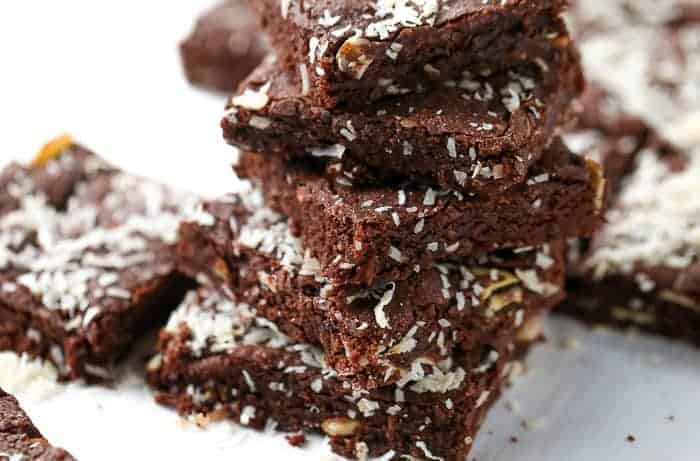 These coconut brownies are my kind of brownies and will soon become yours as well. The base is a rich chocolate batter made with high-quality chocolate, melted with coconut oil (you can use vegetable oil) and hand mixed to not over-work the batter. You can stop here however I filled the batter with chewy coconut flakes and sliced almonds. It adds a crunchy element to the brownies and also a boost in the coconut flavor.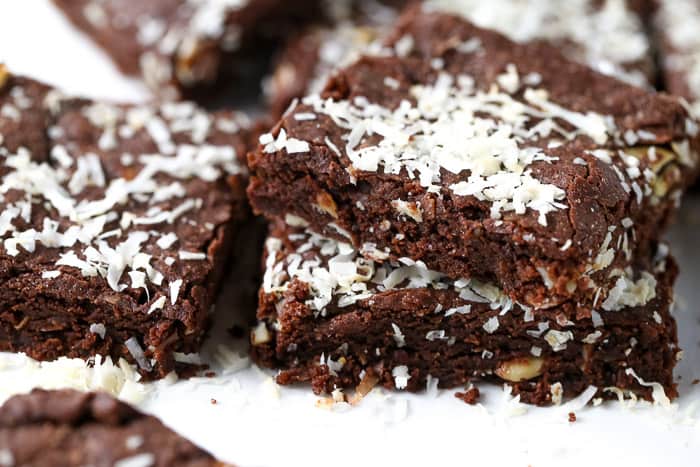 The result is an incredible mix of warm chocolate gooey brownie filled with coconut flavor, almond crunch, and chewy outside. My husband when asked how he would describe these coconut brownies said: "it's like eating an almond joy candy bar but even better". So I'll take his word for it as he is the brownie lover and expert.
These coconut brownies are beyond delight and I hope you give it a try.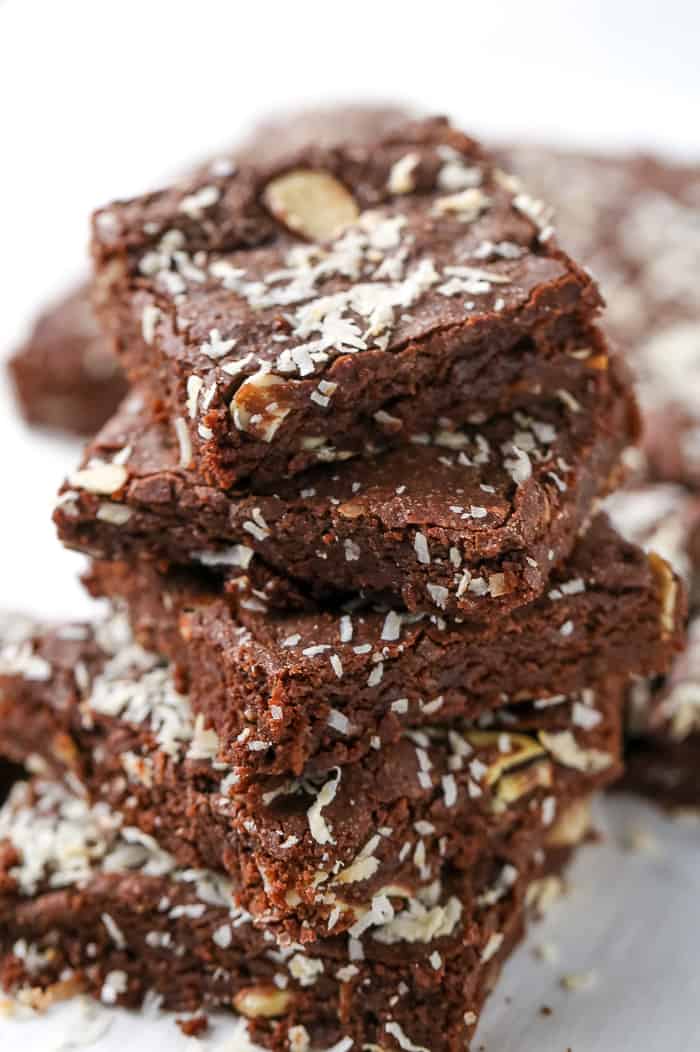 Wishing you all a Happy Valentine's Day if you celebrate. I have a night of heart-shaped pizzas, red velvet roll cake and crafts planned with my gang of two kids and hubs.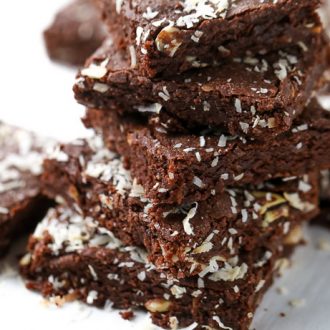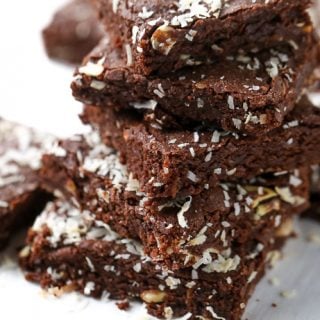 Yield: 1 9-by-13 inch pan
Coconut Brownies
Decadent and chewy coconut brownies made with coconut oil and packed with coconut flakes.
Additional Time
30 minutes
Total Time
1 hour
25 minutes
Ingredients
12 ounces semisweet chocolate, chopped
2/3 cup coconut oil
1 ½ cups granulated sugar
¼ teaspoon almond extract
4 large eggs, at room temperature
2 cups all-purpose flour
½ teaspoon salt
¾ cup unsweetened shredded coconut
½ cup sliced almonds
Instructions
Preheat oven to 350 degrees F. Line a 9-by-13 baking pan with parchment paper, leaving an overhang on the two short sides. Grease parchment with baking spray.
In a medium saucepan set over medium heat, combine the chocolate and coconut oil. Cook stirring until it is melted, about 3 minutes. Remove from heat and stir in the sugar, almond extract, and eggs until well combined.

Add in the flour and salt and mix until just combined. Fold in the coconut and almonds.
Transfer the batter into the prepared pan. Top with shredded coconut, pressing them onto the top of the batter. Bake the brownies until a cake tester inserted into the center comes out almost clean, about 30 to 35 minutes. Transfer to a cooling rack and tet brownies cool completely in pan.
Lift the brownies out of the pan. Sprinkle with more coconut if desired. Cut into squares. Store leftovers in an airtight Tupperware.
Notes
Brownies adapted from Food Network Magazine
Recommended Products
As an Amazon Associate and member of other affiliate programs, I earn from qualifying purchases.